Productivity
PDFLiner: Editing Tool Worthy of Your Consideration
Working with documents has never been an easy task, especially for those starting their paper-managing journey. Even experienced users might struggle with editing their PDF files online.
To simplify this procedure and make your workflow as smooth and interactive as possible, we have come up with a review of one of the top editing platforms on the current market. It stands out from the competitors due to its extensive functionality, friendly interface, and dynamic blog with supportive guidelines for a user of every level. Intrigued enough to know the name of this all-in-one tool? Read our detailed overview of PDFLiner, its helpful features, and subscription offers, and choose for yourself: Is it the one that will cover all your needs?
PDFLiner is an online versatile service aimed to make working with PDF files swift and straightforward. To insert alterations to your documents, you don't need any of the old-and-gold but outdated methods such as a printer, a scanner, or an average pen. It allows you not only to edit a file online but safely store it on a secure cloud and sign the paper afterwards. Nowadays, over 10,000 users have chosen PDFLiner for the benefits it provides. It has also gained a 5/5 rating on G2Crowd. All of this makes PDFLiner a remarkable figure among the top 5 highest-rated PDF software, according to the praiseful reviews on G2Crowd.
What Is PDFLiner: Complete Details and Review
This smart tool enables you to make urgent changes to any PDF document on the go. Numerous fans of this platform use it to conveniently fill out and send any PDF form to the required recipient. Taxpayers have also appreciated an immense catalogue with various forms and templates, where you can find the blank you need and fill it out using your smartphone.
Here are the main features of this handy service:
The ability to create fillable PDF forms from scratch or convert the existing ones;
Its functionality includes typing, editing, sketching, marking, and inserting necessary notes into any PDF. Other document editing capabilities include quick and easy elimination of the parts which you no longer would like to see in your file;
You can add diverse images, logos, text fields, hyperlinks, and video tutorials to your PDFs. This turns any plain PDF into a masterpiece, making it look vivid and dynamic;
Effortless conversion of a PDF into a JPG and back;
Protection of your sensitive data with a password or a watermark. When it comes to personal information security, nothing can be viewed as excessive, and PDFLiner can help you contribute to your online safety;
It is suitable for everyone: freelancers, independent contractors, small business owners or those running a large enterprise, common taxpayers, students, etc. If you work in a team, PDFLiner supports you with a sharing PDF feature, which can help you make a positive impression on your clients and boost your teamwork.
Can You Trust PDFLiner?
Whether you are the one used to managing your documentation online or are just trying to scan the surface for potential pitfalls, we can assure you that security is PDFLiner's priority. Security and trust, to be more precise. The team of qualified specialists has developed smart solutions to help you keep an eye on your data protection. Experts working in their support team can also provide you with a comprehensive consultation on any issue that might bother your mind while using the service. Here are the main features related to the safety of your files on PDFLiner:
1.   Data encryption and storage
PDFLiner has implemented encryption technology to take care of user communication security. It has already become a safety standard in the financial and medical fields when it comes to shielding sensitive data. You can securely store your documents on reliable storage and don't worry about possible data loss.
2.   Password protection
Working with documents with the highest degree of importance, you have to be sure that your sensitive data won't be handed to a malicious third party. PDFLiner grants the utmost protection of your files, so you can feel calm that your or your clients' personal data is safe and sound. You can set a password for your PDF documents and lock them from sharing with other users without your permission. It empowers you to restrict unauthorized access to your documents and restrain other users from performing any actions on them.
3.   Secure e-signatures
With a "Verified Signature" tool, you can generate a new electronic signature or capture the existing one on your device and insert it into the doc. This enables you to sign any file online and save it in a blink. Its functionality spreads to making your own files with added signature boxes and sharing them with other users. This means they will be able to fill out these files and sign them later. It helps you to increase the security of your e-signed documents even more.
4.   Integrate like a pro
This is a handy function for those who simultaneously utilize other platforms such as CRMs, G Suite, etc. Any cloud-based platform can be successfully integrated with PDFLiner since a multipurpose editor and electronic signatures can come in handy while working with numerous platforms.
Make Fillable Forms
With PDFLiner, you can conveniently create numerous fillable templates. If you don't find the required blank in the extensive service's forms library, you can build your own form with the help of the tool located in your dashboard. This enables users to come up with brand new fillable templates that they can use for specific purposes. However, the catalogue of PDFLiner isn't limited to some particular field or industry, and the variety of the forms provided there is truly impressive. These standard forms can cover any PDF-related needs, starting from general tax forms and ending with specialized forms for different business purposes.
Is PDFLiner Free to Use?
PDFLiner provides you with a free 5-day trial, which enables even the most sceptical or doubtful user to test its functionality and decide whether it suits their needs. You can also take advantage of its tools without signing up for a subscription. However, the scope of functions will be somewhat limited in this case. For example, you will be able to edit PDF files, but will have no possibility to save them on your PC or share them with your clients or colleagues.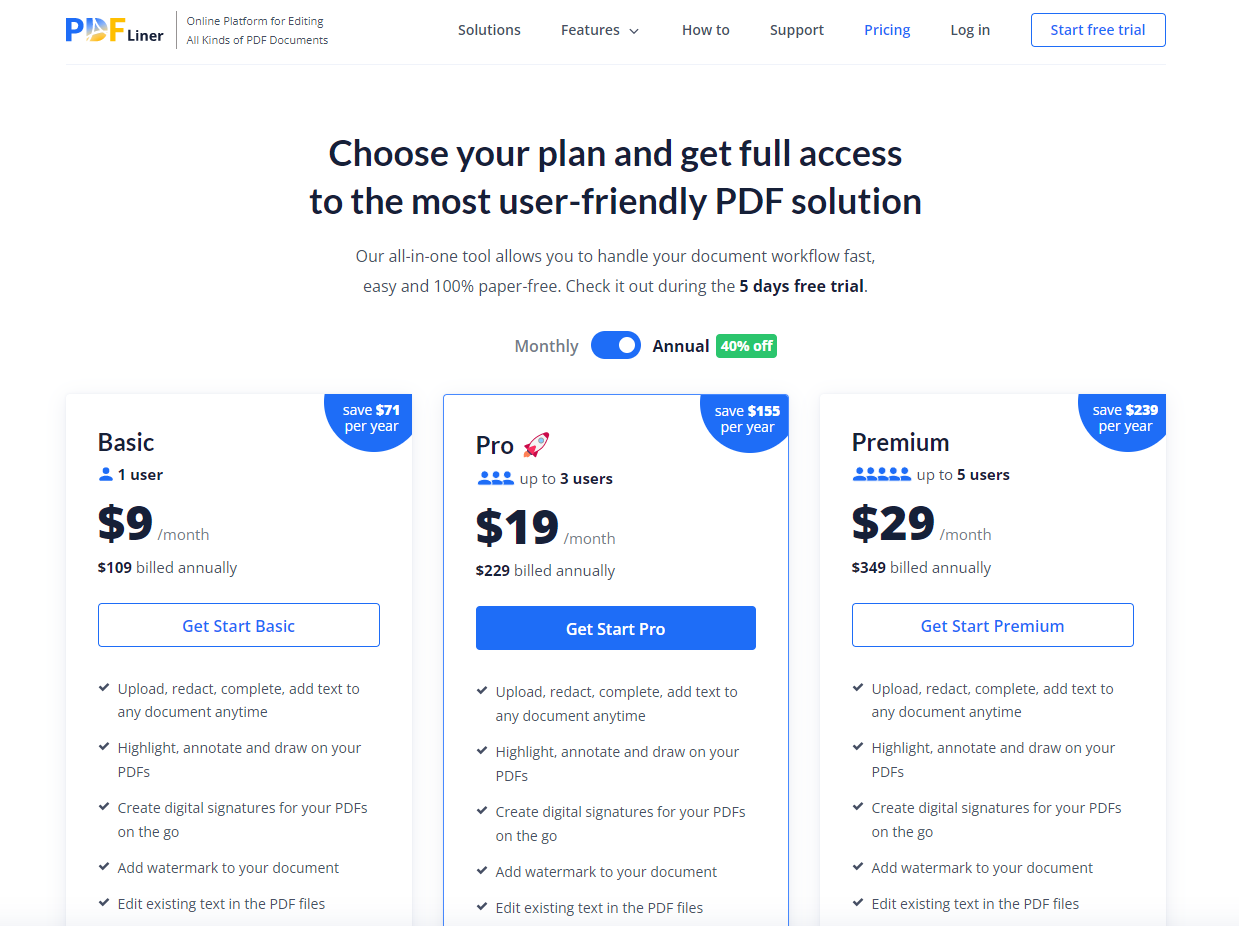 Basic: It is intended for a single user. This plan is affordable ($9 per month or $109 per year) and money-saving. With it, you can leave in your pocket an extra $71 in a year. The Basic subscription plan offers you to upload, edit, fill out, and add text to any PDF document. You can highlight, annotate, and insert images into your PDFs, generate digital signatures on the go, add watermarks, and fillable fields, and share the finished docs with another party. You can also convert your files to common formats and safely store them on secure PDFLiner's servers.
The Pro plan comprises up to 3 users and shares the helpful functionality with the Basic plan. It allows you to save $155 per year, which translates into $19 per month or $229 billed annually. Here you can invite up to two people and use the same set of tools;
The Premium plan also takes care of your data security at only $29 per month or $349 per year. Here you can save $239 annually and invite up to five people to take advantage of the same set of features.
Advantages of Using PDFLiner
To sum up all the benefits of this smart and effective service, we'd like to provide you with a list of the top advantages that can make your experience of working with documents outstanding:
You can take any PDF file and edit it to 100%;
The ability to momentarily convert PDF files from common formats and back;
All-inclusive set of tools for building forms for various industries and spheres of life;
You can send the finished files via links and email;
Protected forms and a chain of custody are ensured for files that you have to sign, view, and validate;
Cross-platform access is provided due to the platform-as-a-service tactics.
Free to Choose and Use
Whether you have to prepare a medical survey, a data-gathering form, or an essay, all of this is possible with PDFLiner. There are no limitations to your creativity when it comes to managing your PDFs, and a starter can use helpful guidelines to get involved and feel those effortless vibes. Don't hesitate to give PDFLiner a try since it grants you support in every word.