WordPress
5 Best Free WordPress Themes for Gym and Fitness Sites
Looking to build a gym or fitness website? Are you looking for the best free WordPress themes for gyms and fitness centres?
Well, today at Digital Gyan, we will talk about some of the most popular WordPress themes, which are SEO-friendly and AMP-supported.
Over the past two decades, there has been a rise in the popularity of exercising, maintaining health, and being fit. The fitness and wellness sector generates $80 billion in revenue annually, and people have begun to make more money by creating websites utilising free WordPress fitness themes.
It should not be surprising that you require a website for your company. It must be at the top of your list when considering internet marketing and brand creation.
A WordPress fitness blog is a wonderful place to begin. In the long term, it will be far better for your business to create a website centred around fitness and use general workout themes.
Things to be kept in mind while looking for a gym or fitness WordPress Themes
Running a gym or fitness centre can be expensive and time-consuming. Fortunately, many great free WordPress themes can help you get started quickly. These themes are perfect for sites that offer membership services, group classes, or individual training. 
You should make sure to include specific items on the website while creating one using one of the free WordPress fitness themes from the list below. You may accomplish your objectives and build awareness for your brand by including the following elements and using the advice provided here.
Visual
Promote your fitness facility or gym. Display images and use visuals. People enjoy looking at graphics and photos. It enables them to experience and comprehend what they could be entering.
Set up a schedule
Provide a schedule of your hours, classes, and other activities that is simple to read and comprehend.
Reservation Page
Give visitors the option to register for a class or make an online purchase directly from your website.
Establish a staff page
Display your employees, trainers, front-desk workers, and anybody else connected to your company.
Online Product & Supplement Sales
Of course, your fitness club or gym will sell goods and supplements. However, make them accessible for online purchasing as well.
Finding and having access to the top WordPress fitness themes is essential for building a website with exercise themes. When starting off, you may also require a free theme in addition to one that is responsive, mobile-friendly, and simple to develop.
Here are the top 5 free WordPress fitness themes currently available. Your health and fitness company will take off if you use one of the WordPress exercise themes from our list.
Fitness Hub
The Fitness Hub theme comes with everything you need to launch a polished, mobile-friendly, user-friendly fitness website right now. Fitness Hub is a fantastic free WordPress fitness theme to utilise since it has a tonne of features that make it simple and quick to create an online presence.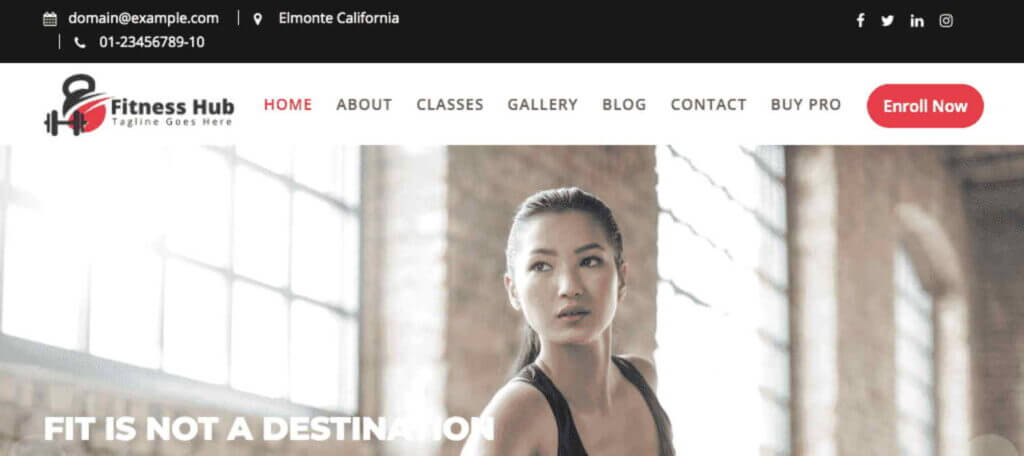 Some of the themes' most notable characteristics include:
Adaptable Widgets
Possibility of Creating Unlimited Pages
An adaptive slider
Adaptable Sidebars
Registration Page
Integration of social media
If you want to launch a WordPress fitness blog and website quickly, look at this theme.
WP Fitness
WP Fitness is a free WordPress fitness theme that is slick, tidy, and professionally made. It was created to work with everything that is linked to fitness. If it has to do with fitness, whether it is through a gym, yoga, fitness centre, personal training, weight lifting, or coaching, the WP Fitness theme has you covered.
This theme's primary characteristics include the following:
An Integrated Responsive Design
Integrating social media is simple
Viewing Options
Supported by WooCommerce
A secure and optimised code
Almost all third-party plugins are supported.
Start constructing this theme after downloading it to attract potential clients' attention immediately.
Zakra
If you are a yoga instructor or own a yoga studio, the Zakra WordPress theme is ideal. Zakra is a versatile theme that may be used for many different purposes and is lightweight, quick, and adaptable. In other words, this theme is more useful for many purposes than fitness.
This WordPress fitness theme's greatest attributes include:
Suitable for Gutenberg
GDPR Compliance Integrated
SEO prepared
Integrating social media is simple
The free Yoga template offers you all the tools you need to build a reliable yoga website quickly.
FitClub
The FitClub exercise theme has been cleverly created to be adaptable and user-friendly in an effort to assist you in creating a reliable fitness website. FitClub aims to give you everything you need to get started with a completely responsive design and various layout possibilities.
Among the key characteristics are:
An Integrated Responsive Design
Live Customisation
Different Widget Areas
Different Header Styles
SEO prepared
Compatible with WooCommerce
Fitness
With reference to this free fitness WordPress theme, the name pretty well says it all. Fitness offers a topic that unifies the lovely facets of sports, health, nutrition, and more into one subject.
Fitness elements suitable for a coach or a facility include:
Framework SMT
Ready for WooCommerce
Shortcode for Google Maps
Social Networking
Adaptive Widgets
Options for Translation
This theme will provide your fitness-related business with a professional appearance and is lovely and sturdy throughout.