Google
How to Unsubscribe Youtube TV Subscription?
Are you looking for a way to cancel your Youtube TV subscription? Wondering how to do it from a PC, laptop, Android, or iPhone? Well, you have arrived at the correct place.
Today, at DigitalGyan, we will talk about how to Cancel your Youtube Tv Subscription
You may cancel your YouTube membership anytime, whether you signed up for a free trial to view one episode or have been using it for months. You will, however, require a computer or smartphone. Here's how to unsubscribe from YouTube TV.
If you cancel a free trial, your membership will be automatically terminated, and you will no longer be able to access material on the streaming service. If you do not terminate your free trial, you can watch any material on YouTube TV until your next pay period begins.
How to Cancel Youtube Tv Subscription from Computer?
Cancelling YouTube Subscription is very easy. When YouTube TV originally appeared, it received a lot of attention, mostly because it was regarded as one of the finest live TV streaming subscriptions ever. Some individuals join up for a YouTube TV free trial in order to view a certain show they enjoy, while others subscribe and use the service for weeks or months.
Follow these steps to cancel your YouTube Subscription from PC or Laptop:
Go to tv.youtube.com in a web browser.
After that, sign in. To do so, go to the window's top-right corner and click the Sign In button. Then, if you aren't already logged in, pick your Google account and enter your password.
Then, select your profile icon. This may be found in the window's top-right corner.
After that, select Settings. Near the top of the drop-down menu, you'll notice this.
After that, choose Membership. This may be found near the top of the left sidebar.
Then choose whether to pause or cancel your membership. This may be found beneath the YouTube TV icon.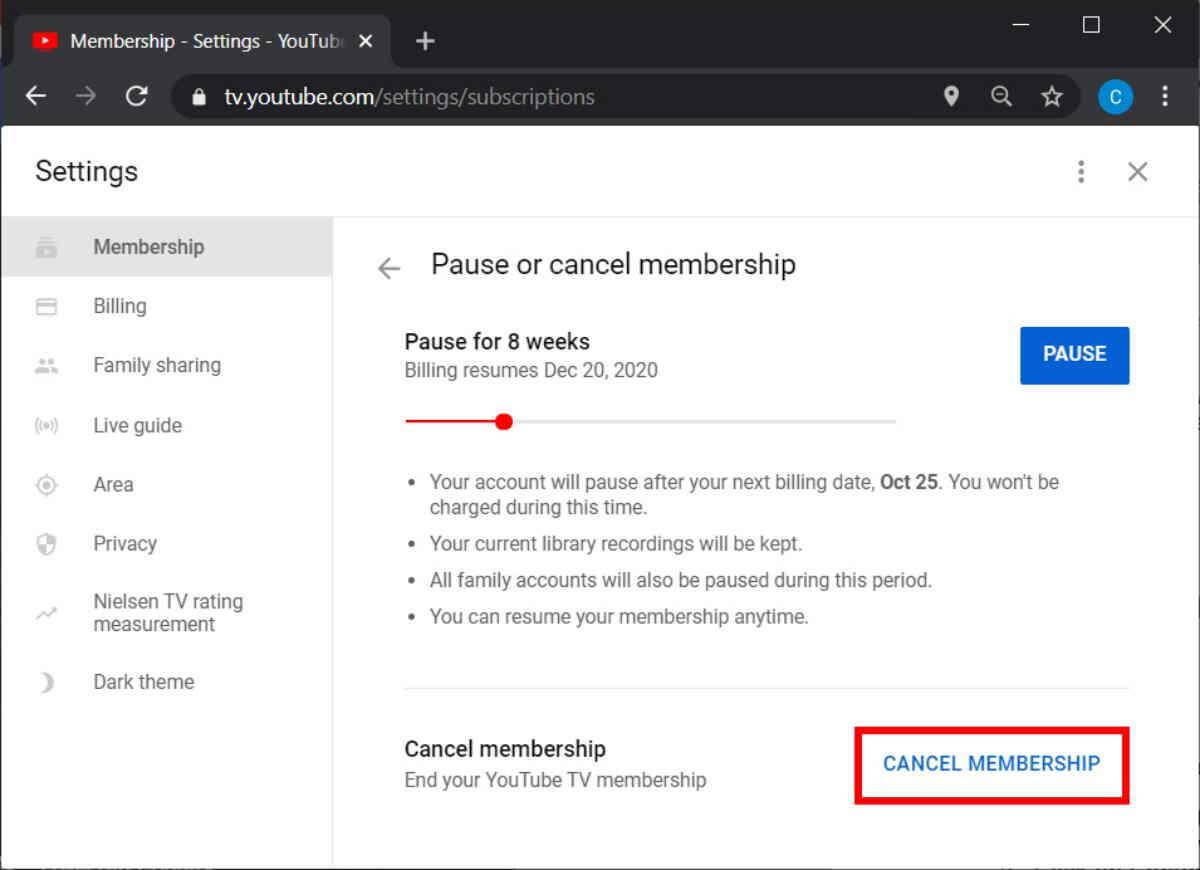 After that, select Cancel Membership. This option is located at the bottom of the pop-up window. Make sure you don't hit the pause button. Otherwise, your account will be activated and you will be charged after eight weeks.
Make a "cause for cancelling" list. There is no need to type anything in the text form that displays.
Then select Continue Canceling from the drop-down menu. This is shown at the bottom of the pop-up window.
Finally, select Cancel Membership from the drop-down menu.
You'll be sent back to the Membership page after clicking Cancel Membership. You'll notice Restart Membership under the YouTube TV logo if you successfully cancel your membership.
How to Cancel Youtube Tv Subscription from iPhone?
If you have an iPhone or iPad and wish to cancel your YouTube TV subscription on that device, follow these steps:
Open a web browser on your iOS device and go to tv.youtube.com.
If you're logged in, go to your profile photo and click it.
Go to the Settings menu.
Then proceed to the Membership section.
Choose Cancel Membership and then confirm your decision.
The procedure is much the same on iOS devices as it is on a PC.
How to Cancel Youtube Tv Subscription from Android?
It'll be a little different cancelling YouTube TV from an Android phone because you can cancel your subscription through the app. So, if you want to cancel your YouTube TV subscription this way, these are the steps you'll need to take:
Open the Youtube TV app on your Android phone.
If you haven't already, log in to your account. There will be a "Already a Member?" option if you are using the app for the first time. To sign in, tap on it and enter your username and password.
Now, touch on the symbol for your profile. In the top-right corner of your screen, you'll see this.
Select Settings from the available options.
After that, choose Membership.
You'll see the options to Pause or Cancel Membership under the YouTube TV logo. Choose it.
There will be a Cancel button at the bottom. Make sure you choose this rather than Pause Membership, as the latter would simply put your membership on hold for a few weeks before charging you for the services again.
Select a reason for your account cancellation.
Then press the Cancel button again. You will not be required to respond to any text in order to progress.
Choose Cancel Membership when you reach to the next screen.
How to Pause YouTube TV Subscription? iPhone | PC | Android
You don't have to cancel your membership if you don't want to. When you try to cancel your membership permanently, you'll see that you have the option to suspend it instead.
Pausing your membership will allow you to take a break from being paid for the services provided, and your subscription will be restored after a short period of time. Within that time frame, you may also manually restart your membership.
The best part is that you won't be charged any longer, and your current library recordings will be kept. However, you should be aware that any additional accounts linked to YouTube TV will be halted as well. You will be able to regain full access once the service has been restarted.
Conclusion – Cancel your Youtube Tv Subscription
It's not difficult to turn off YouTube TV on a web browser, but the procedure differs differently from that on an iPhone or iPad, so you'll need to know what to do. Your membership will be successfully terminated if you complete the correct instructions.
If you want to take a vacation from your membership but don't want to cancel it entirely, you can just stop it and resume it later.