Sometimes, you may want to hide a particular chat or group, instead of deleting them. So, there is a new feature in WhatsApp, through which, one can archive it. Let us know how to do this on Android, iOS or PC.
If you have used WhatsApp, you probably know that it comes with a handy feature called chat history. You can use this to access all your messages and keep them as a backup. And there is one better way of archiving the chats completely.
What is Archiving Chats in WhatsApp?
For Users, WhatsApp has announced a new option called "Archived messages. It gives users, the to take control of their chats and how to manage them in future.
Let us say, you have lots of chat groups, which might be of no use but could be required in future. So instead of leaving the group or deleting the chat, one can simply Archive it.
You may conceal an individual or group chat from your chats list using archived chats, which can help you manage your interactions better.
Archived conversations are the ideal answer for those who are a part of a group chat that they wish to hide but don't want to quit.
With 75 million active users in the USA and more than 2 billion users globally, WhatsApp is the most widely used instant messaging application. Users may utilise WhatsApp's archived conversation function to keep their private chats safe from spying eyes.
Although it isn't a completely corporate-level archive, it can still be helpful. With 18 million downloads on Google Play & App Store in September 2021, WhatsApp is being utilised as a secure mobile messaging solution to help businesses and institutions overcome their communication issues as they adopt a remote working culture as a result of the Covid-19 epidemic.
A chat can be archived and then unarchived without the chat being deleted, and this can be done anytime. This is another step to Archive the Privacy of Users.
Whatsapp has so far made available a number of privacy and security features, including end-to-end encryption and disappearing messages, which alarmed regulatory authorities since they want enterprises to abide by rules relating to recording electronic communications. In July 2021, the 'Archived Chat' function was added to the list of features.
Users may archive their conversations in WhatsApp's archived chat, shielding their private communications from prying eyes. However, this might be even another barrier to overcome when it comes to capturing electronic interactions for businesses trying to safeguard sensitive material exchanged by their staff.
How to Archive Chats in Android?
Here is a step-by-step tutorial you may use to use Android to archive a conversation or group.
On your Android smartphone, launch WhatsApp.
Tap and hold the chat you wish to conceal in the Chats tab.
On the screen's top, tap the Archive symbol.
You may quickly archive a conversation or group using Android by following the procedures listed above. Now, if you want to archive all of your conversations, just follow the instructions listed below.
How to Archive Chats on iPhone?
To archive, a chat or group on an iPhone, swipe left on the conversation or group you wish to archive and then touch Archive.
How to Archive Chats on WhatsApp Web?
To Archive Chats on WhatsApp Web, follow the steps below:
Login to WhatsApp Web.
Right, Click on the Chat, whom you wish to archive.
That's it, you have successfully archived a chat.
How do I Unarchive Chats on WhatsApp?
Follow the instructions below. To Unarchive a WhatsApp group or chat:
On your Android smartphone, launch WhatsApp.
After that, hit Archived at the bottom of the Chats screen.
The conversation or group that you wish to unarchive must be touched and held.
Tap the symbol for Unarchive in the top bar.
There are times when you might want to archive a message or unarchive it quickly.
Why Does WhatsApp release this Archiving feature?
The major goal of the archived chat, according to the WhatsApp release statement, is for users to properly arrange their inboxes and place greater emphasis on their most crucial talks.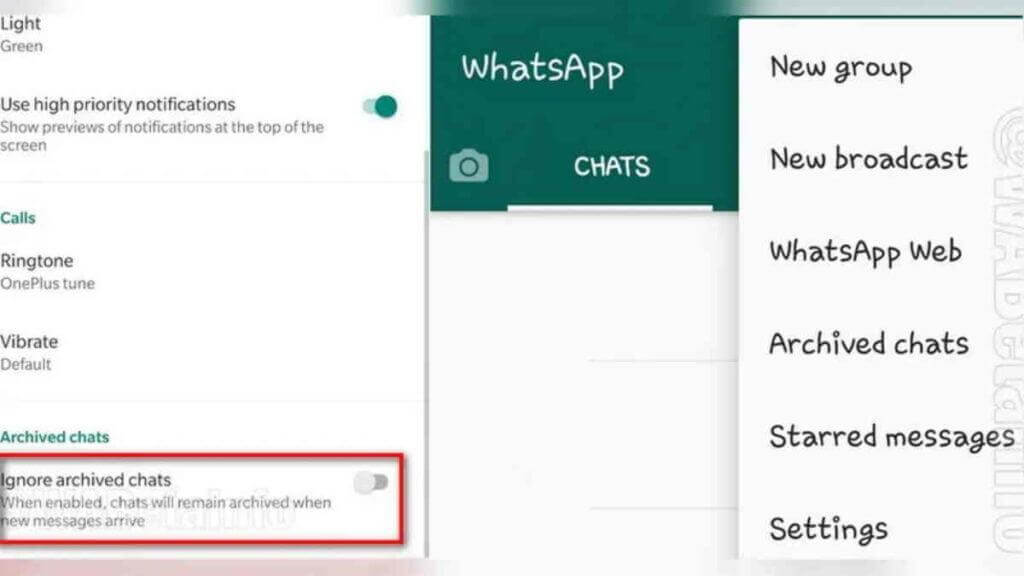 Because users demand that their archived conversations be kept separate from the main chat thread even when they get fresh messages, WhatsApp has created this functionality.
Users can therefore conceal their individual or group chats from their chat list independently in the "Archived chats" folder using archived chats. However, it doesn't follow that the archived chats are removed or copied to the SD card. Users won't be notified about archived chats until they are referenced in the messages or respond to them.
Do other people know if you have Archived them on WhatsApp?
No, if you Archive a chat or group, the other person won't be notified, nor they would even receive such Notification. You can even delete such chats or groups, and they won't be notified.
One must Archive such chats if they receive continuous spam or thinking of leaving the group.
Can I Archive a Single Chat message on WhatsApp?
No, one cannot archive a Single Chat message on WhatsApp, instead one can mark it starred for later use. If a chat is archived, it's archived completely.