Featured
How to fix Instagram Black or White Screen?
Instagram is a social networking site for sharing pictures and videos that Meta (formerly known as Facebook) bought. It is accessible via the web, Android, and iPhone.
Users are currently seeing blank screens since the Instagram app won't load for their accounts. The app would just display a black screen and not load any material on our account, but we could repair it.
Therefore, if you are one of those experiencing the black screen problem, just read the post through to the conclusion since we have provided the procedures to resolve it.
Fix Instagram's Black or White Screen Stuck on iPhone/Android?
Users may notice Instagram stuck on a black or white screen, depending on the Instagram theme on their phone. When attempting to connect to the Instagram app on the phone, the login page is replaced with a blank white or black screen after a brief glimpse of the Instagram logo. The owners of Samsung phones complain about Instagram being frozen on a black screen.
Many Users of Instagram have tried restarting their devices, performing a hard boot, closing and reopening, uninstalling and reinstalling the app, installing and reinstalling older versions of the app, clearing their browser's cache, switching from wifi to cellular data, and installing the downloaded apk in their place, but nothing seems to work.
The Instagram login page is simply black or white. Other phone apps have not run into a problem like this one.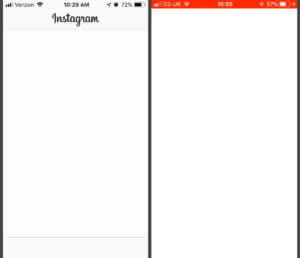 Users may nevertheless access their Instagram accounts on a tablet, iPhone, Instagram Lite, and a computer's web browser. Here are various solutions that may be tried to tackle this problem.
Clear the Cache or Data of the Instagram App
The Black Screen Problem can be resolved by clearing the cache data since it gets rid of all the temporary files and makes the app load more quickly. How to clear the cache data is provided here.
On iPhone devices
The cache data clearing option is not available on iPhones. Instead, they offer an Offload Program function that uninstalls the app and installs it again after clearing all cached data.
Here is how to go about it.
Open Settings, then go to General –> iPhone Storage.
Select Instagram and then Click on Offload App.
Confirm Offloading App by clicking again.
Reinstall the App.
On Android devices
On Android devices, the User should long-press the Instagram icon.
Then Hit Manage Storage or Storage Info and then Click Clear Data.
You may also do this, by going to Settings, then go to Instagram App then Storage and click Clear Cache or Reset Data.
Try Logging Instagram app now. Your issue with the Instagram Black Screen App might get fixed.
Do Update or Reinstall the Instagram App
Updated versions of apps include enhancements and bug fixes from earlier iterations. You should upgrade your app if you are still using an old version. Follow these steps to upgrade the Instagram app on your phone or tablet.
Open Play Store (for Android devices) or App Store (for Apple Devices) on your Mobile Phones.
Search for Instagram
Click on the Update button or Reinstall and Install it again.
You've successfully updated Instagram on your phone, so your problem should now be resolved. As an alternative, you can fix the issue by uninstalling and reinstalling the software.
Check Your Internet Connection
First, you should verify your Internet connection if you are getting the Instagram "Black, White, or Blank screen" problem. If the signals seem poor, connect your phone to another Internet source, such as Wi-Fi. If the problem was brought on by bad Internet access, this could assist in resolving it.
Try Logging through Dual App or Parallel App
If your smartphone has a parallel app option, you may turn it on and download another Instagram app after that. This is perhaps the best solution available and won't interfere with the operation of any other programmes. All you need to do is open the Settings app and choose Dual Messenger under Advanced features.
Close Background Application and Open Instagram
The Instagram app may not function properly if several mobile applications run simultaneously in the background on your phone. Therefore, to resolve Instagram's Black Screen issue, it is advisable to shut all currently open applications, including Instagram. The easy steps for the same are as follows:
iPhone Users:
First, press the home button twice.
To shut each app, slide it upwards from the bottom of the screen.
Android Users:
You may access the multitasking interface by swiping up from the bottom-left corner of your Android device's screen.
Choose the Close all button that displays at the bottom of the screen after that.
Check if Instagram Server is Down or Not
Check to see whether the servers for Instagram are down, as some people have reported getting the error while the servers are down and having their problems resolved on their own after a few hours.
Here is how to determine whether it is down or not.
Access a gadget outage detection webpage (e.g, "Downdetector" or "IsTheServiceDown").
Once it's open, type "Instagram" into the search bar and press "Enter."
Now, look at the graph's surge. A significant jump in the graph indicates that Instagram is probably down since many people are having problems with it.
Wait a while if the Instagram servers are down; it can take Instagram a few hours to fix the problem.
Report the issue to Instagram
You must report the issue you're having on your account if upgrading the app does not resolve it. You may use Instagram in a browser to report the problem because it only affects the app.
Here is how to go about it.
On your phone, launch the browser.
Visit instagram.com and sign into the account that is giving you the issue.
Click on your profile symbol in the lower right corner after logging in.
In the upper right corner, select the gear or settings symbol.
Click on "Report a Problem" here.
Describe your problem now. (Hello Instagram Team, for instance. My Instagram is currently showing a dark screen and not loading. My Instagram account cannot be used on the app. Please assist me in resolving the problem as soon as feasible. Thanks).
Click Report a Problem after briefly describing the problem.
You have successfully reported the issue; congratulations. You need to wait a few more days, and your problem ought to be resolved.
Conclusion
Issues are expected to increase in frequency as the number of users of social media sites rises steadily. Therefore, the best course of action is to either wait for the release of the new version or to do one of the above-mentioned procedures. As more information on the problem remedy becomes available, we'll be sure to update the article. There are various methods for resolving the Instagram app's black screen issue. We really hope that this post assisted you in fixing the issue with your account.