Featured
Headless CMS WordPress Strapi [2022 New Details]
If you are looking for a detailed explanation in Headless CMS for WordPress Strapi (100% Javascript). A headless content management system, often known as a headless CMS, is a back-end-only CMS that primarily serves as a content repository. Without a built-in front-end or presentation layer, a headless CMS makes content accessible via an API for display on any device.
First talk about Traditional CMS, and how Headless CMS has evolved with detailed explanation.
What is Traditional CMS? How it has changed from now?
Traditional content management systems have existed since the dawn of the internet. WordPress and Sitecore were created with the intention of storing and presenting content components such as text, photos, and video on websites. Content, photos, HTML, and CSS were all thrown into one large bucket in the old CMS method to content management. Because the text was jumbled with code, it was hard to reuse.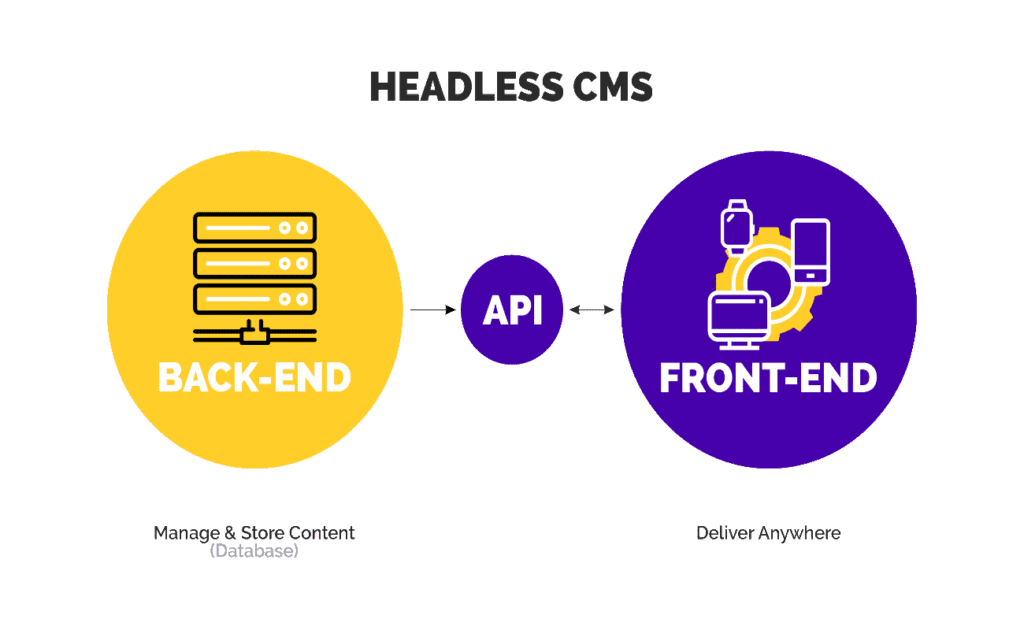 As digital platforms have matured, more adaptable solutions have been necessary. Websites, mobile sites, applications, digital displays, conversational interfaces, and more are now being developed by businesses. Meanwhile, traditional content management systems (CMS) have fallen behind. Why? Because a CMS organises material into webpage-oriented frameworks, the same content cannot be adapted to other digital platforms.
How to Fix Log4j Vulnerability on Windows/MAC? [100% new fix]
Unlike a regular CMS, which integrates the content and presentation layers of a website, a headless CMS just has the content component and focuses on the administrative interface for content authors, content processes and collaboration, and content classification into taxonomies. As a result, to handle design, site structure, and templates, a headless CMS must be paired with a separate presentation layer. Stateless or loosely linked APIs are typically used in this combination.
What is Headless CMS?
The word "headless" derives from the idea of slicing the "head" (front end) off the "body" (the back end). To grasp what a headless CMS is, it's helpful to first consider what a typical content management system is and what it's intended to do.
Some traditional CMS solutions have a "headless API" that lets you submit content to a different display layer. Because the presentation layer is isolated from the body, this is referred to as "headless."
Implementing a "headless" CMS — if the display layer of a website is the "head" of a CMS, then taking off that presentation layer provides a headless CMS — is one technique to overcome the restrictions of a typical CMS.
While a headless CMS allows you to select an appropriate display layer for a digital platform, it doesn't address the fundamental issue of organising content such that it may be reused across several platforms and channels. Headless architecture is a multichannel approach for successfully distributing dynamic content across a range of platforms and devices, akin to a headless CMS.
This Headless CMS method has the advantage of allowing the material to be supplied via APIs to a variety of display types, including mobile and Internet of Things (IoT) devices, in addition to a website. The obligation to maintain two different systems for a single site, on the other hand, has the potential to use more resources.
Cloud-first headless CMSs were created with a multitenant cloud architecture at their heart, and their providers advertise software as a service (Saas), offering high availability, scalability, and complete administration of security, updates, and hotfixes on behalf of customers.
Headless CMS commerce employs the same architecture to isolate backend product administration and navigation from the frontend of a website or other display kinds, such as IoT, in the same way as headless CMS focus on producing content in the backend to be shown on frontends via APIs.
Difference between Traditional (Normal) CMS vs Headless CMS
| | |
| --- | --- |
| Traditional CMS | Headless CMS |
| Mapped from One-to-one | Mapped from One-to-many |
| Limited Support in every Device | Unlimited Support to every Device |
| Uses Old Waterfall Method | Uses New Agile Method to develop |
| Single Architecture (Monolithic) | Uses Microservices for secure and fast |
| Requires Large Cost to Setup | Requires Less Capital Investment |
| Major Focus on Project being used | Major Focus on Product being used |
Difference between Headless CMS vs Decoupled CMS
The distinctions between a decoupled CMS and a headless CMS are sometimes misunderstood since they share so much in common; a headless CMS is a sort of decoupled design. A decoupled CMS, like a headless CMS, separates the CMA and CDA environments, with content often being produced behind the firewall and then synced and pushed to the delivery environment.
The primary difference between a decoupled CMS and a headless CMS is that the former is active—it prepares material for display and then pushes it into the delivery environment—while the latter is reactive—it waits idly until a content request is made.
Decoupled design is easier to scale and offers higher security than coupled architecture, but it does not handle omnichannel delivery as well. In addition, managing different environments raises infrastructure and maintenance expenses.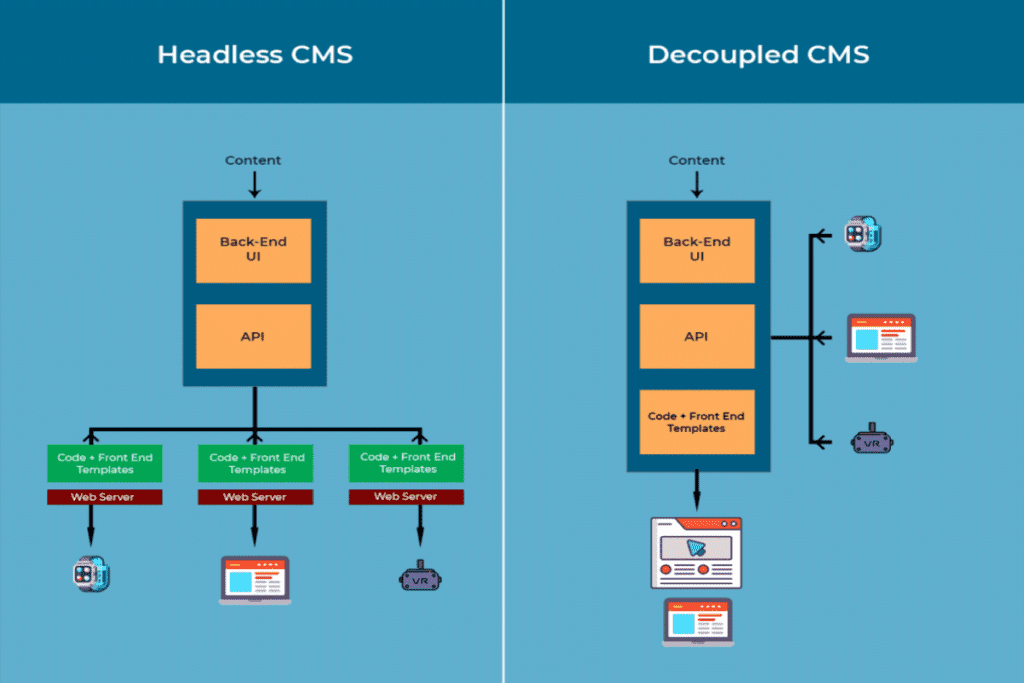 The inclusion of a front-end in the offering is another simple way to recognise the difference between a decoupled CMS and a headless CMS. A front-end would always be included in a decoupled CMS, however, it would be connected to an API and so follow the decoupled design. A headless CMS, on the other hand, does not have a front-end and instead relies on an API to provide content.
Why use Headless CMS? Why Big Companies are using CMS?
Enterprises are typically handicapped by a profusion of CMS instances — dozens, if not hundreds — as a result of the expansion of digital platforms. As a result, the material must be duplicated from a website CMS to an app CMS, and finally to a digital display CMS.
Add all Content to one Bucket
Organizations can integrate all material in a centralised content hub thanks to content infrastructure, which reduces constant copying and pasting effort. This makes editing a lot easier: make a change to the copy or picture in one location, and it will be applied to all of the material. Unification promotes brand consistency and compliance while also allowing editors to change material across all platforms quickly, making campaigns a snap.
Effective Collaboration
Simultaneous collaboration is also possible thanks to content infrastructure, which replaces the sluggish waterfall method to development with an agile framework that allows teams to operate in tandem. For businesses that need to quickly create new software, landing pages, and microsites, a headless CMS provides a competitive advantage.
Highly Accessible and Reusable
Finally, content infrastructure facilitates reusability, which is critical for making the most of content development resources. Brands can take advantage of features like personalisation and localization when all material is available for usage on any digital platform.
Advantage of using Headless CMS
For teams and organisations, a headless CMS might provide issues or downsides, such as:
A higher level of technical skill is required.
Multiple system management may be difficult, and a team's knowledge base must encompass all systems.
There are fewer or no templates or off-the-shelf options.
There isn't any channel-specific support. Developers may have to implement certain functionality on their own, such as website navigation, because pure headless CMSes do not deal with the display layer.
Technical needs can be readily scaled up.
The design of the front-end user experience is separated from the execution of back-end content management capabilities in a headless CMS. Front-end and back-end development teams can operate separately while coordinating actions when it's time to publish and grow content fast.
Content organisation is important. Material editors must adjust to the fact that content is structured in its purest form, irrespective of the website or other channel because pure headless CMSs do not often support the idea of pages or web sitemaps.
Disadvantage of using Headless CMS
From within the CMS, content creators are unable to preview how produced content will appear in apps.
A full-fledged CMS's analytical capabilities and content customization features cannot be used and must be built elsewhere.
What is an API-first CMS? How it is different from Headless CMS?
Decoupled CMSs often feature certain front-end delivery capabilities, such as page templates or module connectors, even if they split back-end and front-end operations.
API-first CMSs are similar to headless CMSs in that they don't come with a default front end. Developers may develop as many delivery layers as they need (in any language they choose) to send content to any new channel they can think of.
If you have a team of talented developers on hand, API-first CMSs are ideal—the CMS just handles content and waits for an API request from a front-end delivery layer developed by the development team.
Decoupled CMSs, on the other hand, are ideal for businesses that desire the flexibility of a separate front end and back end but still want some publishing functionality.
How many types of Headless CMS are there?
Headless CMS architectures may be divided into three categories. The benefits of various designs are outlined below, as well as why cloud multi-tenant is the ideal option when choosing a headless architecture.
On-Premise Headless CMS
You install the platform locally and host it in your own environment with an install-based architecture. This means you'll have to handle everything from start to finish, and you'll probably have to pay for a maintenance plan from your supplier to cover platform upgrades.
Cloud Install Headless CMS
A cloud install architecture is identical to an install architecture, except that the platform is installed in your provider's cloud. You usually pay your provider for hosting, management, and upgrades, which may be added or included depending on the terms and conditions of your provider.
Keep in mind that this might get quite difficult if you have many versions of your platform, especially if you are continually updating and fixing it. If you're upgrading numerous sites using this method, you'll rapidly fall behind on platform versioning.
Cloud Multi-Tenant Headless CMS
This implies that your CMS is fully handled and upgraded for you on a regular basis. Because to its ease of improvement, we highly suggest this design.
Why do Businesses and Marketers need Headless CMS?
Headless CMS solutions are extremely handy for non-developers. Instead than relying on a developer to ensure that information is shown correctly across all channels, marketers, editors, and other non-technical staff may generate and manage content on their own.
This saves time and allows engineers to focus on code while the marketing and content teams create content. Teams may work at the same time without having to wait for each other to accomplish their jobs.
A headless CMS, in its most basic form, is a content repository that can provide content via APIs to any front-end or device. A headless CMS does not limit you in the same way that a typical CMS does whether you wish to show your content on a web page, a native mobile app, or in another digital format.
A headless CMS, therefore, supports an omnichannel experience in a larger sense:
Customers get a connected and synchronised approach to marketing, customer support, and sales with an omnichannel experience.
When a client engages with a company via one digital media, such as a mobile device, they expect the same experience on a desktop, tablet, or other smart devices.
The backend required for omnichannel content management is provided by headless CMSs. It has an admin user interface for creating, editing, and publishing content, as well as a RESTFUL API for delivering content where it is needed, which is critical for today's multi-touchpoint customer journeys.
What is an example of a Headless CMS?
Examples of 'traditional' or 'coupled' CMSs include:
Examples of headless CMS. Open source headless CMSs include:
However, non-open source solutions exist. SaaS options include:
Core dna
Contentful
Kentico Cloud
A headless CMS mainly includes:
Your backend content management system
An API
The main distinction is that the front end isn't provided in this case. It's up to the project managers to either construct one, choose an out-of-the-box solution, or modify and integrate an existing frontend.
To summarise, a headless CMS is made up of an API and the backend technology required to store information before it is supplied to the front end.
What is Strapi.io CMS?
Strapi is a free and open-source headless CMS that allows you to publish your content anywhere you want it.
Data under your control – With Strapi, you always know where your data is stored and have complete control.
Self-hosted – Strapi projects may be hosted and scaled in any way you wish. You can use AWS, Render, Netlify, Heroku, a VPS, or a dedicated server as your hosting platform. You'll be able to expand up as your business grows, and you'll be completely self-sufficient.
It doesn't matter what database you're using. Strapi is a tool that works with SQL databases. You have the option of using PostgreSQL, MySQL, MariaDB, or SQLite as your database.
Customizable. You may easily create logic by completely changing APIs, routes, or plugins to meet your specific requirements.