Google
5 Best Websites to convert Youtube to mp3 Free Online
Are you listening to your favourite songs? Want to download it from Youtube? But one needs to download this YouTube video and convert it into mp3.
Converting a YouTube video to mp3 format is really simple. One can even download an application that could do so. But make sure that your device is supported for mp3 format. Many devices like iPhones, iPad, Android Os, iOS, etc support mp3 players.
Any music that you have recently heard online, can now be downloaded safely and securely for your smartphone devices. You can even use these mp3 audio clips as an alarm, ringtone, or message notification. Not only that, you can put it on your WhatsApp, Instagram or Facebook Status.
There are many paid mp3 platforms and audio playlists like Amazon Music, Spotify, and many other OTT platforms. But users like to listen to and download their favourite music from YouTube and convert it into mp3 format.
Converting YouTube videos into mp3 format requires a one-time effort. After doing it successfully, users can listen to music without the internet. We have curated a list of 5 Best Free Websites to convert YouTube videos to mp3 format.
YTMP3
YTMP3 is the best and most free online tool out there, which can convert any YouTube video to mp3 format. All you have to do is copy a YouTube video URL and paste it on the YTMP3 website. And hit on Convert Button. Make sure to have little patience till the downloading completes. Also check that you have a proper internet connection, or else you might have to wait a little longer.
On a side note, YTMP3 can even convert video from other platforms also, like Instagram or Facebook. But not all video quality or music might be there. Instead, you can check here on Best 5 YouTube Online Converter Plugins available for FREE.
X2Download.app
If you are looking to download a youtube video in MP4, WebM, m4a, 3gp, or mp3, etc. You can do this easily on X2Download. You must have a YouTube or any other video URL, paste it on the X2Download website and click on the Start button. You can even download a video in 4K quality and the best mp3 format like 320 kb.
Make sure to have a good internet connection and antivirus software, as it may be required to scan the downloaded files. You may download any YouTube video to your device in a few easy clicks in a variety of formats, including MP4, WebM, m4a, 3gp, and notably X2Download, which enables you to convert any YouTube video to mp3 with the greatest possible sound quality. Everything is straightforward, you may see some advertisements on it.
Features in X2Download
Lightening Fast Download
Support various Formats
Unlimited Download in HD quality
FastConverter Mp3
FastConverter is another popular website that focuses on downloading YouTube videos into mp3 mp4 format. This too requires a YouTube URL, after pasting the YouTube URL click on the Search button and wait for a few minutes till Download begins.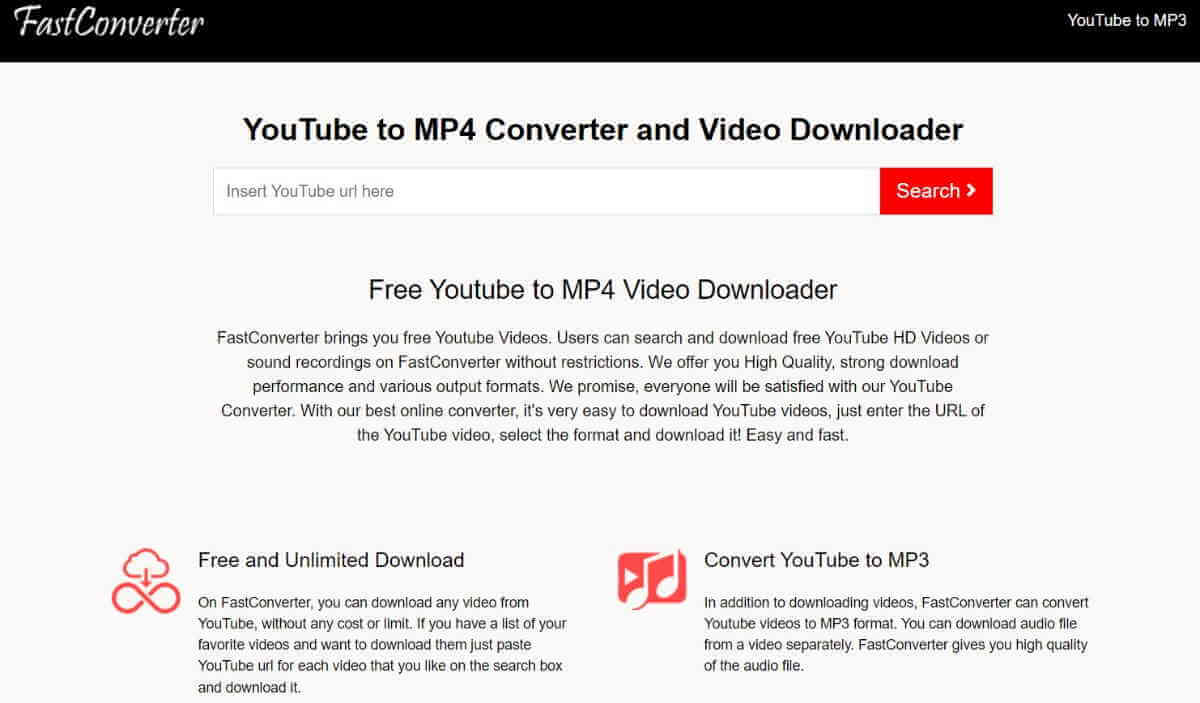 Features in FastConverter Mp3
Unlimited Download at Free of Cost
Easy Compatible Formats and even 320 kb mp3 supported.
Easy Convert mp3 to mp4 format.
Select various resolution for mp4 like 144p, 240p, 360p, 480p, 720p, 1080p (Full HD), 1440p, 2160p (4k), 4320p (8k).
Supported across various devices
YTConverter
A simple, quick, and secure YouTube to MP3 converter is YtConverter. We have the greatest audio and video quality, making it easy for you to download YouTube videos in your preferred MP4 or MP4 format.
YtConverter is an online tool that searches YouTube for the newest music and converts it to MP3 or MP4 format for your device. The ease with which you may download music and video files from YouTube to your computer makes it special.
The highest quality MP3 and MP4 file formats are supported by YtConverter. You may download MP3 files at the following bitrates: 64, 128 192, 256, and 320 kbps. There are several different MP4 video formats: 144p, 240p, 360p, 480p, 720p, 1080p, 1440p, and 2106p.
SnapSave.io
The PC, tablet, and phone versions of SnapSave.io all function well. You can quickly convert any YouTube video to an mp3 file by visiting the SnapSave.io website and following the instructions.
Advantage
Instant Download option unlike any waiting option or ads popup.
Good Quality conversion in 320 kbps mp3 conversion.
Supports every device like PC, Laptop, Android, iOS, iPhone, iPad, etc.
No virus or malware, no 3rd party added software.
Disclaimer
Digital Gyan does not support any video downloading or uploading from any extensions, plugins or Online Tools. This article is for information purposes only. Each reader is advised to go through Google's and YouTube's policies. Downloading copyrighted information is prohibited; however, converting YouTube videos to MP3 is permitted. According to Express.co.uk, it is illegal to use a YouTube converter to download a personal copy of a YouTube video. However, it is OK to download a converted YouTube video as an Mp3 file.