Social Media
Which Country Has the Highest Number of Social Media Users? – Statistics
Social media use varies drastically around the world. The United States is by far the most popular and has the most users overall.
The number of Americans using social media to share photos, like and comment on other people's posts, or send private messages was 223 million in 2020. In recent years, social media platforms and services have become some of the most popular online activities, with more than 70 per cent of the American population having an account.
According to Statista, by 2025, the United States is expected to have 243 million social network users.
Pattern of Usage
There is a wide range of uses for social media in the entertainment, communication, journalism, and business sectors. When it comes to platforms, Americans are most likely to utilise social networking sites, media-sharing websites, instant messaging apps, and microblogging services. Many Americans' everyday routines now include one or more of these websites or applications.
During the coronavirus (COVID-19) pandemic in 2020, the average daily usage duration jumped from less than an hour to 65 minutes. Since many Americans began to sequester themselves at home in March 2020, the use of social media and other forms of digital communication has increased at an unprecedented rate across the country.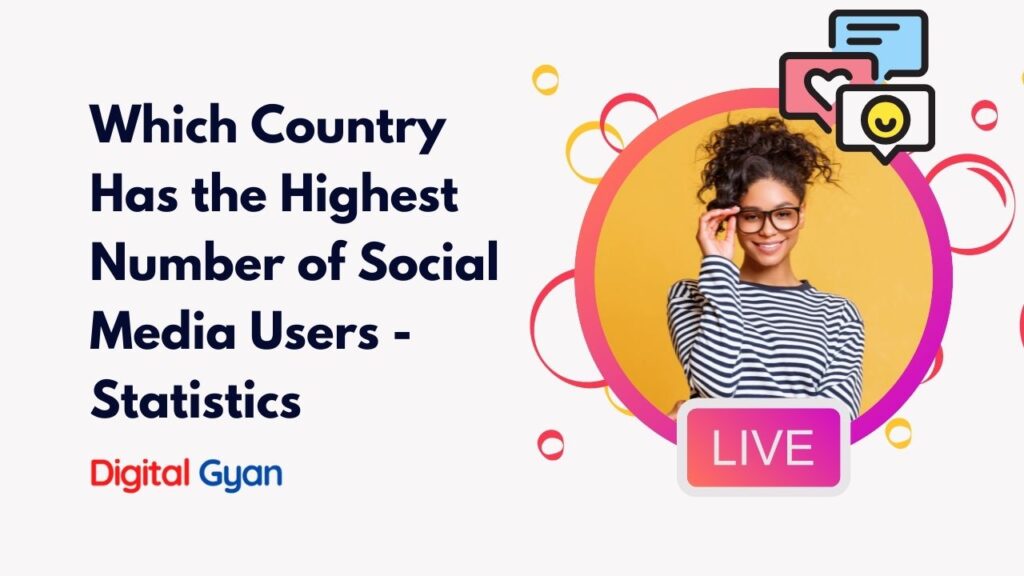 Facebook
Based on the number of people that log in each month, Facebook is the most popular social media platform in the United States. By the beginning of 2021, the platform had over 190 million US account holders and a market share of over 72%. By reaching, engaging, and attracting the most users,
Facebook is the most popular mobile social networking app in the United States, according to ComScore. The importance of mobile-friendly user interfaces cannot be emphasised, given that smartphones accounted for 83% of social media visits in the US at the end of 2019.
How many Facebook users are in India?
Facebook's user base in India was over 433.75 million by 2021. By 2025, it is anticipated that the number of Facebook users in India will climb to 677.34 million.
As of June 2021, nearly all Facebook users in India accessed the platform using mobile devices. During the same time period, less than five per cent of social media platform users in the country visited the platform from both a mobile device and a PC.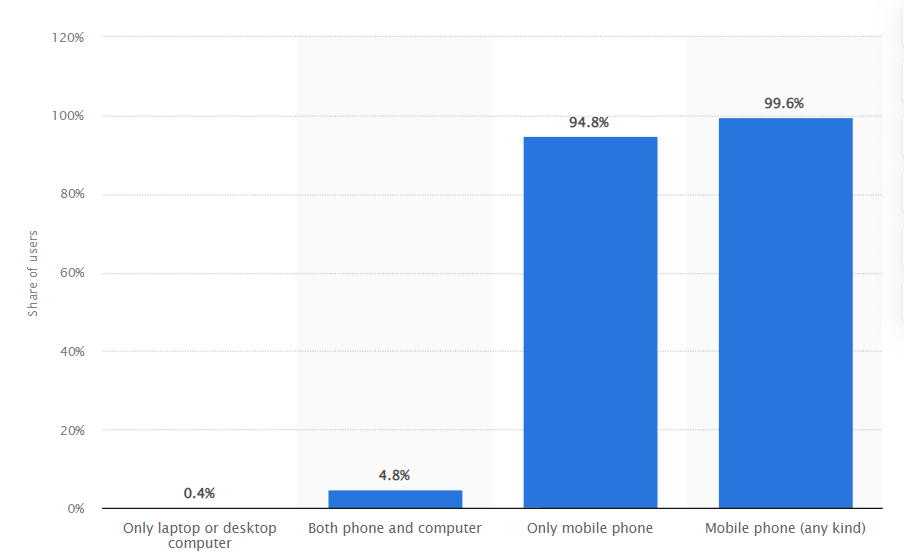 How many people use Instagram Worldwide?
Instagram was the fourth most popular social media network in terms of user counts as of January 2022. YouTube and WhatsApp placed second and third, respectively, but Facebook remained the most popular social media platform, with about three billion monthly active users globally. As of January 2022, India had the most Instagram users, with more than 230 million users. The United States has the second-largest Instagram audience, with about 160 million subscribers to the picture and video-sharing app.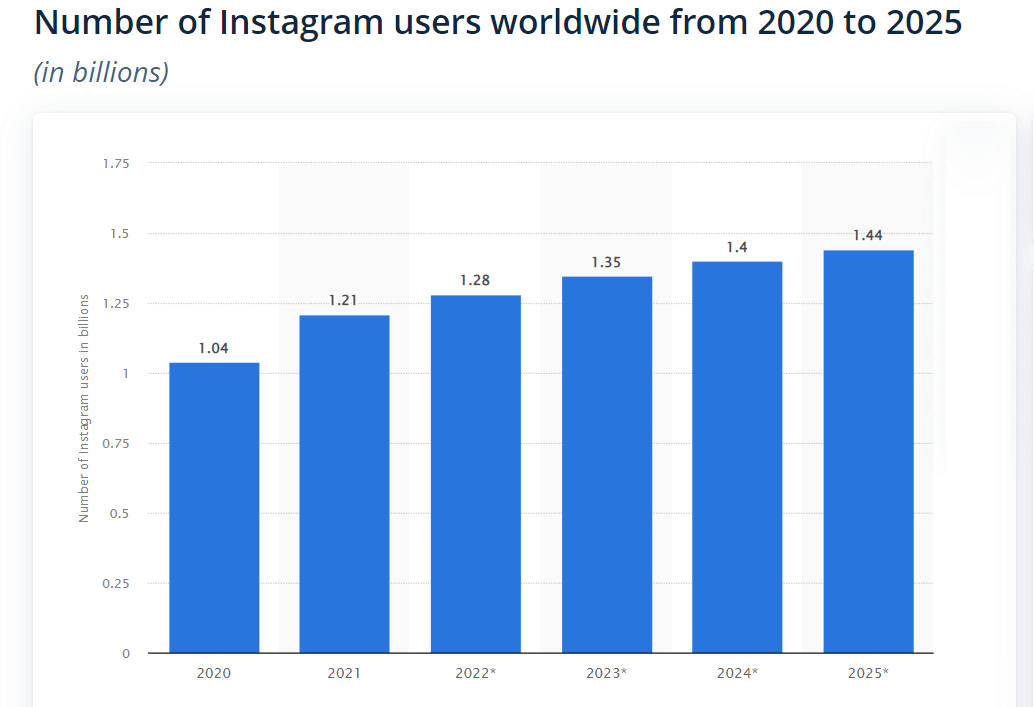 By 2023, the site is expected to have 120 million users, up from the 107.2 million who used it in 2019. Marketers are rapidly using Instagram to target Millennial and Gen Z internet users, who make up the country's most extensive potential customer base. Businesses are taking advantage of Instagram's rapidly expanding user base by advertising in the form of sponsored images, videos, and stories.
TikTok
TikTok is a social media app where users can share short videos of themselves lip-syncing or dancing to popular songs. The app is owned by the Chinese company ByteDance and was originally released in 2016. TikTok is incredibly popular among Gen Z users and has been downloaded over 1.5 billion times.
How many people use TikTok?
Insider Intelligence projects that by 2022, TikTok will have 750 million monthly users throughout the globe. It is presently the third largest of the Big Five social networks worldwide.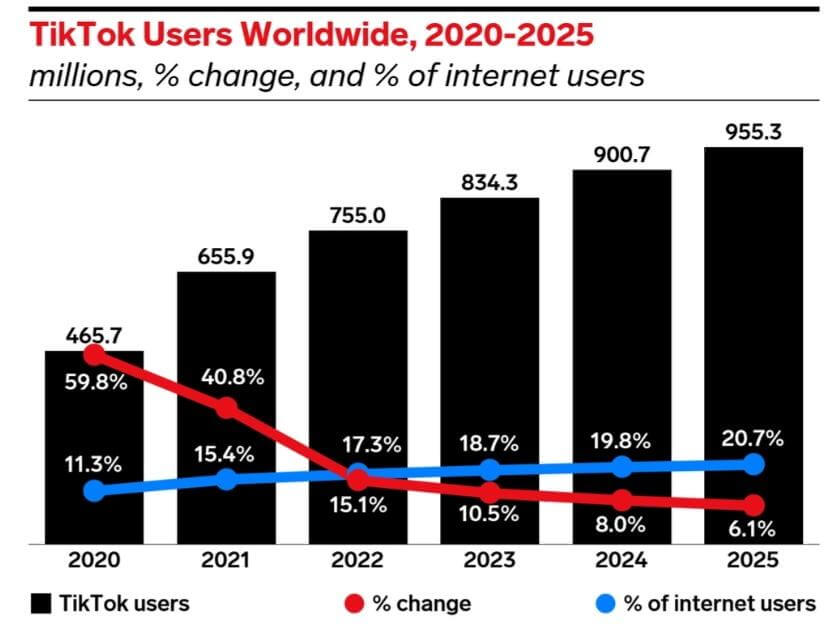 In terms of TikTok users, too, the US tops the list with around 95 million active users. India could be a potential challenger with this app, too, but TikTok is banned in India.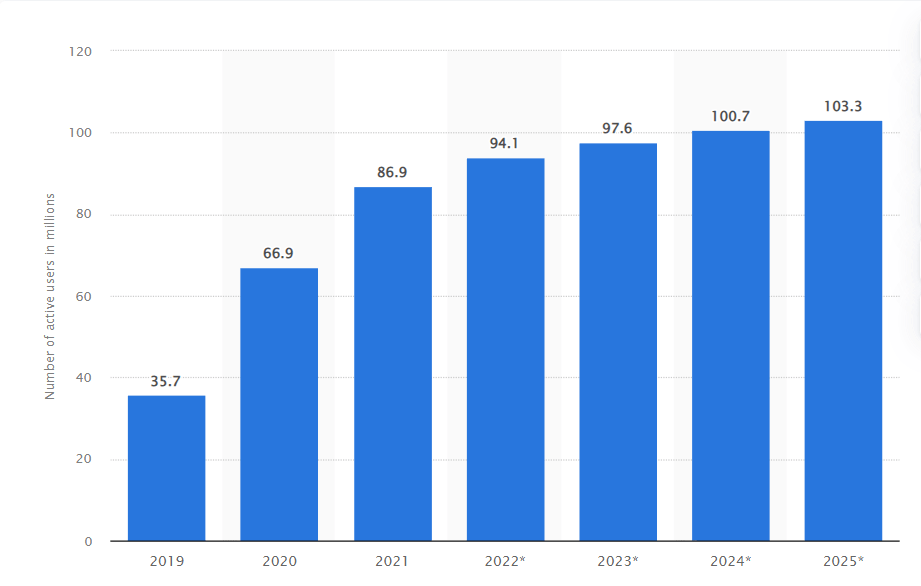 Summary
Even though Facebook is the most popular social media site, other sites are becoming more popular, especially among teens and young adults in the United States. Instagram, a popular picture and video-sharing app, is one of the most prominent players in the market.
In recent years, many people have been using alternative social media sites. TikTok, a platform for short-form video, played an important role in the coronavirus epidemic. Short-form video is here to stay with its fashionable, catchy, and easily accessible content. Twitter, Pinterest, and Twitch also showed a rise in usage.