Technology
What is Discord Nitro? | Features and Benefits Explained
Discord Nitro is a premium subscription service for Discord that gives users access to various features, including animated emoji, increased file upload limit, improved audio quality, and more.
In this post, we'll look at what Discord Nitro is, what features it offers, and how it can benefit users.
What is Discord Nitro?
Discord Nitro is a premium subscription service that gives users access to various features, including animated emojis, increased file upload limit, improved audio quality, and more.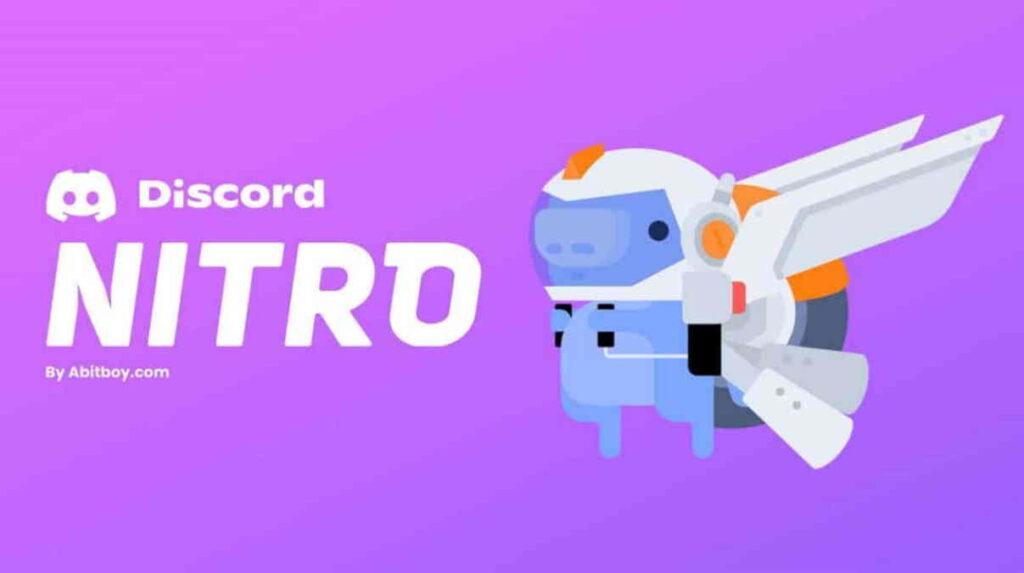 Discord Nitro upgrade is available at a monthly subscription of $9.99 or $99.99 per year as of October 2022.
With a Premium Subscription, one can expect a favourite gaming server, which includes Animated Stickers, Emojis, a high-speed server, HD Video Streaming and Recording, etc.
What features does Discord Nitro offer?
You might be thinking, is Discord Nitro worth it? To help you decide, some of the features that Discord Nitro offers include:
Animated Emoji: With Discord Nitro, you can use animated emojis in your server's emoji slots. You also get access to custom emojis. In contrast to the static emojis available to free users, Discord Nitro members may utilise animated emoticons in servers and direct messages.
Emojis are accessible on any platform, which is an additional advantage. Nitro subscribers can use emojis on any server, including private conversations, in contrast to non-Nitro users, who are restricted to using them on a single server.
Larger File Upload Limit: Discord Nitro users can upload files up to 100 MB in size, compared to the 8 MB limit for free users.
Improved Audio Quality: Discord Nitro users can enjoy higher audio quality when using the desktop app.
HD Video Streaming for Youtube or Twitch: If you frequently view Netflix content on Discord with friends to watch TV series and movies, you may have observed that the platform's default video quality limit is 720p at 30 frames per second (without Nitro).
When you purchase a Discord Nitro subscription, that is different. In order to broadcast games or watch YouTube videos with friends on Discord, subscribers can stream 1080p videos at 60 frames per second.
This becomes effective if you are a serious gamer or you want to LIVE record your Gaming session.
Pick Cool Fancy Names: Your name and a tag make up your Discord username. The term "tag" in this context refers to a four-digit number chosen at random.
However, if the desired number is available and not in use, you may opt to specify it in the tag for Nitro. Having said that, it's also important to note that your Discord tag will be randomly assigned when your subscription expires.
Discord Nitro Premium Server: A Discord server's boost can enable extra benefits like more emoji slots, improved audio, a server banner, and more.
You may use the two server boosts included with each Nitro membership on any server. However, if you choose Nitro Classic, you won't receive the complimentary server boosts. However, Nitro and Nitro Classic members are also entitled to a 30% discount on further server increase purchases.
How can Discord Nitro benefit users?
There are a few key benefits that Discord Nitro can offer users:
Increased flexibility and creativity: With animated emoji and the ability to upload larger files, Discord Nitro gives users more flexibility and creativity in how they use the platform.
Improved audio quality: For users who are looking for the best audio quality possible, Discord Nitro is the way to go.
Access to exclusive features and servers: Discord Nitro gives users access to exclusive features and servers, including the ability to join Nitro-only servers.
Discord Nitro is a great premium subscription service for Discord that offers users a variety of benefits. If you're looking for more flexibility and creativity in how you use Discord, or if you're looking for the best audio quality possible, Discord Nitro is a great option for you.
What is the difference between Discord Nitro vs Nitro Classic?
You might be asking what the difference between Nitro and Nitro Classic is. In Nitro Classic, you won't have access to the 100MB upload limit; two server boosts, server avatars, or the option to use stickers anywhere. You won't also be subject to the 200 server and higher character cap restrictions.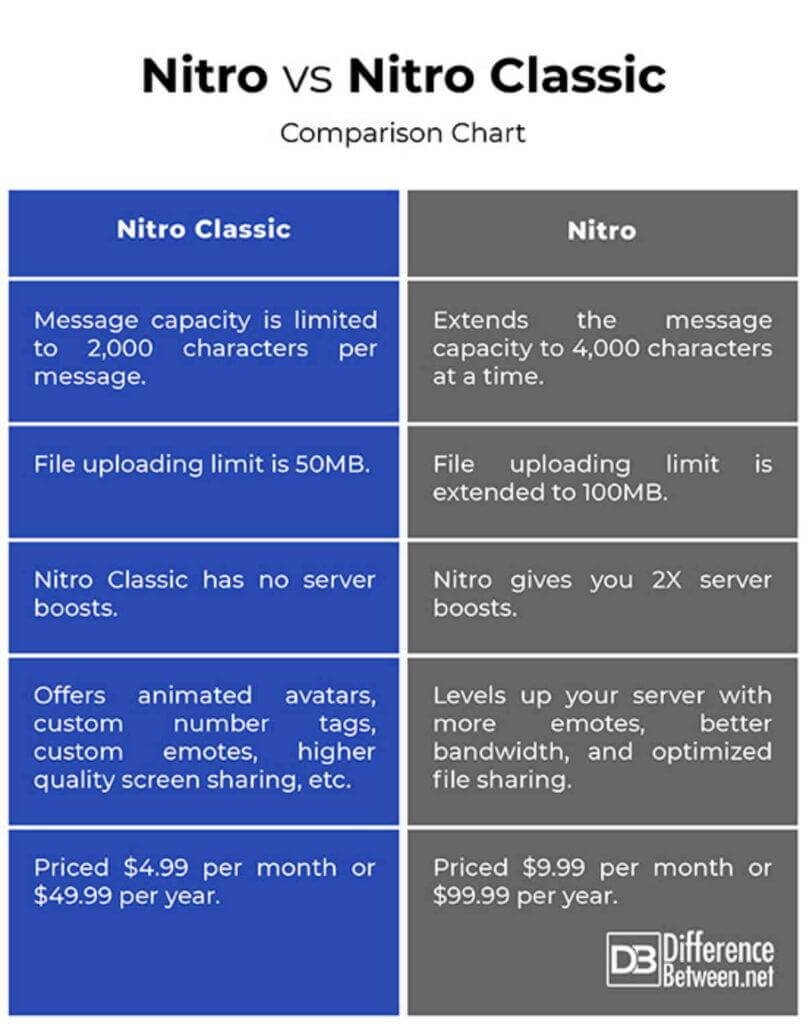 In Nitro Classic, you will get Nitro Badge, Custom Avatar, Animated Stickers, Tag Name and HD Video Streaming.
Server Boost
The optional server boost function gives your community access to some brand-new, upgraded collective bonuses, which undoubtedly boosts the server of your choosing. With each server upgrade, you get better audio, better video, and a bigger upload limit, allowing you to accomplish more with the basic capabilities. Consider the bump as a PS4 to PS5 upgrade. The Nitro provides you 2X server boosts whereas the Nitro Classic has no boosts.
Message Limits
Users of Nitro Classic and free accounts are limited to 2,000 characters per message. With the low-cost Nitro Classic membership plan, you may only type 2,000 characters in the chat box at once and your message capacity is cut in half. With the Nitro membership package, you may send messages of up to 4,000 characters each.
Should I buy Discord Nitro? Is Discord Nitro Worth it?
In simple terms, Discord Nitro depends upon your requirements. If you are a Serious gamer and want to make your community an impact, then Go for Discord Nitro. One can ask their Subscribers to join their dedicated Discord Nitro server and can charge money for it.
Discord Nitro server makes a great source of income from Youtube or Twitch subscribers. You may either pay for a month of Nitro membership or wait for free Discord Nitro promos if you're still unsure about whether you'd find Discord Nitro beneficial. You may keep an eye out for Nitro membership giveaways on established servers, which are often.
How can I subscribe to Discord Nitro on a PC/Laptop?
To subscribe to Discord Nitro, follow the steps below:
Open the "User Settings" icon in the lower-left corner of the Discord desktop software.
Click "Discord Nitro" in the "Billing Settings" section of the left sidebar on the "Settings" page.
Click "Subscribe" to obtain a subscription for yourself after that. You may also select "Gift" from the menu if you want to give your buddy a membership.
You may select a monthly or yearly membership from the pop-up window that displays. The latter essentially offers a 16% saving on the membership price.
How to Subscribe to Discord Nitro using Android or iOS mobile? Mobile
To go to the settings page, tap on your profile photo in the bottom navigation bar. After that, scroll down until "Subscribe Today" is shown under "Nitro Settings." To open it, tap. You can either scroll down to subscribe to Nitro Classic or touch the green "Subscribe" button for Nitro here.
You have the option of choosing simply the Nitro membership or adding on more boosts to your subscription. You could continue with the monthly plan from the next pop-up or choose a yearly membership that effectively provided a 16% reduction. Make the amount in full to join Nitro.
Benefits of using Discord Nitro
Discord server creation and operation are both free. However, using server boosts may give your own or frequently visited servers advantages.
Members of the community can donate to servers on premium levels. Every server on Discord has a level, and each level equates to a particular number of perks and enhancements.
For instance, it takes two boosts to bring a server to level 1, 15 boosts to level 2, and 30 boosts to level 3.
The advantages of raising a Discord server's level are as follows:
Added spaces for emojis in the community (up to 250).
better voice channels' audio quality.
Enhanced Go Live broadcast video quality.
Increased upload cap for all server users.
Banner and server URL customization.
Discord Nitro is sufficient to provide Level 1 status to servers for owners with active servers. The Buy a Level function, which enables users to immediately buy the number of boosts required to advance to the next level, is also available to owners.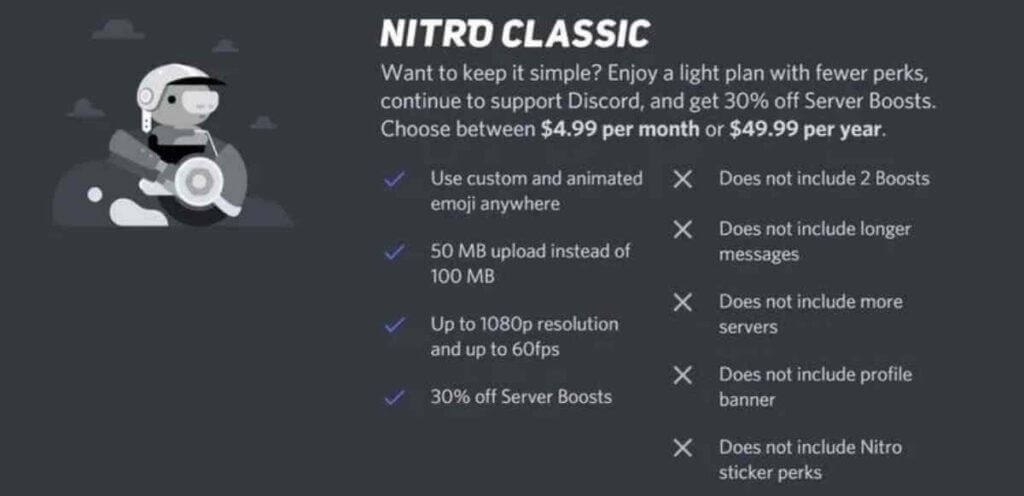 Server improvements are also advantageous for businesses that use Discord for office communications. Members may demonstrate their support for communities they are involved in by giving boosts. This is especially useful if you play on a smaller server with a strong sense of community.
Summary
Your Discord user experience is improved with Discord Nitro. It is always a good idea to have a Nitro membership if you are the owner or moderator of several Discord servers, even if not everyone would find the benefits beneficial. Are you going to try Discord Nitro, then? Please tell us in the comments.