Tips & Tricks
How to retrieve deleted direct messages on Twitter?
We are humans. Humans make mistakes, and one of the common mistakes almost all of us make is deleting social media texts and messages just to realise later that we need them again.
So, have you mistakenly deleted a message on Twitter and now desperately looking for a way to undelete or recover those deleted Twitter messages? But the most important question is whether it is possible to recover or retrieve deleted Twitter messages. Well, you have arrived at the correct place. Today at DigitalGyan, we will discuss some tricks to retrieve deleted messages.
Why Recover Deleted Twitter Messages?
It might be a priceless dialogue, praise from someone, some important documents/photos/videos in a conversation, or simply a nice remembrance of old times.
It's a huge disappointment when your Twitter messages are mistakenly removed. It can affect a lot of us, and it does. We've all been in instances when we've mistakenly erased communications, only to blame both the screen and ourselves afterwards.
How to Recover Deleted Twitter Messages?
Twitter does provide an archive tool that allows you to examine and retrieve deleted messages and conversations in the form of archives, but you must demand a download of your deleted messages.
Users can remove direct messages from their own side of the conversation on Twitter (the sender will still get to with a copy unless they also confirm to remove it). According to a security researcher's revelation, TechCrunch published, those erased messages aren't being destroyed.
It turns out that, even though the message was removed, Twitter retains all of the DMs from years ago. People can access this by downloading their Twitter account's archived data. Even communications made to and from deleted or suspended accounts are still accessible.
Twitter archives your deleted messages, allowing you to regain and restore them. If you delete or mistakenly remove messages, photographs, or videos, Twitter stores a cache in its archives.
Method 1) Easy way to recover deleted direct messages on Twitter
You may even recover communications that have been erased on both sides and accounts that have been cancelled. All you need to know is how to get there; everything else will fall into place.
This is how you can do it.
Log in to retrieve messages from your Twitter account that have been erased.
Click the More option on the left side.
It will present you with a number of alternatives; choose Settings and Privacy.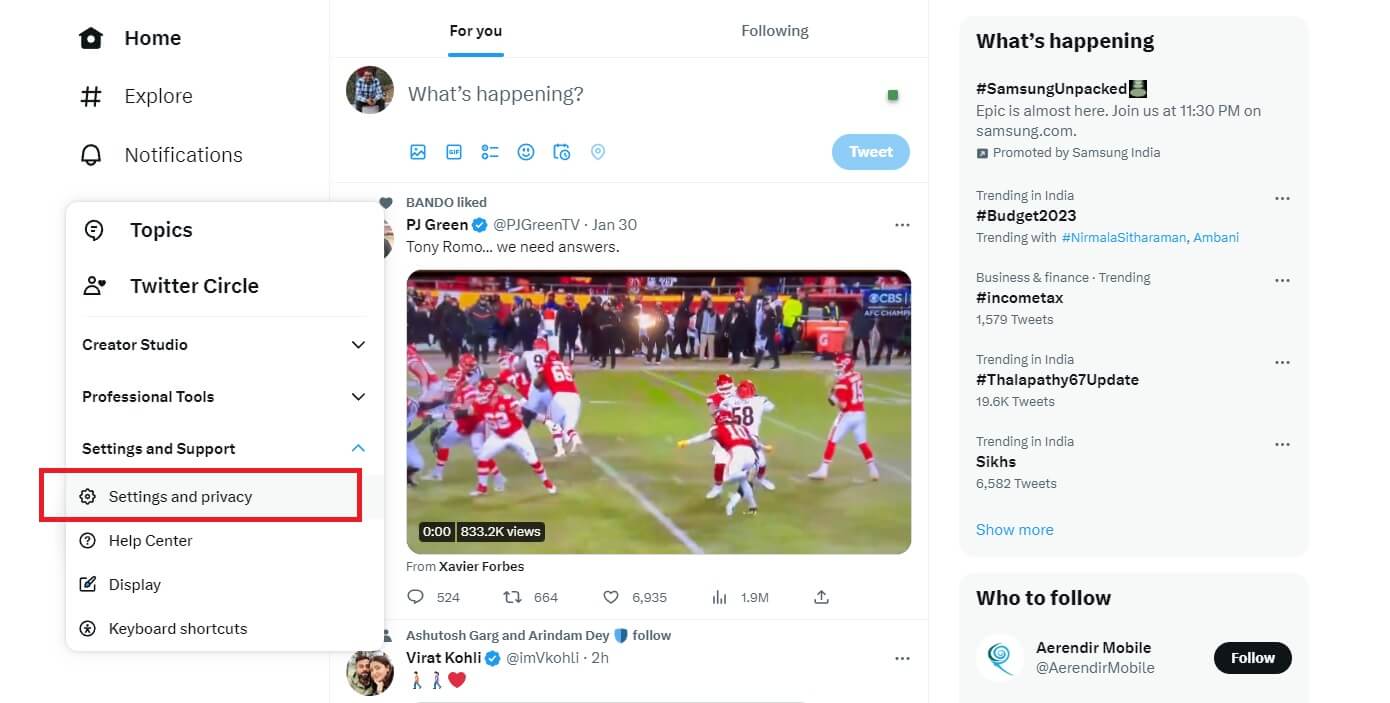 Tap "Download an archive of your data" OR go straight to the Twitter Archive Download page to receive a file of deleted messages.
Then, to validate your request, confirm your password.
When you click the "Request Archive" button, your account's archive will be created.
You will receive an email with a download link once the archive is available. Depending on the size, it might take up to 2-3 days.
When you open the email and touch the Download link, you'll be sent to the Settings and Privacy page, where you may download it as a .zip file.
Now, using WinZip or 7Zip, extract the downloaded.zip file to create a new folder named Twitter.
To access deleted communications, open the archive.html file from the extracted folder.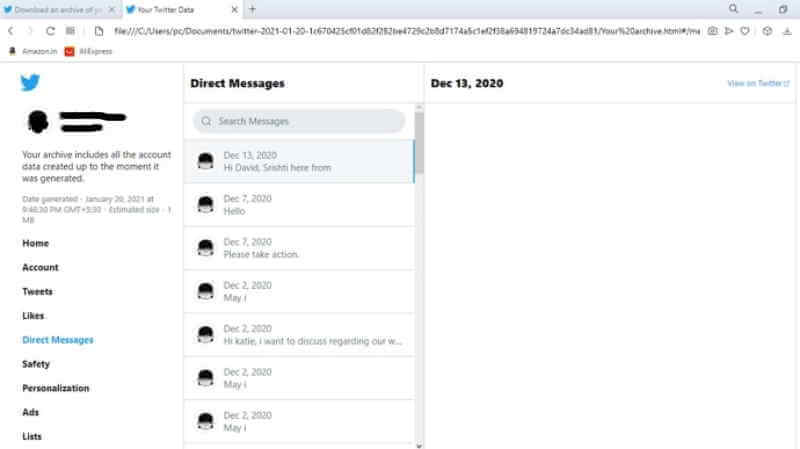 That's it; now go to the left side and touch on Direct Messages to view and retrieve deleted Twitter messages.
Method 2) Using a Third-Party Tool
Go to the iStaunch Twitter message recovery program to recover your lost messages. Afterwards, enter your username and hit the "recover messages" option. That's all; your account's data will be restored instantly.
Always take Backup
It is always laborious and time-consuming to get back your erased data, regardless of the approach you employ. To be cautious, creating a backup is always a good idea. You may preserve the message text and discussions in a backup drive on your device by copying and pasting them.
This method ensures you will never lose your messages, even if you accidentally delete them from your Twitter account. You may always use this backup to get your data back.
Turn on the Sync Up Functionality
Manually backing up your data is a task that many people overlook. However, retrieving lost DMs and chats has never been easier thanks to automatic backups across many cloud providers.
You may enable synchronization from your Twitter account with your Google drive to ensure that your Twitter messages are automatically backed up on a regular basis.
From Twitter's mobile app, you can also schedule these backups. This will ensure that all your app messages and interactions are safely stored in the Google cloud and can be easily recovered if necessary.
Managing your Twitter account might be difficult and time-consuming, but with these simple tactics and strategies for backing up and recovering lost tweets, it becomes a piece of cake. We hope this information was useful and that the next time you have a Twitter emergency, these strategies will come in handy and save the day.
Method 3) Manually Checking through Mails
Another option is to retrieve DMs by email, as Twitter provides email notifications anytime users get messages. To get a list of tweets, go to:
Go to your email account and sign in.
Open the email that Twitter gave you about your direct message.
You may now see the deleted message's contents.
The two techniques listed above are the most well-known methods for obtaining Twitter messages. This is because the system has no way of retrieving deleted DMs. The procedures listed above will only allow you to recover and view the messages; they will not reappear in your account.
Customers can also contact customer support specialists for assistance with service concerns such as deleted direct messages. The contact information for the customer support representatives is shown below.
One of Twitter's initiatives to provide seamless customer service is through phone calls. When you contact the toll-free number, an agent will listen to your problem and offer assistance. They may be able to assist you in recovering your messages and perhaps provide useful Twitter advice for future use.
Customers can contact Twitter's customer service employees via the online support website. You can browse the online forum's many assistance topics and pick one that corresponds to your problem.
An agent will contact you to enquire about your issue, and you must state your argument clearly. You will be able to acquire a written record of events from the chat discussion, which you can refer to in the future if you have a similar problem.
On the same platform, Twitter also has a help page. Because you're dealing with concerns for the firm via its platform, you will likely receive assistance promptly. And if you publish or publicize your concern, you may get a far faster answer.
Conclusion
In conclusion, it is possible to recover deleted Twitter messages, but it is not guaranteed. If you accidentally deleted a message, your best bet is to contact Twitter support and hope they can help you. Otherwise, there are third-party tools available that can give you a better chance of recovering your data.