It is not unusual to forget your Facebook account password, considering that we have to remember many passwords for various sites and services.
If you are looking for a solution, you have arrived at the correct place. Today at Digital Gyan, we will discuss the recovery process for Facebook's forgotten passwords and emails.
If you are wondering how to recover your Facebook password and email, it is very easy to do. It doesn't matter whether you forgot it or were hacked; there are many ways to recover your Facebook password or email. We have listed two methods and one step-by-step guide to help you recover them.
If you forget your password and don't have access to the email address you used to sign up for Facebook, you can regain your account. You can regain access to your Facebook account by utilising your contacts, your username or formal name, and a different email address.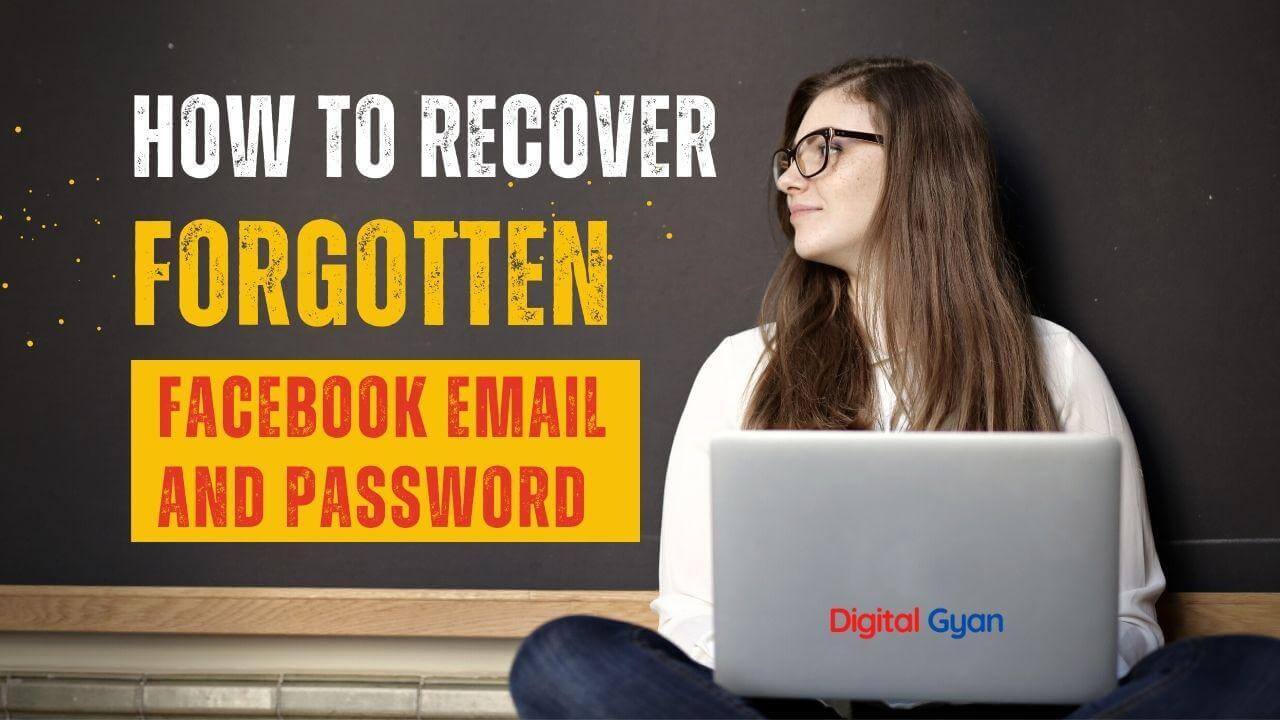 How to recover forgotten Facebook Passwords and Emails?
You may have forgotten your password if you haven't checked into your Facebook account in a long time. It might be tough to restore your password if you don't have access to your email address. Fortunately, you may regain access to your account even if you don't have access to your email.
Method 1 – Just Use the 'forgotten password' feature
This is the most basic and simplest solution to your forgotten Facebook password. You only need to remember your account's linked phone number or username.
If you can't find your email address, look it up using your name or username. You can retrieve your account using your nickname, username, or formal name on Facebook's Find Your Account page.
You'll see a list of all the accounts you could have. When you've found yours, select 'This is My Account.' To reset your Facebook password, simply follow the on-screen instructions.
If you can't remember your username, try logging into someone else's Facebook account and navigating your own. Your username is the last name that appears in your URL. It is not always feasible to find your username using this approach.
Method 2-Find your trusted contacts on Facebook
Your friends and family members (trusted contacts) can assist you in regaining access to your Facebook account. To finish the procedure, follow these steps:
Go to the login page for your account.
Under the 'Password' area, click 'Forgot Account.'
On the password reset page, choose 'No longer have access to these.'
On the 'How Can We Reach You' page, provide an accessible phone number or email address.
Continue by pressing the Enter key.
Enter the name of a contact you assigned under the 'Reveal My Trusted Contacts' option. Additional information will be sent to assist you in regaining access to your account.
Email your buddy a link, ask them to follow it, and send you the code. Enter the code to retrieve your account.
Method 3 – Contact Facebook Helpline Team
If you need assistance recovering your Facebook login but don't have access to your email, there are many methods to contact Facebook. Calling Facebook is the greatest way to get in touch with them. You will be connected with a customer service representative who will respond to your query. You may need to call many times before receiving the assistance you require. The greatest option for phone help is live chat. It allows you to chat directly with an agent and get assistance with your situation.
If you are unable to speak with an agent directly, try requesting assistance by email. Send an email to the customer service team explaining your problem and what kind of help you need.
What to Do If I Am Bad at Remembering Passwords?
It's so easy to lose a password. We often have to write down or memorise dozens or hundreds of usernames and passwords, some even with several different email accounts and phone numbers. It is recommended to use a password manager, so you are not burdened with remembering passwords. A password manager is a piece of software that helps you secure your passwords and is also referred to as an online password vault. Password managers assist in the following two ways:
It generates a strong and random password.
It maintains a password and user database, so you do not have to remember all your passwords and hence avoid security threats and breaches.
Conclusion
Due to your busy life and several social media accounts, forgetting your Facebook email and password is not unusual. The autosave feature is one of the reasons that we don't bother to remember passwords anymore. We tend to use passwords in certain cases, such as logging in to your account on a new device. If you ever forget your Facebook password or email, you can retrieve it using the methods as described in the above section. Also, you should follow the best practices when it comes to saving emails and passwords. It is best to update your password regularly. It will help you remember your credentials. If you can't remember, try to use a password manager.