Social Media
How to recover Facebook account without a phone?
Recovering a Facebook account without a phone number is not as tough as you would believe. It's straightforward; anyone can do it once you understand the steps.
Even if you don't have the problem right now, it's helpful to know since, let's face it, we're all addicted to social media. And we can't live without it because we feel compelled to know what's going on in our friends' lives and in the globe. Let's talk about how to recover a Facebook account without a phone.
This page is intended to assist users who have forgotten their Facebook account's phone number.
How to recover a Facebook account without a phone number?
When users are unable to access their Facebook account using their phone number or email, they request recovery without them. This might help to recover a Facebook account without a phone. Here's how to do it:
Go to Facebook.com and select the Forgot Account option.
You will receive an email or a phone number as a recovery option.
To continue, choose to have access to these no longer.
Giving a friend's phone number is the next option.
To continue, enter the phone number of a friend.
The user will be given a choice to reveal their trusted contact.
As a result, give the name of a reliable buddy.
A code will be sent to the friend's cell phone number.
On the recovery page, enter the code.
Once the code is entered, a password reset screen will display.
For the account, create a new password.
How to recover a Facebook account without Email and Phone Numbers?
People frequently forget their passwords but never have to log out after logging into their accounts. They do, however, require a password to access their account at times. For example, if you accidentally changed your phone or logged out.
The following is the Facebook Account recovery procedure:
Tap Forgot password on the Facebook website.
As a recovery option, provide an email address or a phone number.
Fill up the email or phone number.
The next stage is to answer a security question accurately.
The chosen recovery option will get a code.
On the recovery screen, enter the code for account verification.
The password reset page will then be shown.
It should not be difficult for you to regain your Facebook account without a phone number now that you know how. If you want to be sure you never have to do it again, write down the password someplace.
Remember where you put it so you can verify it later if you need to log in with your password. If you have any problems, such as not being able to recover your account despite completing everything, contact Facebook's technical support staff.
Unless it is impossible to retrieve the account, they will assist you in resolving the situation promptly.
Using an Alternative Email or phone to recover a Facebook account
If you use a different email address or cell phone number that is listed on your account, you might be able to get back into your Facebook account. This way, one can recover a Facebook account without a phone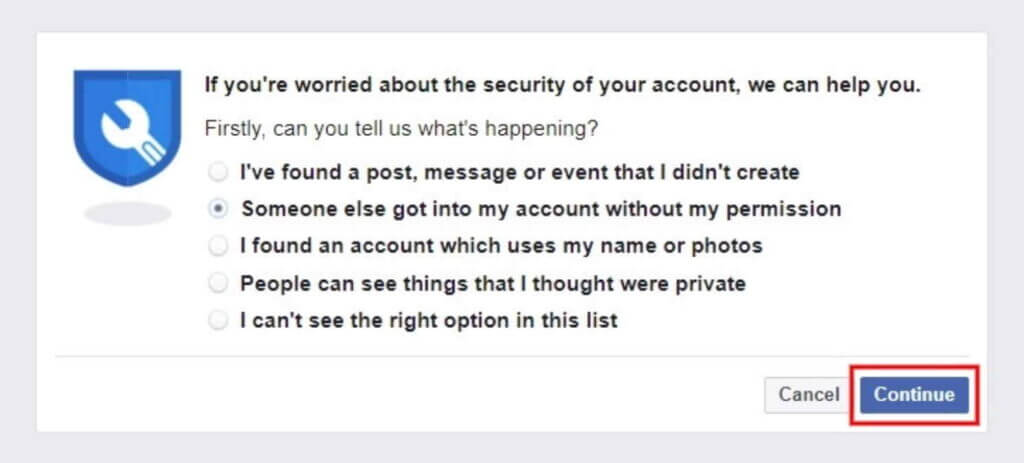 If you are unsure about the available backup information:
Go to facebook.com/login/identify using a device you previously used to access your Facebook account, and then follow the on-screen instructions. Once you've logged back into your account, find out how to reset your password.
Verify alternate phone number.
Your mobile phone number must be entered, including the country code. Any further zeros, plus signs, or other special characters should be omitted.
Attempt to recover your email account
You might try contacting your email service provider to retrieve your email account if you registered for Facebook using an email address but can no longer access the account. To begin, look for a choice like "Trouble signing in?" on your email sign-in screen or Lost your password?
You can complete the process to reset your password once you have access to your email account once more. Try to recover your email account, which can further help to recover a Facebook account without a phone
Report your Compromised Facebook Account
First, launch a browser on your computer, preferably Google Chrome.
Avoid using a mobile browser, as you won't be able to complete some tasks afterwards.
Next, enter "Facebook account hacked" into the Google search bar.
Next, choose the search result for "Report Compromised Account – Facebook."

If you think your Facebook account has been compromised, you can restore it by visiting the "Report compromised account" page.

In order to restore control of your account, Facebook will assist you in logging back in.
The page also allows you to change your Facebook password without providing your email address or phone number.
Once there, select "My Account Is Compromised" from the menu.
With valid reasons, one can recover a Facebook account without a phone.
Report your Account to Facebook
You will arrive at the recovery tool once you have input your current or previous password.
You may restore and safeguard your Facebook account using the recovery tool.
The first step is to inform Facebook of the situation.
There are five alternatives available for you to select from.
Choose the solution that best addresses your problem.
Choose the "Someone else got into my account without my permission" option if you believe that your account has been hacked.
You can choose "I can't see the proper option in this list" if you don't find an appropriate option.
Then, select "Continue" to move on to the following action.
You'll receive an explanation of the tool once you've informed Facebook of the situation.
The application says that changing your password will involve following a few steps.
Additionally, it will confirm that you made any most recent updates to your account.
You will be able to undo any most recent alterations made by someone else.
To begin the recovery process, click "Get Started" at the top of the page.
Reporting your Facebook account could help to recover a Facebook account without a phone.