With the growing number of cybercrimes, it has become common for hackers to hack Facebook accounts constantly. Getting hacked into your Facebook account can put you in big trouble or an embarrassing situation.
You need to act quickly to get your compromised Facebook account back before the hacker does something you didn't want. It could be embarrassing if any sensitive details are shared in public. For example, there could be some critical company details. So, how do you avoid this security breach and protect your data and profile?
In this guide, we will discuss some of the working methods to recover your hacked Facebook account and protect it from getting hacked again.
How Do You Know that Your Facebook Has been Hacked?
There could be several indicating factors that give some hints that your Facebook account may be hacked or compromised. On their help page for hacked accounts, Facebook has listed down some possible indicators of hacked Facebook accounts or profiles and how to recover your account.
Your account may have been hacked if you notice that:
Your email address or password has changed – If you use your email and password to log in to Facebook, it may happen that your password is not working. Facebook might show a warning that your password was changed recently. Or your email-ID may not be working using the correct password. It means that your account is hacked or taken over by someone.
Your name or birthday has changed – If you notice that your name or birthday has been tampered with, it is a strong indication of hacked Facebook account. You Should immediately check the Facebook settings to protect your account.
Unknown Posts – There can be some unknown posts that your didn't post or don't remember posting. Often the hacked Facebook accounts have been seen posting links to some spammy websites with promotional offers. 
Friend requests have been sent to people you don't know – Do you suddenly notice a lot of people are accepting your friend request, and you did not even remember sending them any requests? It is another indicator of a compromised Facebook account.
Messages have been sent that you didn't write – There may be some messages that you did not send to your contact list.
Posts or ads have been made that you didn't create – Most hacked profiles are detected due to this activity. There may be some strange post on your profile such as free gift link or something like that. Some of your friend might tell you about such postings.
Also check out: How do I Recover my Forgotten Facebook Password?
Possible Causes Why Your Facebook Account Got Hacked
Often people use easy and simple to remember passwords for their social media accounts. Such passwords are prone to hacking. Using a weak or insecure password is one of the top reasons why your Facebook account may easily be hacked, especially by some known and close person. People who deal with you on a daily basis, such as a best friend (not from the inside, though), may be able to guess your regular or common passwords using social engineering techniques. For example, they may know your date, special place, the name of a special person and so on.
Another possibility is that someone may have hired a professional hacker due to whatsoever personal reasons. These hackers can use brute-force attack to find out your password. Whatsoever is the reason for hacking? You should be careful when choosing a password for your Facebook account and keep changing it regularly.
Let's come to the point. Here, we will show you how you can regain your hacked Facebook account by following some easy steps, and we have also made sure to include answers to all the possible questions you might be asking yourself, from how to get started to how I can see who has my password.
If you are searching for how to recover a hacked FB account, we are here to help you with some methods that will help you retrieve your hacked or compromised Facebook account.
So, How Do I Recover My Hacked Facebook Account?
If you've had your Facebook account locked or deleted (and you can't even access it), it's understandable that you may be asking yourself: "How can I get my Facebook account back?" If your Facebook account has been removed, it means a hacker or group of hackers can access your Facebook data.
Under various circumstances, users may lose control of their Facebook accounts. For example, someone can forget their Facebook username and password or lose access to the email address they used to sign up for Facebook. Second, someone may have logged into their account on another device, which is now being used for inappropriate social media activities. Lastly, a malicious attacker guessing your Facebook account's login and hacking into it would be the worst-case scenario.
Unfortunately, there seems to be no Facebook hotline to call to remedy the problem. Find out how to regain your Facebook account in the sections below.
If Facebook Account is Hacked
If a Facebook user believes their account has been hacked, they can report it to Facebook at the URL: https://facebook.com/hacked. After that, a user must click "My Account Is Compromised" and fill out the rest of the information requested by Facebook.
The next step is to find your account using your registered email or phone number.
As you can see that there are several indicators of hacked FB account, such as you notice a post that you did not make or create on your own or you found someone using your profile details to create another fake account in your name. Select the correct option and click continue to further instructions.
Guys, the first thing you should do is open your email inbox and click the link in the email that Facebook provided you when someone logged in or changed your password, then follow the instructions in the email! It works in all circumstances, even if the hacker has altered the email address or any other information.
You may change the email connected to your Facebook account if the hacker changes it. When an email is changed, Facebook will send a unique link to the former mail address. To undo the email change and safeguard your account, follow this link.
If Your Email Linked to Facebook Works No Longer
If your account has been hacked or compromised, and you want to regain the hacked FB account; also you do not remember which password was used to create the account. Don't panic. Still, it is very easy to recover your Facebook profile that has been hacked.
If a person forgets the email ID they used to establish their Facebook account, they may still retrieve it using a different email ID or a phone number. In this case, a user must first identify their account by visiting the following URL: https://facebook.com/login/identify
Once Facebook has recognized a user, it will display instructions on how to regain access to their account.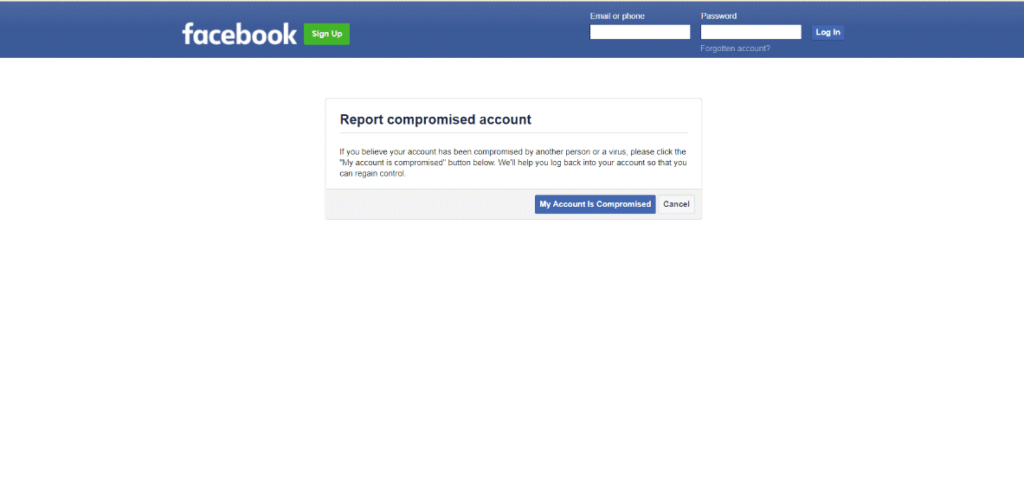 If your Facebook account's email address has been changed by the hacker, you can change it back. When an email address is changed, we send a message with a unique link to the previous email account. You can reverse the email address change and secure your account by clicking this link.
If you suspect some Unwanted Activities
Suspicious activities can be a warning sign that your facebook account has been hacked. Any undesirable behaviour detected by the user might have originated from a computer or device they had previously signed in to. In this case, Facebook users should go to the Activity Log, which can be located under Settings and Privacy.
Users may verify where they are logged in and log out using the three-dot menu to stop their session on that device. It's also possible to reset the password and log out of all of your devices.
Some Precautions to Protect Facebook ID from Getting Hacked
There are many best practices that can be used to protect the security of your Facebook account. You must use them. First of all, always use a strong password on your Facebook account. Follow the best practices for creating strong passwords. It's of vital importance that when setting passwords, dictionary words are not used. Password software is very effective in processing letters and number configurations in large quantities, and it's a matter of time before the correct combination is obtained. Avoid using regular words, don't use personal information like your name, birth date, address, or any information used on Facebook account.
A strong, reliable password should be complex. The longer the password, the more difficult it is to crack. Create a password containing more than just alphabetic characters. If feasible, your Facebook password should include letters, numbers, special characters, upper- and lower-case letters, and alt characters. Never reveal credentials in public, via phone, or via email. Never use the same password for multiple accounts, and never write your password down. If you take these precautions, you can substantially reduce the risk of having your Facebook account compromised.
Always use Two-Factor authentication, which is one of the solutions aimed at protecting the security of your social media profiles and other online accounts, such as email. You can set up two-factor authentication to require a code from your phone anytime someone tries to log in to your account. This makes it much harder for someone to hack into your account.
Never share or disclose the personal information you share on Facebook. Hackers can use this information to try to log into your account or steal your identity. If you're not comfortable sharing something, don't post it. Following these steps can help keep your Facebook ID or profile safe from hackers.
Also, be careful about the apps and websites you use. Facebook security is always improving, but some risks are still associated with using third-party apps and websites. If you're unsure if an app is safe, don't install it. Second, take advantage of Facebook's security features.
Conclusion
So, by now you know that there are various loopholes that can lead to getting your Facebook account hacked. We also discussed the solutions to recovering hacked Facebook account. Finally, there are tips and tricks to maintain the security of your Facebook account to protect it from getting hacked in the future. If you found this article helpful, please help other people especially non-tech savvy people, so they know the risks of not using strong password, two-factor authentication, etc. Thank you for reading.