You may still use an iPhone purchased and used and has iCloud Activation Lock enabled even if the vendor is not present. Without a password, follow these instructions to deactivate the iCloud Activation Lock.
Their security features include the incredible iCloud Activation Lock. When you purchase and set up an iPhone, it connects to a specific Cloud ID.
That grants you the exclusive right to control your data. Even if your iPhone were stolen, the robbers would be unable to use it since your activation lock would protect it. They would want your Apple ID's login and password to access it.
Another security feature that enables you to find your lost device, "Find My iPhone," integrates seamlessly with the iCloud Activation Lock. Both of these features should remain activated by default on all iPhones.
There could be one or more scenarios when you may need to bypass the iCloud activation lock. Some of these scenarios are as elaborated below:
Scenario 1) You Got a second-hand iPhone/iPad
You could occasionally encounter a problem if iCloud Activation Lock is enabled on a second-hand or refurbished iPhone. Activation Lock, a security feature included in Find My, assists users in locking down their iPhone or iPad and preventing unauthorised access or even reuse of the device once lost.
Even when the iPhone is in the rightful owner's hands, there are times when it needs to have the iCloud Activation Lock removed since it is still banned.
For instance, the owner could have enabled it and entirely forgotten their Apple ID or passcode, and all efforts to retrieve their account information have been unsuccessful.
Scenario 2) While resetting your iPhone/iPad, you forgot the password
Since it enables access to numerous Apple functions, Apple ID and associated passwords are crucial for iOS users. For instance, if you attempt to reset your iOS device, it will prompt you for your Apple ID login information. The Apple ID and password must be entered if someone tries to deactivate the Find My function or reactivate your device.
Even though your Apple ID and password are crucial, it would be stressful if you forgot to enter the proper information. Because they don't know the login details, many iOS users have complained that they are locked in the activation lock on their iPhone or iPad, which causes a lot of annoyance and difficulties.
Scenario 3) Activation Lock is turned on with an unknown Apple ID
The possibility that the lock was engaged after the iPhone or iPad was sold but that the original owner cannot be reached to release the lock is more probable. Although it is typically advised that device vendors properly clean the hardware and disconnect their accounts, this doesn't always occur.
In the event that your iPhone is lost or stolen, Apple included the activation lock function to stop anybody else from using it.
The activation lock will turn on automatically if you've set up an iCloud account and enabled Find My iPhone. To unlock the iCloud activation lock on your iPhone or iPad, you need to enter your Apple ID and password.
Can Activation Lock be Removed?
Yes, the easiest way to remove the iCloud activation lock is by entering the correct login information and password to the linked iCloud account, but….what if you don't remember the login details, such as email and password?
In such cases, you have no other option but to bypass the activation lock without a password. In this post, we will discuss some of the best ways to bypass the activation lock. Let's check these methods one by one.
How to Bypass or Remove iCloud Activation Lock?
Here are some of the steps one can try to bypass or remove iCloud Activation Lock on your iPhone or iPad:
Method 1. Using DNS Bypass
The DNS technique is a workaround that essentially attempts to disable the device's iCloud Activation Lock by using an internet server or HTML. When you have no other choice, it is worth a shot, even if it might not always succeed.
Please be aware that this approach will only work on more recent versions of iOS, such as iOS 10 or later, before we start:
Restart the gadget if it is currently on or turn it on.
Follow the setup instructions until you reach the "Choose Wi-Fi network" step.
Tap the "I" button next to the Wi-Fi network, then choose "More Wi-Fi Settings."
Select "Manual" after tapping "Configure DNS."
You might use a programme like AnyUnlock Unlocker to get around iCloud Activation Lock in order to fix the issue.
When prompted, provide the server address for your location after clicking "+Add Server". The server addresses to utilise are as follows:
USA: 104.154.51.7
Europe: 104.155.28.90
Asia: 104.155.220.58
Locations in Australia, Africa, and other places: 78.109.17.60
To choose "Ask to Join Networks," hit "Save" and then "Back."
After entering the network password, select "Join."
Tap the back button when the device tries to activate, and then carry out the standard setup procedures.
Disadvantages of using DNS Bypass
There is no guarantee that this approach will be effective.
Access to iOS app and functionality is restricted.
Compatible only with iOS 8 through iOS 10.
Not all nations and locations can employ this technique.
Tedious procedures, not suitable for those lacking in sufficient technical expertise
Low success rate.
Method 2. Using AnyUnlock – 100% Working and Easy
What is AnyUnlock?
AnyUnlock Its makers of the iCloud Activation Unlocker programme, iMobie, assert that it can disable the locate my iPhone Activation Lock without the prior owner's knowledge.
Using the tool on your iPhone will give you access to all iCloud-related capabilities. Included are the iTunes Store, App Store, and FaceTime.
AnyUnlock is helpful software for those who have lost their Apple ID or bought a second-hand device that requires iCloud authentication. You may immediately access your iPhone, iPad, or iPod after using the app to get over the iCloud ban. AnyUnlock is a wonderful choice if you wish to unlock a smartphone made by Apple.
Why use AnyUnlock?
AnyUnlock has no danger.
The data on your device can be removed easily.
Not all iOS devices are supported by the activation of iCloud Unlocker.
Even after using this programme to remove the iCloud lock, some functions will still be unavailable.
Learn crucial details about your new iPhone by using the iDevice Verification attribute.
Your device could get destroyed when jailbreaking it (before removing the iCloud lock or finding an Apple ID).
In my personal opinion, it's very easy to use and one can Bypass iCloud Activation Lock easily.
Device Supported in this tool
The following devices are supported by this tool:
iPhone 5S to iPhone X
iOS version 12.3 and newer
iPad (4th Generation to 7th Generation)
iPod Touch (7th Generation to 9th Generation)
How to use AnyUnlock?
Connect using any USB cable may be used to connect your desired gadgets, such as an iPod, iPhone, or iPad, to your computer.
Follow the onscreen settings and select the Start Now option.
After that, select the jailbreak option by using the device.
After selecting the jailbreak option, you will choose the Bypass Now option.
When the bypassing process is completed, you will see the interface as below. And you can go to the home page by clicking Done button.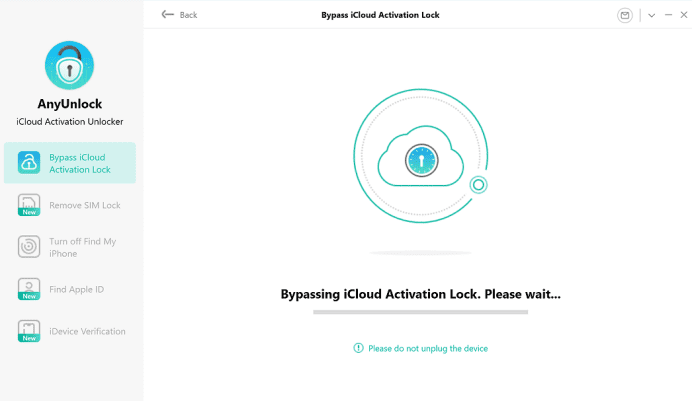 Watch out how easy it is to remove iCloud Activation Lock on iPad without Apple ID and password in the below video
Advantages of using AnyUnlock
Easy and straightforward to use
High success rate is guaranteed
Checkout: A Complete guide about iCloud Activation Lock bypass tool
Free Download AnyLock Tool for Windows or Mac or know more about tool
How to Bypass iCloud Activation Lock with Password
Find out what to do if your device displays the Activation Lock screen or if you are prompted to turn off Activation Lock on a device that is not in your control or that is offline.
Go to www.iCloud.com/find.
Sign in with your Apple ID and password.
At the top, click All Devices.
Select the device that you want to remove from iCloud.
Click Remove from Account.
Conclusion
I'm hoping that applying the suggestions above would make it simple for you to unlock your iOS device and remove the iCloud Activation Lock. To find out more, refer to the AnyUnlock Official Website about iCloud activation bypass tool.