Technology
Top 6 Free Data Recovery Software for Windows and Mac
There are several free data recovery tools available that can assist in recovering or "undeleting" your mistakenly lost information.
Data recovery software may frequently be used to restore erased files that are still on your hard disc (or USB drive, media card, smartphone, etc.).
On the Internet, there are a lot of free software programs for data recovery. Some products are offered as freeware, while others permit tool evaluation through free trial downloads. Here we have compiled a list of top 6 most popular data recovery software for Windows as well as iOS.
Recuva
Recuva is a free data recovery software developed by Malwarebytes Labs that does not require any installation. All you have to do is double-click on the executable file and run the application when prompted. It gives users detailed information about the recovered files and their location on the drive. This makes it easy for them to select these files for deletion.
Without a doubt, the greatest free software programme for data recovery is Recuva. Although it has many optional complex features, it is also quite simple to use.
It can retrieve data from memory cards, BD/DVD/CD discs, external devices (such as USB drives), and hard drives. Even files from your iPod may be recovered with this software!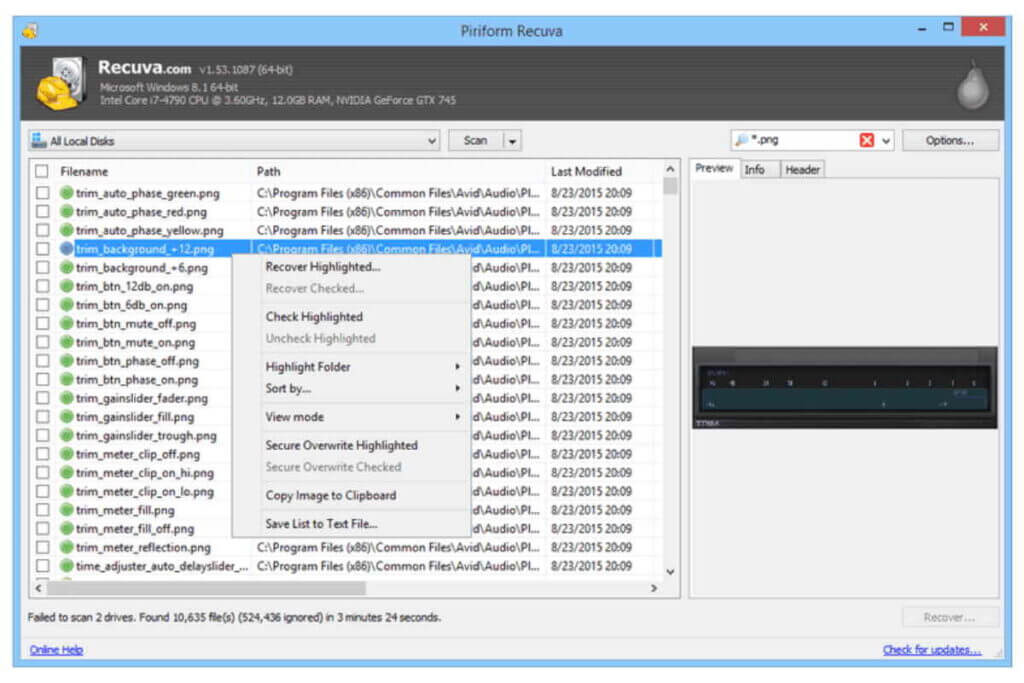 It's just as simple to undelete a file as to delete one! If you need to recover a file, we strongly advise that you use Recuva first. Files deleted from Windows 11, 10, 8, 8.1, 7, Vista, XP, Server 2008/2003, and earlier Windows versions including 2000, NT, ME, and 98 can be recovered with this application. Windows 64-bit editions are also supported. Additionally, a 64-bit version is accessible.
EaseUS MobiSaver Pro
EaseUS MobiSever Pro is a free mobile device management software that enables users to recover deleted files from Android devices and iOS devices. It is capable of recovering data even if it was erased by formatting or factory resets due to accidental deletions. Furthermore, it supports both Android and iOS platforms.
Users of Android devices can restore deleted data from internal or external storage with EaseUS MobiSaver. With EaseUS data recovery, you may recover any data lost due to an error, malware attack, rooted, or SD card problem.
EaseUS MobiSaver for iPhone also enables you to recover lost data such call history, notes, reminders, calendars, Safari bookmarks, and Kik chats in addition to the data kinds previously mentioned.
There are three options accessible when you open the programme after downloading and installing it from the EaseUS website. You have the option to restore data from:
iOS gadget
iTunes Backup
iCloud
Files deleted from hard drives, optical drives, memory cards, iOS devices, cameras, and pretty much any other storage device that Windows recognises may be recovered with EaseUS Data Recovery Wizard. It can also recover partitions!
Please be aware that Data Recovery Wizard can only restore a maximum of 500 MB of data before requiring an update (or up to 2 GB if you use the share button in the programme to post about the software on social media).
Stellar Phoenix File Recovery
Stellar Phoenix File Recovery is a useful tool to restore lost files from flash memory. It works without changing the original operating system and doesn't need to install anything. Users just need to launch the program and select the desired storage medium from which they want to recover their lost files.
The program's preview option, which you may use while the scan is running, is a special feature. Before the scan is finished, you may see in real-time which files the application discovers. Another feature of Stellar's free file recovery application that we enjoy is the ability to store the list of destroyed files so that you may continue recovering them after you depart the results screen.
It works with macOS 12 and earlier versions, as well as Windows 11, 10, 8, and 7.
Disk Drill
Disk Drill is a fantastic free data recovery application not just because of its functionality but also because of its incredibly straightforward layout, which makes it nearly difficult to make a mistake.
Disk Drill can retrieve data (up to 500 MB) from "almost any storage device," including internal and external hard discs, USB devices, memory cards, and iPods, according to their website.
Disk Drill can also perform partition recovery, perform scans on pause and resume, preview files prior to recovery, filter files by date or size, run quick scans as opposed to full scans for quicker results, and save scan results so you can quickly import them again to recover deleted files in the future.
The software is compatible with the majority of macOS versions, Windows 11, 10, 8, and 7. Older versions are compatible with Windows XP and other dated operating systems.
TestDisk
Test disk is a free data recovery program designed for Linux, Unix, macOS, Windows, and other UNIX-based systems. Its user-friendly and intuitive interface lets users easily navigate around its various menus and submenus. This data recovery tool isn't only meant to recover lost partitions or damaged hard drives but also helps fix bad sectors, lost clusters, damaged clusters, broken links, etc.
HFS, exFAT, ext2, ext3, ext4, HFS, JFS, FAT32, NTFS, and many more filesystems may be recovered with TestDisk. What if the media file you lost due to a damaged disc is a media file? Thankfully, there is also a fix for it.
A companion programme to TestDisk is called PhotoRec. The reading and recovery of media data from storage devices, including images and movies, is the focus of this utility. Over 440 recorded filesystems, including JPG, PNG, PDF, Microsoft Office files, OpenOffice files, TXT, and many more, are supported by its architecture.
TestDisk and PhotoRec work well together to provide a robust data recovery tool that can restore practically every file type. Multiple operating systems are supported by TestDisk and PhotoRec. Both programmes can recover lost files not just from Windows 10 but also from macOS, macOS X, Linux, and several ARM-based systems. They even support DOS/Win9x, in fact!
Recoverit
For those who often delete their favourite photos, music, movies, and so on by mistake, Recoverit is definitely what they need. It is a powerful data recovery program that can help you remove permanently deleted files, folders, applications, and emails from computer hard drives and DVDs. What's more, it can also recover lost documents, images, audio files, contact information, and many other files from various storage media (even SD cards).
For Windows users, Recoverit is a free data recovery program. The tool, which was formerly known as Wondershare Data Recovery, has a wide range of functions, including rapid and deep scans, sophisticated video recovery, and preview functionality.
The application may help you recover lost or deleted information from various devices, including your tablet, smartphone, music player, and more. Both a free and premium version of Recoverit is available, although the free version has a 100MB data recovery restriction.