Web Hosting
Top 5 Web Hosting Services in India with Indian Data Centres
There are a large number of web hosting service providers in India. Choosing the best out of them can be a difficult task.
This is because with the vast number of service providers comes an enormous number of plans and hosting options. However, the price may not be the only concern for each customer. It is known that closure is the data centre from target users faster the website will load.
Despite there being tons of web hosting services in India, most of them use the USA or European data centres that help offer cheap services, but you have to compromise with website speed. CDN services like Cloudflare are one of the solutions, but they have their disadvantages.
In short, you will be looking for Indian hosting companies with data centres in India offering their services at a price that does not bite.
This article will provide a list of the top 10 web hosting service providers in India, their plans, and pricing. This will help you choose the best hosting option for your website.
E-Web Guru
Since 2003, the Noida, Delhi-based company eWebGuru has offered internet-based solutions. More than 25,000 clients presently use them. They provide a comprehensive selection of Windows and Linux hosting solutions for web, reseller, dedicated server, and VPS hosting needs at extremely low costs.
They also provide a variety of auxiliary services, including search advertising, logo creation, and website design. They mostly offer their services in English and supply solutions from Tier IV data centres in India.
Features and Usability
Everyone's web hosting needs are met by eWebGuru in one place, including:
Registration of domain names (not included in their cost).
SSL certificates are offered by Comodo SSL for free and for purchase.
Each package includes unlimited email hosting.
Design and development of websites.
All hosting packages include cPanel or Plesk.
Hosting solutions for Linux and Windows.
Services for domain migration.
The fact that eWebGuru's plans provide such abundant features and services is one of the strongest reasons to think about them.
All their Linux/Windows and reseller web hosting plans include one-click app installation via their respective control panels, a free SiteBuilder software with templates, SEO tools, unlimited email hosting, DNS administration, and RAID 1 storage redundancy.
Naturally, the appropriate software environments (such MS SQL Server and ASP.NET for Windows) and a number of additional frameworks are included with both Linux and Windows.
Pricing and Assistance
Web hosting, reseller hosting, VPS, and dedicated server prices are all offered separately by eWebGuru. Databases and email accounts are frequently not constrained, and virtually all of their pricing models feature one or two bandwidth-unrestricted options. The cost of Windows choices is often a little more than that of Linux. A domain will cost extra (which is not necessarily the case elsewhere), along with additional fees for DNS administration and IP addresses (usually the case elsewhere).
With the exception of the VPS and dedicated servers, all of their goods are backed by a 30-day money-back guarantee.
MilesWeb
This is where MilesWeb comes into play, providing you with speedier, more dependable, and reasonably priced web hosting capabilities.
Since its 2012 start, MilesWeb has experienced tremendous growth in the web-hosting sector because to its superior hosting services, which include infinite features and live assistance around the clock.
In this unbiased evaluation, you can discover all the information about MilesWeb, including its features, various hosting plans, advantages, and downsides. Here are a few key reasons to think about using MilesWeb as your web host, whether you're unfamiliar with the company or searching for a cheap option.
Free domain for a lifetime
The majority of web servers do not offer free domain registrations. Although some web providers, like Bluehost, give you a free name, they only do so for a year.
Here, MilesWeb distinguishes itself from its rivals by providing consumers with a free domain for life. You did hear correctly. This implies that you will save about Rs. 1000 annually on a domain registration or renewal.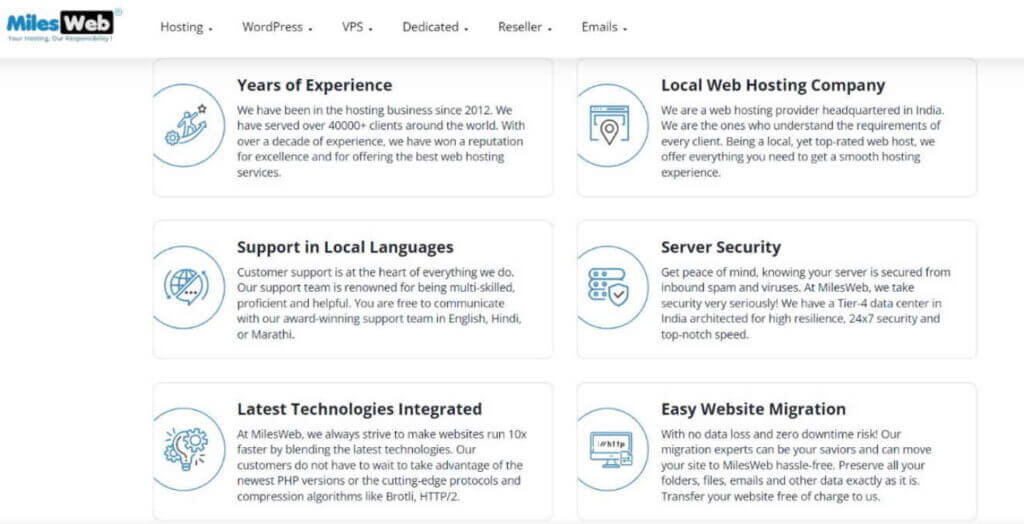 To receive a.COM name for free for life and to keep it free until you quit using their hosting, you must enrol in one of their Value or Unlimited hosting plans, and only then can you take advantage of this offer.
Free website migration
Are you dissatisfied with your present web host and seeking to switch to a more reputable, strong, and reasonably priced web host?
Then you should unquestionably give a web host like MilesWeb a go. The benefit of choosing this hosting is that it provides you with free website migrations.
You can always get free website migration assistance from their internal support staff, who will move all of your website's data from your current web host to their hosting servers.
Free malware scan and removal
WordPress CMS is used by 90% of the compromised websites, according to Sucuri. View the infographic below to show the number of affected websites (platform-wise).
As you can see above, while being a strong platform, WordPress has several security flaws that make it a prime target for hackers worldwide. You should constantly protect your WordPress website from risks like malware assaults because of this. The good news is that MilesWeb provides a free malware removal application that will shield your websites from any security risks and viruses.
Access to web hosting cPanel
When a web host provides you with cPanel, your life is made so much simpler (control panel). You can manage anything with a cPanel, including setting up WordPress, parking your domains, managing your billing accounts, and more.
Additionally, you may establish databases, email accounts, FTP accounts, and more using cPanel and from one location. From your cPanel, you can determine how much storage, bandwidth, and other resources you consume.
Tryhost
TryHost offers a very user-friendly platform, including several extra features to enhance its multifaceted usability. It is the supplier of Web hosting services with the highest rate of growth, and it is also the most creative and original in how it interacts with its customers.
It furthermore provides the option of SSD web hosting. TryHost is the fastest web hosting service available today since it is a reliable website with various options for its consumers.
To communicate with its users, it has an interactive platform. When it comes to TryHost, the dedication to serving its customers is absolutely wonderful. This hosting company offers several channels for users to get in touch with the technical team and discuss problems.
It has a dedicated team that is always available to look into user concerns. TryHost's ability to offer SSD certification to its devoted consumers is its most significant feature. TryHost is dependable and free of errors or customer discontent.
Features provided:
User Interface & Ease of Use
The TryHost website platform is incredibly intuitive to use and also quite simple to comprehend. The user interface is really created in such a way as to limit all the options that a web hosting user may choose from.
Customer Support 
TryHost provides a variety of channels for users to communicate with its management team around the clock. On their website, they include their office address, contact information, and email address. A fantastic instant messaging system on their website meets consumers' immediate demands.
Security Analysis 
TryHost offers its customers confidence. Regarding the security of personal information, consumers have always chosen TryHost as a reliable option. It assures customers that information will only be shared with reputable third-party entities.
Bigrock
BigRock, a technology firm that aids companies in creating an online presence, was founded in India and eventually joined Endurance International Group (EIG). This hosting company services a global clientele and has operations in the US and India.
In addition to shared web hosting, reseller hosting, virtual private servers (VPS), cloud computing, SiteLock services, domain name registration services, and backup solutions, BigRock also provides a full range of affordable hosting options.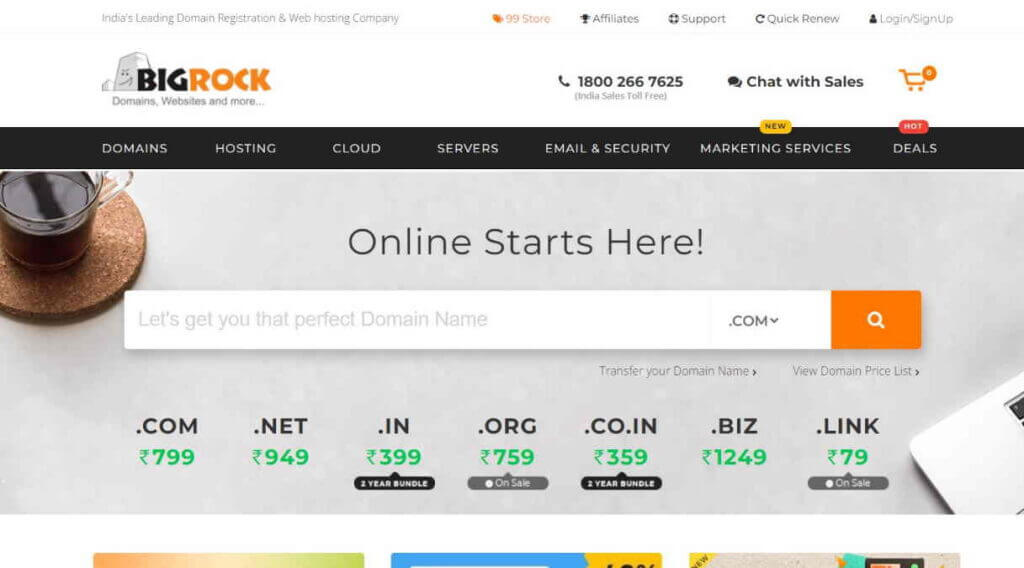 There are two categories of shared hosting solutions: Windows hosting and Linux hosting (Starter, Advanced, Business, and Pro) (Essential, Premium, Business, and Pro). They include the following features as standard:
Unlimited disk space
Unlimited bandwidth
Unlimited domains and email addresses
99.9% uptime guarantee
CloudLinux
cPanel/Plesk control panel
MySQL databases
PHP 5.2 to PHP 5.4
Softaculous one-click installer
HostingRaja
India-based HostingRaja specialises in shared and low-cost VPS hosting. It is inexpensive and offers several great WordPress features. It's nice, but a significant catch: you can only use this host if you have an Indian address.
HostingRaja provides sizable hosting plans if you are headquartered in India. Although the company's website might be challenging, it offers services in six languages, including English, Tamil, and Hindi.
Since HostingRaja employs an Indian data centre, users in Asia should experience decent speed. However, other facets of the service are subpar, and there is no uptime guarantee, which can cause long-term problems for your website.
With features like Server Level Caching, CSS/JS optimizer, Fast SSD storage, and integrated CDN service, you never have to worry about your website being slow, even when there is a lot of traffic.
With managed WordPress from HostingRaja, you have an advantage over your competitors. First, it has features like DDoS protection and an SSL certificate, as well as frequent security upgrades.
Regular automatic backups of your website will provide you peace of mind and allow you to recover from any issues that may arise for various reasons. It is also renowned for offering top-notch customer service that responds quickly to all of your demands.
Costing:
Customers in India may purchase a range of hosting and server plans from Hosting Raja at a low cost. The organisation is aware of your demands whether you are a small business owner, an entrepreneur, a novice, or a web developer. A Silver plan costs Rs. 85 per month, followed by Gold and Unlimited plans costing Rs. 161 and Rs. 204, respectively, for shared hosting.
Support
It has been recognised that Hosting Raja offers the greatest technical and live assistance. An uptime of 99.9% may be provided by the committed team of engineers at Hosting Raja, which is quite uncommon in the hosting sector. Additionally, they offer round-the-clock technical assistance overseen by a trained staff of professionals.
Features provided:
Premium SSD Unlimited 
Free SSL Certificate
FREE Domain
4GB RAM
Weekly Malware & Virus Clean
6 Websites
High Priority Support
Speed – 2.5 seconds guarantee
LightSpeed Cache
Speed Optimised Server
Malware removal & hack repair
5 Copies of backups
High-Speed Network & Server