Do you want to increase the brand of your product? Looking for the best Twitter marketing tools to help achieve a target or sales? Well, there are plenty of it. But we are going to list down the 5 best Twitter tools that are easy to use.
Twitter marketing may be somewhat difficult. You shouldn't let it stop you from adopting it, though. Twitter has the power to alter your current business situation completely.
Maintaining your consistency streak is no longer difficult thanks to Twitter's marketing tools. Although there are many possibilities, it is your obligation to pick the one that best suits your needs.
An effective Twitter marketing tool should be your one-stop shop for all of your tweets, from production to statistics gathering. But is there a perfect instrument that works well without draining your bank account?
Accepting third-party tools is not only advised but also beneficial in the long run if you genuinely want to expand your Twitter account.
Fortunately, there are a variety of Twitter tools available that are just ready to assist you in achieving your social media objectives. Creating your ideal Twitter toolkit will help you save time, perform better, and keep track of your highs and lows.
The following is a list of the 5 Best Marketing Twitter tools to get you started on your search tweets:
When it comes to social media marketing, SocialPilot is your go-to Twitter marketing tool. 500 tweets may be bulk-scheduled in one go, and it takes just a few minutes to organise even a month's worth of information.
Your tweets can include photographs, videos, GIFs, and other media. Emojis, alt messages, and custom fields may be added to make them even more unique before you share them with your followers. To increase the reach of your tweets, you may also include other Twitter accounts when writing them.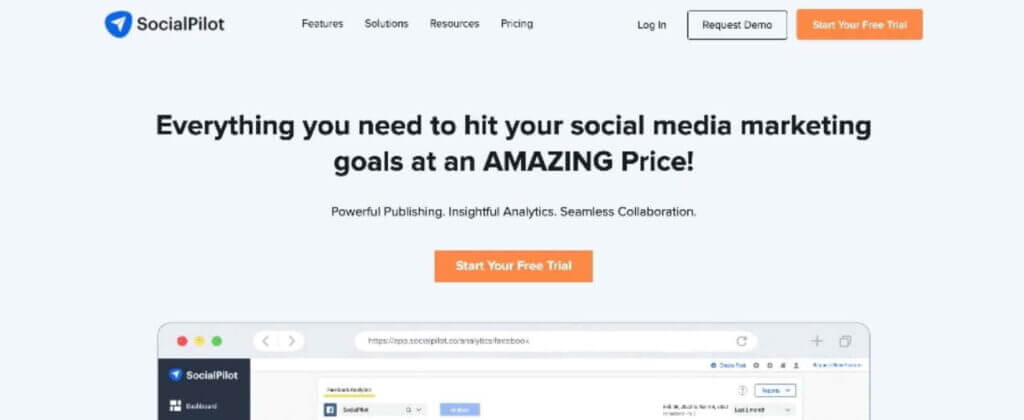 You may utilise its curating function to retrieve the most recent tweets if you are out of things to tweet about. These carefully chosen items may be changed to fit the tone of your logo.
Advantages of using SocialPilot:
Analyze the performance of your tweets in terms of engagement, likes, and retweets.
Obtain a comprehensive overview of all the tweets you have planned for a certain account.
day/week/month-wise.
Your tweets should include account-specific information.
Utilize the in-app editing tool to modify photos.
To make photos and GIFs more accessible, add alt text.
In-built URL shorteners can be used to disseminate pertinent links.
To get a rapid overview of your Twitter presence, create analytics reports.
Hootsuite is a social media marketing industry leader, and its Twitter management solutions may help you advance your online presence. Social media managers may use Hootsuite to manage customer service issues, expand audiences, plan and automate social media posts, search and filter Twitter discussions using hashtags or keywords, and more.
Hootsuite is one of the finest if you manage company campaigns every week and it provides lots of options for setting up and maintaining campaigns. What is the main complaint about Hootsuite? For many new users, their user interface might be challenging to understand. Hootsuite also offers a restricted free plan.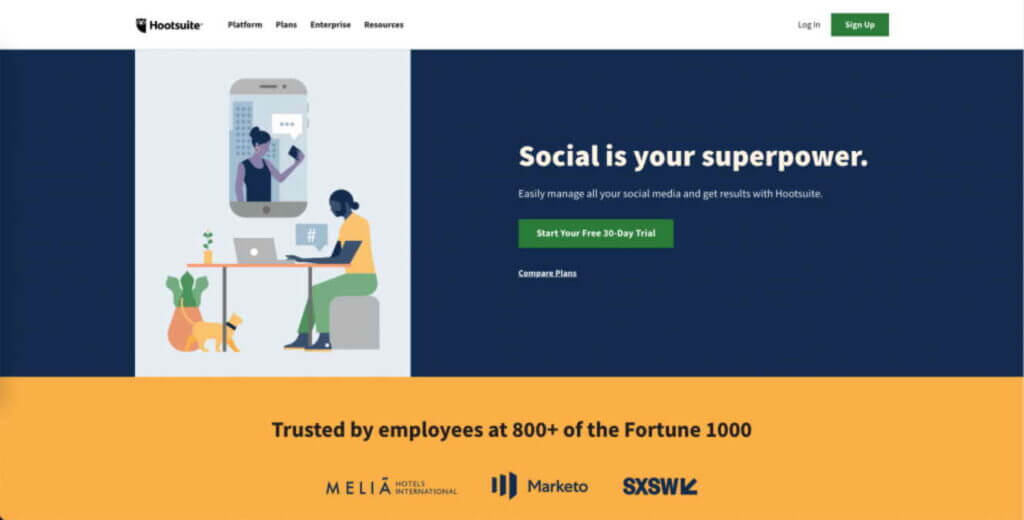 Utilize Hootsuite Analytics to get real-time information on your important Twitter analytics. Reports may be exported and shared with your team, and are clean and straightforward.
Tweepi
The Twitter marketing tool that ensures interaction is Tweepi. Even if you have thousands of followers, they will be meaningless if you don't interact with them. But talking to everyone and waiting for a few of them to react takes a lot of time. Tweepi streamlines your job in this area. The intellect of Tweepi is artificial. One of the top Twitter marketing tools, it provides cutting-edge capabilities to increase your followers and keep them interested.
Create a Tweepi account and add the hashtags, users, and rivals you wish to monitor. To filter the most active and pertinent individuals suitable for your involvement, it will further research the specified hashtags and users.
TweetDeck
One of the most well-liked Twitter management tools for marketing professionals is Tweetdeck. Initially, the platform could appear straightforward because it is organised around many columns for monitoring and tweeting. However, Tweetdeck provides the capacity to handle mentions, hashtags, lists, and more in a single location across many Twitter accounts.
This marketing platform has elevated the fundamentals—real-time tracking, planning, interaction, and more—. It's an easy-to-use, all-in-one application that can help you with a lot of the chores you'll need to complete on Twitter.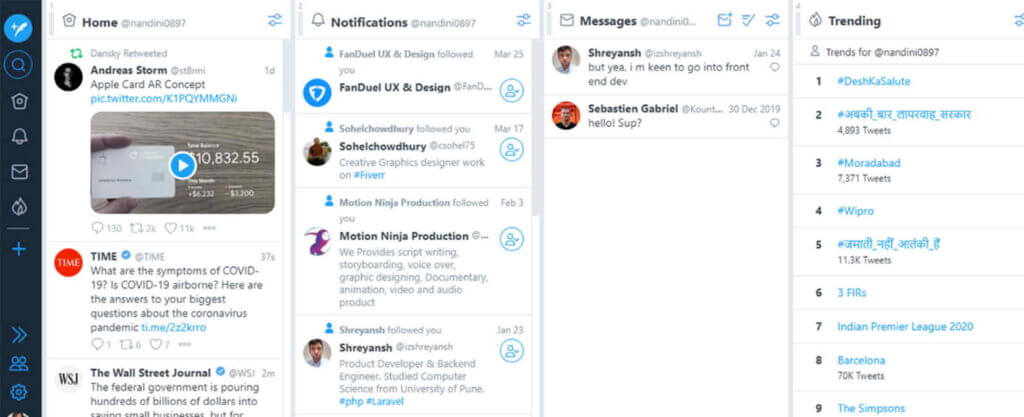 You may connect with your audience, create Twitter lists, plan tweets ahead of time, and keep tabs on topics or trends.
Tweetdeck might not be the best choice for you if you're seeking extra capabilities, such as brand monitoring or greater support with customer service management.
Buffer
One of the first social networking and marketing platform choices is Buffer. Buffer works with Twitter, of course, but it also works with Facebook, Facebook Groups, Instagram, and other platforms.
Buffer's core features, such as quick-post photo postings, analysis of the optimal posting times, scheduling across several social media channels, and more, make it a terrific tool for Twitter marketing.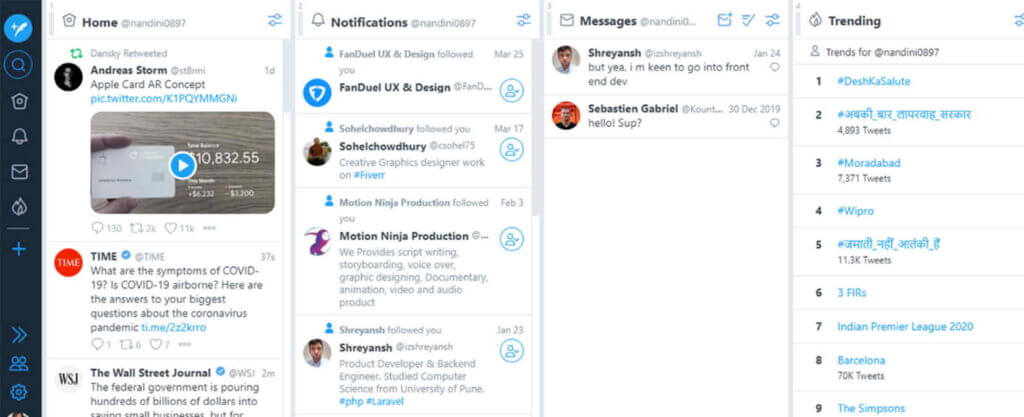 If you need to manage more than one Twitter account, you'll need to upgrade to Buffer's free edition, which only allows you to manage one social profile per network.