Featured
Top 10 sites to find free animated stock icons and images
Stock icons and images used by thousands of people across the globe to create beautiful web pages are becoming harder and harder to come by. I have compiled a list of the best sites on the internet for finding royalty-free stock images and icons that you can use in your web projects.
In this post, I will show you the best free stock icon sites that you can use to create stylish and unique web projects. You'll find all the major sites we recommend listed here, and we'll explain to you why they are so good. You'll get access to a huge range of premium stock photos and icons that are completely free to use.
If you are new to designing or don't have much experience in this field, do give it a try. It will be beneficial in future to use icons and images. This Top 10 list is based on users' previous reviews.
Icons8 offers over 100,000 free icons and animations, including animated icons. You can browse through different categories or search for icons by keyword. The site also offers customization options, allowing you to change the color and size of the icons.
The Icon8 consists of excellent icons and images that suit your topic. You can even edit icons or pictures, which is not present on other websites. This gives you real-time vector editing, unlike the complex and heavy software that consumes space on a computer.
This website is extremely fast, and downloading is very smooth. It also adds overlays, recoloring, custom effects, and animation to your image. Click here to visit this website.
Over the past few years, users have liked this website. The important thing is that all the suitable icons are free for anyone to use. You can also become an author at Faticon and earn money for premium royalties. But it requires linking back to the original author. If you don't want this, you can purchase a premium license at a discounted price.
Another immense thing about Flaticon is the special visualizing icons which are truly good in animation and visual appearance. You can use this accordingly for any purpose. Various formats are available to use like BASE64, EPS, SVG, PNG and PSD.
If you are looking for some free attractive, and elegant icons, then go for Iconfinder. You can download thousands of free icons without copyright issues on this website. This website runs on a CC 3.0 license. You can also use this icon for commercial purposes without paying. Some may require attribution.
If you want a premium icon, you can go with just $9 a month and access the best content ever.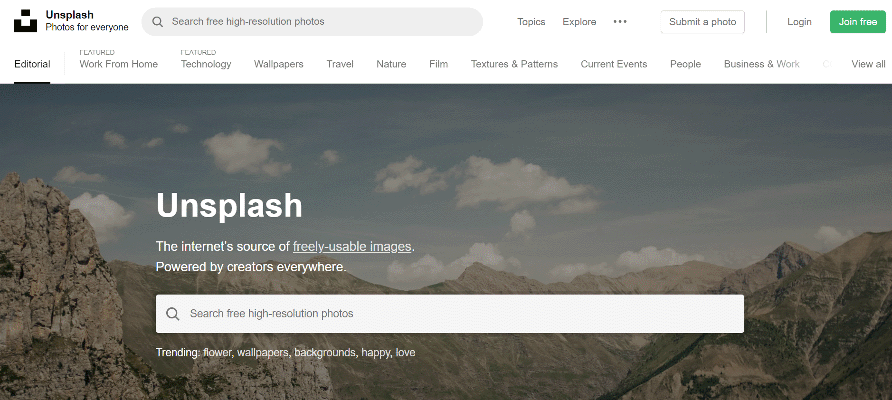 Unsplash is the best place to find some unique and beautiful images for your design. With over 180,000 photographers, there is no doubt that you can't go without demanding the best picture from this.
Unsplash uses 3rd party apps and websites for API connecting services; hence easy-to-use features are available. It also consists of a wide variety of textures and patterns.
Canva
If you want customization in your image or looking for some niche or idea with some photo. Then Canva is the best place for photographs. You can also design your icons on this website free of cost. And also millions of premium pictures for free, with some attribution only.
Canva is very user-friendly and easy to navigate for the best images.
Pexels
Pexels is a major player in the world of free stock icons. It offers an extensive selection of copyright-free images and videos that can be used for personal and commercial purposes. With a library of high-quality visuals, Pexels has become a go-to resource for many web designers, content creators, and marketers looking to add visual appeal to their projects. The platform also offers innovative search capabilities that make it easy to find just the right image or video quickly and easily.
For those who are new to design or creation, Pexels provides an intuitive user interface with basic editing tools so you can customize your visuals as desired. The company additionally offers tutorials on creating professional visuals from scratch, making it easier than ever before to create stunning digital graphics with no prior experience necessary.
Pixabay
Pixabay is a website offering free stock photos, illustrations, and icons. With Pixabay you can easily find copyright-free images that can be used for personal and commercial projects. The site has an extensive catalogue of high-quality images covering a wide variety of topics, from nature to technology. It also offers hundreds of free stock icons in various styles and sizes, making it easy to find the perfect icon for any project.
The site's search engine makes it easy to locate exactly what you're looking for. You can quickly narrow your search by topic or type, such as vector art or photographs. Once you've found the image you're looking for, simply click on the "Download" button to get access to the file. There are multiple size options available so you can choose the one that best fits your project's needs without compromising quality or resolution.
Since its release in 2012, the number of users has exceeded more than tens of millions of users. The icons are even used to React and Angular projects; hence, big corporations even use these icons.
You can find your favourite icon on this website, and also you can customize the design, dimension and format for free. With the API handing feature, you can also grab it directly to your website without downloading it.
The website offers hundreds of vibrant images ranging from illustrations to photographs, all 100% free to use on any platform or design project. With its easy-to-use search tool and intuitive layout, users can quickly and easily find the high-quality visuals they need without having to worry about breaking any copyright laws. Best of all, Stocksnap updates its library regularly so visitors can always find fresh content that fits their needs.
For businesses concerned about image costs but not willing to sacrifice quality, Stocksnap is the ideal place to go for royalty-free graphics that will make any project shine.
The Noun Project is an online resource for free stock icons. It is a library of over two million royalty-free and copyright-free icons that can be used by designers and developers. All of the icons are available in various formats, including PNG, SVG, and EPS files, making them easy to integrate into most projects.
The Noun Project offers a wide variety of designs to choose from – ranging from simple line art to more complex illustrations – allowing users to create unique visuals for their projects without worrying about copyright infringement or licensing restrictions. Additionally, the site allows users to search for specific keywords, making it easy to find exactly what they need quickly and easily. The site also has an extensive collection of icon tutorials that provide helpful tips on how best to use the icons in various design applications.