To some people, purchasing a website business online is a scary proposition. It can be a bit difficult if you've never made an internet purchase before.
While shopping for a turnkey website or an adorable plush for your granddaughter, you will never meet the seller face-to-face and have to rely on online reviews to evaluate whether the transaction is good.
There are a few obvious markers of a reputable retailer: an easy way to contact them, a diverse range of specialty websites, and a domain name that has been in use for more than a year or two (this indicates that their business practises are honest and what is promised is delivered, thus keeping them in business longer than a few months). Please visit this page to learn more about discovering a trustworthy seller of a turnkey website.
How to Proceed With Buying a Turn Key Website?
First and first, you need to decide whether you want to buy a website business. As a result of this stage, the buyer (that's you) must authorise a transaction via an online payment gateway or send money via money order, as is more traditional. This is the most secure and trustworthy method of transferring funds offline. Be cautious about cashier's checks, especially those drawn on banks you aren't acquainted with. For the sake of argument, I will say that I prefer to send money when purchasing turnkey website businesses via online payment gateways (PayPal is my prefered option).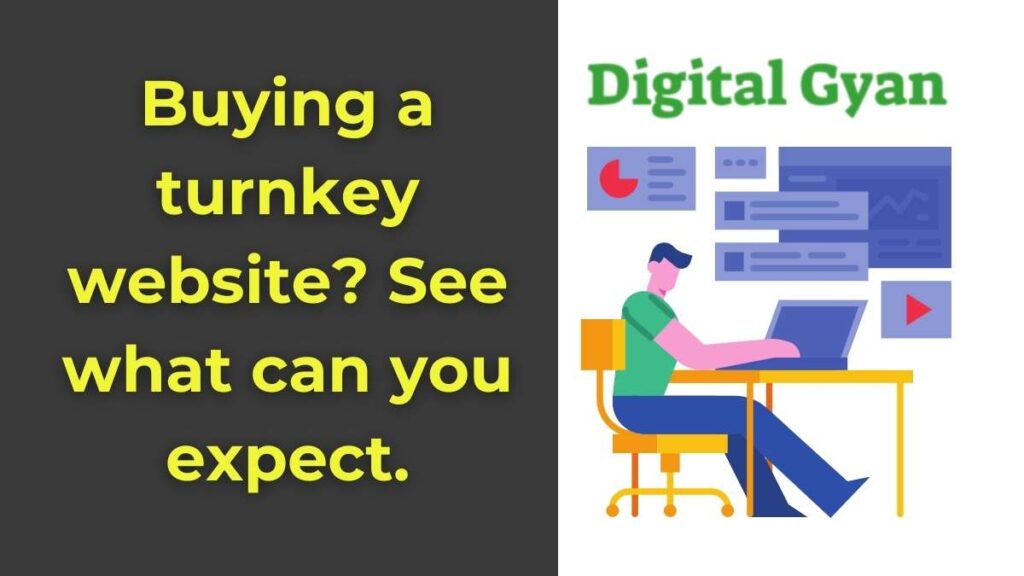 PayPal and other online payment gateways all have their methods of collecting payment. There are, however, a few aspects that are present in all online checkout scenarios: If you already have an account with the payment processor, you can sign in without having to provide any personal information (such as your name, credit card number, etc.). (PayPal, Google Checkout, etc.) The next screen you'll see after submitting your data is the payment confirmation screen. A confirmation email will be sent to the email address you provided during the checkout process once your transaction has been confirmed (or the email address you have associated with the existing account that you logged in with). In addition, the seller will be notified through email that a payment has been received and the amount and the product name or item number.
Transferring money online has never been easier, faster, or more secure than with payment systems like PayPal and Google Pay. Like Visa and other well-known credit card issuers, these online money transfer services are developed with security in mind and send your personal information via SSL-encrypted channels to protect your privacy. You can rest easy knowing your money and personal information are secure when you purchase with PayPal or Google Pay.
As soon as you receive a response from the turnkey website seller, move on to step two. Do not take a PayPal or other payment gateway company's sales confirmation as a genuine answer from the business. In most cases, companies react within 24 hours; but, depends on the time difference and sales volume. Don't hesitate to contact the firm by email or the contact form on their website if you've been waiting too long for a response.
When you do hear from the company, the email will most likely contain information for these four critical next steps:
How to update your affiliate program link information
How the domain transfer process will work
How to login to your cPanel
What type of hosting is offered
You should read this email and the accompanying instructions very carefully to ensure that you completely grasp what is expected of you so that you may take control of your business. Don't hesitate to ask questions, and don't wait too long. Remember, however, that no matter how respectable a turnkey website broker is, they cannot be held liable for your inaction!
How to Use Your Turn-Key Website to Make Money?
Signing up for affiliate accounts is one of the many things you'll have to do (like Google AdSense, Commission Junction, or ClickBank) Depending on how many affiliate networks your new turnkey website utilises, this step may take some time. To finish your affiliate programme accounts and send an email back to the seller with your affiliate account details, you should plan on spending 1-2 hours if your website has connections to several affiliate programmes that are unclear to you. Some firms ask you to fill out a form and send it to them, which is more secure than sending an email with your information attached. Both solutions, on the other hand, are perfectly acceptable.
The seller's firm will most likely also provide you with advice on registering a domain name through a retailer such as GoDaddy or HostGator. This is because you must acquire domain name ownership once your website has been set up and maintained. Transferring ownership from the seller to you using a familiar domain seller website provider like GoDaddy is the simplest way to achieve this.
After you receive an email from the turnkey website business informing you that the integration of the affiliate programme links is complete, your hosting account is set up, and your domain name has been transferred to you, you will proceed to the third stage in the process. To approve the transfer, you'll need to sign in to your GoDaddy account if the firm you bought from utilises GoDaddy, the largest online retailer of domain names and other digital domain-related items.
After you accept the domain name transfer, your website has been successfully passed over to you. You may verify your ownership by visiting who.is and entering in your website domain name. Do allow for a bit amount of time for the WhoIs database to refresh its entries. WhoIs may take a few hours to a few days to reflect changes in website ownership.
After you have obtained ownership of the domain by following the processes specified by the turnkey website vendor or the domain provider (GoDaddy, HostGator, etc.) – and you have confirmed ownership with WhoIs – you are now the official owner and operator of a website business! Of course, your task is not done. This is only the beginning of your adventure in using a readymade internet business to generate money online. The following phases are marketing, advertising, and learning to attract targeted visitors to your site, which I will discuss in future posts.
Conclusion
When it comes to the turnkey website purchase experience, every firm is different. However, there are several similar motifs throughout the purchase process. If at any moment you are unclear about what you must be doing or do not know how to finish your website's ownership transfer to you, never hesitate to contact the firm you purchase from. The more knowledge you have and the more you understand how the website purchasing process works, the more comfortable and confident you will feel with your decision – to become an Internet entrepreneur and work for yourself.