Technology
What Does Business Intelligence Software Cost?
What is Business Intelligence?
Business intelligence is the practice of using data to improve decision-making. It can be used to identify trends, understand customer behaviour, and optimize operations.
Business intelligence helps companies make better decisions by using data. This data can come from a variety of sources, such as surveys, focus groups, and customer data. Business intelligence can help companies figure out what products to sell, how to price them, and where to market them. It can also help companies understand their customers better and identify opportunities for growth.
What is Business Intelligence Software?
Business intelligence software, a suite of tools usually sold on an on-premise basis, allows users to get a complete view of the data that interests them.
In today's scenario, BI software analyses data from different sources, such as databases, ERPs, etc. These tools help enterprises analyse and make decisions based on the data they capture.
For an enterprise, the key to success lies in providing data-driven insights and making decisions based on the analysis of available data. However, enterprises find it difficult to generate and capture accurate data. Also, it is time-consuming and error-prone to generate and maintain data in the first place. Business intelligence software is the answer to the question: how can you efficiently and accurately analyse data quickly and cost-effectively.
Business intelligence is an important part of any business. The right business intelligence software will allow you to view the business data stored on your computers. This allows you to perform multiple tasks that may need to be performed.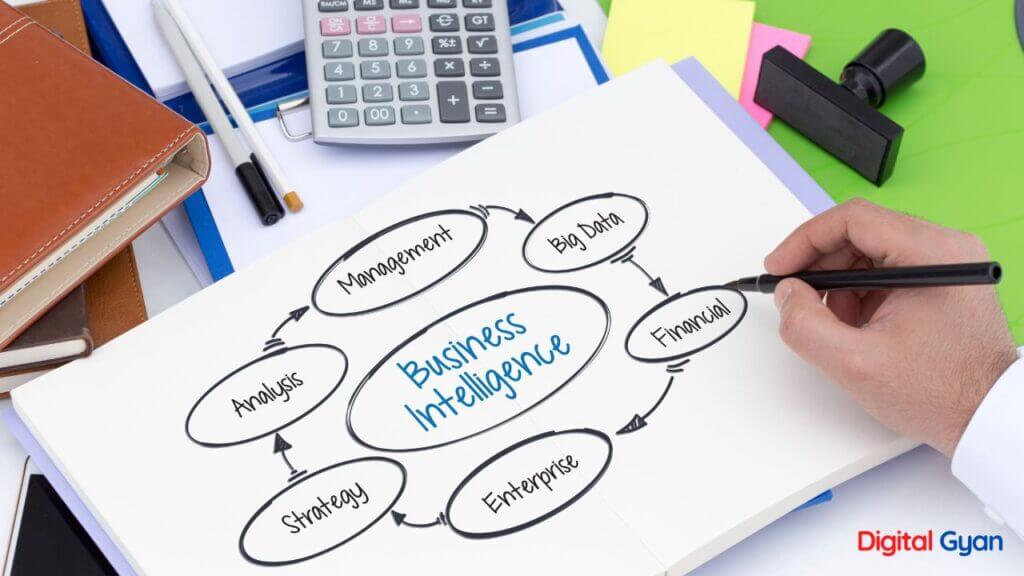 Pricing of a Business Intelligence Software
Business intelligence software pricing is generally based on the complexity of your existing data warehouse environment.
Data warehouses can be very complex and require customization before a standard BI tool can be deployed. This means that your data warehouse implementation is the main factor in determining your BI software costs.
Depending on your implementation, a small enterprise can begin with a minimal data warehouse solution that requires no more than a few thousand dollars in license fees. Other larger organizations may need custom solutions that run into tens of thousands of dollars and require more than one implementation.
The Average Cost of a Business Intelligence Software License
Business Intelligence (BI) technology has become mainstream, and vendors offering on-premise business intelligence software now compete with traditional software vendors in their own right. This has significantly changed the vendor landscape, and pricing pressure has significantly increased on traditional vendors, as many of them have increased their pricing of BI products to reflect this.
One of the trends that are being seen is that while the average cost of BI software license per month is increasing, the average cost of BI products per month is still decreasing as vendors are focusing on lowering the per month product cost rather than focusing on the average cost of the product. 4
So what's the average cost of business intelligence software? About $3,000 per year.
Mind you, my $3,000 figure is taken from a sample of eleven companies, and it doesn't account for all of the versions a BI vendor may offer. I went with the most basic, least expensive plan for each vendor in coming to my average. Plans differed by the number of users.
BI software isn't cheap, but the potential benefits are so great that they should be your priority.
Businesses focused primarily on program functionality (what and how much their BI program can do) reported the highest business benefit.
Think of BI software as a Fitbit or fitness tracker for your business. That initial price seems steep, but if you truly incorporate the data-driven insights into the fitness of your body —or your business— it pays off.
Both Fitbit and BI software orient your life around data. That can pay off.
There are options that cost way more than my $1,500 $3,000 average. Those are targeted at enterprise-sized businesses, however. There are also free business intelligence tools if you're an SMB without a large IT budget. However, they tend to be comparatively limited (they only extend to one, occasionally two, users).  
Ask Vendors the Right Questions to Find the Right BI Software
You'll want to ask your vendor what the price is per user. Most firms charge by the user, but there are differences within that.
Grow, for example, charges by the number of metrics you use (i.e., how many things you want to track) rather than by the number of users. If you're a small business only interested in customer demographics by age or geography, something like Grow could be a good option. It also offers complete customer service, which is frequently praised in Grow's user reviews.
Take BI expert Rick Sherman's advice in his Business Intelligence Guidebook, and avoid using hazy goals such as "get a single version of the truth" or achieve "better decision-making." Sherman suggests, instead, that BI shoppers focus on specifics like "revenue optimization, cost reductions, risk reductions," and "regulatory compliance."
In other words? Align your BI software goals with business initiatives rather than buzzwords.
Be conscientious when determining those requirements. Gartner suggests designing a BI selection team before you start shopping. Even if you lack the time, or employees, to devote to a selection committee, you'll still want to define the target users and usage scenarios.
Cloud-Based Business Intelligence Software Reduces Costs
You can decrease the cost of business intelligence software by opting for a cloud option. When you buy an on-premises solution, you'll probably have to invest in the necessary hardware (servers upon servers) and the IT staff to maintain it.
With cloud software, the servers where your information is stored are either on the software vendor's servers, at Google Cloud Platform or Amazon Web Services, or whichever cloud provider the BI provider uses.
Your BI Buying Experience
When writing, it is impossible to determine if a BI tool will be sufficient to meet your needs without having implemented your own data warehouse. In addition, a BI implementation can cost anywhere from a few hundred dollars to tens of thousands of dollars.
Have you bought business intelligence software? I'd love to hear about your experience and what else you learned. Was your product priced differently than what I found? Let me know in the comments below!