Featured
Top 5 Business Intelligence Software in 2023
What makes a BI product stand out from the rest? What features or functionality would you expect in a BI solution? Which product has the best pricing plan? Which product is best for your needs?
There are so many questions that arise when deciding on suitable BI software for your organisation. With the rise of the cloud, more BI software solutions on the market provide a complete, secure and easy-to-use solution to the needs of BI developers and users.
There are even solutions that provide both cloud and on-premise BI functionality. It is possible to have too many options available and choose the wrong solution, which is why it is critical to be aware of the features and functionality you need in your solution.
Before we discuss the top 5 Business Intelligence software in the market, let's understand what BI software is and why we need them.
What is Business Intelligence Software? Why use them?
Business Intelligence Software (BI Software) is a suite of software products used for managing and analysing business data. BI Software includes data analysis, presentation, decision support, and marketing research tools.
This type of software is used by businesses to understand their customers, their businesses, and their industry. It can also be used to track performance and decide what changes to make.
To start, with the help of these technologies, anybody can now make data discovery, which was previously only possible with the knowledge of experts in advanced analytics.
Additionally, these technologies provide you with the information you need to accomplish goals like growth, deal with immediate problems, gather all of your data in one location, estimate future results, and much more.
Integrating many data sources, AI-driven data preparation and analysis, regulated data access, planned and ad-hoc reporting, and interactive visualisation are the main aspects of BI solutions.
There are tons of powerful and effective business intelligence software available on the market. We will discuss the five most popular BI software and tools.
SAP Business Objects
A business intelligence tool called SAP Business Objects provides in-depth reporting, analysis, and interactive data visualisation.
The platform places a lot of emphasis on areas like digital supply chain, ERP, customer experience (CX) and CRM. The self-service, role-based dashboards this platform offers are excellent since they let users create their own dashboards and apps.
SAP is a powerful programme with a wealth of features that are designed for all jobs (IT, end users, and management). However, the product's intricacy increases the price, so be ready.
Datapine
A BI software called Datapine allows you to integrate your data from many sources and analyse it using sophisticated capabilities (including predictive analytics and artificial intelligence).
With all of your data available, you may build an effective business dashboard (or multiple), produce pre-made or bespoke reports, or include smart alerts to be warned of objectives and anomalies.
The fact that datapine can be used for various sectors, purposes, and platforms, regardless of size, makes this tool, which has received exceptional ratings of 4.8 stars on Capterra and 4.6 stars on G2Crowd, a strong option for enterprises of all sizes.
SAS Business Intelligence
Data scientists, text analysts, data engineers, forecasting analysts, econometricians, and optimisation modellers are just a few of the professionals SAS Business Intelligence caters to.
Since its founding in the 1970s, SAS Business Intelligence has steadily built and expanded its product line. This product has a respectable degree of user happiness and trust, with ratings of 4.2 on G2Crowd and 4.3 on Capterra.
SAS Data Management enables enterprises to ensure that their data is correct, full, and consistent by providing data integration, data quality, and data governance capabilities. SAS Analytics enables enterprises to analyze complicated data sets and get insights into their business operations through advanced analytics and predictive modeling capabilities.
SAS Visual Analytics is a data visualization and reporting tool that enables firms to build interactive reports and dashboards that can be accessed by anyone throughout the organization. The suite is also intended to be extremely scalable, capable of handling massive amounts of data and supporting thousands of users.
Oracle Business Intelligence
Oracle Business Intelligence Enterprise Edition (OBIEE) is a set of business intelligence tools created by Oracle Corporation. OBIEE is intended to assist enterprises in gathering, analysing, and sharing business information, allowing them to make more educated decisions.
Dashboards, reporting, ad-hoc analysis, data visualization, and data modelling are among the tools and features included in the suite. OBIEE also integrates with a variety of data sources, including Oracle and non-Oracle databases, as well as flat files.
One of OBIEE's primary advantages is its ability to deliver real-time data analysis and reporting. This enables firms to quickly make informed decisions and react to changing business situations. OBIEE also allows users to construct custom reports and dashboards, allowing them to obtain the data they require in an easy-to-understand format.
Overall, Oracle Business Intelligence provides a robust set of tools that may assist businesses of all sizes in making better business decisions based on accurate, timely, and relevant data.
Zoho Analytics
We now have Zoho Analytics on our list of BI products. Although the firm provides a wide range of products, including CRM, bundles, and applications, we will concentrate on their BI and analytics solutions since we believe they are the most pertinent to our issue.
This business intelligence reporting tool is one to keep in mind because it has more than 500 connectors for your company apps, more than 10,000 clients globally, a solid 4.3-star rating on Capterra, and a 4.2-star rating on G2Crowd.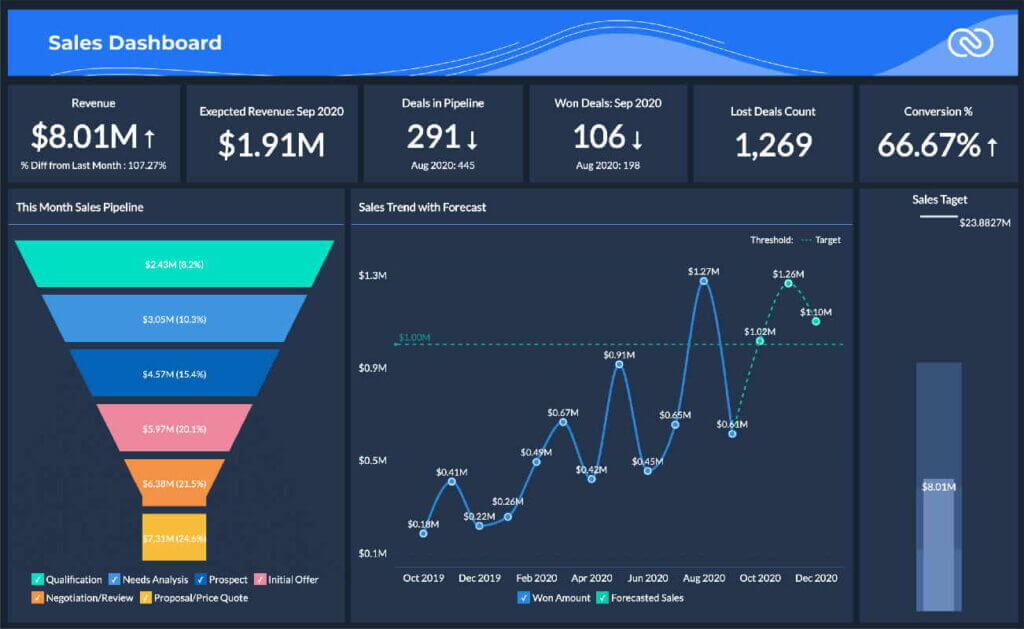 Main Features:
One of the key features is the ability to combine data from many sources and visualise it through reports and dashboards using a drag-and-drop builder.
Suppose you're seeking analytics driven by artificial intelligence. In that case, Zoho has introduced Zia, an intelligent assistant that you can ask questions to in natural language and who will respond with reports and KPI widgets right away.
You may allow real-time commenting on report components including charts, pivot views, tabular views, tables, and dashboards if you choose a shared view of your reports.
Although they offer many more features than Excel, this type of analysis, which is intended for people familiar with Excel, will provide you with a familiar look and feel for analysis and reporting.
Conclusion
So these are the Top 5 business intelligence software you can use per your Business requirements. We would recommend using SAP Business Objects, as the user has highly rated it. Keep visiting Digital Gyan for more such content.