Tips & Tricks
How Can I view a private Instagram profile without following it?
This a question among many people about how to see someone's private Instagram. There can be different reasons for the same; usually, it is stalking.
Another user may easily access and see everything on a public account without following you. However, a private account's profile cannot be read without authorisation. But what if we told you it could be done?
Instagram offers users a safe environment like any social media network. Personal account settings are one of the company's security features for users. There is, however, no straightforward means for any user to breach the security barrier and access any private user's posts.
To answer your question, how to view a private Instagram profile without following it? You can't because that's the point of a private account.
There is no direct way to see a private Instagram account. But with some effort, you can create a new account for these purposes or have a friend follow it.
Instagram has undergone several adjustments recently; as a result, the app has grown in popularity. If you use Instagram, you are aware that you must first register an account to utilise the services. Instagram accounts are classified into two groups. One is private, while the other is open to the public. Only if the person in front of you accepts your following request will you be able to access the private account.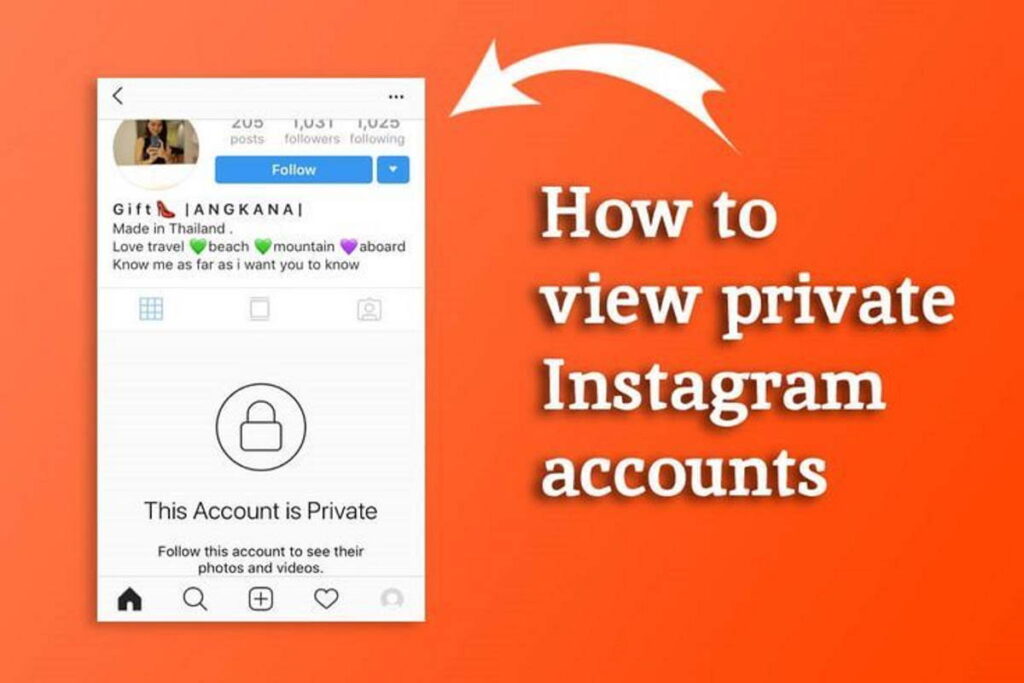 Another user may easily access and see everything on a public account without even following you. However, a private account's profile cannot be read without authorisation.
Why should I view Instagram Profile Privately?
Let's have a look at a few examples. It may be a competition you want to watch to learn about their Instagram approach or pick up some Instagram advice.
You can't avoid spying on your competition since it's one of the most efficient methods to keep one step ahead of them. It may also be a secret Instagram account you're curious about, or you might (just might) develop a crush on the person.
It's also possible that you're a reporter or journalist looking for information about a person, which you may get by looking at their Instagram postings. However, you'll need a technique to get around the dilemma because the individual has a private Instagram profile, which you don't want to follow because following them will notify them.
You may also be a parent who wants to know what your child publishes on Instagram or an employer or recruiter who wants to know what their current or potential employee writes on Instagram.
How to view a private Instagram profile – Methods and Tricks
Trick 1 – Try Sending a Follow Request
This is the most official and real method of viewing any private Instagram profile without breaking any laws or circumventing the security barrier. This will allow you to follow popular yet private Instagram profiles.
It will, however, be useless if you intend to stalk the account without the person's knowledge. Spying on someone without their agreement is also a criminal activity. As a result, sending the following request is the simplest option.
You may do this by creating a fake account and sending a follow request to it. Once the request is accepted, you can view a private Instagram profile without using your real account.
Trick 2 – Search on Google; you can see followers
This strategy may or may not be applicable to all personal accounts. You can, however, visit private Instagram accounts directly on Google to see their photographs and albums.
Enter their username in the Google search field and click enter to see the results. Some of the users' images may surface in Google search, but they are not available on their personal accounts.
Trick 3 – Using Third-Party Apps
On both the smartphone and the laptop/PC, there are various third-party programs to choose from. IGLookup and igmods are two of the most popular of these programs. However, we do not recommend these programs because you are invading the privacy of any user without their knowledge or consent.
If you have a personal Instagram account, it's always better to keep it private. If you want to engage in some harmless online stalking but don't want to follow someone, the next best thing is to look them up on Google and other social networking sites.
Other approaches to gaining access to a private profile are misleading and immoral and hence are not suggested. Remember that any unethical action will result in your target individual blocking you and maybe banning you from Instagram.
Trick 4 – Check Their Profile on Other Social Media Platforms
If someone has made their Instagram account private, they certainly haven't made their other social media accounts private. And, for the most part, social media users share the same photos and videos across all of their profiles.
Consider checking a person's Twitter, TikTok, Facebook, Snapchat, or other social media accounts if you genuinely want to see their private Instagram profile. Move on after getting their entire names from their Instagram profiles. You can gather the information you need by looking at their profiles on other sites. Don't be a social media stalker.
Trick 5 – View Profile through their Friend's Account
You may also check a person's Instagram account if you have a common friend who is following them. That is the traditional method and totally legit way.
Wrap-Up
I hope you have some ideas on how to view someone's private Instagram profile without following them. Always make legitimate choices while using any social media tools and applications. Searching for the private Instagram viewer and such tools will waste your time. They could also be harmful to the privacy and security of your smartphone or laptop that you use to access your own Instagram profile.