Productivity
What are the Pros and Cons of a Registry Cleaner
A registry cleaner is a software that runs with your computer on a continuous basis, performing a scan of your computer's registry and system folders.
These checks are done in an effort to prevent unwanted data from being created on your computer, and they're designed to help keep your system running more smoothly. In addition to cleaning your computer, registry cleaners can also restore your computer's computer to its previous state.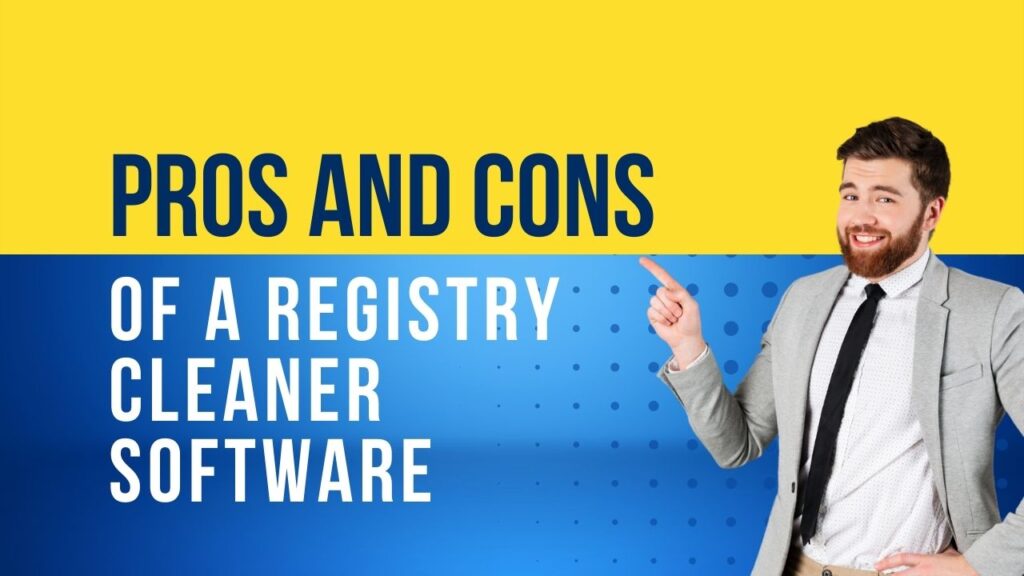 Why use registry cleaner software?
The registry is an important part of the Windows OS. It is a comprehensive database that contains key information about all of the hardware components of the computer, installed applications, software used by the user and more. Most people tend to ignore the importance of keeping the registry clean, especially in the initial stages of using the computer. Because of this, the registry starts getting corrupted, causing a plethora of other problems, such as the computer freezing and getting shut down.
A registry cleaner can help you to avoid a great deal of aggravation in the future. The registry is where your operating system and all your programs store information. As you use your computer, these bits of information are added to the registry. This process makes it easy to find and run a program or to use a file, but it also means that your computer is going to have to be in working order the next time you access it. The registry becomes cluttered with all of the information that's stored there, and it will become slow to open and slow to use.
A registry cleaner can keep your registry clean by removing unwanted or damaged registry files, allowing your computer to boot up more quickly. It can also remove registry errors, which help speed up the loading time of your registry, and it can fix invalid registry keys. A registry cleaner can also remove the "last modified" properties that many people have on their documents, which can slow down your computer's performance. A registry cleaner can keep your system running at its best, and fix errors. When errors do appear, however, you can be sure that a registry cleaner can fix them.
Benefits of Registry Cleaners
There are many benefits of a good registry cleaning program. The first and the most obvious benefit is to speed up your PC and increase its performance. There are also some other benefits. Registry cleaners can improve the speed of your web browsers, especially Internet Explorer, Microsoft Edge and Google Chrome since the registry contains a lot of vital information for these browsers to run properly. The fact is that malware can use registry files to hide and avoid detection. Therefore, your best defence against malware infection is to use a high-quality registry cleaner.
The benefits that you are getting from registry cleaning programs will help you not to spend most of your money on unnecessary repairs. It will also help you to gain access to your registry, files and programs and to get a chance to access a file that is deleted from your system. With a registry cleaning program, you can also restore your registry and repair your computer that has corrupted files.
However, despite the fact that many individuals are seeking both the advantages and downsides of registry cleanup software, there are still a significant number of people who believe that these programmes are not very beneficial. In other words, they consider them to be a waste of their time and money rather than beneficial to their PCs.
Limitations of Registry Cleaners
One of the drawbacks that some individuals have experienced is that some people have downloaded the incorrect software programme. They were unable to clean their system as a result of their ability to do so, and instead caused additional damage to it. Just so you're aware, some of these programmes are regarded as malware rather than genuine software.
Second, the programme was unable to remove anything from the system. Even though the programme has already scanned and cleaned the system, it continues to operate at a troublesome pace as if nothing had happened after the cleaning process was completed. The client will feel as though they have squandered their money as a result of this.
In addition, some applications not only clear the registry but also end up causing damage to the operating system as a result of the cleaning process. An obvious manifestation of this is the failure of the operation to boot up after the computer has been used to run the programme. Therefore, the cleaners either moved or completely deleted some of the data required for the computer to load up properly.
Even while these programmes have a lot of problems, it is obvious that they also offer advantages that would be beneficial to their users if they were used properly. Providing they conduct a thorough search on the internet, they will be able to locate the most dependable apps that they may instal on their computers.
Additionally, because they will be able to free the computer of its issues, they will instantly notice that the machine is operating much quicker than it was before they began. These programmes will help them resolve the slow performance issues that they may have been facing before prior to using these applications.
Conclusion
In conclusion, registry cleaners can be a great tool to have in your PC maintenance arsenal. They can help keep your computer running smoothly by removing unused files and fixing registry errors. However, they should not be used as a replacement for regular PC maintenance. Always make sure you have a good antivirus program installed and keep your computer up to date with the latest patches and security fixes.