WhatsApp is a popular messaging app that allows users to communicate with each other. The app also has a feature that allows users to share their location with others. This can be useful if you want to meet up with someone or if you want to let someone know where you are.
Yes, you can use WhatsApp to monitor someone's whereabouts. WhatsApp's "Share Location" function allows users to share their location with others in one-on-one and group chats. Aside from that, there are other internet services and WhatsApp location monitors you may use. There are many options mentioned below. To be honest, some of them work, while others may need a significant amount of effort.
It may not be too strange to track individuals on WhatsApp. But it's not when you consider that the person you're following must grant their consent for the chat app's new Live Location feature to operate.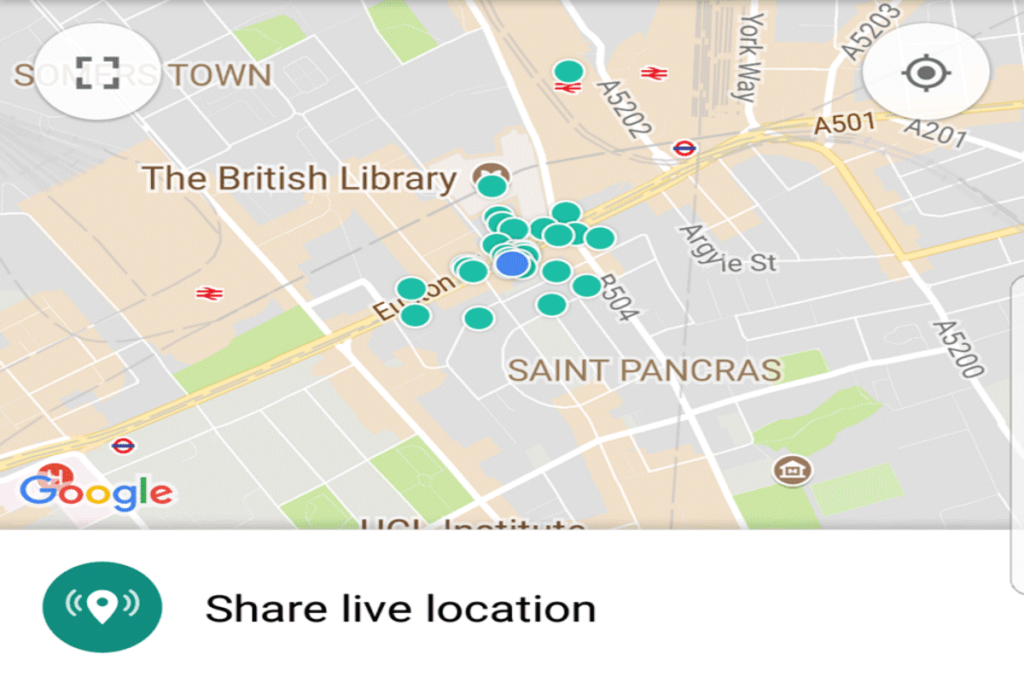 How to share a Location on WhatsApp?
You may just ask the individual to disclose their location to you rather than resorting to severe measures to obtain someone's whereabouts through WhatsApp. Like many other applications, WhatsApp includes an in-built and free function that allows users to track their whereabouts in real-time. This makes checking an ETA or ensuring the safety of your family or friends a breeze:
Here's how to use WhatsApp's basic functionality to monitor your whereabouts (This should be done on the target device you want to track).
In WhatsApp, open a message or a group chat and then touch the attached file symbol.
In the drop-down menu, select "Location" and then "Share live location."
Tap "Send" after selecting the time for which you want to share your location. You have the option of sharing the location for 15 minutes, 1 hour, or 8 hours.
Then, using Google Maps, you can see the exact location of the phone. If you submit the request to a group chat, everyone in the conversation will be able to view the status.
However, in order for this strategy to function well, you must first achieve an agreement with the other person. Otherwise, he has the option to deny the request for location sharing at any moment.
How to track a location on WhatsApp without Knowing?
There are a few things to clear up before we go on to additional ways to monitor someone on WhatsApp. Not everyone can be found using a command prompt, hosting, or an IP address. You'll need to be highly tech-savvy to figure out how these tactics work and prevent fraud.
Third-party apps
KidsGuard Pro
If the above-mentioned Whatsapp location sharing doesn't work for you, you might check with a third-party service called KidsGuard Pro. Its state-of-the-art GPS positioning technology can assist you in correctly locating people.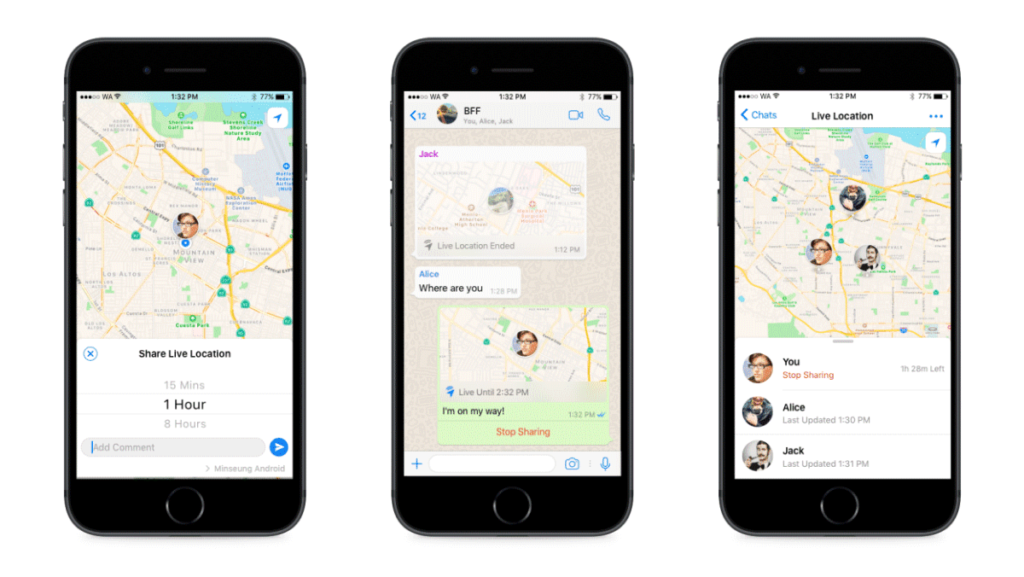 Using software like KidsGuard Pro will save you a lot of time and effort, and the following are some of the most significant benefits:
It can be used to track down anyone, even if they are not a WhatsApp contact.
After you've installed it, you can use its web dashboard to follow the target's whereabouts without alerting them.
You may monitor someone without their knowledge because the software is hidden on the target device.
The information about the location is updated in real-time. You may also look up areas you've been to before.
This program does not require any professional experience to use. You may complete the download, installation, and configuration all at the same time.
iSharing app (third party app)
Another third-party smartphone app you may consider is iSharing. iSharing is a location tracker app that allows you to easily track the location of a WhatsApp friend using the GPS location data from their smartphone. iSharing is available for all smartphones and downloadable through the Apple App Store and the Google Play Store.
iSharing provides a lot of additional features outside 24/7 location tracking. Here are a few of the ways that you can benefit from the app:
Easy login integration with WhatsApp that makes it easy to create an account as well as adding people to track.
Up to 90 days of location history of the person you're tracking
Place Alerts that notify you when the person arrives and leaves a designated location
Nearby Alerts immediately alerts you when the person leaves a set radius around you.
How to share your LIVE location on WhatsApp?
In your phone's Settings > Apps & notifications > Advanced > App permissions > Location > switch on WhatsApp, enable location permissions for WhatsApp.
Alternatively, if you just opened WhatsApp, go to Settings > Apps & alerts > WhatsApp > Permissions > switch on Location on your phone.
Create a private or group conversation.
Attach > Location > Share your current location.
Choose how long you'd like to broadcast your real-time location. After the period of time you specify, your live location will no longer be shared.
Add a remark if desired.
Click the Send Button.
How to share LIVE location through WhatsApp Web?
Because WhatsApp can now be used on PCs and laptops, users are naturally curious if the location sharing feature is accessible on WhatsApp Web.
So, if you've recently asked yourself the same question, here's the answer: WhatsApp Web does not allow you to share your location with others. Don't worry; we're not going to hang you out to dry; instead, we'll explain why it's impossible to track a location on WhatsApp.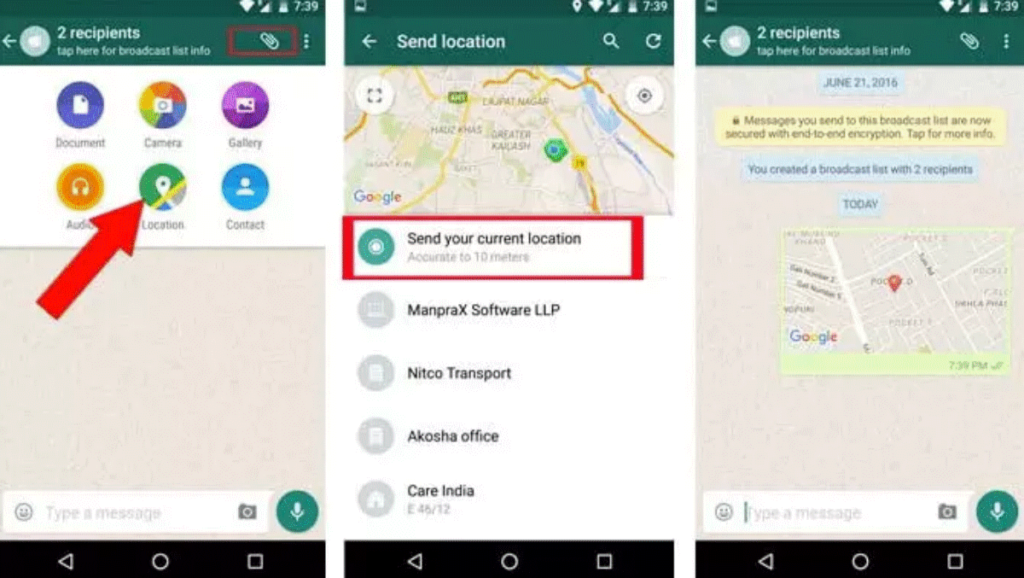 As most of you are probably aware, being able to share one's position necessitates the presence of GPS on one's device. WhatsApp's location-sharing tool does the same thing by using your GPS.
How to track location on WhatsApp through Command Prompt?
Using the Command Prompt tool on your PC is another simple approach to trace someone's WhatsApp location. This will only work with WhatsApp Web, but it is quite effective and simple to implement. The easy instructions below will teach you how.
To get the IP address of the person you wish to trace, open WhatsApp Web and start a chat with them.
Close any background programs (excluding the browser you're using) to avoid interfering with the process. Then press Ctrl + Alt + Delete on your keyboard to bring up the task manager.
To launch the "Run" function on your keyboard, press Win + R on your keyboard. In the box, type "cmd" and then press enter.
Type "netstat-an" into the command prompt that displays, then click enter. Before quitting the command prompt, jot down the IP address that displays.
Go to https://whatismyipaddress.com/ to check your IP address. Then type in the IP address to get a rough idea of where it is.
The app previously included a location-sharing capability, but it only enabled users to share a single static place on a map. When users choose to enable live location, their friends may now see their actual location updated on a map as they move.
Others will be able to see your actual position for fifteen minutes, an hour, or eight hours if you enable the option in any conversation.
Although this may appear creepy, WhatsApp claims it is an "easy and safe method to let people know where you are." It's end-to-end encrypted, and users may opt to stop transmitting their location before the time limit expires.
Conclusion
Tracking location on WhatsApp can be very useful feature, for example, you are meeting someone first time and destination is unknown to one or both users. You can also keep a check on your children through Whatsapp location tracking feature. Using one of the methods described above you can easily track someone's location. Just ensure that you do not use the feature for some unauthorised purpose; it may put you in trouble.