Tips & Tricks
How to recover lost or corrupted data from a memory card?
The memory card has gone on to become one of the most widely used storage media worldwide in the present day.
These tiny little chip-like devices are being used in various gadgets, right from digital cameras and mobile phones to mp3 players and gaming consoles. They are almost everywhere, with almost all devices having data storage using a memory card.
Nowadays, it is difficult to find a multimedia device that does not support this device. Like its advantages, the memory card also has certain disadvantages, both of which are summarised below.
Recover Deleted Data in Memory Card
A memory card is a compact data storage device that is used to back up text, images, audio, and video. Two types of memory cards are flash memory cards, often known as computer flash or CF cards, and Secure Digital or SD cards. Additionally, you may utilise various memory card types, such as Smart Media cards, Memory Sticks, and Multi-Media Cards.
SD cards are a common way to expand the storage capacity of a broad range of devices. Occasionally, you may accidentally erase data from an SD card when moving it to a longer-term storage medium. Fortunately, these data are not permanently deleted from the card when logically wiped. They are recoverable up until the point at which new data overwrites their storage space.
In our opinion, Disc Drill data recovery software is the finest solution to recovering erased data from an SD card used in a camera or phone. Without software, it is not feasible to restore a deleted file unless your device was linked to a computer and used the computer's Recycle Bin. You must utilise a high-quality data recovery programme that can scan the card and retrieve your critical photographs.
We're going to use Disc Drill Memory Card Recovery as our data recovery programme of choice for the sake of this post. It's free to download and use to recover all erased data from your SD card in a simple manner.
Disk Drill may be downloaded and installed simply from its own website. Indeed, we strongly advise against downloading it from any other source since certain third-party software download sites have been known to bundle viruses with software installers. Once you've downloaded Disk Drill, double-click it to begin the installation procedure. From there, just follow the installer's instructions.
Connect the SD card to your computer: This may be accomplished via a card reader or by physically connecting the card-containing device to your computer. If your card reader is only compatible with ordinary SD cards, you'll need to purchase an SD to microSD converter, which is just a plastic shell with pins that you can pick up for close to nothing at your local electronics shop.
Start the programme: Simply double-click Disk Drill's desktop icon to activate it. Windows User Account Control will prompt you to confirm that you wish to enable Disk Drill to make modifications to your device; select Yes to proceed. Disk Drill requires access to your device in order to apply its powerful data recovery algorithms to locate lost files. However, do not be alarmed: it will not make any modifications until you expressly instruct it to do so.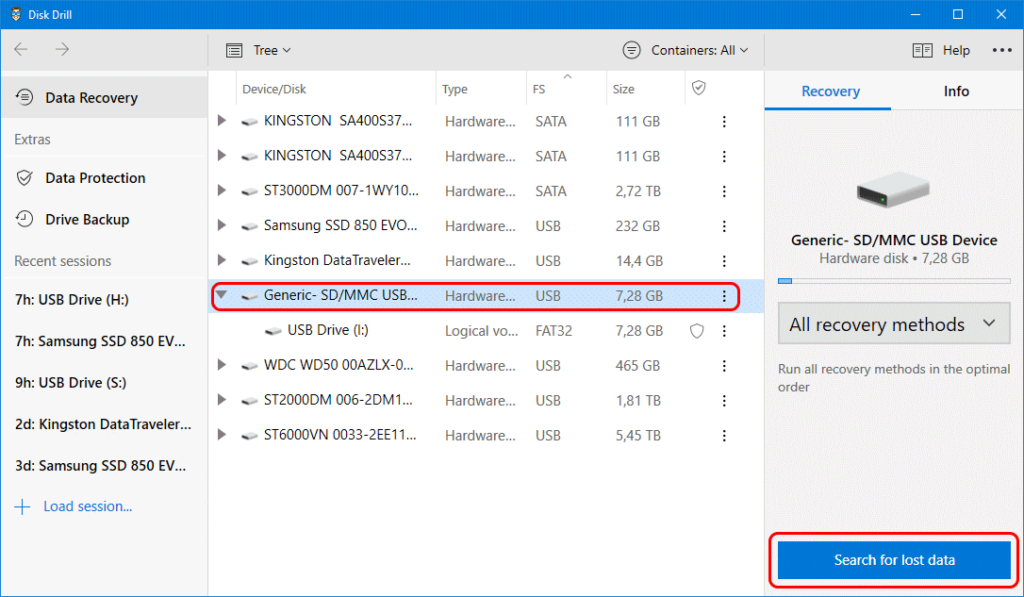 Scan your SD card: Then, from the list of accessible drives, locate and pick the SD card or external storage. If you're unsure of the SD card's name, you may identify it by its size, which is easily listed in the Size column. Additionally, you may navigate to the Info page to get additional information about any chosen storage device. After selecting your SD card, you may click the Search for Lost Data button to begin Disk Drill's scanning method.
Disk Drill is quite likely to discover hundreds or even thousands of recoverable files, even ones you no longer need. That is why you must analyse the files discovered by Disk Drill and choose the ones you want to rescue. Fortunately, this is quite simple to do, owing to Disk Drill's scan result filters (found on the left) and a convenient preview tool (displayed on the right). Click the checkbox next to a file to choose it. Additionally, you may pick whole directories.
To restore all chosen files, click the Recover button and choose the recovery destination. Essentially, you want to prevent restoring data from an SD card to the same SD card. The rest of your storage devices, including your system disc, are secure.