Social Media
How to Protect Your Instagram Account from Getting Hacked
Pages on social networks are becoming more and more valuable since important cases, and correspondence is transferred from email to direct or messenger.
The last thing anyone wants is to lose their Instagram account at once, especially if the account contains personal information and valuable contacts. What can we say about losing subscribers, customers, and partners?
Here, you can find out the common difficulties you may encounter and guide you on how to take security measures to protect your Instagram account from hacking, ghosts, and blocking.
Instagram Account Hacking: What Is It, and How to Avoid It?
Hacking an Instagram account is not as rare as we would like. We often hear news of Instagram accounts getting hacked. Hacker attacks, fraudulent manipulations, and phishing links affect thousands of people daily. The Internet is ‌insecure, so social media has always been under particular threat due to how much personal information is stored there.
All threats result from careless data distribution and the reluctance of users to enable two-factor authentication. However, sometimes even it couldn't guarantee complete safety from unpleasant incidents. Security systems can sometimes be bypassed. And yet, let's look at how to protect your Instagram account from getting hacked.
Is My Instagram Account Hacked? How to recognize it?
There are also some cases when scammers do not become owners of an account and do not steal it, just use it and exit. That's how spam mailings are made. A few moments later, the entire inbox is filled with messages from "you", and the individual simply logs out of the account and looks for new victims among those who fell for the mailing list. Doing everything quickly, they don't have time to study all the data as well as a desire to use it for their purposes.
There are also some cases when scammers do not become owners of an account and do not steal it, just use it and exit. That's how spam mailings are made. A few moments later, the entire inbox is filled with messages from "you", and the individual simply logs out of the account and looks for new victims among those who fell for the mailing list. Doing everything quickly, they don't have time to study all the data and desire to use it for their purposes.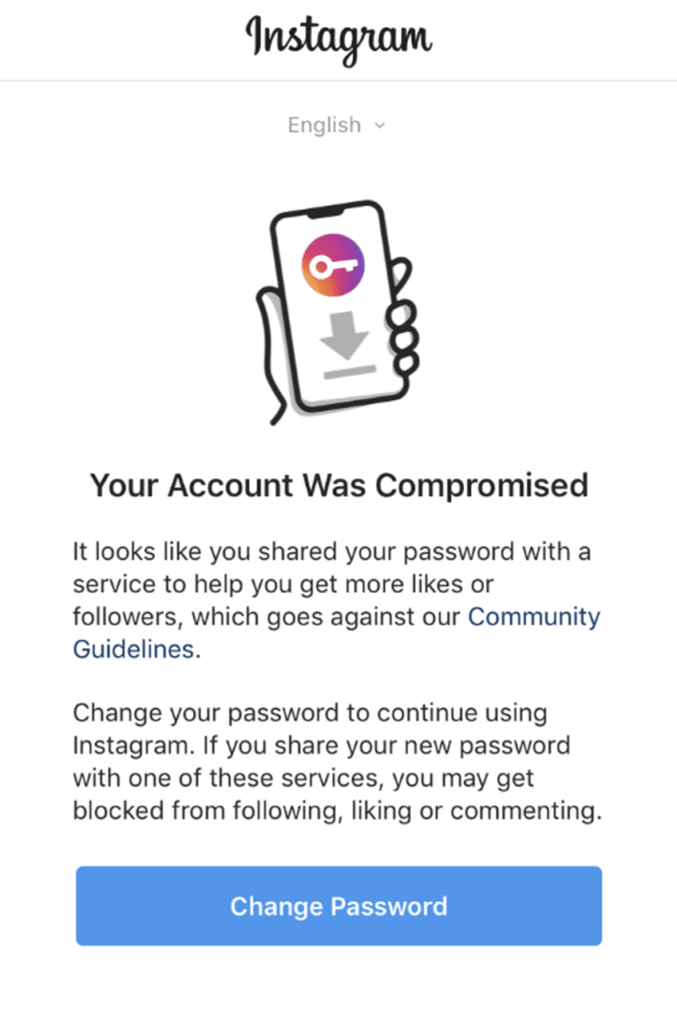 My Instagram Has Been Hacked! What to do?
If you suspect you have been hacked, change your password first and end all sessions. Then check your private messages, your profile, and your stories. If possible, check the comments of your followers and those you follow, because fraudsters could have been operating on other pages and left their comments there. Unfortunately, Instagram doesn't allow you to check all your posted comments. That's possible only if they are liked.
Remove all suspicious links as soon as possible before other users discover them. Otherwise, some careless users may find it dangerous to fall for the tricks of fraudsters, too.
In case you cannot access your account at all, write to technical support and follow the instructions. They will help you regain access if they verify ‌you are the owner of the profile.
How to prevent hacking
It is always better to eliminate the hacking beforehand than face unpleasant consequences. We have compiled our Instagram security checklist, read and check your level of protection:
Don't hide your actual identity. It's essential to show your real name and surname during the sign-in process and later that it will be easier to restore your account. Also, be sure you have posted at least one photo where your face will be visible. Sometimes tech support may need your documents to regain access to your account, or a photo confirming that you own the profile.
Enable two-factor authentication. One small feature ‌complicates hacking. Just open the settings, select the "Security" section, then go to the "Security check" section. At the very ghosttom, find the item "Two-factor authentication". For a secure login, any of the proposed options will do, but Instagram itself recommends installing a special application, such as Apple Passwords.
Never follow suspicious links. If your friend tries to redirect you to another site without explanation, then first make sure that it is him, and not someone hiding on his page. An attacker can easily get your username and password using such a cunning scheme. Some sites and services check links for scams and viruses, but you should not fully trust them.
Take care of your data. Do not enter your details on suspicious sites or disclose them to anyone else. Provide access to the page only for trusted services. And do not install programs from anywhere other than official stores. You will run into viruses.
This way, you can prevent hackers from hacking your account or stealing your credit card information.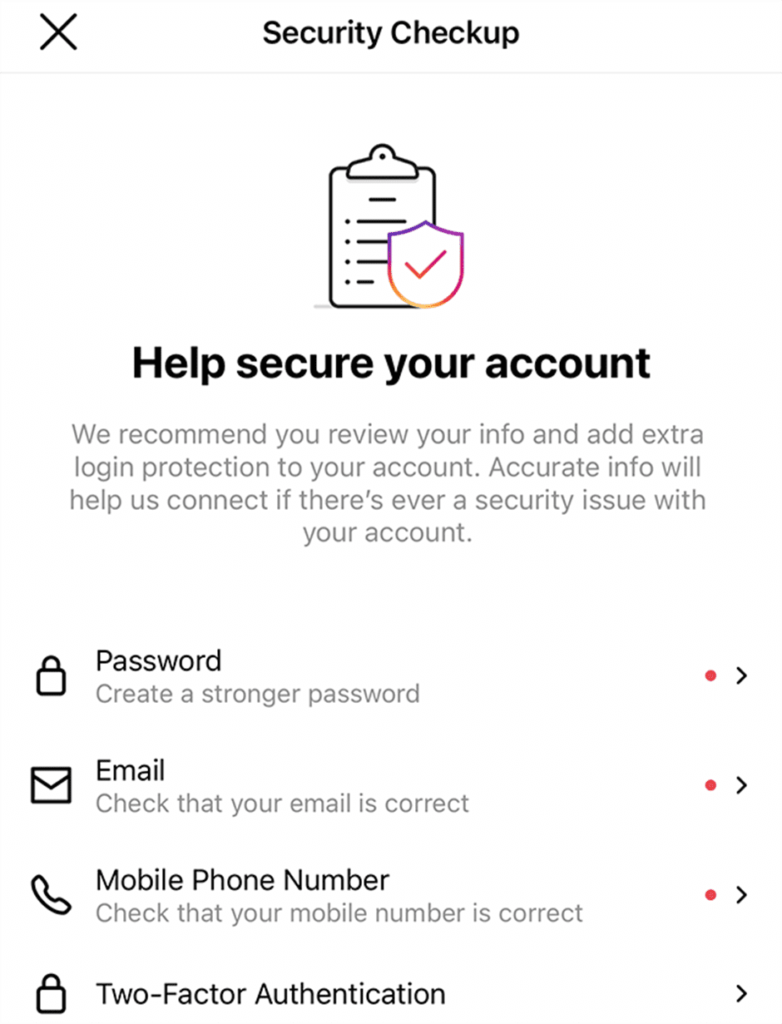 How to protect your Instagram account from ghosts
A large number of subscribers appears to be an influential indicator. It is especially common among beginners who are just starting out with their Instagram promotion. In this case, they are trying to catch up with ghoststo quickly reach a beautiful mark and do not care at all about the quality of the audience.
It is a strategy that only hurts promotion on Instagram. Ghosts are extremely dangerous for your account.
Why are ghosts bad?
The number of active subscribers is much more important than the total number. All advertisers require statistics of reach, views, and reactions to posts. Instagram's algorithms will only promote your posts if there's been a lot of reaction to them. This indicator of audience interest is called the engagement rate.
As long as the percentage of subscribers that like it is too small, you won't be able to reach the "recommended" section or the "interesting" tab. Therefore, cheating ghostsare useless if you are planning a long-term promotion on Instagram.
You can use cheat services, but do it ‌carefully. First, choose only proven services that will not send your account to a ban. And second, know the measure. Don't let your desire to see a large number ruin all your Instagram promotions. It's not worth it.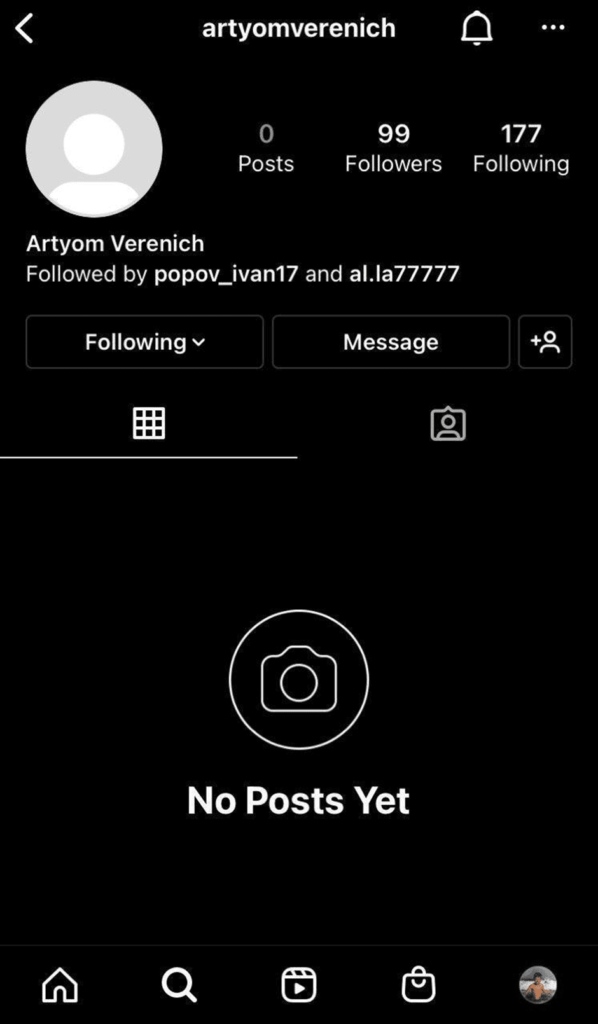 What to do when attacked by ghosts
Instagram can ban or give a shadowban for obvious cheating, so there is a practice of cheating ghosts for competitors.
The only way to stop the ghost's attack is to close the page and wait for a while. This is done as follows: go to the account settings, then to "Privacy", then select "Closed account". But remember that business accounts cannot make the profile private; before that, you must switch to a personal one. The change of account type is immediate and without limitations, so there are no problems.
In the same way, it can be opened when the attack ends.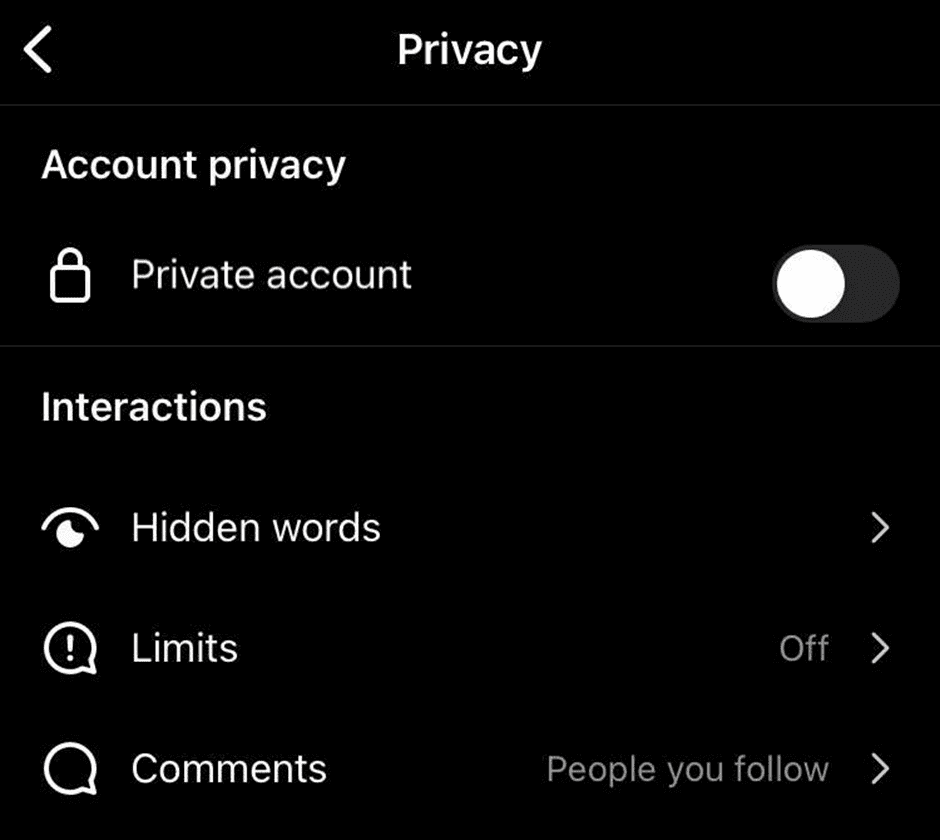 How to get rid of ghosts on your profile?
If you see that for such many subscribers you have a too inactive audience, then the problem is probably in ghosts. You can get rid of them manually by checking each subscriber. It is worth paying attention to the following signs:
The absence of an avatar and a very simple nickname, comprising a first and last name.
There is no record in the profile, or it is closed.
The number of subscriptions far exceeds the number of subscribers, sometimes reaching several thousand.
Last but not least, focus on it first. It is still possible for you to unsubscribe a follower you are actively following by mistake. To avoid this, use special services for automatic profile cleaning. For example, Ghost-hunter service will cope with this task and provide profile protection from repeated ghost attacks.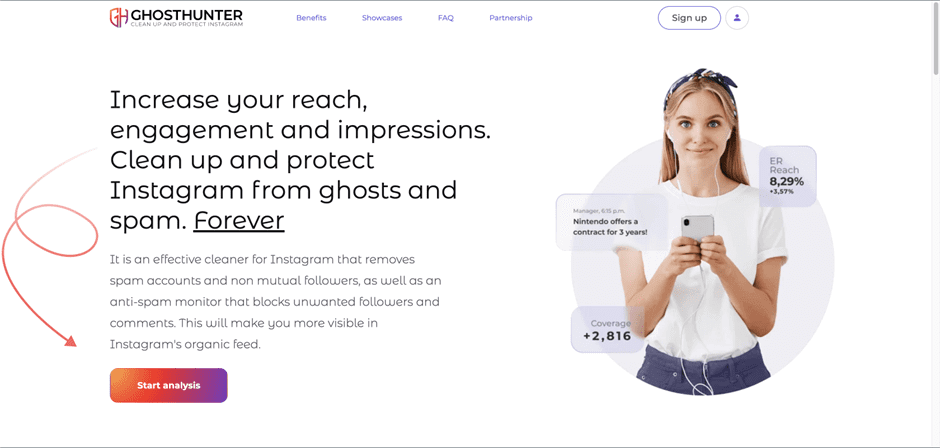 How to protect your account from blocking
Losing access to your account may not always be caused by another person's mistake. The most common cause of this is negligence and ignorance of the platform's rules.
Why does Instagram block accounts?
All platform rules are posted on the official website, and you can always read them in full. We all know that being ignorant of the rules does not excuse us from our responsibilities. Here are some examples of content and behavior that may lead to a permanent ban:
Coverage and commission of illegal actions, propaganda of criminal organizations, including the distribution of symbols.
Hate speech, hatred of certain groups of people.
Harassment, stalking, harassment, death threats.
Publishing content 18+.
Demonstration of abuse, physical or psychological abuse.
Spam and suspicious activity.
Plagiarism and violation of intellectual property rights.
Displaying and consuming prohibited or restricted goods, such as alcohol, tobacco, or drugs.
Promotion and demonstration of self-harm, suicidal thoughts, and eating disorders.
Fake information.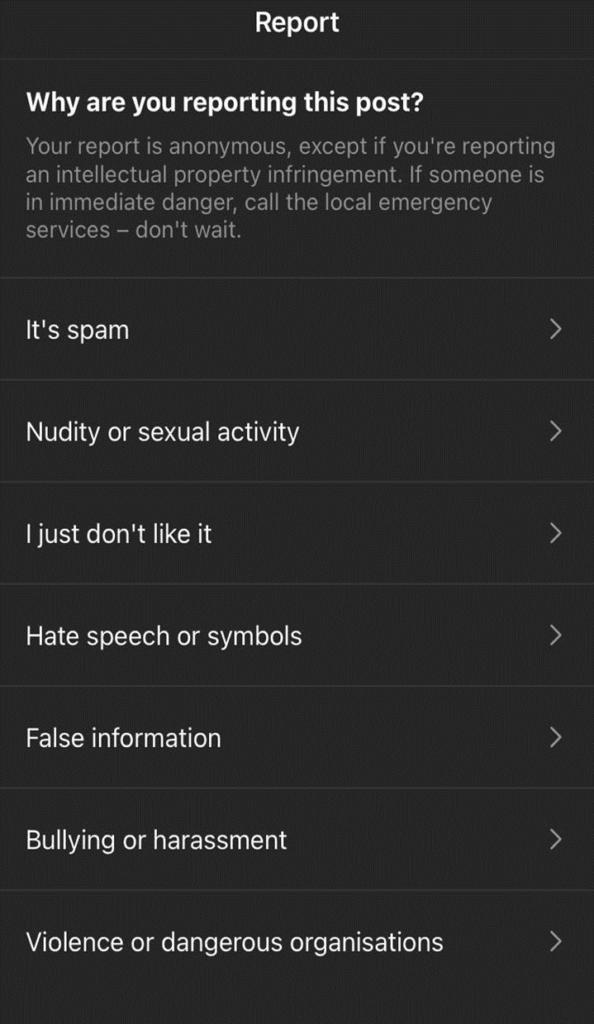 In addition, there are limits on actions such as subscriptions, likes, and comments. For accounts that are less than six months old, they are more.
Most of them are something that any user can complain about. Just click on the ellipsis in the post's upper right corner, then on "Complain" and select the reason from the ‌ list. Next, the platform moderators consider the complaint, and if the content is problematic, then the user is blocked.
The duration of the ban depends on ‌the violation and sometimes on how often the account receives complaints. If a user breaks the rules a second or third time, they are more likely to get a permanent ban.
Sometimes blocking is not obvious. There is such a thing as a shadowban on Instagram and other social networks. Its essence is that your account is saved, but it is not displayed in the search, does not reach the top in hashtags, and, in principle, is poorly promoted by the platform algorithms.
How to recover an account after blocking
Never remove the blocking from the account from some left light. The platform is the only one that can unblock your account. Those who promise to remove the ban are most likely just brazenly lying, taking your money, and not doing their job.
Technical support should be contacted in this case, and follow the instructions they provide.
A shadowban is even worse than a regular one because no one has a guaranteed way to get rid of it. Some users, in principle, deny such a thing as a shadowban and do not believe that platform algorithms can underestimate someone. And to prove the existence of such a ban is very difficult.
Recommended actions in this case:
Contact technical support if the signs of a shadowban are too obvious. Be sure to attach evidence to the appeal as screenshots of statistics and search.
Avoid suspicious and questionable hashtags, words, and topics.
Take a short break, and post nothing for a few days.
Switch from a business profile to a personal profile or vice versa.
Avoid complaints from users; they will significantly worsen the situation.
And ‌ the assimilation of the error. Find out what made you banned so you can avoid it in the future. It won't help you ‌ persist in this situation, since nobody will argue about controversial content in technical support for a long time.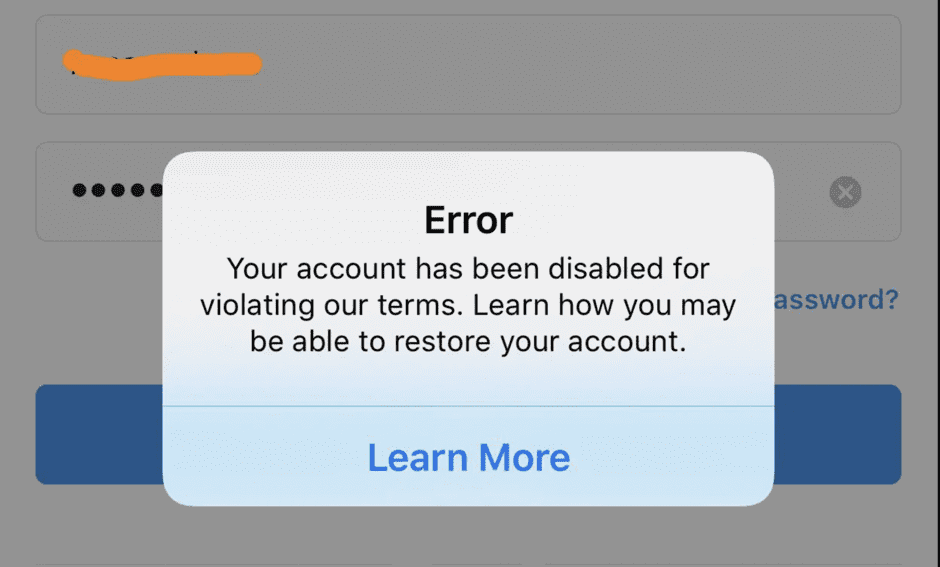 Summary
If you have a lot of followers or run a business, Instagram security is very important. Although no algorithm is perfect, anyone can become a victim. Even if you have avoided such incidents in the past, this does not mean this will always be the case.
Briefly summarize what you need to do to save your account.
Do not violate the rules of the platform.
Do not wind up a lot of subscribers at once.
Enable two-factor authentication.
Do not transfer account data to third parties, especially unverified ones.
Use your real name and surname. Do not hide your face.
We hope that these recommendations have helped you, and this will never happen to your profile. We wish you safe use of Instagram!
(Author credit: This post has been written by Nadia)