Web Hosting
HostingRaja Web Hosting Review | Pros and Cons
HostingRaja is an Indian company that specialises in affordable VPS and shared hosting. We will talk about HostingRaja, its hosting features and benefits.
It comes at an affordable price and has several remarkable WordPress features. It's the finest, most dependable, and cheapest hosting you'll find anywhere. If you live in India, HostingRaja provides affordable hosting options.
The reason to choose HostingRaja
HostingRaja offers affordable and reliable web hosting services. Whether you're a small company owner, an entrepreneur, a novice, or a web developer, the solution that's right for your business requirement is why they offer a free domain with premium plans to entice your clients to establish an internet-enabled business.
Additionally, they want to assist at least one million small companies in India to thrive by offering the finest internet services. They have hosted over 150,000 websites in India and provide the finest customer service. This places them as the number one web hosting service in India.
Hostingraja Review
To get started with review, one must consider the features which are being provided. Let's see what is included in the Hostingraja plan.
Web Hosting for WordPress
HostingRaja's WordPress hosting plans provide a 'loading time guarantee' that is lightning quick. There is a category of 'high priority assistance.' And the minimum contract duration is one year.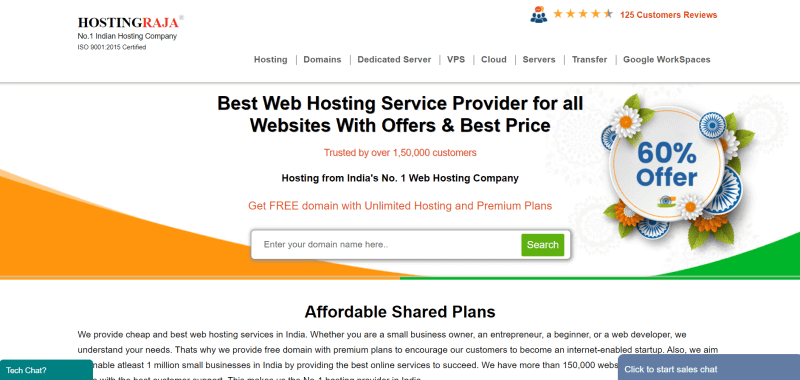 Before you commit to any years, you'll want to understand precisely what you're receiving, so let's look at what else is included with HostingRaja's plans.
Free SSL includes SSL.
HostingRaja does make a big deal in this by providing you with the cPanel interface and free SSL certificates. SSL protects the privacy of your visitors and provides an essential degree of protection by encrypting communication between the browser and the server.
SSL may also benefit your search engine ranking (SEO), so this is an excellent place to start. Additionally, I was relieved to learn that the certificate would automatically renew. That is one of the best things to consider.
Awesome Website Creator Interface
Even though my package information explicitly said that I would not get a site builder, there are really two. Along with Site Publisher, a very popular site builder on cPanel servers, there is another site builder called SitePad. Both of these programs provide a library of pre-designed templates as well as a drag-and-drop editor. SitePad is somewhat more user-friendly and includes a tutorial to assist you in getting started.
Backup Support
HostingRaja promises to provide monthly backups, which is a reasonable assertion. Personally, I would depend on them to offer this specialised service. The good news is that manual backups are simple to make. Manual backups are a very common feature of cPanel, allowing you to make copies of your files, databases, or email forwarders.
This is not something I would use daily since it does not allow for easy file restoration. However, it is simple to use and is provided free of charge. You will need sufficient space on your hard disc to keep your backups.
Installation with a single click
HostingRaja's cPanel plans include Softaculous, enabling you to install various programs, including WordPress, quickly.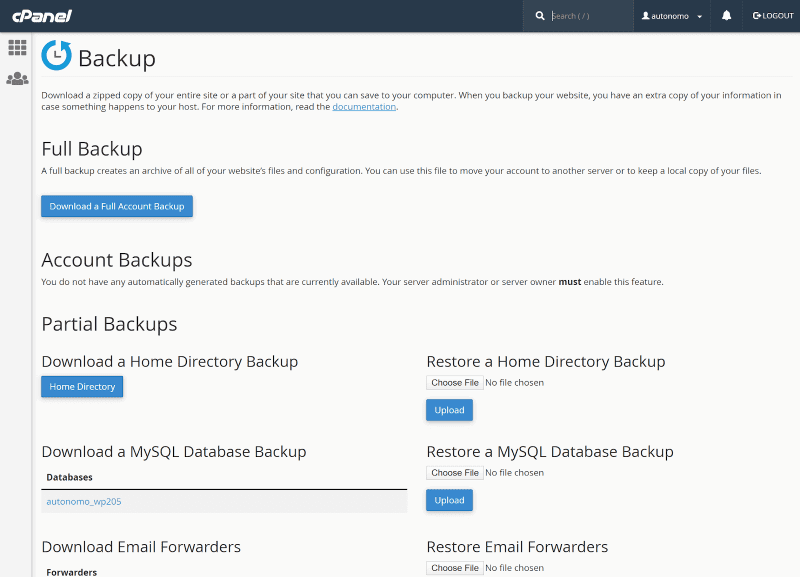 Choosing a Perfect Domain
This procedure stage is straightforward, and the domain selection is very typical. Use the first form if you own a domain. If you want to purchase one, utilise the second.
WordPress Installation
I utilised Softaculous for this, which simplified the procedure. All you have to do from the HostingRaja dashboard is go to the cPanel for the hosting account you want to install WordPress.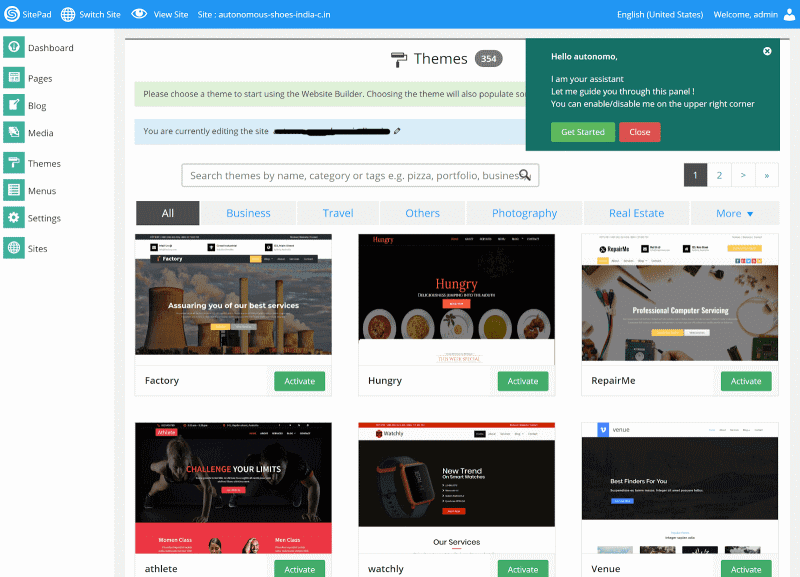 Once you've located Softaculous and WordPress, all you have to do is click Install. After entering some basic information about your site, you're ready to begin.
Maximum Performance
I created a simple website using HostingRaja to evaluate its performance. I've got some excellent news for you. HostingRaja's speed is excellent. On a Mumbai test server, loading times averaged 1.4 seconds, which is remarkable considering the data was not compressed properly. The whole load time was 2.5 seconds, which is acceptable. The uptime was close to 99 per cent, which is excellent for this low price.
Sucri Test Evaluation
HostingRaja also performed well in this test. Globally, a site loaded in 2.5 seconds on average. Sucuri monitors a website's complete loading time from several data centres across the globe, making this an outstanding achievement.
Uptime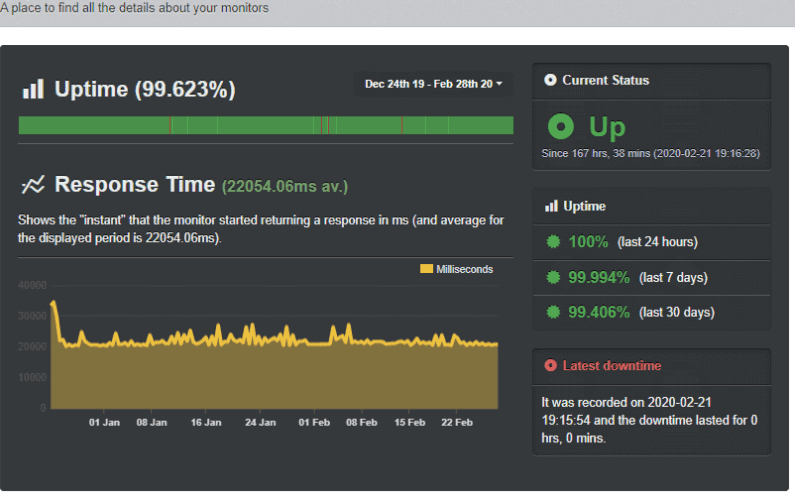 HostingRaja gives an uptime of more than ~99%. At this price, it's perfect, and one must try it.
The cost varies based on the type of plan you opt for. But mind it; most web hosting companies would show you their prices which is the average monthly price for a certain year of committed purchase. Don't confuse it with month-to-month charges. HostingRaja is no different in this aspect. For example, the Silver plan costs Rs. 85 per month. That is only true if you buy a 5-yearly plan. That means you have to pay upfront an amount of Rs. 85x12x5 = Rs. 5100 +18% GST.
These charges are yet nominal as compared to most popular hosting companies. Plus you get the advantage of Indian servers for Indian traffic.
You may pay for your hosting service with a credit/debit card, a bank transfer, or a UPI transaction. Additionally, some programs have a 30-day money-back guarantee.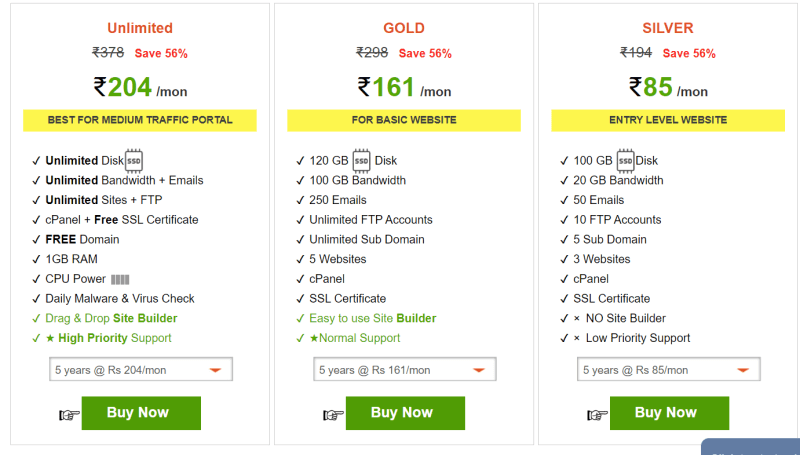 Any Limitations of HostingRaja?
HostingRaja cpanel web hosting seems not to be supporting HTTP/2 feature. HTTP/2 is a protocol for the transport layer that is developed by the IETF. The protocol allows for sending more than one request simultaneously over a single TCP connection, which reduces the time it takes to send all requests to a server. That's where SPDY comes in. It adds to the protocol allowing for sending multiple requests to the same server over a single TCP connection.
You don't need to specify your Host header if you are using a shared SSL/TLS certificate. It is a benefit that is only present in HTTP/2. You can use HTTP/2 with a SPDY-aware browser which means it is supported by a lot of browsers. HTTP/2 is designed to be much more efficient.
Conclusion
Hostingraja is the perfect place to start your online business if you are new to blogging or web development. It becomes a great choice at such a low price and maximum performance. If you want to expand your business, or need more bandwidth, go with the premium plans of Hostingraja.