How cloud computing impacts your business
Introduction
The term 'Cloud Computing' is one of the most echoed buzzwords in recent times' technological expansion.
Deliberately or accidentally, you come across cloud storage and cloud computing in ordinary life provided that you are active in the online e-commerce domain.
To be more precise, a majority of people make use of various online video calling facilities like Skype or might regularly access emails for business transactions and also for personal use through Gmail or Yahoo! Here, you access the data or the resources which are lying on a cloud storage environment.
What is cloud computing?
In simple terms, Cloud computing implies delivering hosted services like computing resources or data storage capacity across the Internet. The end-user just needs to have a computer and high-speed internet access to connect to the cloud where services and resources are shared.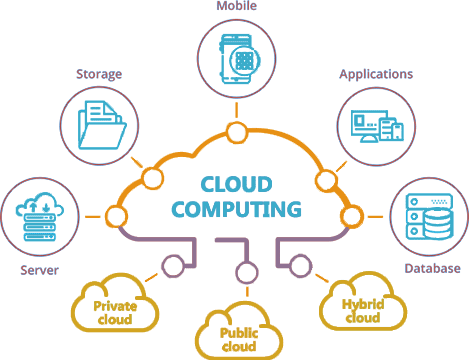 Cloud computing, which has paved the way for a paradigm shift to be introduced into the IT field, is now being largely used in many fields like web-based software services, on-demand gaming, platform as a service etc. The cloud computing environment is very flexible as the applications or services are platform-independent and also the storage location will also be in the cloud, eliminating the need to assign specific hardware to a task.
These services are delivered mainly in three forms like Infrastructure as a Service (IaaS), Platform as a Service (PaaS), and Software as a Service (SaaS).
In IaaS, the end, users pay for resources like servers and other infrastructure for a period of time. In PaaS, the platform or system software is accessed from the cloud while in SaaS, the application software and databases are provided by the cloud service provider.
How does a cloud help in your online business?
Developments in the domain of cloud computing and also the interest in this service is on the path of rapid growth as it is used by small and big enterprises on a large scale. Contrary to traditional web hosting services, cloud service is sold on demand and can be treated like it is subscription-based. This is very useful for SMEs (Small Medium Enterprises) who cannot afford to purchase a large amount of storage space and hardware resources.
The cloud provider provides the services and resources as per the users' demand. It is also very easy and fast to use, as SaaS in cloud computing eliminates the need for installing software in your hardware.
Cost Saving
The cloud computing infrastructure offers businesses an opportunity to outsource some of their IT management responsibilities to an independent third party while gaining the benefits of cost and security savings, streamlined service, and increased data and application availability. The cloud delivers these benefits by offering businesses an alternative to on-premises computing, which is a traditional way of delivering services.
By moving workloads to the cloud, businesses are saving money by reducing the amount of money spent on hardware, maintenance, upgrades, and other IT-related costs. It's also possible to save money by eliminating the cost of an IT employee or IT contractor, as cloud computing allows businesses to outsource all their IT work to a third-party vendor.
You can save a lot of money as the cloud provides scalability, enabling you to scale up or down, the use of resources or data from the cloud, as per your needs. It also requires less staff as the maintenance tasks, hardware and software are quite minimal. Thus, these services look promising from all perspectives, whether for a large enterprise or a small online business.
Security and Anywhere Access to Resources
The cloud promises to improve the IT environment for businesses by providing a secure way to store and access data from any location. While on-premises systems often rely on network security solutions to help secure their data, cloud-based solutions offer a higher level of security because they have no network access to the data they manage.
In addition to providing increased data security, cloud computing also has the advantage of being able to provide an application environment that can be accessed from any device, which may be an advantage when using mobile devices to access applications.
Business Expansion Without Physically Expanding
Cloud computing is also changing the way that business is delivered. Rather than running a business in a single location, a business that moves to the cloud will be able to provide services from any location, which is possible with cloud-based systems. By using the cloud as their base, businesses can easily offer their services from any location in the world, without the need for an IT team.
A business that offers services from a traditional office location will need IT personnel who can handle network issues, software upgrades, and other tasks needed to keep the business running. If a business is located in a more remote location, they can offer services to the people in the location without the need to set up an office location. Multiple teams can work on the same project simultaneously. This can lead to a business that is much more accessible to customers and potential customers.
While cloud computing may reduce the number of employees needed to run a business, it doesn't always mean that the cost of doing business will be lower than it is today. The most common way for a business to save money when moving to the cloud is to reduce the costs associated with an IT team. This may mean that IT personnel are able to focus on other business-related tasks that have the potential to be more profitable.