Social Media
Which is Better Video Hosting Platform Between YouTube and Vimeo?
When it comes to video hosting platforms, there are really only two major players in the game: YouTube and Vimeo.
Both platforms have their own sets of pros and cons and deciding which one is right for your needs can be tough. To help you make your decision, let's take a closer look at YouTube and Vimeo, and compare them in terms of features, pricing, and more.
When selecting a location for your video marketing, there are more considerations to take into account, like pricing, tech support, and video and audio quality, to mention a few.
Difference between YouTube and Vimeo Video Hosting Platform
According to YouTube, as of 2020, they have over 2 billion users and daily video viewing reached over a billion hours.
Pretty amazing! However, as many marketers are aware, quality supersedes quantity. Since so many people use YouTube, the platform is more competitive, which increases the likelihood that your video may get lost in the noise. More unmoderated and unfavourable comments can also be found.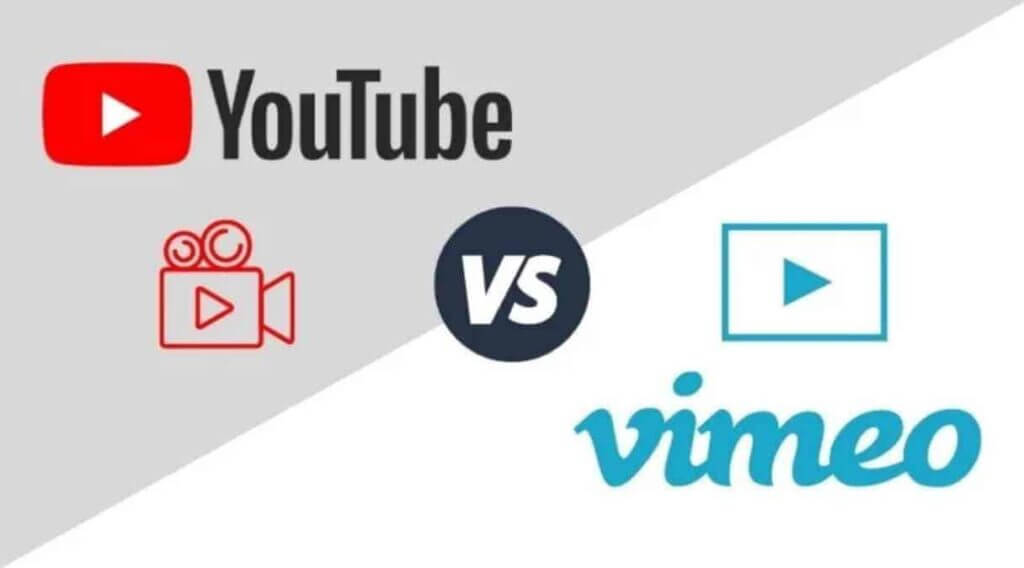 However, Vimeo claims to have more than 200 million users, with roughly 40 million of those users residing in the US. Additionally, viewers on Vimeo tend to be more knowledgeable and encouraging.
Video Quality
In addition to supporting greater sound quality than YouTube, Vimeo employs a higher bitrate. However, you must be subscribed to one of their paying programmes to obtain this quality.
The identical video will have a greater quality on Vimeo when it is posted compared to YouTube. Again, YouTube frequently prioritises quantity over quality. Due to the volume of daily submissions, YouTube severely compresses videos, resulting in a loss in video quality.
Features
When it comes to features, both YouTube and Vimeo offer a pretty similar set of options. Both platforms allow you to upload and share videos, embed them on your website or blog, and track views and engagement.
They also both offer basic video editing tools, although YouTube's editing tools are more robust and user-friendly.
Pricing
When it comes to pricing, YouTube is the clear winner. It's free to sign up for a YouTube account and upload videos, and there are no limits on video length.
On the other hand, Vimeo has a tiered pricing structure starting at $7/month. There is a free option, but it limits you to 500MB of storage and a maximum video length of 500MB. If you need more storage or longer video lengths, you'll need to upgrade to a paid plan.

Compatibility
YouTube is compatible with nearly any device. You can watch YouTube videos on your computer, smartphone, tablet, smart TV, or any other device with an internet connection.
Vimeo is also compatible with a wide range of devices, but there are some notable exceptions. Vimeo videos can't be watched on Amazon Fire TV or Roku, and there is no official Vimeo app for Xbox One.
Customer Support
YouTube and Vimeo both offer pretty decent customer support, but YouTube has a clear edge. YouTube has a huge community of users, and plenty of resources (including an extensive knowledge base and forums) can help you troubleshoot any issues you may have.
Vimeo also has a knowledge base and forums, but they're not as comprehensive or user-friendly as YouTube's.
Search Engine Optimization
According to rumours, Google may prioritise YouTube results over those from other video sources like Vimeo. Therefore, you might want to consider publishing that video on YouTube if you want to make sure that your videos rank highly on Google and if you want to increase traffic to your website.
Video Editing and Creation
The video editor on Vimeo lets you change the fundamentals, including the title, tags, end screens, cards, and timestamps.
Recently, Vimeo also bought the simple-to-use video editor Magisto, which now has a Vimeo Create function. Many science marketers who lack the time or funds to dedicate to large-scale video creation may benefit from this capability.
The video editor on YouTube offers the same choices as the one on Vimeo, but you can also give films personalised URLs.
You may cut movies, add music, and blur faces or objects with YouTube's editor. Additionally, you may make movies from already-existing videos or from images.
Both sites provide live streaming, although only Vimeo's Premium and Enterprise programmes support it, whereas live streaming on YouTube is available on all levels.
Analytics
Vimeo provides view count, audience demographics, and interaction analytics. To have access to all of their analytics capabilities, you must be on one of their paying plans. Similar metrics are tracked by YouTube and Vimeo. However, the latter offers more detailed data on the sources of its traffic and more demographic data, such as age and gender.
Privacy Control Options
You may password-protect your video material on Vimeo. This is helpful when working with clients that need to watch a video before it goes live. It's also a terrific tool if you want your films to only be accessible to paid subscribers.
Additionally, Vimeo provides a really helpful function called "Review Tools" that lets you distribute a private, downloadable video page so that team members may watch it and make time-stamped feedback.
You may post your films to YouTube as public, private (visible only to you and those you invite), or unlisted (only available to those with the link).
Updating and Reuploading Videos
One of Vimeo's biggest features is the ability to modify a video, re-upload it, and keep all of its analytics without losing any information or having to change the URL. The ability to modify your information to keep it relevant is incredibly helpful.
This feature is not available on YouTube, and if you post a new video, you will lose previous video statistics like view count and get a new URL. However, after your movie has been posted, you may do quick modifications like cutting.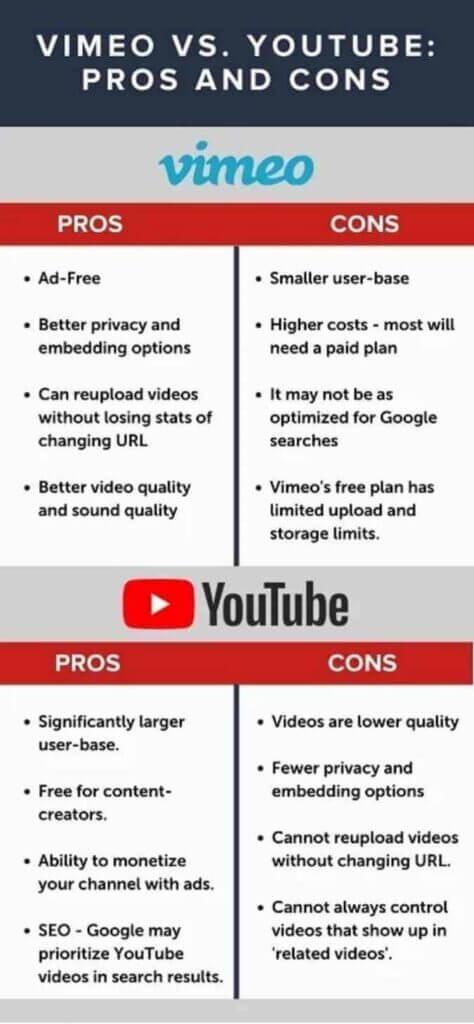 Conclusion
So, which video hosting platform is right for you? If you're looking for a free option with no limits on video length or storage, YouTube is the way to go. If you need support for high-definition or 4K video or an official Xbox One app, Vimeo is the better choice.