Productivity
5 Best Tools to Delete Spyware and Malware from Your System
The world wide web has become one of the most prominent communication mediums. One should Delete Spyware and Malware if it gets installed. Due to this, the internet has become an open the door to many threats.
Spyware and Malware are among the prominent internet threats that can lead to cyber threats. It is a very powerful computer virus and malware that negatively impacts the users' computers. It can cause major harm to one's computer and spoil the hard drive's personal data.
Due to the bad effects of malware and spyware, computer users have to run antivirus in order to keep themselves protected from threats.
Antivirus is a crucial element in protecting users from the damage caused by spyware and malware. In addition to that, using an effective programme to clean spyware and malware can keep users safe from other internet threats.
A lot of the time, users do not give importance to this kind of threat, which leads to them being victims of such type of malware. You're going to require security against viruses and malware unless your machine is currently operating totally offline.
One should seek a cheap way to remove a virus you, a family member, or a friend installed.
If you have recently purchased a new computer, you must keep it virus-free. Simply put, you're fed up with having to spend so much money on malware and virus cleanup.
We still have you covered even if none of those descriptors completely suit.
This article examines some of the top free solutions for removing viruses and malware that are currently accessible to consumers.
There are certain techniques and methods to remove spyware and malware without using any software, but most of these methods are also difficult to implement and tedious. So, to ensure that you do not face any malware and spyware attacks, you need to know about the best tools to clean spyware and malware. Using such tools will ensure you clear spyware and malware from your system without going through any complicated procedures.
Tools and Applications to Delete Spyware and Malware from Your System
Here we have gathered the five best tools to delete spyware and malware from your computer.
1. Malwarebytes
Malwarebytes is one of the best tools for clearing spyware and malware from the computer. The main feature of Malwarebytes is that it can delete any type of spyware and malware which have found its way into the computer.
It can delete any kind of malware and spyware without going through the registry as most programs to delete malware can do. You can use Malwarebytes on all versions of windows operating systems like Windows 11, Windows 10, Windows 7 and so on.
2. Panda Antivirus
Panda Antivirus is reliable software that is available for all Windows and Mac operating systems. This software is available with the help of an online tool. The online tool will create an offline antivirus setup for the users. It will help the users protect their computers from threats that cause harmful effects on them.
It will help the users enhance the speed of their PC and protect their files from ransomware attacks and other threats.
3. Avast Antivirus Malware
Before you ever realise that there is malware on your computer, Avast Free Antivirus can find and remove it. It differs from the two above in that it is constantly active and on the lookout for fresh dangers.
You may customise several aspects of Avast, including CyberCapture to prevent unknown files, Hardened Mode to tighten security, scanning for potentially undesirable applications, scanning from Windows Explorer, excluding files, folders, and URLs from scans, and many other features.
Avast also comes with a browser and mail protection tool, a Wi-Fi inspector, a VPN client, a garbage remover, and a software updater.
All of Avast's antivirus products, including this free version, feature anti-spyware protection.
4. AVG AntiVirus Software
Another well-known antivirus application is AVG, which performs the function of a full malware scanner, automatically detecting and getting rid of viruses, ransomware, spyware, and other threats.
In addition to protecting your PC, AVG also offers email and online activity security. A dedicated button initiates an immediate search for spyware across all of your removable devices in addition to the full system scan, boot-time scan, and custom scan options.
AVG also has a Deep Scan option, which performs a slower but more comprehensive scan and is a decent choice if nothing else seems to work to remove the malware. If the spyware uses a concealed or fake file extension, you can set it to identify files based on their content rather than their file extension.
More than 20 archive file formats may be opened and scanned using the Deep Scan feature, which is much more than the majority of other spyware scanners, which often only handle the popular ones.
It's also important to note that because it doesn't need to execute a lot of HDD seeks, its ability to scan through data in the order they appear on the hard drive may speed up scanning.
5. SpyWare Blaster
In contrast to the other apps, SpywareBlaster "blasts" new dangers from your system before they have a chance to harm your computer, living up to its name.
You may turn on security features in your web browsers to guard against dangerous scripts, vulnerabilities, and cookies that track your online activity.
It accomplishes this by activating a pre-made list of blockades against particular websites, cookies, and scripts (which you may manually edit at any time).
With the help of the System Snapshot option, you may back up your system settings so that, in the event that malware modifies any of them, you can restore the backup and return your settings to their original state.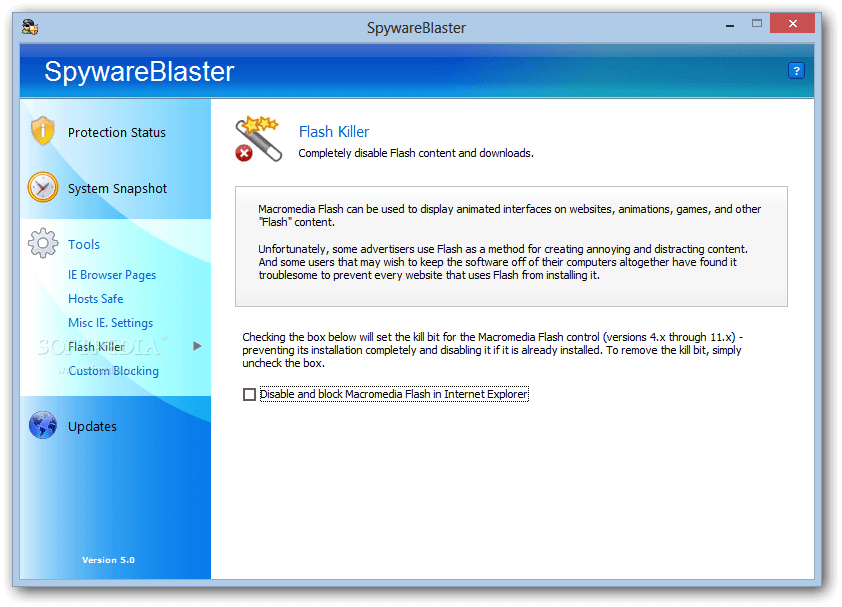 Additionally, SpywareBlaster comes with several extremely specialised spyware defence tools, such as Hosts Safe, which backs up and encrypts the host's file (one of the malware's favourite targets), as well as a list of your own unique ActiveX blocking rules.
It reportedly functions on Windows 10, 8, and 7. Although it hasn't been verified, it presumably also works just fine on Windows 11.