Productivity
5 Best Tools to Delete Spyware and Malware from Your System
The threat of spyware and malware is present everywhere in the modern digital age, as our lives are becoming more and more entwined with technology.
These harmful applications have the ability to sneak into our computers without our knowledge, compromise our personal information, and cause havoc with our equipment. It is now more important than ever to protect oneself from these online risks. We can thankfully use a variety of programs to identify and remove spyware and malware from our PCs.
We are going to talk about the top 5 tools in this post that stand out for their potency in thwarting these online intruders. We will examine the features, performance levels, usability, and overall dependability of each product, from powerful antivirus software to specialized anti-malware programs.
Tools and Applications to Delete Spyware and Malware from PC or Smartphones
Here we have gathered the five best tools to delete spyware and malware from your computer.
1. Malwarebytes
Malwarebytes is one of the best tools for clearing spyware and malware from the computer. The main feature of Malwarebytes is that it can delete any type of spyware and malware which have found its way into the computer.
It can delete any kind of malware and spyware without going through the registry as most programs to delete malware can do. You can use Malwarebytes on all versions of Windows operating systems like Windows 11, Windows 10, Windows 7 and so on.
2. Panda Antivirus
Panda Antivirus is reliable software that is available for all Windows and Mac operating systems. This software is available with the help of an online tool. The online tool will create an offline antivirus setup for the users. It will help the users protect their computers from threats that cause harmful effects on them.
It will help the users enhance the speed of their PC and protect their files from ransomware attacks and other threats.
3. Avast Antivirus Malware
Before you ever realise that there is malware on your computer, Avast Free Antivirus can find and remove it. It differs from the two above in that it is constantly active and on the lookout for fresh dangers. You may customise several aspects of Avast, including CyberCapture to prevent unknown files, Hardened Mode to tighten security, scanning for potentially undesirable applications, scanning from Windows Explorer, excluding files, folders, and URLs from scans, and many other features.
Avast also comes with a browser and mail protection tool, a Wi-Fi inspector, a VPN client, a garbage remover, and a software updater.
All of Avast's antivirus products, including this free version, feature anti-spyware protection.
However, in some cases, even trusted antivirus programs like Avast can have issues with false positives or might fail to detect certain types of malware. It's important to keep your antivirus software up to date and regularly scan your system for any potential threats. Additionally, consider using other security measures such as a firewall and keeping your operating system and other software up to date to further enhance your computer's security.
4. AVG AntiVirus Software
AVG is another popular antivirus program that serves as a full malware scanner, automatically identifying and eliminating viruses, ransomware, spyware, and other dangers. AVG offers email and online activity security in addition to PC security. In addition to the full system scan, boot-time scan, and custom scan options, a dedicated button starts a quick search for malware across all of your portable devices.
AVG also has a Deep Scan option, which performs a slower but more comprehensive scan and is a decent choice if nothing else seems to work to remove the malware. If the spyware uses a concealed or fake file extension, you can set it to identify files based on their content rather than their file extension.
More than 20 archive file formats may be opened and scanned using the Deep Scan feature, which is much more than the majority of other spyware scanners, which often only handle the popular ones.
It's also important to note that because it doesn't need to execute a lot of HDD seeks, its ability to scan through data in the order they appear on the hard drive may speed up scanning.
5. SpyWare Blaster
In contrast to the other apps, SpywareBlaster "blasts" new dangers from your system before they have a chance to harm your computer, living up to its name. You may turn on security features in your web browsers to guard against dangerous scripts, vulnerabilities, and cookies that track your online activity.
It accomplishes this by activating a pre-made list of blockades against particular websites, cookies, and scripts (which you may manually edit at any time). With the help of the System Snapshot option, you may back up your system settings so that, in the event that malware modifies any of them, you can restore the backup and return your settings to their original state.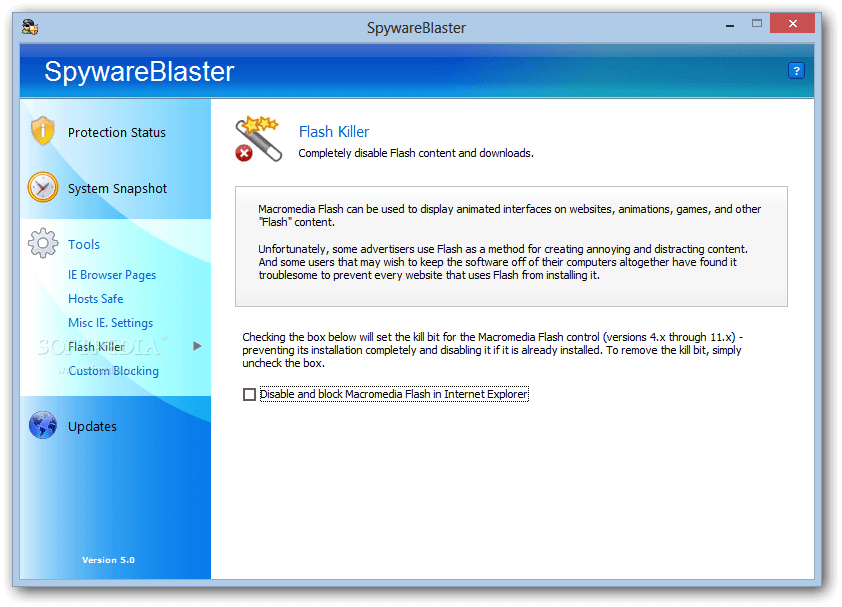 Additionally, SpywareBlaster comes with several extremely specialised spyware defence tools, such as Hosts Safe, which backs up and encrypts the host's file (one of the malware's favourite targets), as well as a list of your own unique ActiveX blocking rules. It reportedly functions on Windows 10, 8, and 7. Although it hasn't been verified, it presumably also works just fine on Windows 11.
Also Read – What is the difference between system daemons and kernels?