A survey tool is a tool that is used to conduct surveys for you and your clients, either through your own company or through other businesses.
If you're a business owner who is interested in conducting market research, it's important to have a good survey tool to make sure you're getting accurate information about your audience's demographics, behaviours, and attitudes.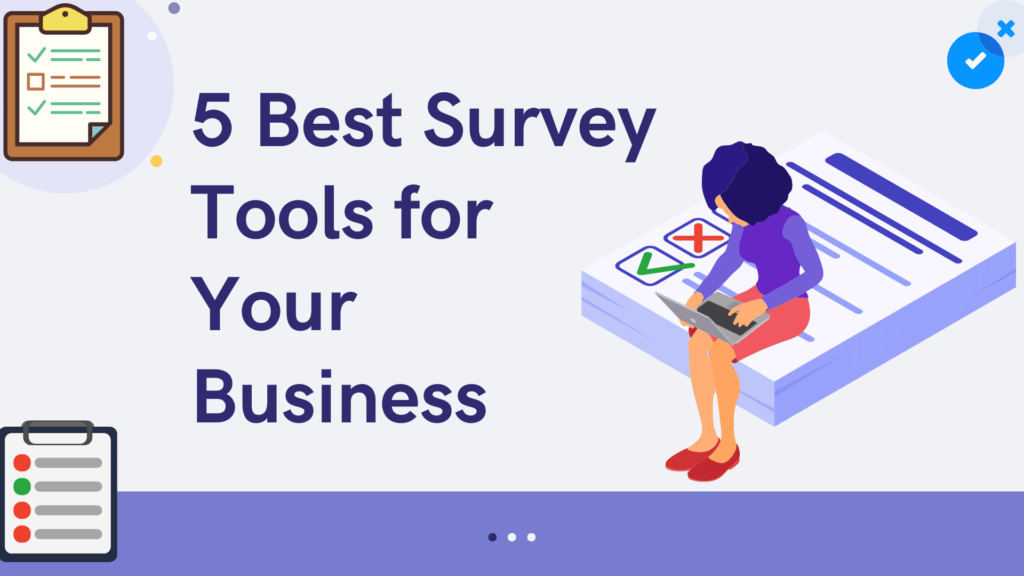 Competitors of SurveyMonkey have carved out niches for a wide range of companies. If you've only used SurveyMonkey before, you might be surprised by the sheer amount of alternatives available to you.
There is no surveying programme that can meet all of your requirements. SurveyMonkey is one of the most well-known options out there, but it's important to consider your company's needs before making a decision.
Why Should I Use a Survey Tool?
Before you invest any time or money in yet another business tool, let's take a look at some of the reasons you should consider a survey tool:
Convenience – This is both a blessing and a curse of survey tools. But when used properly, it can make gathering feedback about your product a lot easier than manual methods. You can even decide whether it's worth investing in a product before it ever reaches the market.
Low Cost – If all you need are the basics, you can find a free survey tool. Even the premium and pro products are reasonably priced.
Speed – You don't have to wait long for the results to roll in. This means you can react faster to customer needs.
Customization – Survey tools make it easy to select the right questions to ask. You should be able to provide both open-ended and closed-ended questions.
Ease of Use – It's easy for you to create and for your customers to reply to online surveys.
Customer feedback may provide you with valuable insight into your target market and help you develop better goods. You may build a simple survey with a few questions, or you can use it to collect more detailed information about marketing and consumer behaviour.
The finest tools analyse your collected data and make it simple to evaluate. Take a look at some of the greatest survey tools you have at your disposal right now, shall we?
SurveyMonkey is a software company that offers online surveys, polls, and market research in the cloud. SurveyMonkey can be used on computers, laptops, smartphones, and tablets. The company has customers from more than 50 countries around the world. SurveyMonkey has a free trial option, but you'll need to subscribe to their platform if you want to keep using it.
SurveyMonkey makes it easy to create a survey, poll or market research for a variety of purposes. You can create a survey that can be used as a poll, for collecting customer feedback, feedback from website visitors, online focus groups or market research. Surveys, polls and online focus groups can be used to find out what consumers are thinking, and how people feel about different products or services.
Price: Free to $85/month per user
Focus: Small to mid-sized businesses
PointerPro (Formerly known as SurveyAnywhere)
Consider PointerPro if you believe that survey tools are tedious. With PointerPro, you can use contests to engage your customers and collect feedback. Not only do their surveys look great on desktop and laptop computers, but also on mobile devices. PointerPro stands out among surveying tools because it places equal importance on the user experience and the survey questions themselves. Customers are more likely to complete a survey if they find it appealing.
The question bank of PointerPro is not as extensive as that of SurveyMonkey. Once it is operational, it is equally powerful and configurable as the previous way. This is a remarkable achievement for a product that is only a few years old. Try PointerPro if you've previously been unsatisfied with the designs and customization options of other products.
Price: Beginning from $39/month per user
Focus: Small to mid-sized businesses
Alchemer (earlier known as SurveyGizmo) may sound like a children's toy, but it is an advanced research instrument. Professional software with a difficult learning curve, but well worth the effort. I especially appreciated Alchemer's step-by-step coaching during the survey creation process and analysis of the results. Certain products capture the data, but it is difficult to locate or analyse it once acquired. Alchemer gives me all the required information, but not so much that I am confused or overwhelmed.
The only disadvantage of Alchemer was that it required more time to master than the other tools on this list. It is possible to customise every aspect of the look and feel of the survey, but some options require a bit more searching. Although Alchemer is a wonderful survey tool, I wouldn't recommend it to new users first. However, if you are dissatisfied with the amount of customization or reporting information in your current tool, this may be the solution for you.
Price: $49 to $249 per user per month
Focus: Mid to Enterprise
JotForm is a web-based platform for creating, sharing, and collecting online forms. Using a drag-and-drop editor, users may design forms and add fields, photos, videos, and other items to their forms. Users can share their forms via email, social media, or by embedding them on their website. JotForm provides a variety of layouts and themes to select from.
Users can design forms in English, Spanish, French, Portuguese, Dutch, German, Italian, Japanese, and Chinese for free using JotForm.
Price: Free to $99 per month
Focus: Individuals to Enterprise
AskNicely identifies itself as an NPS-based research and feedback platform. Its capabilities allow you to connect with consumers and receive actionable real-time feedback. This is the instrument to use if gathering CEO feedback from customers is a primary objective. Other popular CRM, help desk, and chat connectors can be found in the majority of significant businesses.
In comparison to other survey platforms, AskNicely is laser-focused on improving customer satisfaction and service. Due to its real-time capabilities, AskNicely provides the quickest gratification among the apps I evaluated. He requires input from the proper individual in the appropriate department in order to take action. AskNicely should be at the top of your list if you have a pressing need to communicate with your customers.
Price: $49 to $499/month
Focus: Mid to Enterprise