5 Best Survey Tools for Your Business
The market for survey software is expanding, with both new and established competitors.
I rarely go a week without receiving a request to participate in an online survey for a company I recently visited. I'm guessing most of you have used SurveyMonkey at some point. For many marketers, it has evolved into the go-to platform for customer feedback. However, it is not the only tool available.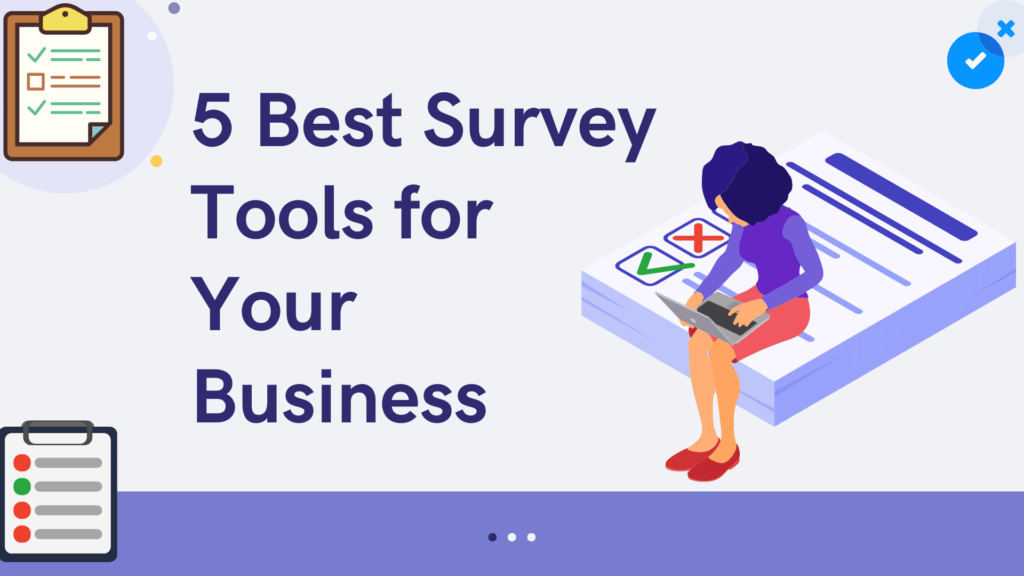 Competitors of SurveyMonkey have carved out niches for a wide range of companies. If you've only used SurveyMonkey before, you might be surprised by the sheer amount of alternatives available to you.
It's impossible to find surveying software that suits everyone's needs. While just a few solutions have the name recognition of SurveyMonkey, you should think about the needs of your company before making a decision.
By studying five of the best survey tools currently accessible, I want to achieve this aim.
Why Should I Use a Survey Tool?
Before you invest any time or money in yet another business tool, let's take a look at some of the reasons you should consider a survey tool:
Convenience – This is both a blessing and a curse of survey tools. But when used properly, it can make gathering feedback about your product a lot easier than manual methods. You can even decide whether it's worth investing in a product or not before it ever reaches the market.
Low Cost – If all you need are the basics, you can find a free survey tool. Even the premium and pro products are reasonably priced.
Speed – You don't have to wait long for the results to roll in. This means you can react faster to customer needs.
Customization – Survey tools make it easy to select the right questions to ask.
Ease of Use – It's easy for you to create and for your customer to reply to online surveys.
Customer feedback may provide you with valuable insight into your target market and help you develop better goods. You may build a simple survey with a few questions, or you can use it to collect more detailed information about marketing and consumer behaviour. The finest tools analyse your collected data and make it simple to evaluate. Take a look at some of the greatest survey tools you have at your disposal right now, shall we?
SurveyMonkey
The most widely used online survey tool is SurveyMonkey. SurveyMonkey is probably the only survey tool you've ever used. Clean design and a rich feature set in the free edition helped it gain a following. More advanced features have been added without making SurveyMonkey more complicated. Drag-and-and-drop is used to create new surveys. You won't have to spend a lot of time looking around to get what you want.
By offering good pre-made questions that you can send through email or Facebook, SurveyMonkey has matured. In order to use sophisticated features like report exporting and text analysis, you'll need to upgrade to a more expensive plan. SurveyMonkey is a wonderful way to get your feet wet in the world of online feedback collecting. It has a great reputation because of its affordable pricing and high-quality products and customer service.
Price: Free to $85/month per user
Focus: Small to mid-sized businesses
SurveyAnyplace
Take a look at SurveyAnyplace if you think survey tools are monotonous. With SurveyAnyplace, you can incorporate contests to engage your consumers while also collecting feedback. Their surveys not only look good on desktop and laptop computers, but they also look fantastic on mobile devices. When it comes to surveying tools, SurveyAnyplace stands out because they where an equal emphasis on the user experience as they do on the survey questions themselves. Customers are more likely to participate in a survey if it is appealing to them.
SurveyAnywhere's question bank isn't as extensive as SurveyMonkey's. It takes a bit longer to get up and running, but once you do, it's just as powerful and configurable as the old method. For a product that is just a few years old, this is quite an accomplishment. If you've been dissatisfied with the designs and customizability of other goods in the past, try SurveyAnyplace.
Price: Free to $49/month per user
Focus: Small to mid-sized businesses
SurveyGizmo
SurveyGizmo may sound like a toy for children, but it's actually a sophisticated research instrument. It's a professional tool with a steep learning curve, but it's well worth it. What I like most about SurveyGizmo was its step-by-step guidance through the survey development process and analysis of the findings. The data is collected by certain products, but it is difficult to discover or comprehend the data after it is collected. SurveyGizmo provides me with all the information I want, but not so much that I became disorientated or stressed out.
SurveyGizmo's sole drawback was that it required more time to master than other tools on this list. It's possible to fine-tune every aspect of the survey's appearance and feel, although certain options required a bit more digging. Although SurveyGizmo is a good survey tool, it's not the first one I'd suggest to new users. However, if you're dissatisfied with your existing tool's amount of customization or reporting information, this might be the solution for you.
Price: Free to $1,500 annually
Focus: Mid to Enterprise
Qualtrics
"Experience management platform," that's what Qualtrics calls itself. That seems a lot like a product geared for businesses, which is precisely what Qualtrics offers to them. There are four key areas of your organisation to which Qualtrics provides insight: customers, employees, brand and product. Qualtrics is a well-established product. This isn't the greatest option if all you want is a simple survey tool. However, this is a very powerful instrument in the hands of a major corporation wanting to collect data about its goods, customers, and staff.
In fact, Qualtrics says that its products are used by 8,500 of the world's most prestigious businesses and 99 of the top 100 business schools. Many complex customer feedback components are included in Qualtrics, allowing you to analyse client attitudes about your business. It also simplifies feedback analysis into stunning visuals that everyone can comprehend. As a result, it has a 360-degree approach, a wide range of customization possibilities, and is old enough to show it. It's also the only one in this group that has an in-depth section for evaluating employees.
It's safe to say that Qualtrics is the most cutting-edge item on this list. It's now more accessible to smaller businesses thanks to recent updates, but its actual target audience is huge corporations looking to collect data on a wide range of aspects of their operations. If so, does your business favour items from the top-most quadrant? So, if you're looking for a way to collect customer feedback, go no further than Qualtrics.
Price: Custom quote
Focus: Mid to Enterprise
AskNicely
AskNicely describes itself as a Net Promoter Score (NPS) research and feedback platform. Its features help you connect with consumers and get real-time feedback you can act on. This is your tool if collecting CEO input from customers is a key goal. Other common CRM, help desk, and chat integrations may be found in many major organisations.
When compared to other survey tools, AskNicely is laser-focused on making customers happier and providing better customer service. Because of its real-time capabilities, AskNicely delivers the most immediate gratification out of all the apps I tested. In order to take action, he needs input from the appropriate person in the appropriate department. AskNicely should be towards the top of your list if connecting with your consumers is time-sensitive.
Price: $49 to $499/month
Focus: Mid to Enterprise