SEO
Why Target Zero Search Volume Keyword?
Because they disregard terms with no search volume, many internet businesses miss out on enormous prospects. Here are some explanations on why and how to target specific keywords.
Due to the misconception that no one is searching for a certain phrase, many internet companies disregard keywords with nil search volume.
Although there may not be much search activity, online firms in competitive marketplaces may simply target these keywords and take control of a search area with little opposition.
What is a Zero Search Volume Keyword?
Zero search volume keywords are very specific long-tail searches for which search history data cannot be provided by tools or for which there is little search activity.
Compared to terms with large search numbers, these queries are frequently longer and more detailed. There have been hundreds of thousands of searches for the term "link building."
The competition lessens when you restrict your search phrase (i.e., get more particular in your inquiry).
For instance, there is no search volume for the phrase "link building for beauty salon," but since users who are performing SEO for a beauty salon may ask it, it is worthwhile to optimise for it.
Difference between Long Tail and Zero Search Volume Keyword
Long tail search queries typically have at least four words and are equivalent to zero search volume keywords. These inquiries can be formulated in a variety of ways by users. As a result, while the search volume for each individual question is almost negligible, the total search volume for all questions is rather high.
Take the preceding instance. Users can type in several forms of the same query, such as "create links for beauty salon" or "how to perform link building for beauty salon." Both are simply distinct variations of the same query, and each one may only receive a very little amount of individual searches. However, they can have a sizable search volume when combined.
Therefore, one should consider the user's search intent while optimising. Your website will probably show up in the SERP (search engine results pages) for different variations of the user's intended query (and response) if you optimise for one of them.
This is so that, with the aid of BERT or MUM, Google's machine learning algorithms can recognise that these various searches most likely share the same intent. That's why it functions, too!
Household names are not pursuing these lower-volume keywords. Smaller companies may dominate this keyword sector with little to no competition.
Advantages of using Zero Search Volume Keyword
Fewer competitors
As previously said, many SEO experts ignore zero-volume keywords because they believe no one is looking for them. As a result, you now have a competitive advantage over your rivals as they are not using these terms. Less keyword competition increases the likelihood that original, insightful, and optimised content will rank for a given phrase.
Choose The Correct Audience
Zero-volume keywords are frequently extremely targeted, which makes them very pertinent to your audience. Unfortunately, the answers to these questions are rarely original and well-thought-out.
As a result, your website may be the first to react to and rank for these questions; ideally, you may establish yourself as an expert. Although there is no information on how frequently these keywords are searched, you may determine what people are searching for based on the landing sites that Google has indexed and the actual query.
Further competitor research can also reveal what details might be omitted from already published material yet might be important to the searcher's understanding. You could receive a few highly qualified consumers eager to convert, even if you did not acquire thousands of new customers.
Drive traffic
If your company performs highly for high-volume keywords, you might want to change your SEO approach to focus on zero-volume keywords. Consider all the potential clients you still haven't attracted! Google receives 15% of searches that have never been asked.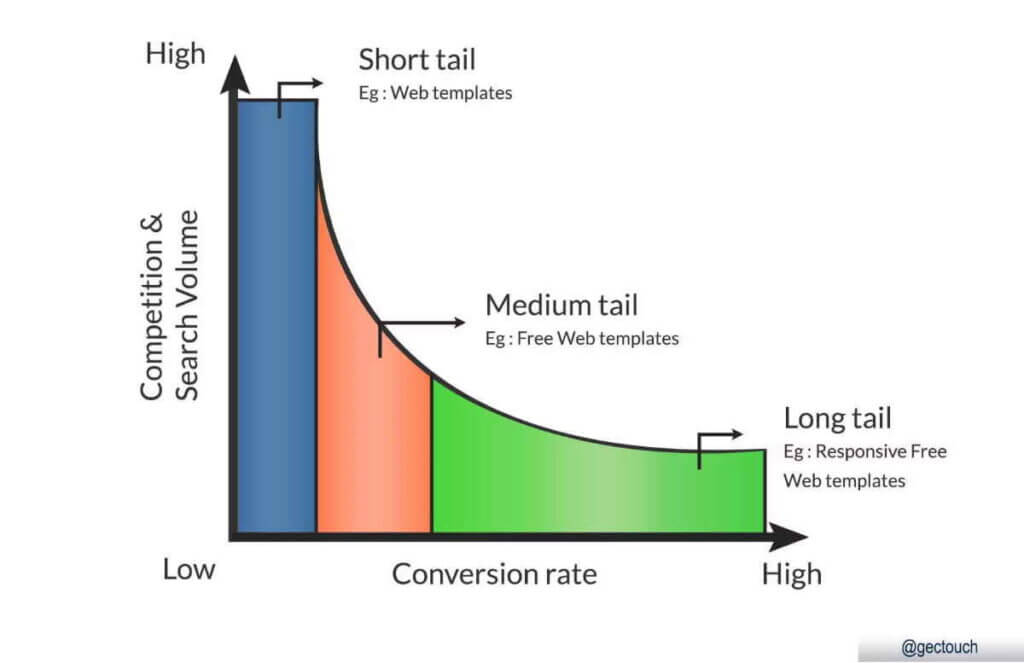 How to find Zero Search Volume Keyword?
Recognizing Relevance
You look for relevance when you conduct a search. You thus want to look at what is most pertinent to your search. However, you lack information if you are targeting terms with no search traffic.
How can you tell if they are pertinent?
Your personal experience comes into play here. Knowing the target phrase's use and what people are searching for will enable you to assess its applicability to your company's operations.
SEO keyword analysis
Knowing what people seek is the first step in selecting the best keywords. To find out what terms people use to search for your website, goods, or services, you must undertake keyword research.
Consider finding specific, long-tail keywords. You can easily conquer these less popular and less competitive keywords with the correct content. These are some techniques for locating long-tail keywords:
Utilize the SERP's "people also ask" section, which displays relevant questions. This tool can help you generate ideas for related subjects to your primary question. It appears in the search results on both desktop and mobile devices, so you can discover some useful long-tail keywords there.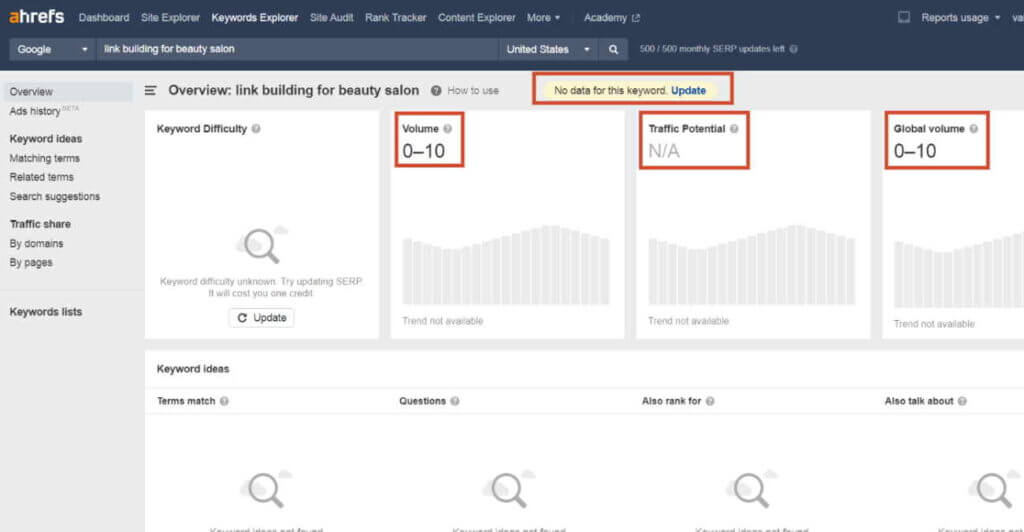 Another fantastic method to discover new keywords is using Google Autocomplete. The free keyword surfer browser extension may be installed, showing recommended terms and their search volumes as Zero Search Volume Keywords.
Similar terms
The better, the more people search for relevant terms. The keyword and its variants are therefore preferred. By reading the content of other websites or conducting a Google search using your main keyword, you might discover similar keywords.
You should start your search for fresh keywords there if you perform a Google search and get suggestions on related subjects for Zero Search Volume Keyword. Additionally, Google frequently offers ideas for similar searches when you enter a question into its search field, so try doing so to see what comes up.
Strategy of using Zero Search Volume Keyword to Rank High
Attempt To Use A Variety Of Terms
Aim for a variety of phrases to capture each visitor's purpose when they arrive at your website.
Do you recall the prior example of the beauty salon query? Similarly to this, when someone looks for "link building services," they are probably not simply seeking broad SEO services but rather a specialised service.
You may target more traffic with the same goal by using relevant keywords. For instance, there is a significant likelihood that some individuals may look for terms like "why link building," "link building advantages," or "link building tactics" if you are targeting "link building services."
Despite having fewer searches, these phrases might still be useful if you include them in your plan.
Capitalize On Buying Keywords
Purchase keywords include those that begin with "best," "top," or "versus." These search terms are directed toward potential customers. Due to their extreme specificity, these keywords frequently have lower search traffic.
If you're trying to market a product or service, you must be aware of the keywords people use. You may enhance your sales conversions by using this information. You may use these kinds of keywords to target customers who are seeking for your goods or services.
You can attract potential clients who haven't started their investigation but will soon be seeking for information about your product or service if you can target these terms on Zero Search Volume Keyword.
Pick Effective Keywords That Are Relevant.
Your SEO approach is built around your keywords. You must select pertinent keywords to support you in achieving your company objectives. You should concentrate on keywords related to your speciality that potential buyers frequently use when searching. Then, consider the issues your product or service resolves and look for phrases related to those issues. To increase awareness in a new niche, use low-volume keywords. It's tempting to focus on high-volume keywords when beginning with a niche that is distinct in order to increase traffic.
However, you won't be able to turn those people into paying clients if you don't have any authority in that field and your material isn't of the highest calibre.
Instead, aim for niche-specific keywords with low search traffic. By doing this, you may increase brand recognition among consumers searching for something different and begin to gain their trust with Zero Search Volume Keyword.
Conclusion
Consequently, you'll appear more trustworthy to potential clients searching for something novel in their sector but aren't sure where to start. Zero-volume keywords significantly influence your site's organic traffic and search engine results. Using the zero search volume keyword will enable you to reach a new audience that you were previously unaware of using the zero search volume keyword.