Stop Code error is a common error on Windows 10 that displays a blue screen with an error message. It is also known as a Blue Screen of Death (BSOD).
When the Stop Code Error appears, the computer stops working and restarts to prevent further damage.
There are various reasons why this error message can occur in Windows 10, including hardware issues, corrupted system files, malware infections or driver-related problems. The stop code error could be caused by anything from faulty RAM to an overheating CPU, making it difficult to pinpoint the exact cause.
The Stop Code Error in Windows 10 indicates an unexpected shutdown of the system due to critical errors. This error message contains a specific code accompanied by technical information about the issue encountered by the operating system.
In this article, we will explore what exactly a Stop Code Error is and how it affects your computer's performance.
Also read: How to fix USB not recognised error on Windows 10
List of Common Stop Code Errors in Windows
CRITICAL_PROCESS_DIED (0x000000EF)
This error occurs when a critical system process or thread unexpectedly terminates. Possible causes include hardware issues, such as a failing hard drive or faulty RAM, corrupt system files, incompatible drivers, or malware. To resolve this error, you can try the following solutions:
Run a full system scan for malware.
Update or reinstall device drivers.
Use Windows System File Checker (SFC) to scan and repair system files.
Check hardware components, such as RAM and hard drive, for issues.
Perform a clean installation of Windows if necessary.
IRQL_NOT_LESS_OR_EQUAL (0x0000000A)
This error message indicates that a kernel-mode process or driver attempted to access memory which it did not have permission to access, or at a kernel interrupt request level (IRQL) that was too high. This can occur due to faulty hardware, such as bad RAM, issues with drivers, or other software conflicts.
To resolve this error, here are some troubleshooting steps you can try:
1. Check for hardware issues: Run diagnostic tests on your computer's hardware components, such as RAM, hard drive and motherboard. Ensure they are working properly and replace any faulty parts.
2. Update device drivers: Outdated or corrupt device drivers can cause the IRQL_NOT_LESS_OR_EQUAL error. Ensure all your drivers are up-to-date by downloading them from the manufacturer's website.
3. Perform System Restore: Roll back your system settings using the System Restore feature in Windows OS.
4. Take out newly installed hardware components: If you installed new hardware prior to experiencing this error, try removing them temporarily to see if it resolves the issue.
5. Perform a Clean Boot: Boot your computer with only necessary software applications open and running – this will help pinpoint any errant third-party services or processes causing the issue.
6. Run Disk Cleanup & Error Checking: Run the disk cleanup utility & perform a check disk scan for any disk errors and fix them immediately.
7. Uninstall recently installed software apps: Try uninstalling any new software applications that were installed just before the BSOD error occurred in order to isolate the root cause.
Similarly, there are more Stop Code Errors, like:
SYSTEM_THREAD_EXCEPTION_NOT_HANDLED: 0x0000007E
KERNEL_SECURITY_CHECK_FAILURE: 0x00000139
PAGE_FAULT_IN_NONPAGED_AREA: 0x00000050
DRIVER_IRQL_NOT_LESS_OR_EQUAL: 0x000000D1
SYSTEM_SERVICE_EXCEPTION: 0x0000003B
BAD_POOL_HEADER: 0x00000019
MEMORY_MANAGEMENT: 0x0000001A
NTFS_FILE_SYSTEM: 0x00000024
VIDEO_TDR_FAILURE: 0x00000116
DPC_WATCHDOG_VIOLATION: 0x00000133
Also Read: Your Device Ran into a Problem and needs to Restart
How to Fix Stop Code Error in Windows?
There are respective fixes for each Code. However, One can try the below steps to fix this issue automatically. These are:
Update your Windows
Your computer's hardware drivers may be out-of-date, or the CRITICAL PROCESS DIED a malicious or rogue device driver may bring halt code on. Follow the instructions below to check for outdated device drivers or update all of them at once.
To open the Start menu, click the Windows symbol in the lower left corner of your screen. Alternately, press Windows + I to access Settings.
On the Update & Security tile, click. The majority of your Windows Update settings are located here.
Go to the Windows Update area and, if it's there, selects the View optional updates link.
Examine which drivers now require an update by expanding the Driver updates section. By checking the box next to them, you may download and install them.
Run in Safe Mode Once
For some of the below-listed methods to be successful, switching to Safe Mode might be required. Determining if the issue manifests itself in Safe Mode as opposed to the default boot mode is another way to start the troubleshooting process.
When your computer boots up, hold down the F8 key on your keyboard to access the Windows Recovery Environment (WinRE).
On certain devices, you might additionally need to keep the Fn (function) key depressed.
If the keyboard shortcut doesn't work to start WinRE, keep turning your computer on and off until the repair environment launches on its own.
On average, you have to power on and off the computer three times.
Click "See advanced repair options > Troubleshoot > Advanced options > Startup Settings > Restart" to continue.
You will now be presented with a number of restart options. You may start your computer in Safe Mode with Networking by hitting F5 on your keyboard. Watch for your computer to restart, then check to see whether it boots properly.
You can do more investigation if Windows 10 starts in Safe Mode without displaying the blue screen of death. For instance, using Windows Defender to scan your computer for malware is an excellent beginning step.
Remove 3rd Party App or Incompatible Applications
Use these methods to remove an application that can interfere with the installation of Windows 10:
Open Settings.
Select Apps.
Select Applications & Features.
Click the Uninstall button after selecting the problematic app.
Make sure to determine if the most recent application that generated the Stop Codes was this one or not.
Run SFC Command on Command Prompt or Power Shell (System File Checker)
System file corruption can result in severe issues with your operating system, including blue screen errors. SFC, or System File Checker, is a built-in Windows utility for troubleshooting.
It can identify and fix damaged system files, potentially fixing the STOP CODE issue.
Hold down the F8 key on your keyboard when your computer boots up to access the Windows Recovery Environment (WinRE). On some devices, you might additionally need to keep holding down the Fn (function) key.
If the keyboard shortcut doesn't work to start WinRE, keep turning your computer on and off until the repair environment launches on its own. On average, you turn the computer on and off three times.
Average navigation From the Choose an option screen, select Troubleshoot > Advanced options > Command Prompt. To run the following Command, enter the text after typing it: sfc /scannow
As the System File Checker scans your machine, wait. If there is a discrepancy, the application will repair all mistakes and restore system data.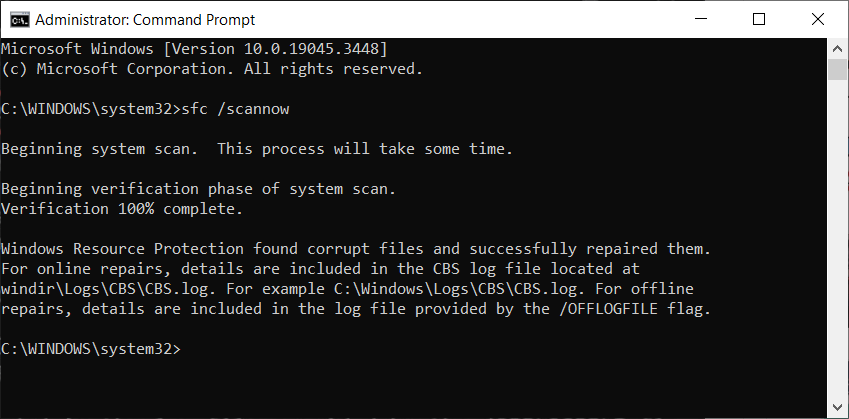 Restart your computer when the scan is finished to see whether the blue screen error still occurs. You've used the System File Checker to successfully resolve the problem if it doesn't come up again.
Create a System Restore Point and Use it
Your system may have stored a restore point prior to the blue screen problem, or you may have intentionally made one. In such a case, you will be able to restore your system to that condition.
It's like travelling back in time before a system error happened, thus this may be the solution.
You may access the search field by clicking the magnifying glass icon in your taskbar. Additionally, you may access it by pressing Windows + S on your keyboard.
Type System Restore into the search box and select Recovery from the results list. In the Best Match section, this need to be at the top.
The Control Panel will be reached by doing this. Here, choose the link that says "Open System Restore" that is displayed in the Advanced recovery.
To return to a previous moment in time, adhere to the on-screen directions. If Windows 10 offers the option, you may choose a restore point on your own or utilise the suggested one. Don't forget to verify which programmes and files may be impacted!
Click the Finish button once you've made your selections and wait for Windows to restore your machine. When your computer resumes with the loaded restore point, you'll be able to see if it was successful.
Run DISM Command (Deployment Image Servicing and Management)
You may also use the DISM tool to diagnose and resolve corruption problems on your system by executing commands in the Command Prompt programme. It scans the entire system for corruption and automatically tries to replace lost or damaged data.
When your computer boots up, hold down the F8 key on your keyboard to access the Windows Recovery Environment (WinRE). On some devices, you might additionally need to keep holding down the Fn (function) key. If the keyboard shortcut doesn't work to start WinRE, keep turning your computer on and off until the repair environment launches on its own. On average, turn the computer on and off three times.
Troubleshoot > Advanced options > Command Prompt from the Choose an option is the typical navigation order.
You must then run a command to address any problems discovered on your machine. Enter the command DISM.exe /Online /Cleanup-image /Restorehealth after typing it into the text box.
Wait for the procedure to complete once you have run the command. If the Stop Code problem persists when you attempt to boot into your system, shut the Command Prompt window and restart your device.
Perform Clean Installation of Windows Again
The easiest approach to update to a new version of Windows 10 is to completely uninstall the current version and install it again. The procedure will assist in preventing the Blue Screen of Death, enhancing system efficiency, and resolving difficulties.
If you choose to run a clean install, make sure the machine can boot from USB first. As a result, you might need to modify the firmware for the Basic Input/Output System (BIOS) or Unified Extensible Firmware Interface (UEFI) in order to specify the proper boot sequence.
Typically, as soon as the device begins, one of the function keys (F1, F2, F3, F10, or F12), the Esc key, or the Delete key must be used in order to access the motherboard firmware settings.
These options, however, vary constantly depending on the manufacturer and even the type of gadget. It is preferable to consult the manufacturer's support page for more precise information if you are unsure.
Conclusion
So, we have listed many methods that can help you diagnose your system for BSOD stop coder error. Hope it was helpful. Always try to have a backup of your system before making any changes.