What is A Home Security System? How does it work? Should I take it? Today at DigitalGyan, we will discuss Home Security systems in complete detail.
Security of access points, such as doors and windows, as well as interior spaces housing valuables, such as artwork, computers, firearms, and coin collections, is the fundamental tenet of all home security systems.
The number of security components installed throughout the house and watched over by the control panel is the only significant variation, regardless of the size of your home, the number of doors and windows, or the number of interior rooms a homeowner wishes to secure.
What is A Home Security System?
A security system protects a house or structure from burglars by guarding its interior area and entrance points, such as doors and windows (including basement windows).
The majority of the time, external factors will set off a home security system's alarm, alerting the police or homeowners so they may intervene. Homeowners may actively prevent house invasions with the aid of security equipment.
Any security system's name may be used to determine it most fundamentally. In other words, it refers to a way or a process of securing anything using a network of cooperating parts and tools.
In this case, we're referring to home security systems, networks of integrated electronic devices that cooperate with a centralised control panel to ward off prospective intruders and robbers.
In order to defend a house from prospective invaders, a home security system is made up of a multitude of electrical parts that connect with a central control panel. These elements might consist of the following:
Control board.
Motion detectors both inside and outside.
Floodlights.
Alarm or siren.
Digital doorbells.
Sensors at the entrance
Observation devices.
Window decals and yard signs.
Broken-glass detectors
How does Home Security work?
Typically, sensors, control panels, door or window sensors, floodlights, doorbells, and cameras are all included in a whole home security system package. These components working together will keep a home as secure as feasible.
Control Panel
A home security system's principal point of control is the control panel. The control panel can be used by authorised individuals to arm or disarm an alarm. Individual passcodes or voice commands are often used to activate or disable an alarm with a control panel.
Sensor
When a breach occurs, sensors installed both inside and outside the house will notify the security system's central control panel.
Depending on the sort of security system installed, that control panel will then raise the alarm and notify either the homeowner or the police.
Floodlights
Floodlights function similarly to motion sensors for a home's exterior, with the exception that when they trigger, no alarm is set out. Instead, they switch on, illuminating the space.
The lights could frighten any intruders away. If not, the lights will let the homeowner know something is wrong and provide a clear picture of what is happening outdoors.
Door or Window Sensors
A door or window sensor comprises two parts: one mounted on the door or window itself, and the other mounted on the door frame or window sill. These parts ought to come into contact when the window or door is shut, forming an electrical circuit.
When the system is armed, if that circuit is disrupted, an alert will be sent to the control panel, which will then sound an alarm. Glass-break sensors and motion sensors function similarly.
Doorbells and Cameras
While yard signs and stickers serve as a warning mechanism for any possible attackers, video doorbells and security cameras let you view what's happening outside the house.
They inform any possible intruder that the house has an alarm system, which would enable police to apprehend them.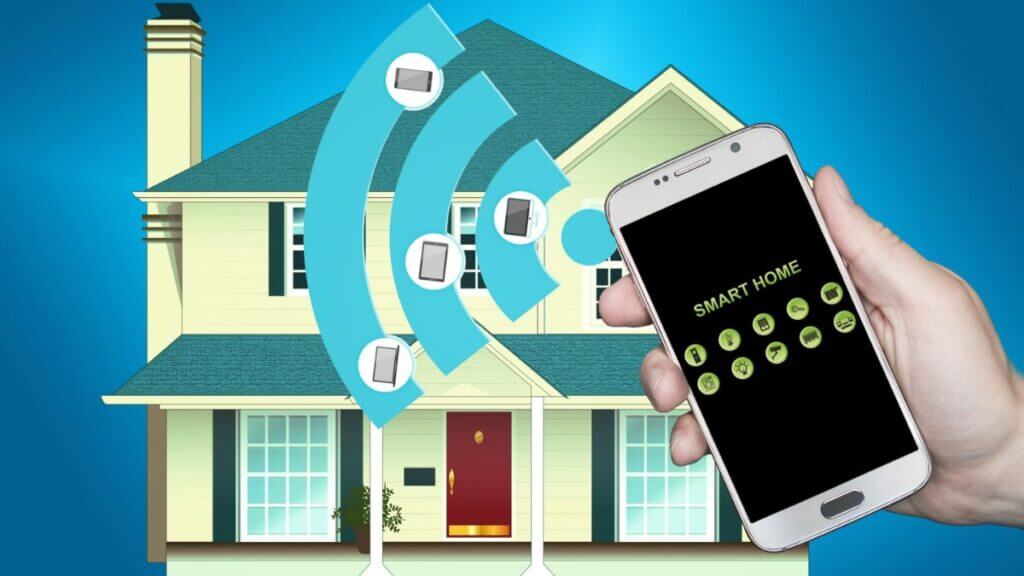 Feature of having a home security system?
According to several studies, homes with security systems are up to three times more likely to be burglarized than those with professionally monitored systems because criminals are opportunistic by nature and look for easy targets.
Types of Home Security System
The following are the main categories of home security systems:
DIY: With DIY home security systems, the user assembles the system themselves and probably manages it via a corresponding mobile app. The categories aren't always mutually exclusive, though some DIY systems may have professional monitoring.
Professional: One of two things can be referred to as a professional home security system. One is that it might imply expert installation, including having a specialist set up the machinery.
Or two, it might refer to a system that is professionally monitored, in which case a group of employees reacts to call centre notifications.
These classifications aren't absolute because some professionally monitored systems can also be self-monitored or set up by amateurs.
Wired: Security systems connected to an existing home's electrical system are referred to as "wired."
Wireless: In contrast, a wireless security system relies on a mix of batteries, Wi-Fi, and/or cellular backup to connect to the app and monitoring centre, if necessary. Although installing a wireless security system is simpler than installing a wired one, you will eventually need to replace or recharge the battery.
Smart: Internet-connected smart security systems allow users to see live video from a mobile app, get alerts when alarms go off, and operate the system remotely.
Local only: Unlike smart systems, local alarm systems don't have an internet connection, thus there is no remote control, monitoring, or alerting capability.
Instead, if an alarm sounds, you won't know until you are nearby and can hear it. A professional can still monitor local alarm systems through cellular or landline backup, though.
How does Home Security Work in General?
All of the parts are connected to a base station in most home security systems. They then establish a connection with a smartphone app, which enables us to monitor and manage everything remotely.
Most devices link to our phones via Bluetooth, Wi-Fi, or cellular technology. In the event of a power loss, other systems opt to include a landline or battery backup.
We turn on our security system when we are gone. We arm it via a key fob, voice command, keypad entry, using our app, or simply disarming it when we get home. None of the sensors activates when our system is deactivated, and our camera stops automatically filming.
Our security camera's live streaming, sensor notifications, two-way voice communication, and other features are all done through a mobile application.
Smart home security, as opposed to a local alarm system, enables us to view what is happening at home, no matter where we are. Local alarms just activate our house's siren, which isn't particularly helpful.
Advantages of a Home Security System
Quick police contact: With expert surveillance, we may be certain that the police or other emergency personnel are alerted when we aren't at home.
The mere presence of a device can dissuade burglars: The mere presence of a sign and window decals indicating the presence of a security system might tempt burglars to leave!
Simple safety alerts: A home security system might be useful if we frequently have problems like forgetting to close the rear window or inadvertently leaving the front door open. Through smartphone applications, entry sensors can remotely display whether or not our home is safe.
Possible homeowners insurance discount: If we purchase a security system, many house insurance providers will give us a discount, putting more money in our palms.
Livestreaming: It's not just for criminals to use it! Additionally, it's a terrific way to keep tabs on what's happening at home, such as whether our cats are acting up or whether our teenage niece is hosting a "little get-together" while we're away.
No matter where we are, we can always be at home, thanks to live-streaming!
Disadvantages of Home Security System
Equipment cost: Home security systems are pricey, typically costing $400 or more. Of course, there is a large range in this, since some systems have 15 or more components, while others merely have sensors.
Monthly Payments: We often have to pay monthly fees if we add professional 24/7 monitoring or cellular backup to our system. These might cost less than $10 or more than $60.
False alerts: Sometimes, we have some false alarms that have even gotten the police involved. All of us are wasting our time and are embarrassed by them.
May overlook turning on: Some people claim they have difficulty remembering to arm their security systems when they leave the house, which makes the entire system pointless. This is more of a personal issue. Although we don't experience this problem, we can see how it may make having a system seem ineffective.
Conclusion
A home security system's primary goal is to protect your property and the occupants inside of it. A burglary, house invasion, fire, flood, or another natural event might cause harm. These can all be monitored by the majority of home security systems.
These systems use various sensors that communicate by cables or radio waves to a central hub, which then does so via a landline or occasionally a cellular connection with the outside world. The hub is typically a tiny box put on a counter, in a cabinet, or attached to your wall as a touch screen.