Finance
Top 5 Accounting Software for Mac – Comparison
Accounting Software
Accounting is quite a tricky business. If you're like most people, you probably spend a lot of time working in accounting because it's an area that you're passionate about, and you've worked your way through countless hours to master.
However, there's a lot to master in accounting, and the more you learn, the more likely it is that you're going to find yourself making mistakes that have you scrambling to come up with a quick solution. You'll probably have to call your client, your accountant, or both, and that will add a lot of time to your day.
Good accounting software allows you to track your business and your finances. It allows you to view all of your accounts and all of your transactions within them in one place. This helps you track your finances. It also makes the process much quicker, and you won't be spending your day tracking down invoices, expenses, or even checking your bank account. Accounting software is especially helpful for small businesses that want to track their finances but don't have the budget to hire an accountant or a bookkeeper. It's also perfect for small businesses that want to have the peace of mind that everything is done correctly.
Accounting software for Mac
Accounting software for Mac users isn't as plentiful as its PC cousins, but there are still plenty of options. Here's a list of Mac options from Digital Gyan to keep your Apple-loving finances in line, presented in alphabetical order.
Apart from sounding like the name of a weapon in the video game Lord of the Spreadsheets, AccountEdge is a long-standing Mac standard. The original firm, MYOB, was located in Australia and was in charge of running the business. In 2005, a portion of MYOB's American management team purchased the company's operations in the United States, which now develops AccountEdge for the American market.
The programme has all of the typical functions of an accounting system, an inventory system, commission tracking, cloud synchronisation (for a charge), and tax preparation. It also works well with Shopify, which benefits clients who own online businesses. Credit card processing, payroll processing, and check printing are all possible with add-ons, assuming your company is the type that still needs to print checks. Sorry.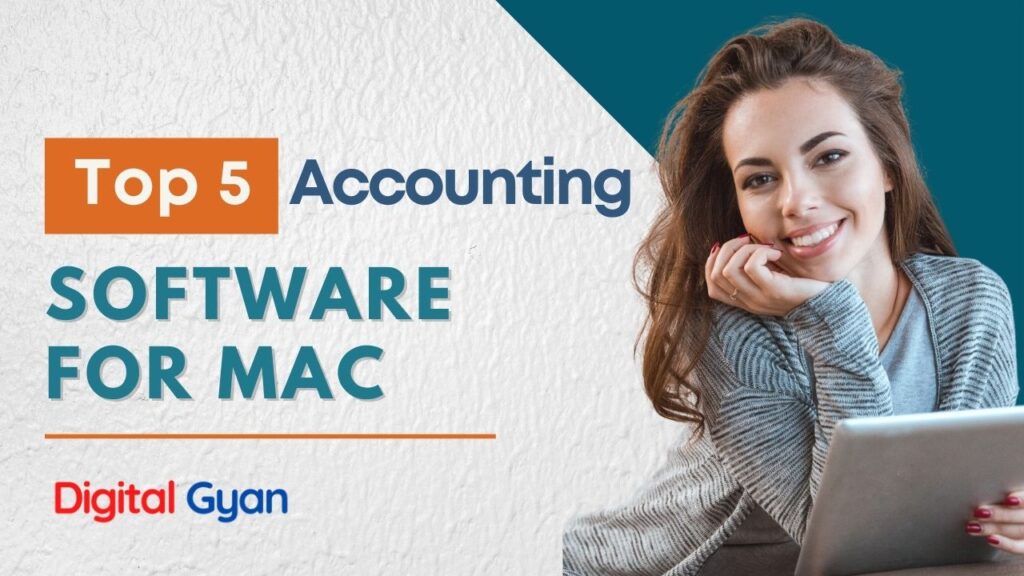 AcctVantage describes itself as "Macintosh native, PC friendly." That's a pretty rare thing in the business world. The brand has endeavoured to make its accounting software clean and straightforward—just the way Mac users like it.
AcctVantage is an ERP (enterprise resource planning) software system that provides more than simply accounting functionality. Even though the software is primarily concerned with money, it is also capable of managing sales, customers, and warehouses if necessary. The reporting features in ERPs are much more extensive than those in standalone accounting products, allowing you to obtain a detailed picture of your organisation from the ground up to an altitude of 50,000 feet.
If your business makes or sells an actual product—which is to say, not just a service— AcctVantage can bring a lot of functionality to your day-to-day.
Pricing: AcctVantage doesn't publish pricing, so get in touch with the company if you're interested in a quote. If you need more information, the company offers a free trial to get a sense of what you're buying before diving in.
GnuCash
Because it is free, open-source, and excellent, we've previously discussed GnuCash on this blog. The project has been operating for over two decades, with updates being released every three months or so. Versions of the open-source accounting programme are available for Mac, Windows, and Linux platforms.
While everyone may use GnuCash, I like to think of it as a tool for advanced users rather than the average person. The learning curve is steeper than other applications, but the payoff is well worth the time and effort. GnuCash is proud of its accounting qualifications, which it wears proudly on its sleeves. In contrast to many other Mac-friendly accounting software alternatives, GnuCash is focused on functionality rather than appearances.
That means some of the working bits—double-entry ledgers, charts of accounts, and the like—are exposed to the user. If you're not familiar with those pieces, it can seem not very clear at first. The tradeoff is more control over every aspect of your accounting life.
Luckily, most of the stuff you need to do daily is presented in GnuCash's ever-improving interface. If you're okay putting in a bit of time to learn the interface to get right down in the thick of your books eventually, GnuCash is a great choice. 
Pricing: Free
MoneyWorks
MoneyWorks is an excellent choice for businesses with multiple entities or that operate in multiple currencies. Additionally, MoneyWorks provides gratis copies to experienced accountants, guaranteeing that you obtain the support you deserve. Establishing an unlimited number of companies enables a growing business to expand its reach without incurring additional expenses or difficulties rapidly. If you own a bakery and are thinking about opening a separate café, MoneyWorks can help. MoneyWorks can assist you if you are importing or exporting and frequently need to work in multiple currencies.
Finally, MoneyWorks has an excellent growth pattern. It offers four distinct versions—plus a cloud version of its Gold offering—for different-sized businesses. However, the interface across them doesn't meaningfully change. That means no learning curve as you grow. You can also download a PC version at no additional cost if you switch platforms down the road.
Pricing: MoneyWorks Express or Gold should cover most small businesses. They cost $249 and $499, respectively.
QuickBooks
QuickBooks Accounting software for Mac is one of the most powerful accounting software for Mac. The software offers complete functionality to manage various types of accounts and also comes with various accounting tools to enhance the user experience. QuickBooks Accounting software for Mac enables users to perform various functions like payroll, inventory management, customer and vendor management, and bookkeeping all in one place. QuickBooks Accounting software for Mac is a complete set of accounting software for Mac that helps the users to manage both small and large enterprises.
QuickBooks Accounting software for Mac enables the users to work with various types of data including financial reports, data, transactions and bills and also performs many accounting processes like generating financial statements, posting transactions and bookkeeping tasks.
It is an all-in-one accounting solution that lets you create, file, edit and print your reports attractively. The software lets you create all your business reports such as General Ledger, Income Statement, Balance Sheet, Payroll, Sales & Sales Analysis, Accounts Receivable, and Accounts Payable. It lets you keep track of your expenses and make payments for bills and services. The software lets you pay your vendors and manage your expenses and purchases by creating invoices. You can generate your own invoices and pay for the invoices you received. You can track your expenses, make payments for services and products, and file your monthly returns.
Pricing: QuickBooks for Mac runs $300, but it's perennially on sale, so expect to pay closer to $200.
PostBooks
PostBooks is a free online accounting tool for small businesses that lets you do more than just keep track of your books and income and prepare financial reports. This tool offers you a powerful set of tools to easily set up, track, and analyze your business's financial activities in PostBooks online accounting software. It lets you quickly see how your business is performing and what changes need to be made.
PostBooks accounting software is a fully integrated accounting system that allows you to view multiple accounts at once and view transactions and also provides invoices, purchase orders and payment receipts to track your business. With PostBooks, you can manage your business with no more than one or two clicks.
PostBooks allows you to create and run your PostBooks accounting books directly from your Mac computer. When you create a new book, you are guided through creating your book on your Mac computer, which lets you easily add data and print out your book to your printer. It is the standard tool you need to use to run your accounting books.
Pricing: Free
Bonus round!
Although one of my all-time favourite Mac accounting apps is relatively young, it is becoming more readily available. It's ACBAB—Any that's Cloud-Based Accounting Brand. ACBAB solutions from brands such as Xero, Sage, Wave, and even QuickBooks are entirely unconcerned with whether you use a Mac. Many are unconcerned with whether you're using a desktop or a laptop. Take a tablet, grab your phone, and enter some Morse code—well, maybe not that last one.
I'm a strong believer in cloud-based accounting because it keeps small business finance managers constantly connected to their statistics. You may record receipts while on the road, consult your banker about your accounts, and link quickly with your other internet services.