In the past few weeks, there has been a lot of buzz surrounding Windows 11, but one event has stood out above the rest.
When Windows 11 was rumoured to have been leaked online, numerous technology websites were able to get their hands on a copy of the operating system.
Many individuals believe that the leak was staged or manufactured. For those who are still sceptical, here's further proof that the leak is legitimate. Microsoft Japan has sent a DMCA complaint to Google, requesting that it remove a link to the leaked ISO from a page on the Indian technology site Beebom.
The DMCA request, which was originally noticed by FossBytes, asks Google to delete Beebom's page from internet search results. The rationale for the takedown request may be seen in the DMCA takedown on the Lumen Database.
Also Read: How to Fix the Error Code 0x80070057
Beebom's post "is disseminating [a] Windows 11 ISO (copyrighted to Microsoft)," which is an issue for the firm because "it is a leaked copy of the unreleased Windows 11." This DMCA claim effectively indicates that the leak is legitimate.
If you share the leaked Windows 11 ISO before of the official launch of Windows 11, you risk receiving a DMCA notice, so be careful. Microsoft is eager to take action, especially because the release date for Windows 11 is approaching quickly – on June 24th, to be exact.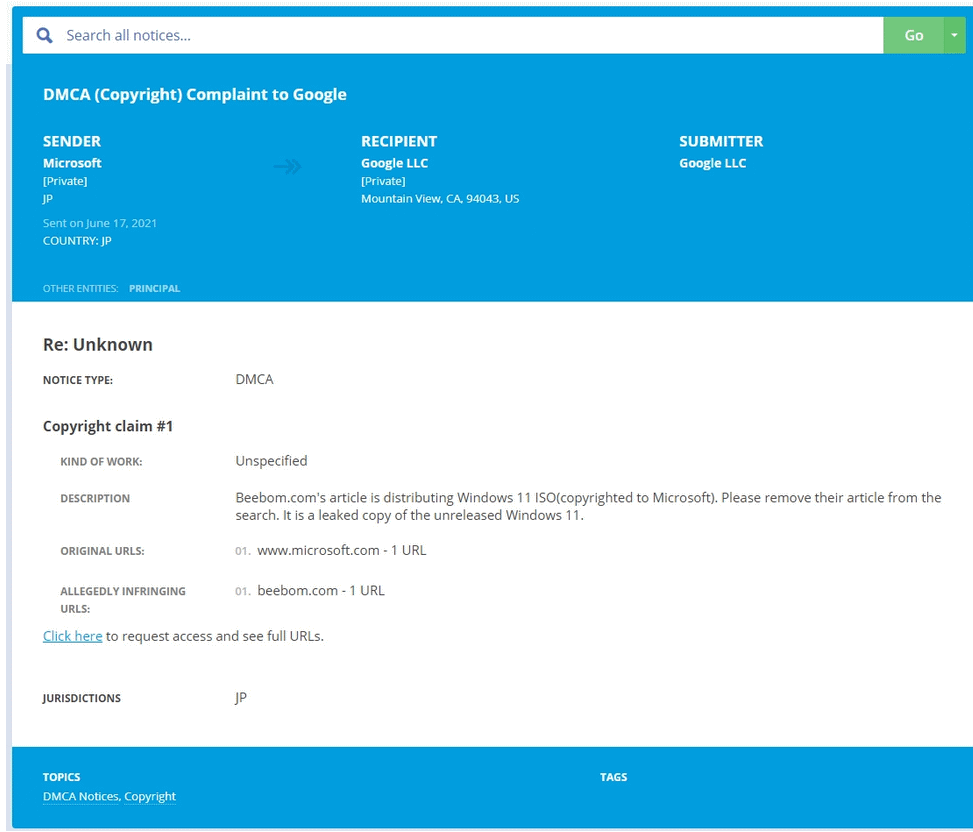 While it appears that Microsoft has effectively verified its legitimacy, this does not imply that the leaked copy has all of the company's intended features. There might be a lot more from the company's debut event, and the final product could look quite different.
Leaked Copy May be Incomplete One
People are installing an incomplete copy of what is believed to be Windows 11 that was leaked online. According to first impressions, Windows users are due for a major overhaul: Screenshots reveal a new macOS-like desktop layout, a revamped Windows Explorer interface, new Start menus, and some of Windows' greatest built-in wallpapers ever.
Some people are ecstatic about the improvements, while others are less so. Still, it's safe to say that everyone is intrigued by Microsoft's still-unannounced operating system (the impending Sun Valley Windows 10 upgrade is expected to be dubbed Windows 11).
However, you should generally avoid installing the rumoured Windows 11 update.
The argument is the same as when we warn people not to instal beta versions of rival operating systems or test programs like Chrome Canary: Windows 11 is incomplete and unreliable.
Because the leaked Windows 11 is officially unofficial, Microsoft will not assist you if something goes wrong after you install it—and something will, given how infamously problematic official Windows Updates are.