Gaming
How to Fix Roblox Error Code 268 on PC?
Did you get a message like "You have been kicked due to unexpected client behavior" error in Roblox"?
Looking to Fix Roblox Error Code 268 on PC or Mobile? Today, we will talk about how to fix this issue.
Roblox error code 268 has been reported by many users. "You have been kicked due to unusual client behavior," and they cannot participate in any games.
Roblox Error Code 268
This Roblox Error Code 268 appears after routine server maintenance or an unexpected shutdown. The problem is especially aggravating because it affects users on all platforms, including Windows, Xbox, and Android. As a result, gamers cannot access the game from any location.
However, you need not be concerned since we will attempt to assist you in resolving Roblox problem number 268. Roblox is a famous sandbox game that allows users to build their own worlds and share them with others.
It goes without saying that the game was inspired by another incredibly famous creative game, Minecraft, and has been a huge success all around, with over 164 million monthly players.
Despite its widespread appeal, the game is not without flaws. We recently highlighted issue codes 267 and 277, which were causing users' gaming to be disrupted and prohibiting them from entering servers. Roblox error code 268 is one of the issues that cause players to disconnect from any of the servers they try to connect to.
Users' overall experience is ruined as a result, and they seek alternatives to resume playing the game on their own devices. The following article offers gamers in-depth information about the mistake and how to fix it.
The reason behind getting the Roblox Error Code 268
As it turns out, there are various possible explanations for the appearance of this error number. Here's a quick rundown of what may be causing Error Code 268 in Roblox:
1) Server not responding
You could notice this error number if the programmers are in the middle of a maintenance period or if you're dealing with an unplanned server outage. In this instance, you have no choice but to wait for the people concerned to resolve the issue.
2) Stop Cheat Applications running in the background
This issue may also appear if you attempted to use (or actively utilized) a cheat engine for Roblox earlier. If you have done that, a recent update likely bricked your game. Try removing the cheat application.
3) Corrupted Game files
If you're having trouble with this on Xbox One, it's conceivable that a file integrity issue causes the problem. In this situation, you'll need to reinstall the game manually to fix the issue.
4) Browser is not stable
If you're only getting the problem notice when playing on your browser, you should be able to get around it by switching to the UWP Roblox app. This method is generally seen to become more stable than playing a game on your browser.
5) Using Software or Antivirus
Antiviruses can be notorious sometimes and we all have heard about false positives detected by these security programs. An overprotective suite, it turns out, can also be to blame for the appearance of this error number. If this scenario seems like it may be true, turn off or delete your antivirus software and see if the problem goes away.
6) Cache issues
You should anticipate encountering this error code in cases when your Internet Explorer stores improperly cached data that may damage the game's stability. In this instance, you'll need to delete the personalised settings for Internet Options to fix the problem.
How to Fix Error Code 268 on Roblox?
However, your client may disconnect due to system file corruption, third-party software, or the use of in-game cheats/bots. As a result, we propose that you first try applying Reinstall, as it may be able to remove the unpleasant issue for you instantly. Otherwise, use the suggestions we've provided below:
Fix 1 – Remove any 3rd Party Software or Disable antivirus
Security software is an extremely valuable tool for assisting users in defending themselves against malware assaults.
Third-party technologies, on the other hand, have been known to cause connection issues by incorrectly identifying some server connections as insecure. This practice might potentially result in Windows update problems.
Whether you're using a third-party security program, consider deleting it and reinstalling it to see if it's causing your Roblox disconnects.
In the Windows search box, type Control Panel and hit Enter.
Uninstall a software by going to Programs > Uninstall a program.
Choose your security app from the list. Select Uninstall from the context menu by right-clicking.
Follow the on-screen directions to reset your computer.
Fix 2 – Check your Internet Connection
If your internet connection is exceptionally slow, Roblox may display the notice "You have been booted for unusual client behaviour." Try Reconnecting First.
Individuals must also evaluate the stability of their internet connection. This might be the root of the problems they're having while playing the game.
In the Windows search box, type cmd.
Select Command Prompt from the context menu by right-clicking on it. Run the program as an administrator.
Copy and paste the instructions below, pressing Enter after each one:
/flushdns ipconfig
/registerdns ipconfig
/release ipconfig
/renew ipconfig
reset winsock netsh
Restart your computer or device.
Fix 3 – Try to change DNS
Select Settings from the context menu when you right-click on Start.
Navigate to the section Network and Internet.
Change the adapter options by clicking on it.
Select Properties from the right-click menu on your internet connection.
Go to Properties after clicking Internet Protocol Version 4 (TCP/IPv4) once.
Select Set your DNS to Google's using the following DNS server addresses:
8.8.8.8 is the preferred DNS server.
8.8.4.4 is an alternative DNS server.
Fix 4 – Check Roblox Gamer Server Status
Maintenance is a typical and routine procedure that is carried out on a weekly basis. Alternatively, any organization may experience server issues from time to time. For example, DDoS attacks on the servers may prohibit users from logging into Roblox and instead generate an error.
While technical challenges are uncommon, they might happen to any well-known game creator.
As a result, you may use services like Downdetector to monitor the status of the game server. It shows how many people are having problems connecting to the game at different times.
So, if you notice an increase in complaints, it's probable that servers are having problems, and you should just wait.
Fix 5 – Uninstall any Cheat or suspicious program
You risk not only infecting your machine with hazardous viruses, but you also ruin the enjoyment for many others by employing cheating programs. Game makers frequently send patches scanning the system for bots/cheats being used illegally. Maintain a level playing field, and you should be able to avoid future troubles with disconnects.
To uninstall a cheat, locate it in your Control Panel/Programs and Features section, as described in our first method, and uninstall it like you would any other application. It's also a good idea to run an anti-malware scan on your entire machine.
Fix 6 – Try reinstalling the Game
Reinstallng the game is another feasible solution because when you reinstall any game or program, something that was missing gets installed again. Follow the steps below to reinstall the game.
Start your system and push the Xbox One button in the controller's centre.
Select Games & Apps from the menu.
Select Roblox and tap Start after scrolling down till you locate it.
Select Uninstall all from the Manage game menu.
Restart your Xbox and re-install the game.
Fix 7 – Try to run Roblox from Microsoft App Store
You may play a different version of the game by downloading it from the Microsoft Store.
Go to the Microsoft Store.
In the search box, type Roblox and press Enter.
Select Roblox and press the Install or Get button.
After the game has been installed, click Play to begin playing.
You will initially be prompted to enter your login details.
Fix 8 – Delete the Temporary Config file
Search %appdata%, then go to Roaming folder and then Roblox.
You'll notice a lot of files and folders if you access the Roblox folder.
This covers things like "Downloads," "LocalStorage," "logs," and other things.
A few XML documents and a CFG file are also included.
"AnalysticsSettings," "frm.cfg," and "GlobalBasicSettings 13" are among the files in this folder.
You must now remove the XML documents as well as the CFG file.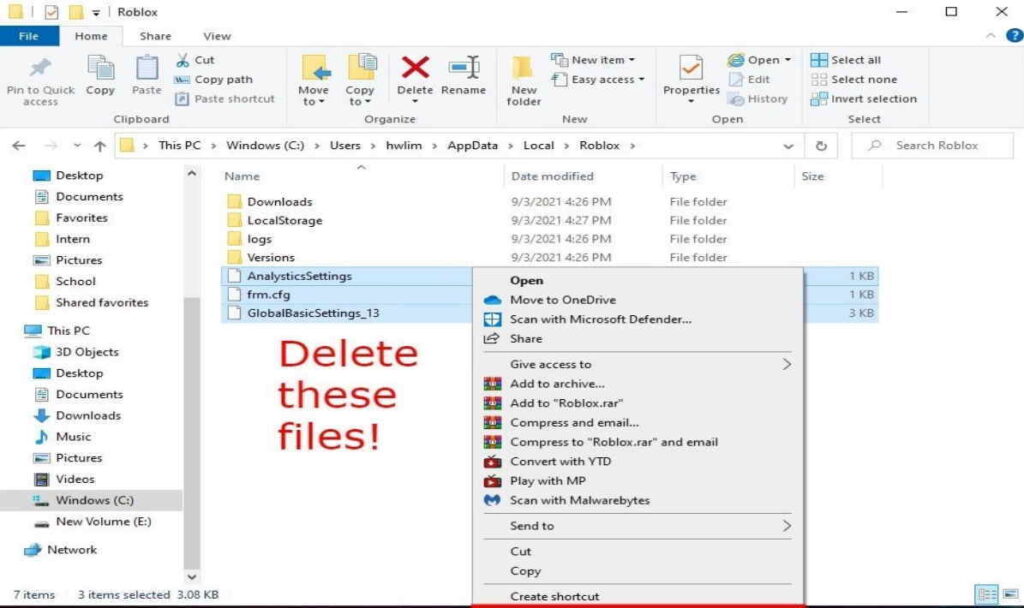 This is due to the "Error Code: 268" they are producing in Roblox.
To begin, make a note of "AnalysticsSettings," "frm.cfg," and "GlobalBasicSettings 13."
Then, on the highlighted documents and CFG file, right-click.
Finally, select "Delete" to remove them.
You must re-open the game in Roblox after deleting the XML documents and the CFG file.
You should not be disconnected from the game this time.