Make Money
How to earn money at home as a student? [10 Best Ways]
Are you Looking for legit and easy ways to earn money at home as a student? There are pretty simple tasks that a student can perform and pay their own bills.
Students may now locate a range of occupations on the internet and work them in their leisure time to supplement their income. You can locate online employment using your present abilities, or you can learn new ones and work on various online student jobs.
If you're a student seeking legitimate internet employment, here are the top ten methods to make money online for students.
When you're a student, you're always trying to figure out how to make money from home. Taking a home-based internet job might turn your favourite hobby into a money-making opportunity.
Making money from home is something that practically everyone nowadays likes.
Looking at online jobs with investment as a college student is perfect since they may focus on their schoolwork while still earning money and making the most of their time.
All you want is a computer and access to the internet. Most of these professions don't require any prior training, and you may get started right away if you have a high school diploma.
10 Easy Ways to Make Money
Method 1) Data Entry
Data entry is a straightforward task that students with little computer knowledge and quick and precise typing abilities may complete from the comfort of their own homes. Data entry employment often entails quickly and precisely inputting data for clients.
Many students supplement their income by taking part-time data entry jobs. On the following websites, you may locate legitimate data entry jobs:
The Smart Crowd 
PeoplePerHour
Freelancer
Fiverr
Method 2) Language Translation
You may utilise your language talents to make money if you are already bilingual or learning a second language. Many businesses, such as 1-800-Translate and World Lingo, require assistance in translating various documents, academic papers, audio files, and other materials into other or many languages.
Joining translation companies or freelance sites might help you get translation tasks. Depending on your ability, you may select from various translation jobs. So here are a few websites or businesses where you might look for translation jobs:
Method 3) Testing the Website
Website owners frequently hire someone like you to examine their sites and comment on their specific usability experiences. The exam usually takes 10-20 minutes.
According to the difficulty and length of the test and the firm giving the work, website testers can expect to earn $10-$20 every test. Website testing work may necessitate the use of a microphone and webcam. Some trustworthy websites that provide website testing jobs include:
Method 4) Virtual Assistant
Many virtual assistant positions don't need secretarial or administrative experience. Students can use their organising and communication abilities learned in college to work as virtual assistants for individuals and businesses.
Virtual Assistant may help with data input, social media management, research, and website upkeep, among other things.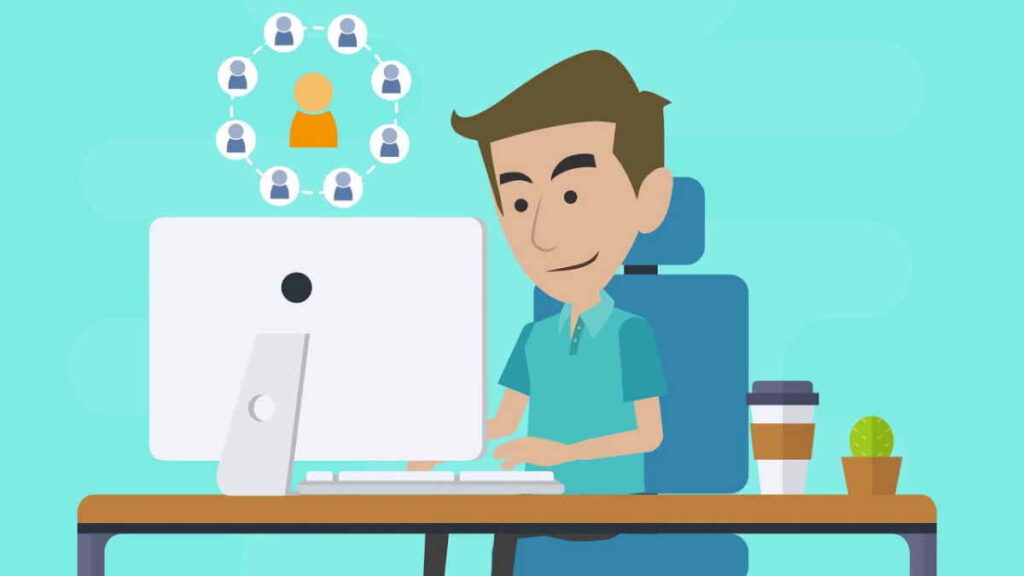 Payments vary depending on the duties or services supplied, the number of hours worked, and other considerations. You can work with one or many clients according to your schedule. Here are some fantastic resources for students looking for virtual assistant jobs:
Fancy Hands
Virtual Gal Friday
Belay Solutions
Method 5) Tutoring or Mentoring Online
As a student, you may join 15+ renowned online tutoring jobs to locate clients who require tutoring in disciplines where you are remarkably competent.
These organisations will help you apply to become an online tutor and link you with students or clients who require assistance in your field. You may do this employment part-time and earn some additional cash to help pay your bills.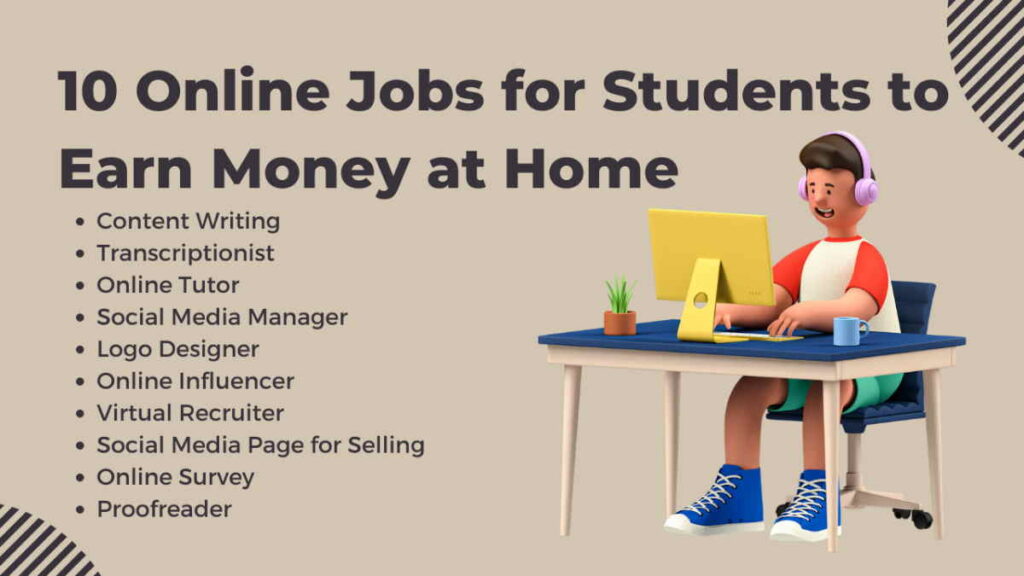 To provide instruction in academic or non-academic disciplines, you'll need a Skype account and a high-speed Internet connection. Here are several places where you may look for online tutoring opportunities:
Tutor.com
TutorVista
TutorZilla
Tutors Home
HomeworkTutoring
Method 6) Doing a Survey
Taking paid internet surveys is one of the finest methods for students to get money rapidly. There are several respectable survey businesses or websites that will allow you to register an account.
If you meet the demographic that a survey is looking for, you will almost certainly be eligible to participate.
Method 7) Sell items or Pictures on the Marketplace
Students can sell not just their old belongings or unwanted products on eBay and other online markets but also objects that they have developed themselves. You may also acquire products in quantity or more at a lower price from another provider and resale them at a more fantastic price.
You may supplement your income by selling your old items online. Some markets allow you to sell only certain products, while others will enable you to offer a wide range of old and unused stuff.
Online, you may sell your own products, used clothing, textbooks, unused gift cards, obsolete CDs, DVDs, and a variety of other stuff. Sell on internet marketplaces like:
Ebay –
Amazon –
Etsy
ThredUP
Method 8) Do small Jobs
One of the most effective methods for students to supplement their income is to perform tiny chores or provide modest services to businesses and individuals through a micro gig site.
There are several respectable micro jobs sites where you can market your abilities and services by advertising any job or service that you may offer for a certain amount of money per work or service delivered.
You may utilise micro gig sites to provide various freelancing services or to perform multiple tasks from your computer. Micro gigs are available for a variety of services, including:
Writing for businesses and individuals
Editing articles, academic papers, and other materials
Website design and logo design
Editing video
Marketing on social media
Keeping up with social media profiles
Services for SEO
You might also volunteer to sing a happy birthday song, make hilarious videos of yourself, or perform other unusual jobs. To reach out to potential clients, you must market your expertise. It's critical to get your first job since one job will inevitably lead to another. You can attract new clients if a client enjoys your work and offers positive comments.
If your previous job was satisfactory, you might receive further orders from current clients. Microgig marketplaces include:
Gigbucks
Fivesquids
Tenbux
Zeerk
Tenrr
SEO Clerks
Amazon Mechanical Turk
Method 9) Start Youtube Channel
To begin monetising videos on YouTube, you must meet certain requirements. It might be challenging to achieve those standards as a beginner when you try to identify your niche in the YouTube community. Your posted material must be innovative and worth watching to attract users and subscribers.
To start generating money on YouTube, you must first join the YouTube Partner Program, which needs at least 1,000 subscribers and 4,000 public view hours in the previous 12 months. A YouTuber must maintain their account to increase their page's popularity to get more cash.
Method 10) Start Website
Blogging might be a suitable method for students to supplement their income. You may publish articles on your favourite activity and share them with others if you have one. You can either blog about an academic subject or many you know about or blog about non-academic themes. You may monetise your blog in various ways once it receives attention.
You would be able to attract many people to your site if you create excellent pieces regularly. In their leisure time, learners can run and manage a blog. A blog with consistent visitors can generate a consistent side income. Dp these to create passive income:
Select a domain name that is appropriate for your blog.
Register your blog's domain name using a reliable company.
Please create your blog or pay a freelance web designer for it.
Purchase a hosting service to put your website online.
Use multiple marketing platforms to promote your blog.
Profit from your blog.
Summary – How to earn money at home for students
Students may earn money online in a variety of ways. All you have to do now is make sure that whatever job or service you wish to provide is something you can perform well.
Students may pay off their student debts, pay bills, save for extravagant gifts, and attain any other financial objective by working online and earning money.