Technology
Are electric vehicles effective in the prevention of pollution?
Electric Vehicles
Scientists are continuously discovering technologies that minimise or eliminate the impact of toxic gases released in petrol and diesel vehicles. One of the significant discoveries is the electric vehicle.
Electric and hybrid vehicles use battery-operated engines, or they can combine battery and internal combustion engines (ICE).
There is an increasing concern about the effect of human development on the environment. Over many years a tremendous increase in the number of vehicles has been observed. It is due to the changed lifestyle of people where having motor vehicles has become a necessity.
This article will argue that electric and hybrid electric vehicles are a reliable solution to solving the problem of pollution, especially air pollution.
To justify the opinion, two aspects of electric vehicles will be explored. The first aspect will analyse the pattern and impact of greenhouse and other gases emitted by electric vehicles.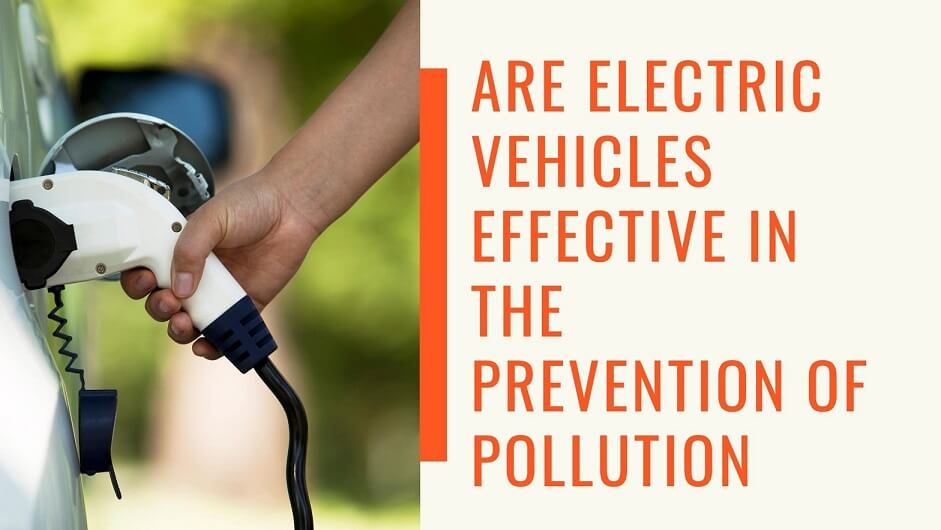 Arguably, the emission of harmful gases from transport vehicles and noise pollution are two major problems to the environment from motor vehicles, with more than 30% of greenhouse emissions and air pollution coming from the petrol and diesel-based transportation system.
Requia et al. (2018) reported that mortality rates associated with traditional transportation greenhouse emissions increased by 50% in Europe (p. 65). Electric vehicles promise a solution to transforming the global transportation system from the greenhouse emissions and air pollutants fuelled vehicles to a sustainable and environmentally friendly option, which can result in a reduction in air pollution and greenhouse emissions.
Electric vehicles and battery electric vehicles have mostly met this expectation. Various studies have proved that EVs have offered a moderate reduction in PM emission (Requia et al. 2018, p. 69).
Another study proved that EVs that are powered through clean energy sources such as solar power, water, and wind energy contributed significantly to the reduction of PM2.5 emissions (p. 69). Another research confirmed that emissions from EVs and BEVs during charging process have an insignificant impact on the level of NO2. The research further proves that EVs help in the reduction of CO2 emissions significantly.
All these points certainly provide a solid base for considering electric vehicles to solve environmental problems. The second article by De Clerck et al. (2018) also offers some significant impacts of electric vehicles and hybrid electric vehicles (a combination of electric motors and ICE). According to the authors, when the CO2 emission level of traditional ICE vehicles is compared with electric and hybrid electric vehicles, it is found that ICE vehicles emit more CO2 (p. 96).
The second reason presented by authors for the use of electric vehicles is the lower amount of greenhouse gases emission. Thirdly, electric vehicles cause no noise pollution in the environment because they work with almost no sound.
Considering these positive aspects of electric vehicles, it could be concluded that electric and hybrid vehicles are practical solutions to environmental problems. Governments need to develop incentive plans that reduce the Total Cost of Ownership (TCO) of electric vehicles, so the Total External Cost (TEC) can be kept at a minimum.