SEO
8 Free Online SEO Tools For Content Audit
One key aspect of SEO success is conducting regular content audits to make sure that your site is fully optimized for search engines while still offering value to audiences.
But doing this by hand is no small task, which is why free online SEO tools come in so handy.
In this article, we'll present 8 free online SEO tools that can assist in conducting an effective content audit without breaking the bank.
From identifying broken links to measuring keyword density, these tools offer everything needed for search engine optimization and improving user experience on websites.
What is a Content Audit?
Content audits are systematic reviews of existing web content which assess its relevancy, accuracy, and effectiveness in terms of relevance, accuracy and effectiveness. Their purpose is to detect gaps in your content strategy as well as opportunities to enhance user experience through improving user journeys. A content audit involves reviewing different forms of media such as blog posts, videos, images social media posts whitepapers case studies etc for review during an examination phase.
Businesses can gain valuable insight from conducting content audits to gain an understanding of whether their existing content meets business goals and target audience needs. Content audits help businesses pinpoint areas for optimization or improvement as well as outdated or irrelevant material that should be removed from websites.
Why do we need to perform content auditing?
You should do a content audit as part of your digital marketing strategy. Having your material evaluated on a regular basis, similar to having your car serviced, can help keep your site functioning smoothly. You take your car to a mechanic to have the oil changed, the inside detailed, and any required parts replaced. You should also evaluate the check-in balance of your website's performance on a regular basis.
It is critical to determine what is broken and what needs to be altered on the site in order to keep it competitive in the online market. This assessment can be done in a number of ways, some of which are described in this article. You can use these free resources to create a website optimization strategy.
When publishing content online, checking for any errors in your website is challenging. With online-based tools like SEOPTIMER, you can get an instant report on errors and omissions found on your website.
Error Fixing
By highlighting the errors, this tool provides recommendations to improve specific areas. These improvements ultimately help increase your website's ranking among search engine results.
Instant Access
The best thing about this tool is that it's free to use. You can add an extension for Google Chrome to instantly conduct a content audit on any website. The tool includes an option to download audit reports for further analysis.
Content audit generation is the halfway process to improving the ranking of your website. Now you have to get rid of those errors in the content. With Check-Plagiarism online tool, you can evaluate and improve the quality of your web content all in one place.
Plagiarism checker
Plagiarised content gets penalised by the search engine, which is the first element that affects the quality of your website and content.
With the plagiarism checker, you can confidently evaluate your website's uniqueness score to feature it on your website.
Plagiarism comparison
This online tool also contains a feature to compare your website's content with a specific source. You can add the URL of each source to check the similarity and uniqueness ratio between their contents.
Grammar Checker tool
This tool also has a built-in option to check for any grammatical errors. Of course, no one likes to appreciate content with spelling mistakes, improper use of passive voice, and irrelevant preposition placement. This tool provides a one-click solution to resolve all these errors.
3) Content Analysis Tool by Siteimprove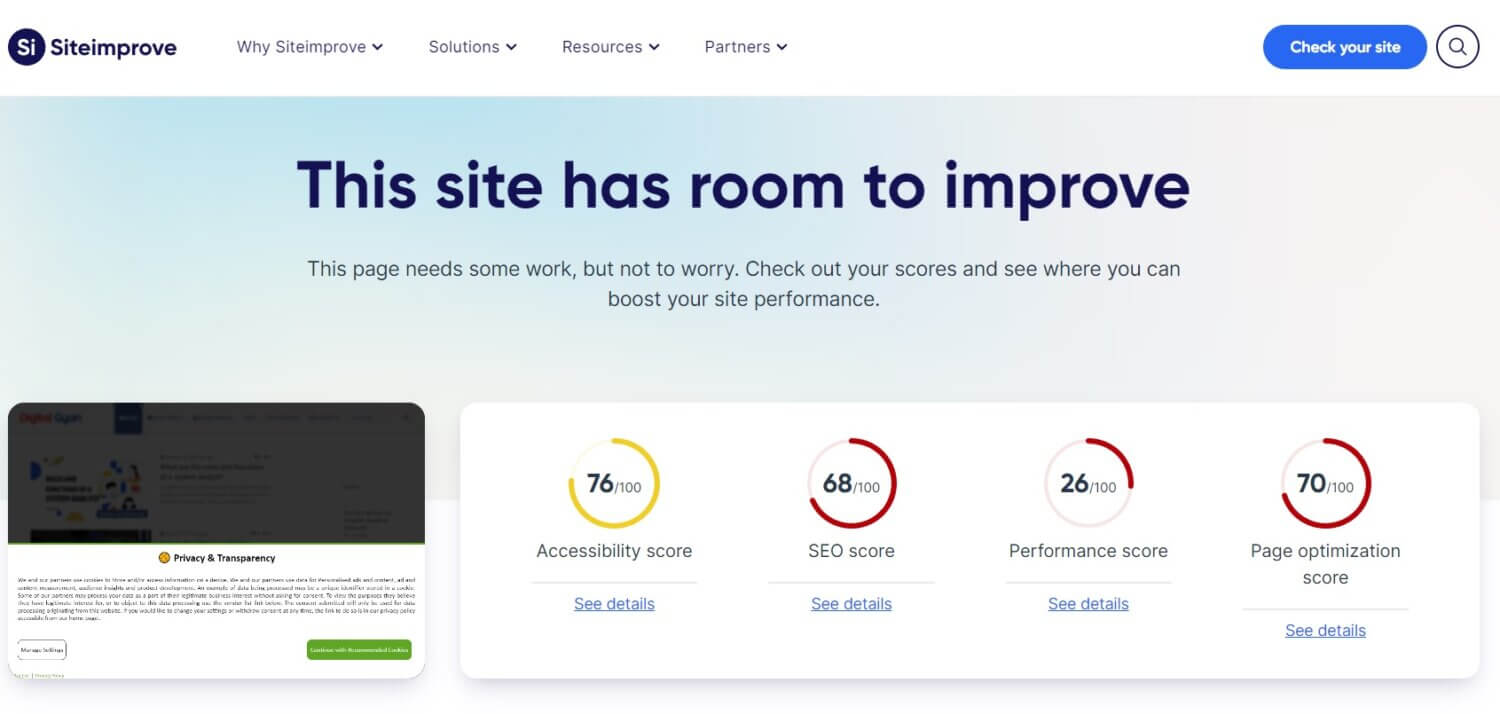 Siteimprove is an all-in-one tool that helps organizations gain insights into their website's performance and provides solutions to fix any issues. The Content Analysis Tool by Siteimprove is a feature that aids in streamlining the content creation process, ensuring consistency, and delivering high-quality content.
The tool analyzes website pages for spelling errors, broken links, readability scores, and accessibility compliance. It also checks for the use of active voice, passive voice, complex sentences, adverbs usage, and tone of writing. These factors contribute significantly to the overall quality of web content as they affect how easily readers can understand the message conveyed.
Additionally, Siteimprove's Content Analysis Tool makes it easy to optimize website content for search engines by highlighting areas where improvements can be made.
This tool is free to use to a specified extent, allowing 20 website analyses per month. But you may have to sign up to start your free trial. You can analyse your website without limitation by availing of a paid plan.
Extensive parameters
This tool evaluates a website based on 50 parameters to identify errors, poor-quality content, low-ranking keywords, or technical mistakes. It gives you suggestions on how to fix these errors to improve the SEO of your website.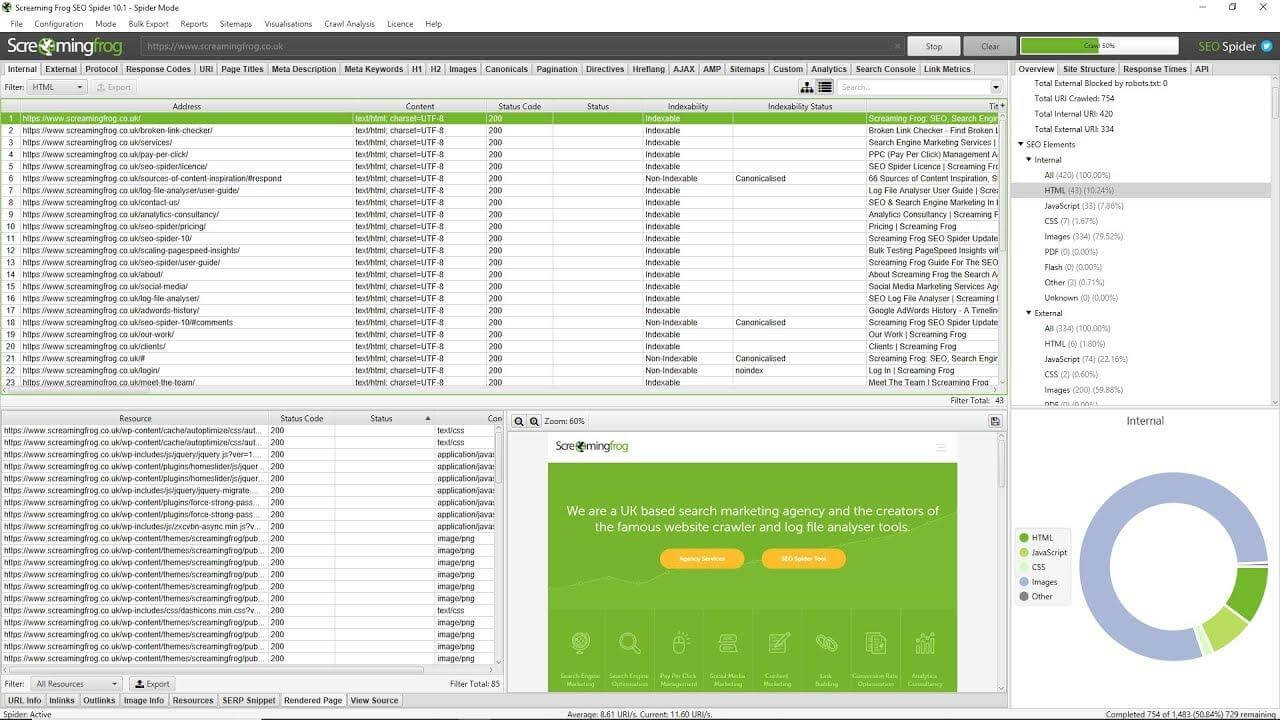 Screaming Frog is labelled as a website crawler rather than an audit-generating tool. Yet it improves a website's optimization by crawling it and providing helpful information on its performance.
Desktop application support
This tool works seamlessly as a desktop application that evaluates content based on 30 different parameters. It crawls other website areas to generate a content audit, including meta descriptions and anchor text.
Search Console is a freeware web-based product offered by the tech giant itself. Google provides this valuable tool to monitor a website's performance based on clicks, errors, and connectivity.
Detailed Summary
This tool gives you detailed insights into a website's positioning among the search engine page results. It states the number of clicks, impressions, and errors to identify a website's performance.
This tool works on a fundamental algorithm and provides the most apparent details about a website, so the professionals in the SEO game do not recommend it. However, beginners can use this tool for its freeware services and easy-to-operate interface.
Google Analytics is yet another freeware product for beginner-level bloggers and web admins. Google Analytics is free to use, and it helps to understand the behaviour of a website based on various parameters. 
All-in-one website analysis
This tool provides an in-depth analysis of various parameters related to your website. This tool analyses each webpage to score the popularity of posts and define the elements that generate the most traffic. Based on the results, you can find the areas that require improvements and changes.
WooRank is available as a freeware and paid tool to cover the needs of small and large enterprises. It's a great tool to generate a quick review of your website and its appearance against the search results.
Traffic monitoring
This tool details targeted keywords relevant to your website's topic. It also provides a detailed report on keywords and how much traffic they drive toward a webpage.
Conclusion
Improving your website's performance is not a one-time job. It's a constant effort to regularly check the quality of content to stay ahead of your competitors in SERPs. With the website audit tools, you can get an all-in-one report to diagnose and fix the errors that affect your website's ranking.