WordPress
7 Best Free WordPress Themes for Photography Websites
Do you love photography? Looking for 7 Best Free Free WordPress Themes for Photography Websites? Well, there are lots out there, but we have compiled 7 Best Free WordPress Themes for Photography Websites according to user reviews.
There is good news if you're a photographer who wants to share your work with the world but doesn't have the money to invest heavily in a portfolio website. You may discover many themes to meet your needs, as this article on the top free WordPress themes for photographers describes.
We've compiled eight of the top themes that may be downloaded and set up quickly within the well-known content management system WordPress (CMS). The themes listed below differ based on your tastes and photographic specialties, but they all share the same trait in that they are all free.
Check out our post on the top website builders if you'd like to search the market for WordPress substitutes, or scroll down to find the greatest offers currently available.
Best WordPress Themes for Photography Websites
Choosing a free option or paying for a premium option is one of your first choices when choosing an appropriate photography theme. Some free WordPress themes for photographers might be equally as effective as their premium equivalents if money is limited.
Although flexible design and navigation options are good, the true game-changer is your ability to choose between several picture layouts, including the well-liked masonry and grid patterns. Making a distinctive and appealing portfolio frequently depends on making the proper choice.
Check out our hand-selected collection of the top free WordPress photography themes.
PhotoFocus
Although a picture may be worth a thousand words, a carefully chosen text arrangement may greatly enhance your message. With a text-heavy theme supplemented by an image-forward design, PhotoFocus gives you the best of both worlds.
This theme contains features for anybody who wants to focus on photographs, even though it was particularly created with photography in mind. Five template pages are included with PhotoFocus, and it has features like adjustable post kinds and a dynamic page slider control.
The useful text options are a nice compliment to the many picture alignment and size choices. Consequently, there is an understated appearance in almost every combination.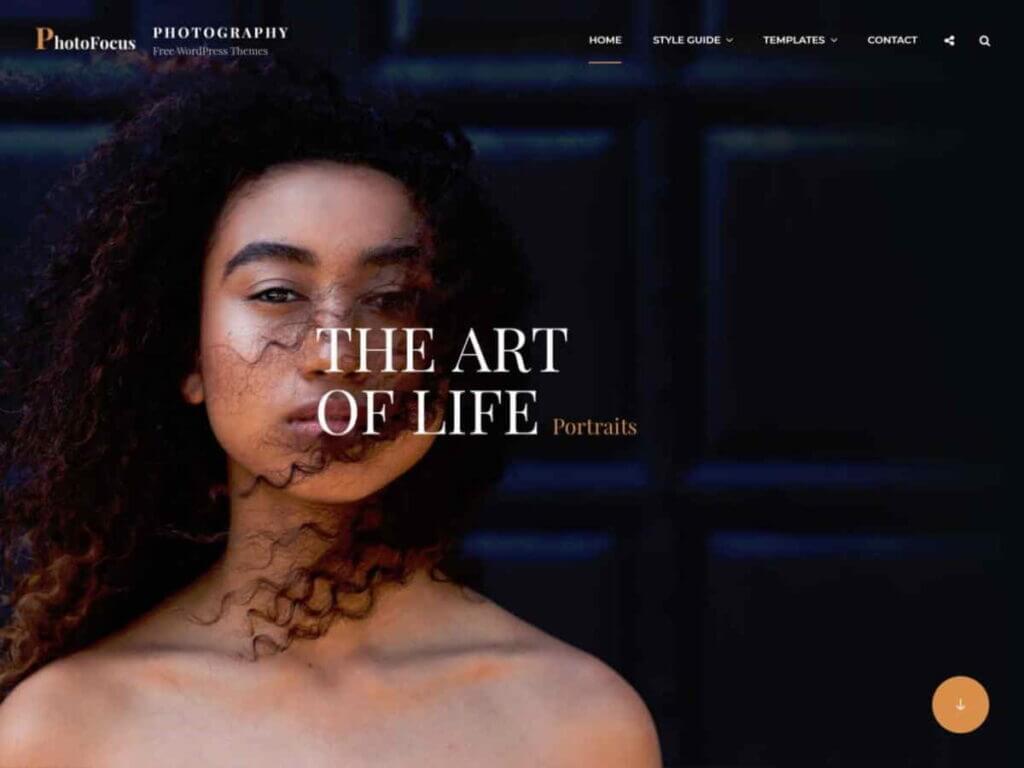 PhotoFocus also has features built-in to let you add header and footer scripts if you're seeking for a bit more design substance. PhotoFocus allows you to apply custom CSS to override the theme's style if you need to make any specific adjustments.
PhotoFocus also gives you the chance to make your site distinctive even though it does want some coding skills. PhotoFocus should be on your radar if you're looking for choices for coding customization or a variety of ways to display your photos.
Pixgraphy
Using the Pixgraphy WordPress theme, you may have a header picture that fills the entire screen. If you're looking for a platform that captures attention from the off, this is something you often don't see with free WordPress themes, so it's certainly worth checking into.
The top of the page has social network buttons, and you'll see that each one is appropriately labelled for this theme. Additionally, you don't need to bother about searching for a third-party plugin for social networking buttons.
Additionally, the logo is prominently displayed at the top of the homepage, which makes it simple to brand your website and let visitors know what website they are on.
The top left corner should have your contact information, and you can use the overlaying text on the header to include a call to action or to simply explain what your website is about. This is a fully responsive WordPress theme for amateur photographers.
On the mobile interface, the layout is rather spectacular because all of the picture and text components automatically snap into position as needed.
Astra
With the amazing free WordPress theme Astra, you can create any kind of website. It's a fantastic choice for freelancers, designers, and other professionals in the field of photography.
Because Astra works with all well-known drag-and-drop page builder plugins and the WordPress theme customizer, you can quickly develop a website that perfectly matches your aesthetic and company identity. The WordPress block editor can also be used because Astra integrates well with it.
180+ beginning templates are included if you choose Astra's premium edition. These include the Photographer template in addition to a large number of other expertly created templates to help you swiftly launch your website.
OceanWP
The theme you select when creating a photography website has a significant impact on how your work is presented. Check out OceanWP if you desire flexibility and diversity.
With so much support for well-liked page builder plugins like Elementor, Divi, and Beaver Builder, this contemporary, versatile theme is really simple to use. It also offers a tonne of customization choices, like the choice of header designs and the capacity to design unique layouts and sections.
The free photography demo offers a simple, uncluttered approach to displaying your work. You can make a terrific first impression by placing your greatest photographs in an image grid right on the site. You can give a brief overview of your preferences, background, and personality in the about area.
Photograph
Any theme that is brazen enough to name itself. Photograph must absolutely kill it when it comes to graphics. However, is a thousand words sufficient to cover this subject?
We may express what makes Photograph special much more concisely if we say that the images are the protagonists of this theme. Its default layouts have masonry galleries with categories, making navigating easy and giving you a consistent workspace.
The lack of accessories and frills in Photograph overall is to its advantage. The theme is ideal for wedding celebrations, photography studios, and even individual portfolios because to its cutting-edge style, which speaks for itself.
AltoFocus
Give AltoFocus' simple design a try for a pared-down and minimalist approach; its white and clean aesthetic ensures that your photos get centre stage.
New articles are automatically accommodated by reconfiguring the homepage grid arrangement. Each picture connects to a post page where you may add more details and context to the selected images.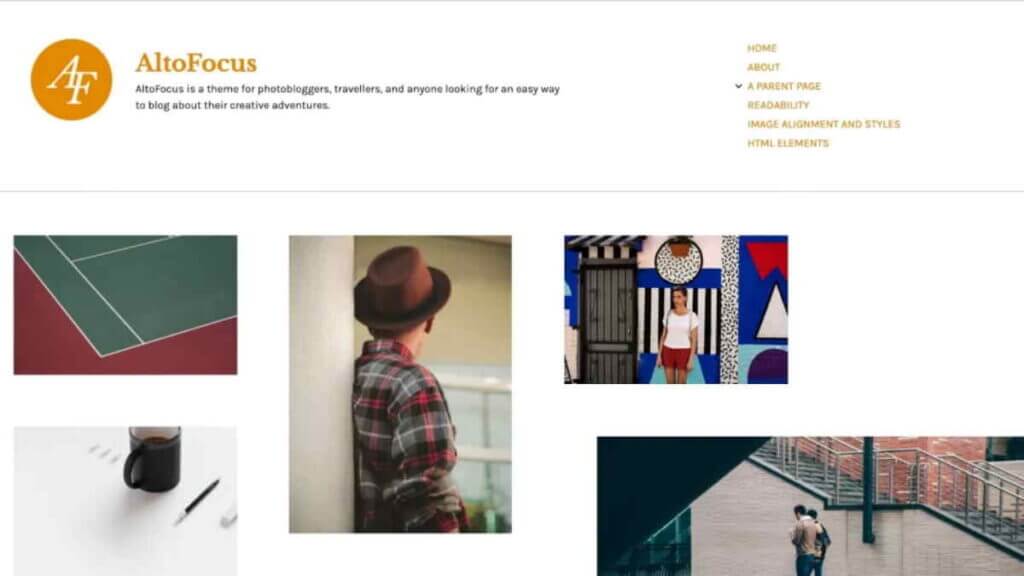 Depending on the orientation of the photo, featured photos may be shown at a maximum size of 1200 pixels wide or 900 pixels tall. The theme is also completely responsive to function on a variety of devices. Simply create a new custom menu, link to the appropriate accounts, and include icons for all popular platforms to create a social media menu linking to your numerous channels.
Illustratr
AltoFocus above has a similar grid design structure, but the menu and headers on Illustratr allow for a stronger approach. Each shot is accompanied by a title and sub-category, which would be useful for photographers whose work spans a variety of genres. The top heading in especially has a magazine-style feel.
Illustratr builds its site using WordPress' built-in portfolio section, which should make it intuitive for those with previous WordPress expertise but simple to understand for those who are brand new to the platform.
If you want to display your whole portfolio on the website in addition to your homepage, you may do so using this free WordPress theme's portfolio shortcode option.