Technology
5 Best Tripods to Choose From to Buy in 2023
A tripod provides safe and sturdy support for your camera, allowing you to shoot photographs with slower shutter speeds than when using the camera handle. Long exposures, traffic trails, and smooth panning are all effects that necessitate using a tripod.
Tripods are a must-have for every photographer. There are several tripods to choose from, and a single can get really expensive. But which one to buy and which one is the best?
This post will discuss the 5 best tripods you can choose from that meet your needs, budget and expectations.
Things to Consider Choosing a Tripod
We have some more extensive advice on what to look for, but here are the three most important considerations when purchasing a tripod.
Carbon Fiber or Aluminium Body
Beginners may get by with an aluminium tripod, which will provide good support without adding too much weight. However, if you upgrade to carbon fibre, you may expect a 20-25 per cent reduction in carrying weight.
When the temperature lowers, carbon fibre is also somewhat better at absorbing undesirable vibrations and isn't as chilly to the touch. The main disadvantages are that carbon fibre is prone to fracturing if your tripod receives a hard impact, and it's quite expensive to make. Carbon tripods can cost up to twice as much as aluminium tripods on a make-for-make and size-for-size basis.
Head
A ball head or a three-way head is the major choice for still photography up high. Ball heads are easier to set up and store since they are more streamlined. Many newer models have an adjustable friction damper to accommodate a wide variety of camera and lens weights and an independent pan-only release. Three-way heads are bulkier than two-way heads, but they allow for more accurate, individual adjustments in each of the three planes of movement.
The tripod platform's mounting screw can be 1/4-inch or 3/8-inch in diameter. You can use an adapter to connect a tripod with a bigger thread to a tripod with a smaller screw, but you can't connect a tripod with a 1/4-inch thread to a tripod with a 3/8-inch screw. It's also a good idea to double-check that the diameter of the ball head's mounting plate matches that of the tripod's mounting platform — sizes typically range from 45mm to 60mm. Finally, getting legs and a head with identical maximum load ratings makes sense.
Leg Stand
Some tripods, instead of the typical three, include four or five telescopic parts in each leg to allow them to stand tall while folding down compactly. The legs of certain modern tripods also swing entirely upwards for stowage, with the feet surrounding the head, which is a clever technique. The folded height is usually reduced by roughly 20cm as a result.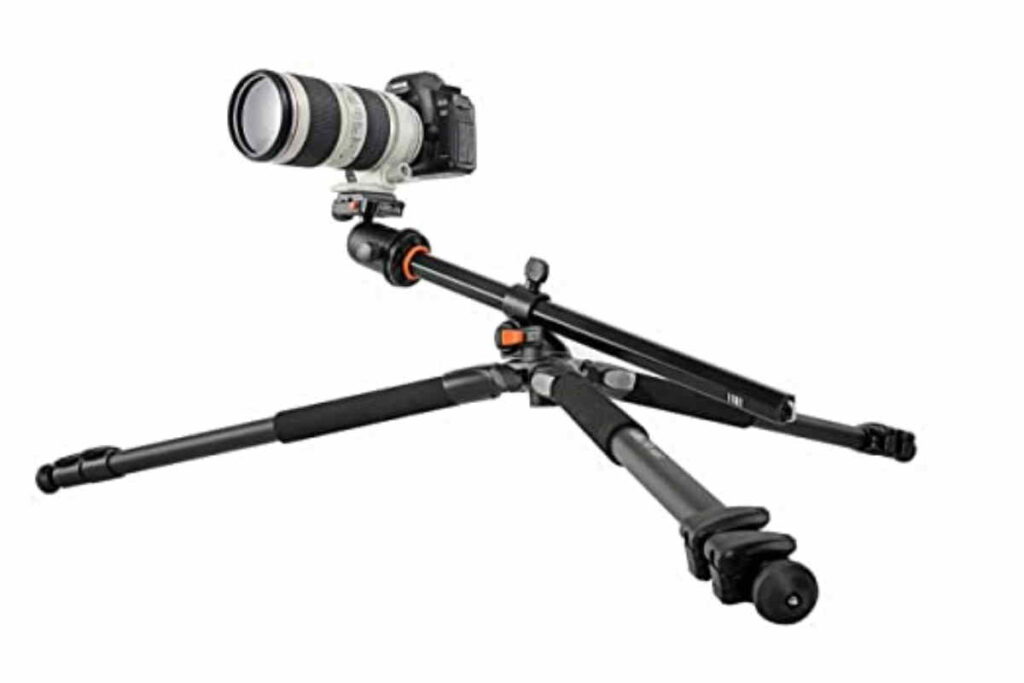 Most current tripods include legs that can be locked at numerous angles, which is useful for low-level shooting. For ultra-low-level shooting, the centre column can be removed and inverted, and some tripods have a low-angle adaptor that replaces the centre column.
A growing number of tripods come with detachable legs to increase their versatility.
Low-level shooting
Moving down the line, the joints that connect the three legs to the main chassis usually have mechanisms that allow the legs to be locked at three or more distinct angles. This allows for low-level shooting without removing and flipping the middle column, saving time and effort and avoiding shooting upside down.
From a basic table-top version you can throw in your luggage to huge, heavy-duty supports, the sort of tripod you choose will depend on your unique demands. We've chosen the finest five solutions to fit a variety of budgets and demands.
The four-section Manfrotto 190XPro4 ball headset is our current favourite tripod. It's a full-sized tripod with an XPro ball head that has everything you need and will fit most photographers.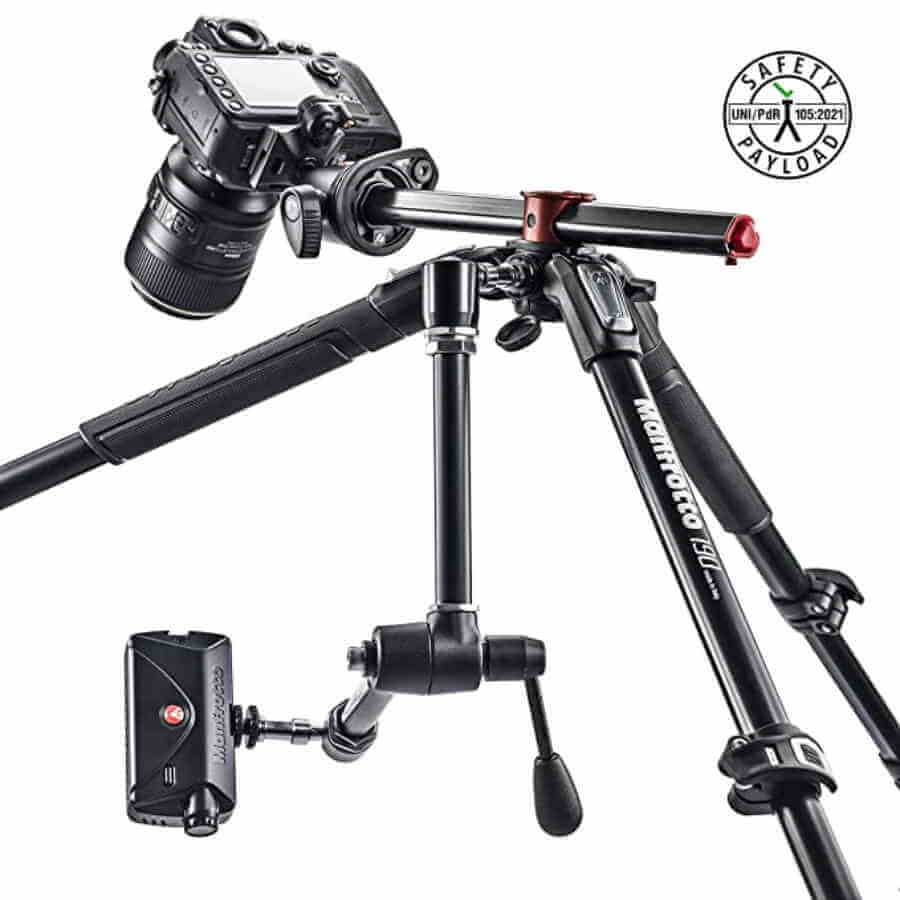 The Manfrotto 190XPro4 has a total operational height of 175 cm and folds down to a tiny folded height of 57 cm, making it ideal for any occasion. It's a newer version of a popular Manfrotto model with a 90-degree swivel that allows it to switch from vertical to horizontal boom mode in seconds. The leg portions also include an unusual locking lever mechanism that can be removed from any side.
Main Advantage
With the 90° column arrangement, you may capture any shot.
Power lock that is secure and quick.
Connecting camera tripod attachments is simple using Easy Link.
Leg angle selection allows for smooth motions.
Made in Italy to the highest quality standards.
Country of origin – Italy.
The Vanguard Veo 3+ 263AB is a three-section full-size tripod that doesn't fold down very compact, but it's easy to put up and reaches a fair height. It doesn't seem particularly heavy for an aluminium tripod. If you want to save even more weight, there's a carbon fibre (CB) version available for only a few dollars extra.
The design and construction are excellent, the angled column works flawlessly, and all of the controls and adjustments are smooth and precise, as you would expect from a much more expensive product.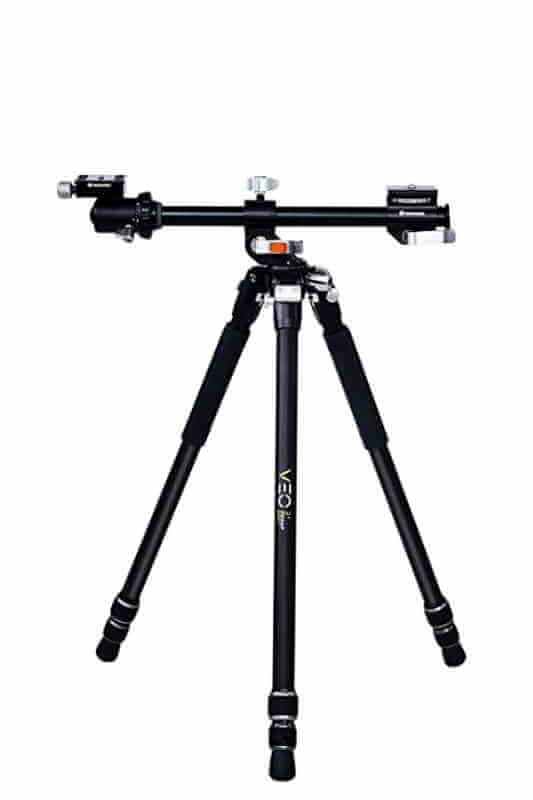 The VEO 3+ 263AB feels light for an aluminium tripod. True, at 2.45kg, it's over double the weight of a compact carbon fibre travel tripod, but plenty of camera and lens combinations weigh as much, so it doesn't seem like much in absolute terms. The main drawback is its 76cm folded length, which makes it unsuitable for travel.
The leg angle catches appear elaborate, but they function well, and the stiffness of the leg angle movement is ideal. Leg section twist locks are simple to use and secure and may be readily detached for cleaning.
Main Advantage
The Multi-Angle Central Column (MACC) system is an innovative system that travels from 0 to 180 degrees in varied vertical and horizontal locations.
Arca-compatible quick-release plates are available.
Leg angles may be adjusted to 23°, 50°, and 80°.
On two legs, grasp and go with non-slip, all-weather grips.
For optimum versatility, convert one leg into a monopod.
Included are spiked feet, a tripod bag, a VEO+MA1 converter, and a hex wrench.
Compared to the Benro Mach3 tripod (which we'll look at later), the Benro Travel Angel kit (FTA28AB1) employs a shorter arrangement of four-section legs attached to separate joints at the top. Three locked leg angles remain, but the joints allow the legs to swing upwards, allowing the feet to encircle the head for storage.
Overall, the folded height is decreased from 60cm to 45cm, and the Travel Angel package is 230g lighter, weighing in at 2.19kg. However, the maximum operational height has been reduced by 6cm, although it remains respectable at 161cm.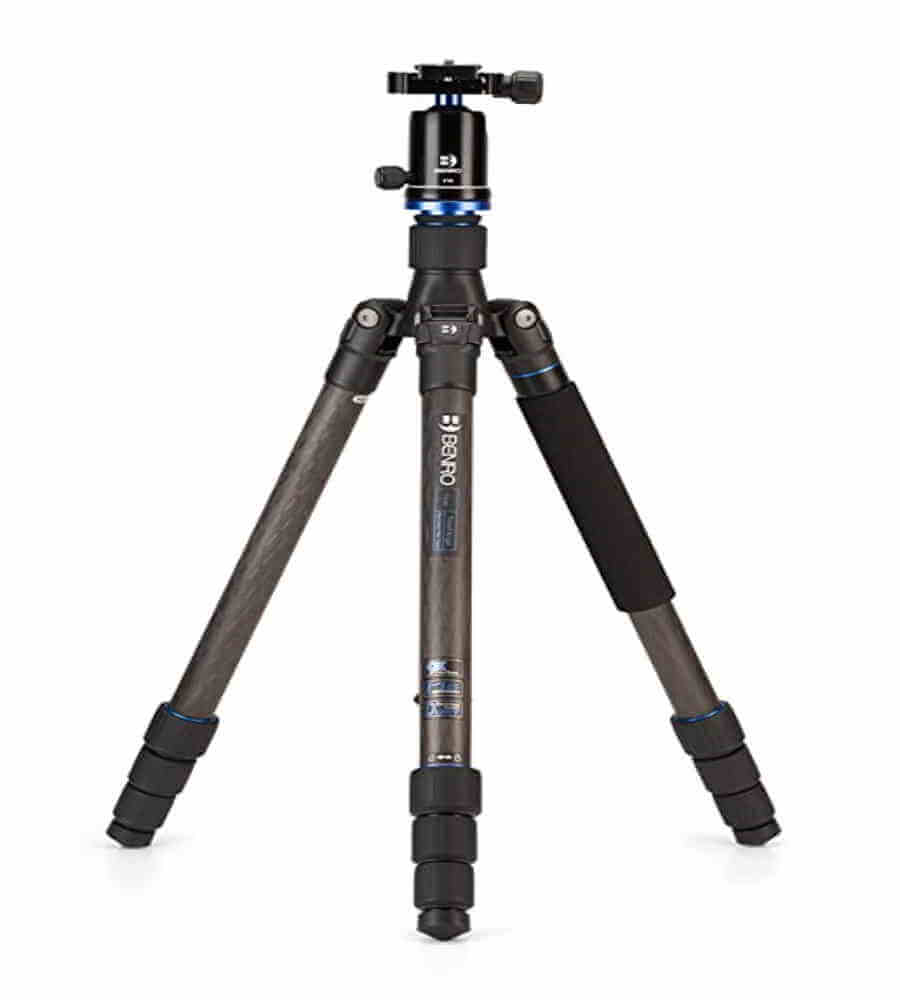 This Benro tripod, like the Mach3 kit, is precision-engineered and elegantly finished, with aluminium leg components and magnesium castings. One of the legs may be removed and used as a monopod when paired with the detachable centre column.
This component adds a screw-on wooden knob to the removed leg, allowing you to use it as a walking stick. A short alternative centre column, replaceable rubber padding, metal spikes for the feet, and a sophisticated cushioned soft bag are among the high-quality accessories.
This Benro kit comes with a B1 ball head with independent locking, friction adjustment, and pan release knobs. The leg and head load capacities have been increased to 10kg and 14kg, respectively, from Mach3's 8 kilograms of both components.
Both Benro tripods seem solid when used with a hefty DSLR and a long telephoto lens. There's not much to pick between them, but the Travel Angel's contemporary look keeps the Mach3's features in a more compact package.
Main Advantage
Designed to support small cameras and light. The FTA28AB1 weighs only 4.6 pounds and can handle up to 22 pounds. It can extend from a minimum height of 17.9 to a maximum height of 62.8. The twist locks secure the four-section legs, which may be adjusted separately.
It has interchangeable screw-in rubber feet and stainless steel spiked feet for added stability. A detachable leg may also be used in conjunction with the middle column to form a full-size monopod.
Separate pan and ball locks are included, as well as an Arca-type compatible clamp with a quick-release plate on the B1 Ball Head. 3-Year Limited Warranty (Extended to 5-Years with Online Registration).
This aluminium '2+' edition of Vanguard's ALTA PRO 263 tripod, finished in smart grey, expands on the popularity of the original, with the three-section legs' flip locks changed with twist locks that are a bit faster and easier to operate.
The hexagonal cross-section centre column, which can be adjusted vertically through +/-90 degrees in modest 15-degree increments, has excellent rigidity. The tripod's legs may be secured at four different angles, increasing its versatility. An extra 3/8-inch threaded connector allows articulated or flexible arms to be attached, which is perfect for adding lighting accessories for a picture or video application.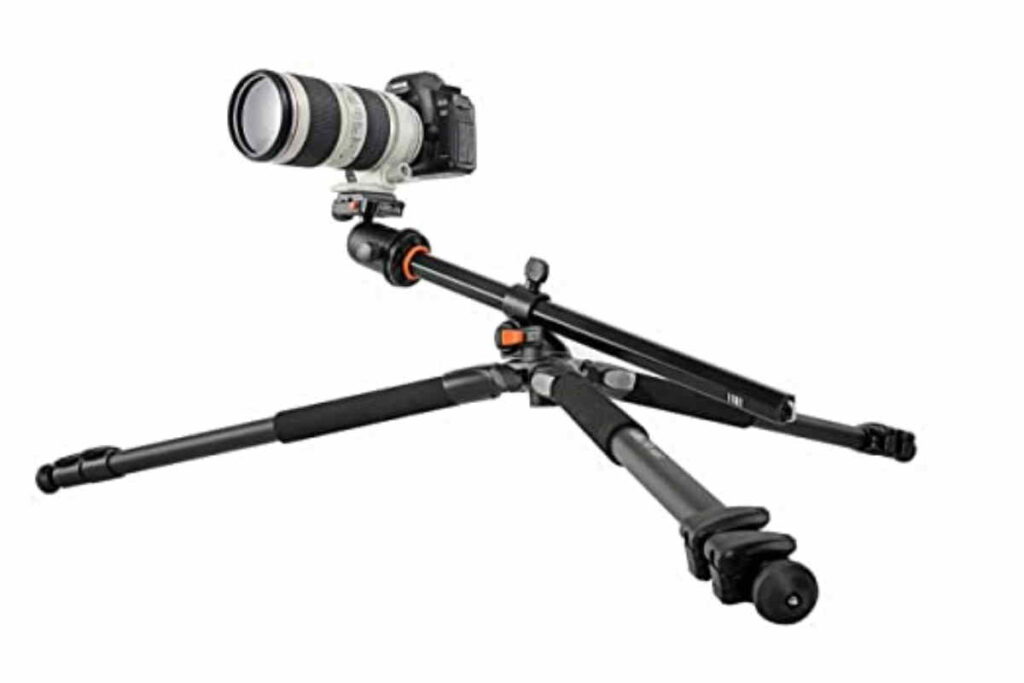 All of the legs' components are well-made, and the BH-100 ball head that comes with the kit is no exception. A friction control and specialised panning lock are included, as well as two bubble levels for accurate alignment. The package includes a carrying case and 'all-terrain' rubber feet, with spiked feet available as an add-on.
Main Advantage
360-degree panning, friction control, two bubble levels, fast release arca-type mechanism, rapid action—straightforward set-up in seconds.
MACC (Multi-Angle Center Column) enables infinite shooting angles and a strong hexagonal centre column that never wavers.
Position Versatility: 3 section legs with 4 position angles – 20°, 40°, 60°, 80°; durable–magnesium, aviation aluminium for lightweight and long-lasting performance.
Firm footing: angled rubber feet that adapt to terrain (spiked feet are available to be purchased separately).
The Sirui NT-1005X is unrivalled when it comes to folding down tiny for easy transport. It's obviously meant to be as compact as possible, with five-section legs and a swing-up feature, as well as a two-section extending centre column.
The result is a maximum operational height of 150cm, which is normally appropriate, and a folded height of 36cm that is very small. The folded height of the Manfrotto 290 kit is only approximately half that. The Sirui is only 10 grammes heavier than the Novo carbon kit, despite its aluminium construction.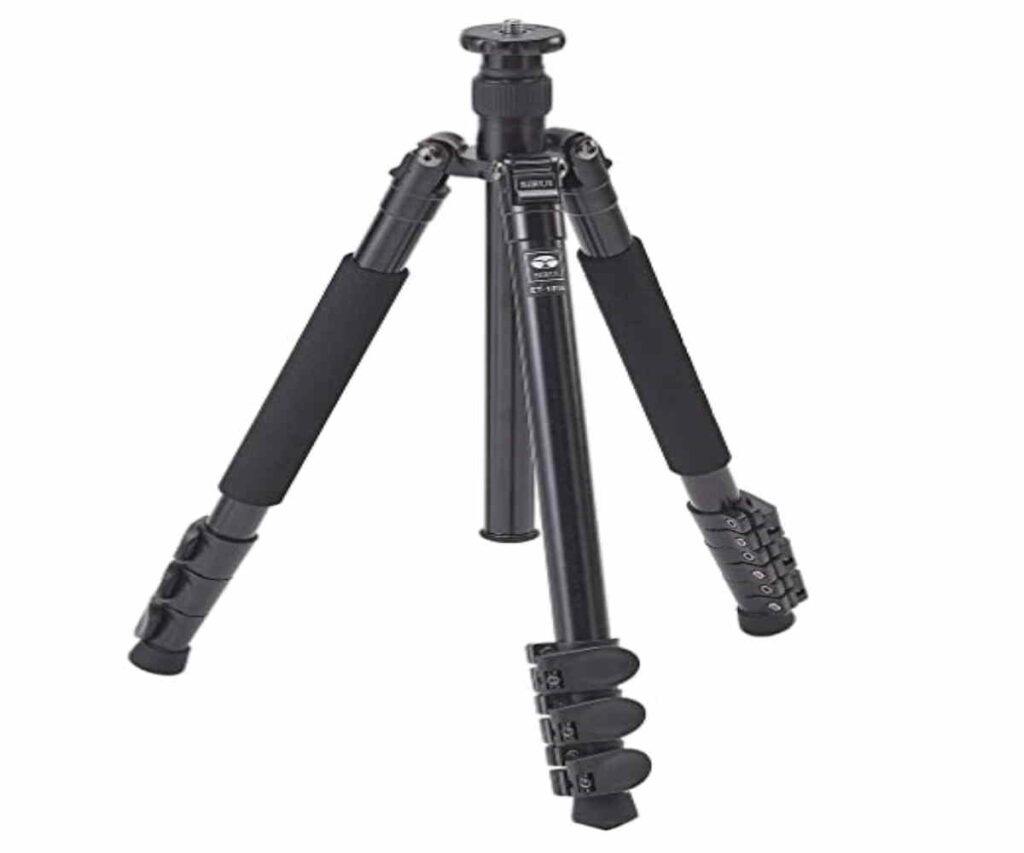 The Sirui's build quality is excellent: despite its low weight, it feels substantial and durable. Even when all five leg parts are fully extended and both portions of the middle column are at full reach, it remains stiff and stable.
There are three locking leg angles, as well as the ability to detach one leg and the centre column for usage as a monopod. The metal spikes for the feet aren't retractable or replaceable, but the rubber cushions are of decent quality.
From the non-slip feet to the ball head with its Arca-Swiss compatible quick-release plate, the NT-1005X/E-10 is simple to set up. Although the head lacks an independent friction damper, all adjustments are smooth and locked securely, and the swing-up legs may be secured at three different angles.
Main Advantage
This item comes with a tripod with a ball head, a TY-50E fast-release plate, a short centre column, a protective case, and a shoulder strap.
Leg locks with a flip lock for quick setup and dismantling.
Full-size, yet folds down to a compact size.
For increased compactness, the legs fold up 180 degrees.
For low-angle photos, the centre column can be reversed.