Google Input Tools for Windows is an input method editor which enables users to enter text in any of the supported languages using a Latin (English / QWERTY) keyboard. Users may input a word the way it sounds using Latin letters and Google Input Tools for Windows will translate the term to its native form. Transliteration, IME, and on-screen keyboards are some of the input options available to you.
Google Input Tools
Now with the help of Google Input Tools, you can write more than 20 languages as easily as you write the English language on your computer. This software helps you to write many languages very easily.
Earlier, there used to be the offline version of Input Tools on the official portal, but now if you try to download this tool for Windows from https://www.google.com/inputtools/windows/ you get an error 404, which means the download page no more exists.
However, the good news is that you can still download it from the link given below
Alternatively, you can also use Input Tools Chrome Extension.
With a click of the mouse, switch to typing in a different language and back again just as easily. Google Input Tools provides virtual keyboards in over 90 languages, complete IMEs or direct transliteration in over 30 different scripts, and handwriting input in over 40 languages.
Following are the instructions to use Input Tools Chrome Extension
When the extension is first installed, click on its icon and then select "Extension Options" from the pop-up menu. A new tab will open, allowing you to choose your prefered language or input method. The keyboards, IMEs, and handwriting input that you add under 'Selected input tools' can be activated or disabled at any time directly from the extension. You can always return to this settings page to add or delete input tools or rearrange their order.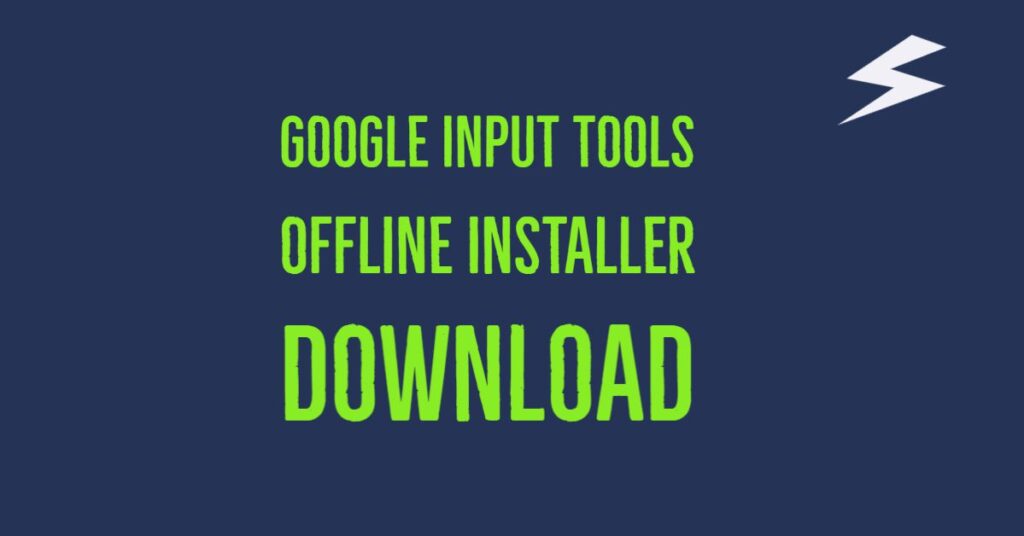 Transliteration works by typing languages phonetically in English letters; they will appear in their correct alphabet. Bear in mind that transliteration is distinct from translation; the words' sounds, not their meaning, are transferred from one alphabet to the other. For example, to get in नमस्ते with Hindi transliteration, type in n-a-m-a-s-t-e. You will get a list of Hindi words sound like namaste. Then, press SPACE to select the first suggestion नमस्ते.
One of the most useful text management and real-time translation tools is Google Input Tools Offline Installer. The Google Input Tools allow users to move from one input language to another with the click of a mouse button, without having to install anything on their computer. Google Input Tools for Windows 10/8/7 instantly changes the input language, giving you virtual access to keyboards in 130 languages for free.
All you need to do is install Google Input Tools online on your Google Chrome (or compatible Chromium) browser and have an active Google Account. It's simple and quick to set up the extension. To begin typing in your preferred language, simply click the extension icon, choose the language/input method, and begin typing.
How to use Google Input Tools?
Google Input Tools is a Chrome plugin that, as previously said, is meant for Chrome users. It allows you to text in 90+ languages using an on-screen keyboard layout. As a result, you may browse the internet in whatever language you wish. To use Chrome's extension, you must first install the Windows version and then add languages from the plugin's settings.
Once you've selected a language, a keyboard layout will show on the screen. With a simple double-click, you may add various languages and keyboard schemes. Once you've made the changes, a left-click on the Google Input Tools extension will bring up the on-screen keyboard.
The on-screen keyboard functions similarly to a computer's attached keyboard. You may also utilise the physical keyboard with Google Input Tools. However, because each language has its own set of characters, it is preferable to utilise a virtual keyboard tailored to that language.
What are the languages supported in Google Input Tools?
Over 90 languages are supported by Google Input Tools, and engineers are constantly adding new ones to the database. As a result, the plugin allows you to type in a range of languages from anywhere in the world. Google Input Tools is simple to use on your computer and has no hassles.
You can add or remove languages from the 'Options' area with only a few touches. As previously said, the programme allows you to select from a large number of languages. With so many options, the tool has grown highly popular with a very wide audience.
When you install Google Input Tools, you'll have a simple and comfortable method to write in whatever language you want. Because it works on a variety of devices, it is compatible with a number of Google Tools & Services, including Google Drive, Gmail, and YouTube.