WordPress
5 Best WordPress Themes for E-Learning Sites
Are you looking to create an online eLearning platform? Confused about picking the best WordPress themes for online learning?
Today at Digital Gyan, we have listed the 5 Best Themes for Online Learning, which are compatible with PC, Laptops, Tablets and Mobile devices.
In recent years, e-learning has become incredibly popular. Many companies and academic organisations have expanded their services to include online offerings. However, integrating such features into your website might be challenging, so if you're considering going in this direction, spending money on a reliable eLearning WordPress theme is a good idea.
To get started, you'll probably need to arm yourself with an LMS plugin, like LearnDash or LearnPress. Thankfully, many eLearning themes include comparable functionality or are packaged with such tools.
We'll provide you with a rundown of 5 top eLearning WordPress themes in this article. Move along!
5 Best WordPress Themes You May Try for Your E-Learning Site
The market for online education is predicted to expand by 21% in the United States between 2020 and 2027, making it an evergreen potential for WordPress developers. You can think to consider below Themes for Online Learning and developing an eLearning website if you have in-depth expertise in a field you are passionate about.
Many universities, colleges, and other educational institutions can design unique course materials and manage them as they see fit, with complete control over the course's price, content drip, assessments, community and interaction among students, and, of course, its visual appearance.
The greatest WordPress themes for eLearning sites, from those for individual coaches and instructors to those for whole academic institutions, will be shared in this post. Let's get started:
BuddyBoss
WordPress theme BuddyBoss was created specifically for producing online courses. BuddyBoss was created to integrate with the top LearnDash LMS WordPress plugin to assist you in publishing and managing your online courses (review).
The integrated page builder tool may be used to modify the BuddyBoss templates if you decide to do so. Thanks to this feature, you can ensure that your website and its online courses appear the way you want. With even more customization available.
BuddyBoss is also effective in building online communities and membership sites. As a result, you have a wide range of options for deciding how to manage who has access to your online learning materials and how to make money from your website.
Options include implementing recurring subscription plans that grant access to all material for a set monthly charge, selling access to particular courses, and many other variants on these models.
BuddyBoss also has the intriguing feature of making it simple to turn your website into a mobile application. Give your target audience another option to locate and use your courses by submitting your app to the Google PlayStore and Apple App Store after it has been created. With BuddyBoss, you can publish your online courses without having to use a hosted platform.
Also read: Top 10 Fastest WordPress Themes in 2023
According to downloads, Eduma is the most popular premium education theme for WordPress websites. It includes designs for a variety of eLearning services, from online university courses to tutors and grade schools to one-off course websites.
Eduma was created to be compatible with the free and well-liked LearnPress learning management system (LMS) plugin. You may develop an educational hub for any educational institution using this theme and the LearnPress plugin.
With drag-and-drop website builders, bbPress and BuddyPress plugin integration, a WooCommerce connection, first-rate user interface components, and $500 worth of LearnPress premium add-ons, Eduma has all the functionality you'll need to create a website without writing code.
Educavo
Educavo works with all of the top WordPress LMS plugins. This theme is ideal for producing a variety of online courses on several subjects. Additionally, it functions effectively for a wide range of course publishers, including small businesses and enormous corporations.
You may discover demonstrations for the LearnDash, LearnPress, and Tutor LMS plugins, which are the three most popular plugins of this kind, at Educavo. If you pick the right demo, all those plugins' capabilities should appear fantastic on your website.
Additionally, Educavo was designed to work flawlessly with the WPML plugin. This well-known multilingual plugin will handle the technical aspects while you give the translated content if you wish to publish your website and course materials in more than one language.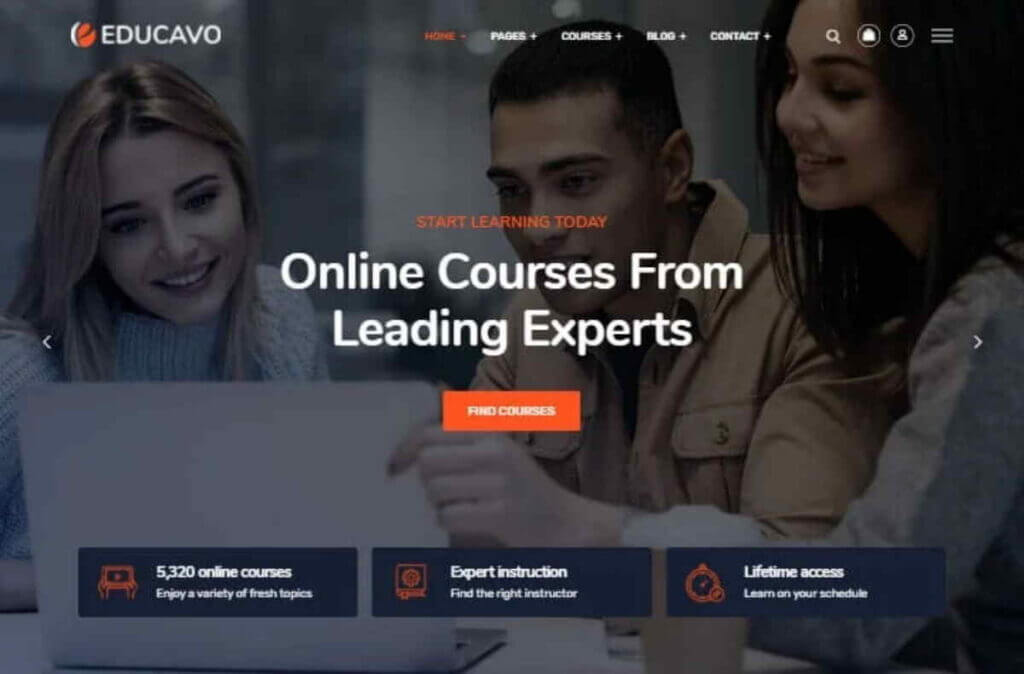 You shouldn't be constrained while using Educavo to build an international online course website because RTL languages are supported as well.
You are not limited in how you may customise your site after importing one of the Educavo samples. The robust Elementor plugin is compatible with all of the Educavo templates. This user-friendly tool makes it simple to update them, providing a wealth of creative possibilities for your online course website.
Also Read: 5 Best Free eCommerce Themes For WordPress
Another popular WordPress theme, Masterstudy, combines versatility and usability while giving prospective website owners the tools they need to create exceptional online courses. The theme is intended to be an all-inclusive LMS solution; no extra charges or plugins are required for it to function.
You may create quizzes, build courses, dispense information, and hold live webinars inside the theme. A front-end course builder, forums, sample courses, a certificate builder, and membership features are all included in the theme to help you organise your information precisely as you want your students to study it. It doesn't get much better than Masterstudy for individuals who want everything in one location.
Another theme that works with the LearnPress plugin is Epsilon, which made our list because of its exceptional features. Epsilon, created by the same people who created Eduma, seeks to offer a flexible framework for deploying courses of any kind.
With its WooCommerce connection, you can add units, lessons, courses, quizzes, and a store component. If you want to, you may use this to sell your courses.
One-click installation, drag-and-drop page construction, co-instructors, and compatibility with bbPress and BuddyPress are just a few of the features that make this mobile-friendly theme a popular choice for educational institutions. Profiles for the students and teachers are also accessible.
Many of these WordPress themes for online courses are quite adaptable. Therefore, you should be able to make such adjustments using the characteristics of that theme if you see a website sample that's a good match for your project but could also use a little tweaking.
These themes span the complete range of online course websites, from serving bloggers who want to add educational content to their blogs to anyone who wants to create their own learning management system.
If you like the article, consider sharing it. Keep visiting Digital Gyan for more technical news and updates.