Featured
What is Express Entry System? Requirements for Canada Entry
Canada's Express Entry System has revolutionized the country's immigration system by providing a streamlined and efficient pathway for prospective immigrants.
By understanding the requirements and complexities of this system, you can increase your chances of immigrating to Canada successfully.
Let's talk about the fundamental aspects of the Express Entry System, its requirements, and the necessary steps to embark on this exciting journey.
What is Express Entry System?
The Express Entry System (EES) is a program designed to bring in highly skilled immigrants into Canada. This means that applicants must meet certain selection criteria, including education, work experience, and proficiency in English and French. The Express Entry System serves as a crucial mechanism for selecting and inviting candidates for permanent residency in Canada.
The EES also offers permanent residence to all applicants who apply through this route, if their selection is approved.
The Express Entry System is a Canadian immigration program that is a component of both the federal skilled worker (FSW) and federal skilled immigrant programs (FSIP). These programs are a government-run system that is used to manage and select high-quality temporary and permanent foreign workers in areas where the government can't fill a job with qualified Canadians.
Why Canada?
Canada, which is well-known for its multiculturalism, is one of the most popular immigration destinations in the world. Immigrants can choose from a variety of different sorts of immigration systems.
If you intend to immigrate to Canada as a foreign worker, an international student, a job seeker, or a self-employed individual, the country offers a variety of visa categories to accommodate your needs.
Express Entry is Canada's most popular immigration system for those seeking to work in the country's economy. The Government of Canada implemented this method in 2015 to expedite the immigration process and reduce processing times for Canadian immigration applications.
With the assistance of this immigration procedure, a newcomer can obtain an Invitation to Apply for Permanent Residence in Canada and eventually become a Canadian citizen.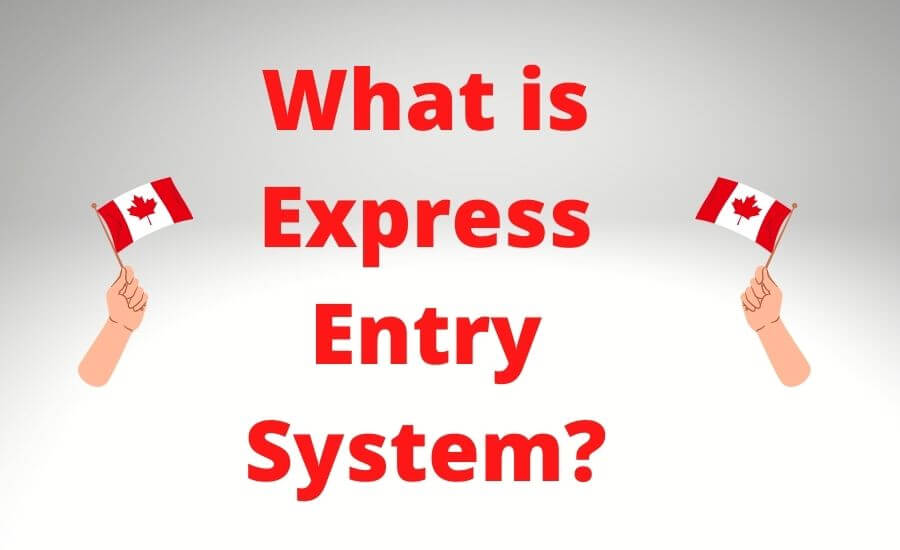 Canada Express Entry Immigration Programs
Anyone who wishes to relocate to Canada can apply for an immigrant visa through one of the three economic programmes that are available to them:
Express Entry is also associated with the Provincial Nominee Program (PNP), which includes some of the streams of the PNP. As a result, foreigners can apply for permanent residency in Canada through the PNP Express Entry linked streams and then apply for citizenship.
Federal Skilled Worker Program
Immigration to Canada is a desire of hopefuls who wish to work in Canada and become permanent residents. The Federal Skilled Worker programme is for those foreign workers with work experience of a minimum of one year.
If a skilled worker wants to become a permanent resident through FSW, they must complete the standards for education, work experience, and language competency. Please note: Candidates who do not have any work experience cannot apply through this programme.
Federal Skilled Trades Program
The Federal Skilled Trades (FST) Program is for immigrants with a trade licence. Generally, trade programmes need physical and manual work, for instance, work in construction industries. Some popular vocations in this area are carpenter, plumber, electrician, and many more. Applicants can receive a permanent resident visa through the FST Program.
If a foreign worker wishes to apply for permanent residency in Canada with the assistance of FST, they are required to have a certain level of work experience as well as proficiency in the Canadian language. The scarcity of workers in some professions has prompted the government of Canada to encourage qualified immigrants to come to the country. Therefore, skilled tradespeople who have a desire to settle in Canada may apply to participate in this expedited admissions programme.
Canadian Experience Class
Canadian Experience Class (CEC) is one of the most popular categories in the Express Entry system. A foreign person who is a temporary resident of Canada and has Canadian work experience can apply for a permanent residency through this category. Once temporary residents receive a permanent resident card, they can seek Canadian citizenship.
Express Entry Requirements
To qualify for the Express Entry System, there are several essential requirements you must fulfill. These include obtaining an Education Credentials Assessment (ECA), demonstrating language proficiency, and achieving a strong Comprehensive Ranking System (CRS) score.
Education Credentials Assessment (ECA)
When applying for the Express Entry System, it is imperative to obtain an Education Credentials Assessment (ECA) to validate your educational qualifications. An ECA is a crucial step in the process, as it ensures consistency and standardization across international educational systems. Various designated organizations in Canada are authorized to provide this assessment, generating a comprehensive evaluation of your education credentials.
Language Proficiency Tests
Language proficiency is a critical factor in determining eligibility for the Express Entry System. Candidates must undertake internationally recognized language tests, such as the IELTS (International English Language Testing System), CELPIP (Canadian English Language Proficiency Index Program), or TEF (Test d'évaluation de français), to demonstrate their language skills. Minimum language score requirements exist for each program within the Express Entry System, and higher scores can significantly boost one's CRS ranking.
Comprehensive Ranking System (CRS) Score
The Comprehensive Ranking System (CRS) is a point-based system used to rank candidates in the Express Entry pool. This score plays a vital role in determining an individual's chances of receiving an Invitation to Apply (ITA) for Canadian permanent residency. Multiple factors contribute to the overall CRS score, including age, work experience, education, language skills, and more. It is essential to maximize your CRS score by strategically highlighting your qualifications to improve your prospects of being invited to apply for permanent residency.
Required Documents for Express Entry
When applying through the Express Entry System, certain documents are mandatory to substantiate your identity, civil status, police clearances, and financial capability. It is crucial to compile these documents accurately and submit them within the designated timelines to facilitate a smooth application process.
Identity and Civil Status Documents
Your passport, birth certificate, marriage certificate (if applicable), and other relevant documents are necessary for establishing your identity and civil status. Ensure that these documents are accurate and up-to-date to avoid any complications during the application process.
Police Certificates and Background Checks
As part of the application process, obtaining police certificates from all countries you have resided in is essential. These documents provide vital background information and ensure the safety and security of Canadian society. It is crucial to adhere to the specific requirements outlined by the Immigration, Refugees and Citizenship Canada (IRCC) regarding the submission of police certificates.
Proof of Funds
Applicants to the Express Entry System must provide proof of funds to showcase their financial capability to sustain themselves and any accompanying family members upon arrival in Canada. The specific amount required varies depending on the number of family members included in the application. Acceptable forms of proof of funds include bank statements, investment documents, and other financial statements that demonstrate accessible and transferable funds.
Applying for Express Entry
Once you have gathered all the necessary documents and ensured you meet the eligibility requirements, it's time to create your Express Entry profile. This profile serves as your online application and holds vital information regarding your qualifications, work experience, language skills, and more. Once your profile is complete, it will enter the Express Entry pool, where it will be ranked against other candidates based on the CRS score. Invitations to Apply (ITAs) are typically issued to candidates with high CRS scores during regular draws conducted by the IRCC.
Conclusion
The Express Entry System provides a great opportunity to achieve your dreams of immigrating to Canada and beginning a new chapter in your life. By comprehending the requirements, preparing the required documents, and optimizing your CRS score, you can confidently navigate this system. Remember to consult official resources and to seek professional advice as needed. Best wishes on your quest to unlock the Express Road to Canada!