Social Media
What is a WhatsApp Pink scam? How to avoid this Trap?
A WhatsApp message made the rounds a few days ago, asking users to update a pink version of the chat app. The message includes a link that directs you to a new update of WhatsApp that includes new features.
The program is called "WhatsApp Pink," and it turned out to be a manipulative one. It seems to alter the colour of the app.
Rajshekhar Rajaharia, a cybersecurity expert, tweeted about the malicious software and also posted a few screenshots of the malicious app's GUI, which seems to be similar to the initial app.
When you click the address, you'll be taken to a page where you can install the malicious WhatsApp Pink app on your tablet. If you install the WhatsApp replica, it will steal your personal information, putting you in danger.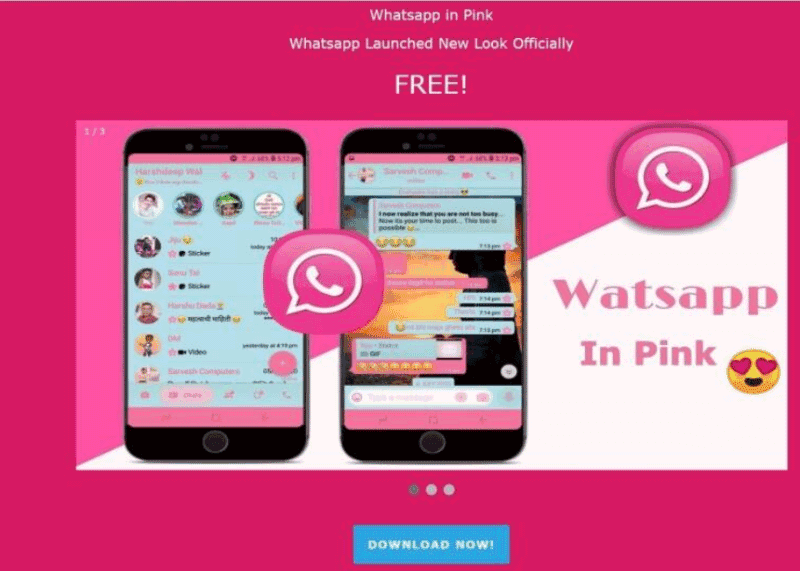 "Watch out for WhatsApp Pink!! With an APK update attachment, a virus is being distributed in #WhatsApp communities. Do not click any WhatsApp Pink-related links. "You will lose complete access to your phone," Rajaharia said.
How to identify if an app is fake
Users can never download something from WhatsApp until they are certain the connection is right. If you receive a connection to an app through WhatsApp, you can double-check its presence on Google. It is still preferable to download new applications from the Play Store because Google does a security check on all apps before granting you access to them.
Often useful are WhatsApp's "forwarded" posts. The "Forwarded" mark lets you know if the letter was written by a friend or parent or if it was forwarded from someone else. If you're not sure if you can download a message (with a link) because it's been forwarded several times, ignore it.
You should use a reliable mobile monitoring system that will notify you about malicious software. It's worth noting that neither WhatsApp nor Facebook has released such an app. It's important to remember that using a changed version of an original app poses a significant security danger. When you download an app, it will prompt you for permissions such as storage, cameras, and contacts.
As a result, you could end up disclosing any sensitive information and then asking what happened. Check the screenshots, definition, creator name, app name, number of installations, and ratings before installing any app. If you discover anything suspicious, you should abandon your plans to mount it.
How to get rid of WhatsApp Pink and be safe
Step 1: The first step is to uninstall WhatsApp Pink. If you have already connected all of your WhatsApp Web Devices, unlink them right away.
Step 2: Go to your browser's settings and clear the cache.
Step 3: Search all of the apps' permissions and, if you find any questionable permissions, remove them instantly.
The software goes into hiding mode after you install it, according to the security researcher on Twitter. As a result, uninstalling it could be problematic because the solution may not be easily available. All you have to do now is go to your smartphone's settings section and choose Apps.
You'll see a rundown of all the applications that are loaded on your phone here. The WhatsApp Pink app will then be found and deleted.
Also Read: What is Free Robux Generator Scam? Beware of it