Social Media
How to Upload Pictures on Instagram from Computer?
Looking to add pictures or videos through Pc or Laptop? Well, Today at DigitalGyan, we will discuss how to Upload Pictures on Instagram from Computer with easy working tips and tricks.
Instagram is a popular photo-sharing social media platform that is most typically accessed via a smartphone app. It has an online version that allows you to publish materials that you may only have on your PC rather than your phone.
Although you can use a web browser Insta on your desktop computer, the Instagram pc website hasn't offered a method to submit photographs for a long time. Since Instagram is a mobile-first platform, it encourages you to share your images via its Iphone and android apps.
There is already an official way to publish to Instagram from your computer. If this doesn't work for you, we'll teach you how to publish to Instagram using Chrome as a workaround. As long as you have access to Google Chrome, this will work on Windows, Mac, or a Chromebook.
Why use PC or Laptop while Uploading pictures or videos on Instagram?
Assume you're a brand manager for a well-known company or Influencer. The last thing you need is to provide an unintentional blunder in which you publish brand material to your personal Instagram account (or, worse, vice versa) just because you have both apps open on your phone.
However, rather than keeping your smartphone open at work, you might find it easier to upload corporate postings and videos from your PC.
Furthermore, your company's files may be easier to access on a desktop than on a mobile device. If you're editing corporate photographs in Photoshop, it's probably quicker to click "Upload" from your computer rather than transferring the identical photo or video to your personal phone whenever you're finished.
Whether you like the bigger screen of a desktop computer. If you don't have access to a smartphone, you won't be able to download the app.
There are several compelling reasons for using Instagram on a laptop rather than your phone. Here's how to do it.
How to Upload Pictures on Instagram from Computer PC or Laptop?
Instagram may be used on a computer. Simply go to instagram.com and log in with your phone number, username, email address, or Facebook account. You can browse your feed, reply to direct messages (DMs), read your notifications, add images and videos to your profile, and more on Instagram's online edition.
While the social media network is designed to be used in-app, it provides a virtually comparable experience when accessed through a computer.
You may do the following on Instagram's Website version (Laptop or PC):
React to other people's stories by watching them and responding to them.
Look for hashtags and other people using them.
Look through your feeds.
Like and comment on posts
Direct communications should be answered (DMs)
Check out your alerts.
Go to the Explore tab.
Create a profile with photographs and videos.
To put it another way, you can post to Instagram from your PC or Mac desktop instead of using the app or browser on your mobile device.
Let's take a look at how you may share photos and movies from your desktop PC.
How to Post to Instagram from Desktop PC
Select your chosen desktop browser and launch it.
Go to instagram.com for more information.
Use your email, phone number, login, or Facebook username and password to access your account.
In the top bar, click the '+' button.
Select 'Select from computer' from the pop-up menu.
To upload to Instagram, select an image file.
If necessary, crop the image, zoom in, or add extra material.
Optional: Select a filter and make any necessary changes.
Make a caption for the photo.
Click on Share Button. Hurray! You have just Posted on Instagram from Desktop PC/Laptop.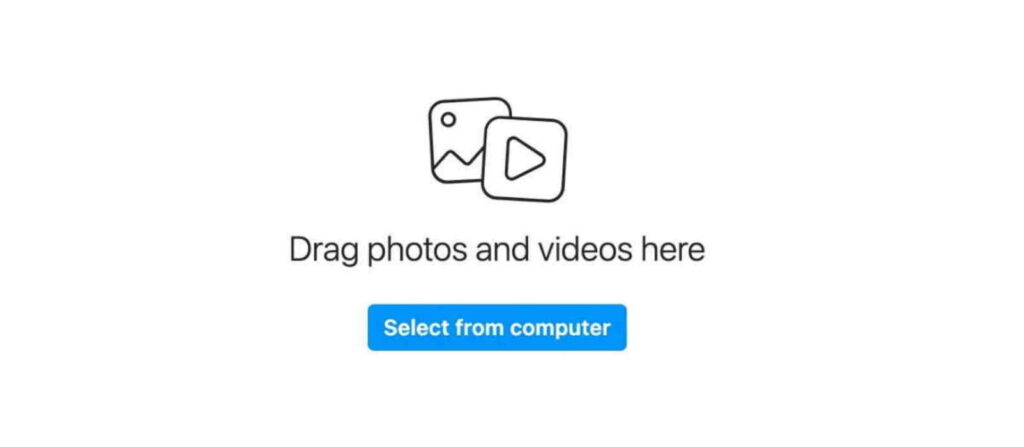 How to Upload Pictures on Instagram from Computer – using Bluestack
The Instagram app for Android is fantastic, and you can use it to publish photographs to Instagram from your PC or Mac using the free Android emulator BlueStacks App Player.
After downloading and installing BlueStacks, let a few minutes for the engine to boot up for the first time. Using the cross in the upper right, dismiss the lesson, check that the correct language is chosen, and then hit the arrow button.
After clicking 'Continue,' sign in with your Google account. Read the terms and conditions of service and click 'OK' if you agree.
The following checkboxes are totally optional; if you're only using BlueStacks to upload to Instagram, you can leave them all unchecked.
Enter your name (it will only be used to customize some applications) after clicking the Next arrow.
You'll now see a Google Play Store version. Search for Instagram using the search bar in the upper right corner, then choose the official app and click Install. The program will ask for information such as your contacts and current location. If this is OK to you, click 'Accept.'
The Instagram symbol will display under the My Apps page after a little period. To start it, simply click it once.
BlueStacks will adapt to the size and form of a smartphone that is vertically oriented. Log in to your Instagram account using your normal credentials (the login link is at the bottom). Your Instagram account will look like it does on a smartphone.
Select 'Gallery' from the + symbol at the bottom. Select 'Other' from the 'Gallery' drop-down option at the upper left, then 'Pick from Windows.' Select the photo you wish to upload and click 'Open.'
You may now trim the image, apply filters, and add a caption before sharing it with your followers on all of your favorite social media platforms.
How to Upload Pictures on Instagram from Computer – using Developer Tool
To begin, make sure you're signed in to your Instagram account by going to Instagram.com in Google Chrome. Then, to enter the Developer Tools panel, right-click everywhere on the page and select Inspect. If you prefer, you may press the F12 key on Windows or Cmd + Option + I on a Mac.
This will open the Developer Tools box on the top right of Chrome, which contains a lot of HTML and other page information. On the other hand, you do not need to be concerned about any of this.
You'll notice an icon that appears like a smartphone beside a tablet in the top-left corner of the new Developer Tools window.
You may also use the keyboard Ctrl + Shift + M on a Windows PC or Cmd + Shift + M on a Mac to go to mobile view.

This mode tells the website you are accessing it from a mobile device. As a result, the interface will change to something similar to what you're used to seeing on Android or iPhone. To continue utilizing the mobile interface, leave the Developer Tools panel active, as shutting it returns you to the desktop view.
With mobile view enabled, you need to see the different icons for Instagram's numerous tabs at the bottom of the screen. If you're not seeing this row of icons, use F5 to reload the page, and it will appear.
To upload any picture from your desktop using File Browser or Finder, click the Plus symbol in the centre of that toolbar.
By default, Instagram only allows you to post a few different kinds of pictures, including JPEGs. You'll need to make a tiny alteration first if you wish to upload a PNG or another picture.
Change the Custom Files box in the bottom edge of File Explorer to All Files on Windows. On a Mac, change the Format option from Custom Documents to All Files by clicking the Options button in the bottom-left corner of Finder.
Using Windows 11 with Instagram installed App on PC
On the Microsoft Store, Instagram has an official Windows app for Windows 10 and Windows 11. It's essentially a desktop version of the mobile app, with the same set of features as the desktop website. This includes uploading to Instagram on your computer, so give it a shot if you prefer to use an Instagram app.
We've looked at different ways to publish on Instagram from your PC if you're interested in learning more. Remember that none of the other solutions are handier than this, so in most circumstances, we'd choose the official way or the mobile Chrome solution.
Keep visiting DigitalGyan for more Technical News and Updates.