Artificial light is quickly becoming a problem for our health and the environment. Due to advances in technology, we are using artificial light more than ever before. But dark mode can help you enjoy dark nights.
Nowadays, the popularity of dark mode has soared, with its benefits including reduced eye strain, improved battery life, and an overall visually pleasing experience.
If you're an iPhone or iPad user looking to embrace the darker side, here's a step-by-step guide on how to turn on dark mode for your device.
Benefits of Dark Mode
Before we engage into the nitty-gritty of activating dark mode, let's take a moment to appreciate the advantages it brings.
Firstly, dark mode can significantly reduce eye strain and fatigue, making those late-night browsing sessions or early morning emails much easier on the eyes. The subdued color scheme and reduced brightness minimize the contrast between the screen and the surroundings, resulting in a more comfortable viewing experience.
Secondly, dark mode enhances visibility in low-light environments, allowing you to use your iPhone or iPad without disturbing others or straining your eyes when the lights are off. Whether you're browsing your device in bed or attending a movie night with friends, dark mode ensures your screen blends seamlessly into the ambiance.
Lastly, if you have an iPhone or iPad with an OLED display, dark mode can actually help conserve battery life. Since each pixel in an OLED display emits its own light, displaying black pixels means less energy consumption. By enabling dark mode, you can extend the time between charges and enjoy an improved battery performance.
Verifying Device Compatibility
Before we proceed, ensure that your device is running iOS 13 or a newer version to utilize the dark mode feature. This guide applies to iPhone models including iPhone X, iPhone XS, iPhone XR, iPhone 11, iPhone 12, and all subsequent versions supporting iOS 13 or higher. Additionally, all iPad models compatible with iPadOS 13 or newer can enable dark mode.
Go to Settings > General > Software Update to see which version you're running. Tap Download and Install if an upgrade is available. Here's how to dim the lights on your iPhone or iPad until it's been updated.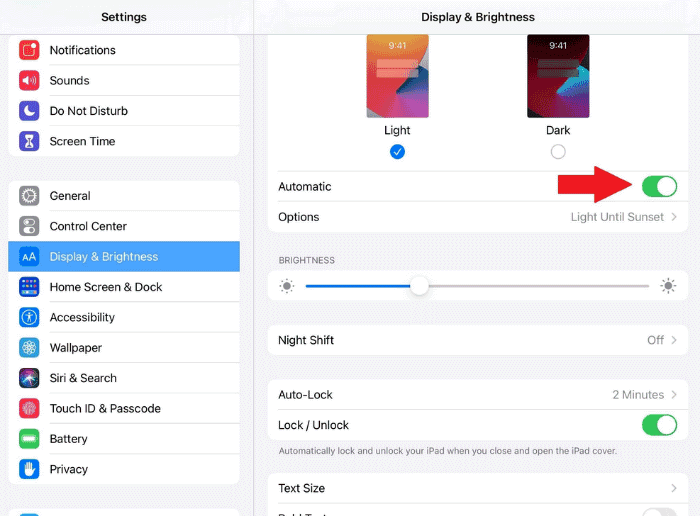 How to Turn On Dark Mode
Navigate to Settings > View & Brightness on your iPhone or iPad, then select the Dark theme under Appearance. This will adjust the theme for built-in applications such as Files, Messages, Music, News, Notes, Photos, Safari, and TV and certain third-party apps that are compatible, such as Gmail. Others, such as Facebook's app, would need activation.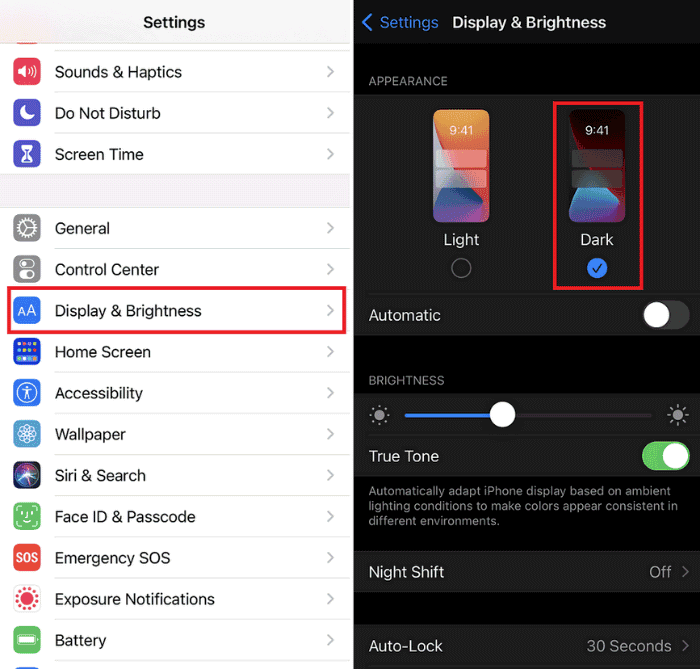 Swiping down on the panel's upper-right corner toggles dark mode on and off from the Control Center. Toggle the Dark Mode option on and off by long-pressing the brightness shader and tapping the Dark Mode button in the bottom left corner.
Schedule Dark Mode
You can schedule when your system reaches and leaves dark mode if you'd like to restrict it to a certain time of day. Click the Automatic option on Settings > Display & Brightness.
It will run the light theme until sunset and the dark theme until sunrise by contrast. Tap Custom Schedule if you want to set separate times for dark and light mode. Set the time for the light mode to be on and the dark mode to be used.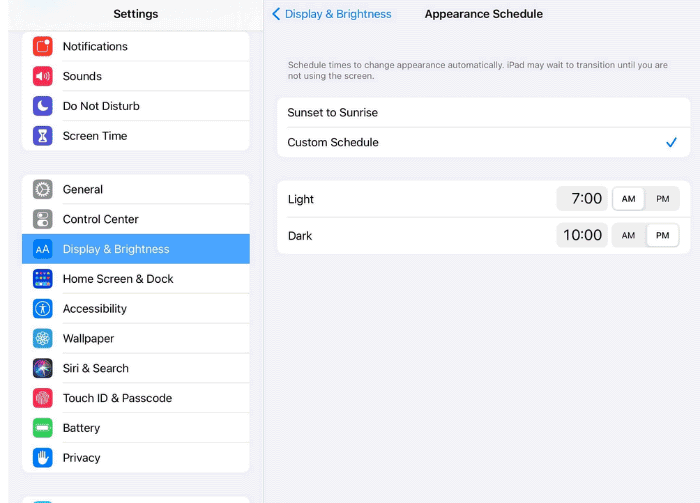 These themes can go away regularly, but they do not bind you. And if you have an Automatic set, you can always use Settings or Control Center to activate dark mode; light mode will activate in the next loop.
Tips for Optimizing Dark Mode Experience
To make the most out of your dark mode experience, consider the following tips:
Adjusting Brightness and Contrast Settings
To optimize visibility in dark mode, try adjusting the brightness and contrast settings on your device:
1. Access the "Settings" app on your home screen.
2. Tap on "Display & Brightness."
3. Adjust the "Brightness" slider to your desired level.
4. You can also enable "Auto-Brightness" for the device to automatically adjust brightness based on the ambient light conditions.
By setting the brightness and contrast to comfortable levels for your eyes, you can achieve an optimal dark mode experience.
Exploring Accessibility Features
iOS and iPadOS offer a range of accessibility features that can enhance your dark mode experience. These features allow you to personalize the appearance and adapt it to your specific needs:
1. Access the "Settings" app on your home screen.
2. Scroll down and select "Accessibility."
3. Explore features such as "Increase Contrast," "Reduce Transparency," and "Smart Invert Colors" to customize your dark mode experience further.
These accessibility features provide options to fine-tune dark mode according to your preference and visual comfort.
Utilizing Third-Party Apps and Themes
If you're looking for additional customization options, consider exploring third-party apps and themes specifically designed to complement dark mode. App developers and theme creators often offer unique interfaces and color schemes that can further elevate your dark mode experience. Simply browse the App Store or various online platforms to discover a wide range of options.
Conclusion
Congratulations! You have successfully learned how to activate dark mode on your iPhone or iPad, transforming the appearance of your device and enhancing your overall user experience. By embracing dark mode and following the provided tips, you can reduce eye strain, enjoy a visually pleasing interface, and even conserve battery life. So, go ahead, personalize your device, and enter the world of dark mode—where the night owl in you can truly thrive.