Dark Mode on iPhone
Artificial light is quickly becoming a problem for our health and the environment. Due to advances in technology, we are using artificial light more than ever before. But dark mode can help you enjoy dark nights.
Dark mode allows users to have a more consistent experience when using the device in low-light situations. It allows users to have a more relaxing and productive experience by reducing the amount of light from the screen. Additionally, it can make it easier for those with vision impairments to use the phone without constantly adjusting their lighting choice.
Apple's iOS and iPadOS now allow system-wide dark mode if the harsh light of your iPhone or iPad monitor hurts your eyes or disrupts your sleep. Here's how to turn it on.
Since looking at a shiny, white screen in a dim space is terrible for the eyes, software developers have been using dark themes in their applications to combat the adverse effects of blue light. However, if you have an iPhone or iPad, you can use a switch to allow system-wide dark mode.
Your iPhone must have iOS 13 or higher installed, and your iPad must have iPadOS installed. Go to Settings > General > Software Update to see which version you're running. Tap Download and Install if an upgrade is available. Here's how to dim the lights on your iPhone or iPad until it's been updated.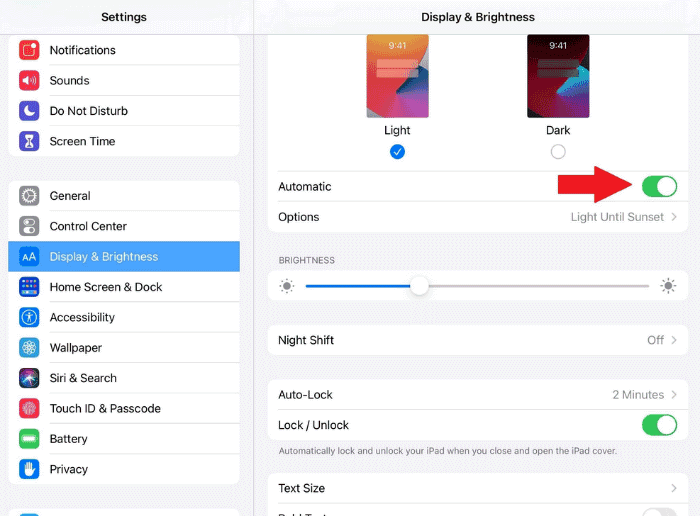 How to Turn On Dark Mode
Navigate to Settings > View & Brightness on your iPhone or iPad, then select the Dark theme under Appearance. This will adjust the theme for built-in applications such as Files, Messages, Music, News, Notes, Photos, Safari, and TV and certain third-party apps that are compatible, such as Gmail. Others, such as Facebook's app, would need activation.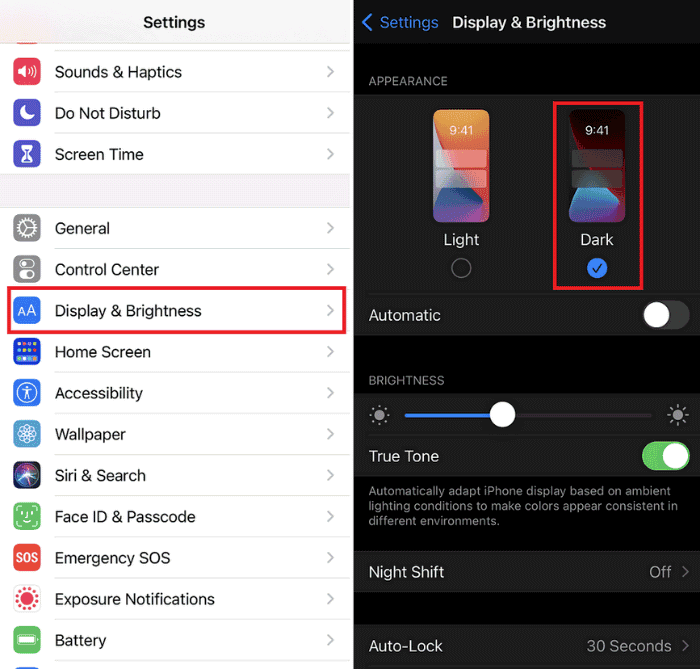 Swiping down on the panel's upper-right corner toggles dark mode on and off from the Control Center. Toggle the Dark Mode option on and off by long-pressing the brightness shader and tapping the Dark Mode button in the bottom left corner.
Schedule Dark Mode
You can schedule when your system reaches and leaves dark mode if you'd like to restrict it to a certain time of day. Click the Automatic option on Settings > Display & Brightness.
It will run the light theme until sunset and the dark theme until sunrise by contrast. Tap Custom Schedule if you want to set separate times for dark and light mode. Set the time for the light mode to be on and the dark mode to be used.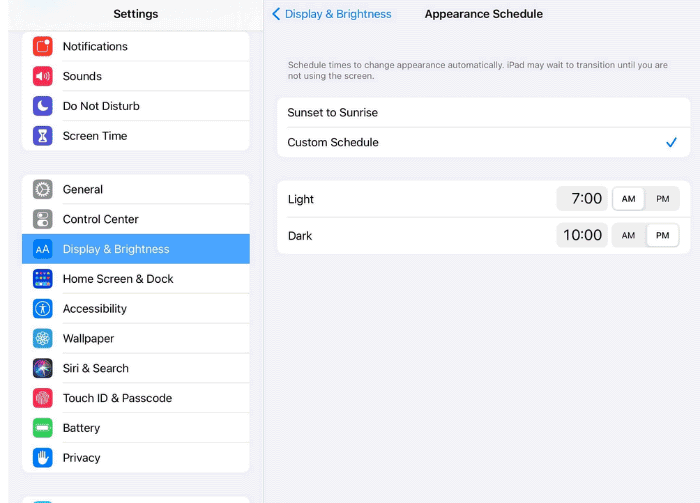 These themes can go away regularly, but they do not bind you. And if you have an Automatic set, you can always use Settings or Control Center to activate dark mode; light mode will activate in the next loop.