Social Media
How to Recover Deleted Instagram Photos & Videos?
Instagram users may now recover deleted stories and posts thanks to a new feature that allows users to review and restore deleted stories and posts within 24 hours, according to the Meta-owned social networking company. Within 30 days of removing a story, users can reclaim it and have it permanently posted or preserved.
The 'Recently Deleted' folder is a new option under this new functionality that Instagram has provided. Even if you remove one of your posts, the deleted posts can be found in Instagram's recently deleted folder for 30 days. Within a month, you have the option of recovering the post or permanently deleting it.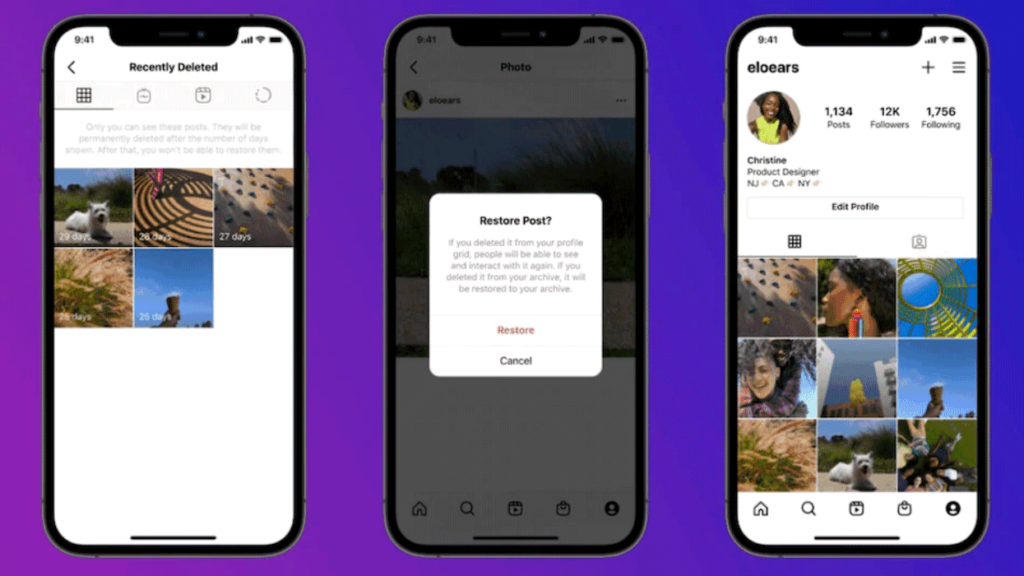 One can now Restore the following:
Photos and videos posted as Instagram posts
Stories
Reels
IGTV videos
All images, IGTV videos, reels, and stories you remove from the app will be saved in the Recently Deleted folder, which you may access at any time. Here are the procedures to help you restore deleted Instagram posts and stories.
Steps to Recover Deleted Instagram Photos and Videos
Follow the steps to recover Instagram Deleted Photos, Video, Stories, Reel and IGTV Videos:
Go to your profile in the Instagram app.
Select the menu symbol in the upper right corner of the screen, which looks like a hamburger.
Select Settings.
The Account option may be found in the Settings menu.
When you select the Recently Removed option, it will display all of the content that you have recently deleted.
Select the post you want to recover by tapping on it.
At the top, click the three-dot icon.
Choose between permanently deleting or recovering the post from the alternatives. To restore the post, choose Recover.
To recover deleted posts, you must first authenticate your identity using an OTP sent to your phone number or email address.
To recover the deleted post, enter the OTP and confirm.
Why was the New Recovery Feature Introduced on Instagram?
Instagram clearly wants to give individuals the option of keeping their stuff before permanently deleting it. The app already has an archive tool, which allows users to save posts without making them public, and now it also has a feature that allows users to save their posts even if they choose to erase them.
Instagram profits from having more content on its users and hence more data. Therefore, Users can now Recover Deleted Instagram Photos and everything easily.
On the current version of the app, users may access deleted items by going to Settings > Account > Recently Deleted. Users can opt to restore or permanently erase the material from this page. If the post you're restoring was previously deleted from your Instagram profile grid, it will reappear there, where others will be able to see and engage with it. If a post was accidentally deleted from the archives, it will be restored.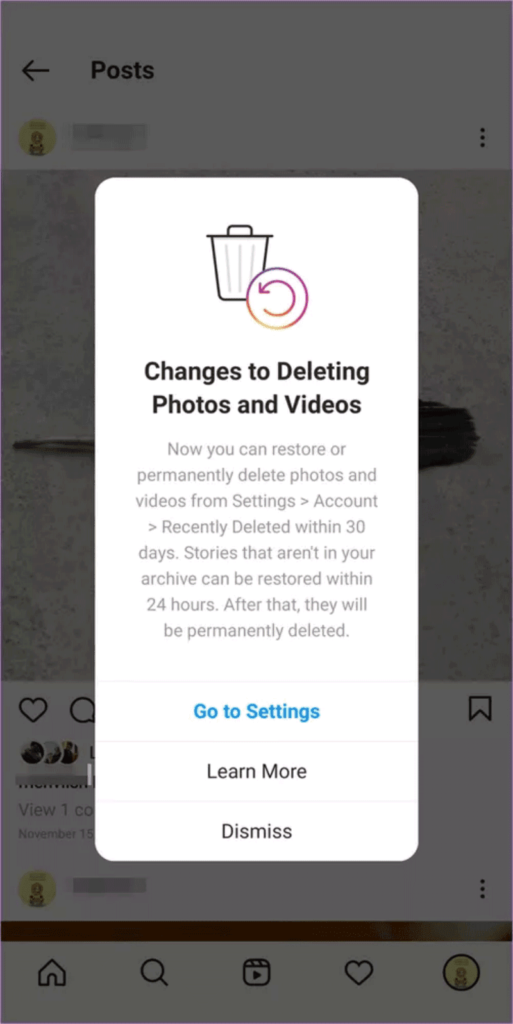 In addition, Instagram declared that it will be improving security to prevent hackers from removing postings. Before permanently deleting or restoring anything from Recently Deleted, the company owned by Facebook will ask users to prove that they are the rightful account holders.
Instagram made the "Recently Deleted" feature so that if a user's account is stolen, they won't lose their Instagram data. This tool is especially useful if you remove something on Instagram by accident. Rather than mourning for hours, as demonstrated in the post, you can quickly restore the material to your profile using Recently removed.
Previously, using the delete button on any Instagram content meant it was permanently deleted. The lost material could not be recovered. The Recently Deleted feature has undergone several changes. When you remove something on Instagram, it now goes to the Recently Deleted section, whether it's from a profile or the Archive. You have the option of restoring or permanently deleting the contents of the folder.