Are you getting a strange error on Windows and looking to fix error code 0xc00000f on Windows? Don't worry. Today at Digital Gyan, we will discuss how to fix this issue.
Computers are a cornerstone of our food and a necessary element of our lives. Windows errors are frequently inconvenient and take time to fix. If you're short on time, juggling job responsibilities and troubleshooting may seem impossible.
In a circumstance like this, you may not always have friends or coworkers available. As a result, we've carefully handpicked six viable methods to solve Windows error code 0xc000000f to save you time and scour multiple sites for information on how to fix the issue.
Reason for error code 0xc00000f
Windows was unable to start. A corrupted file, a damaged disc, or a malware or virus infection are the most common causes of the 0xc00000f error message.
Faulty or dislocated connections were also known to cause the 0xc00000f error code since faulty cables might protect the system from correctly accessing vital files.
Let's first look at the sources of the problem before moving on to possible solutions. The Boot Manager frequently fails to identify the BCD (Boot Configuration Database) file on the system for the following reasons:
Due to a power outage, the file became corrupted.
Malware and virus assaults have caused files to vanish from the system.
Data cables that have been damaged.
Errors with disc writing
The following is an example of a common error page.
This error screen is common to Windows 8, 8.1, and Windows users:
How to fix error code 0xc00000f windows? [10 Ways]
Both 32-bit and 64-bit versions of Windows 10, Windows 8, and Windows 7 have been reported to be affected by this technical fault. There are a few recognized ways for fixing it and getting devices back up and running.
Fix 1) Do as Windows suggests
Follow the directions on the screen. An 0xc00000f error number is usually accompanied by a few practical suggestions for fixing or restarting your Windows device. Continue to the next step if the device is unresponsive, the offered tips don't work, or you aren't given any system suggestions.
Fix 2) Perform Hard Restart
Restart the computer with a soft reset. For at least 10 seconds, press and down the power button on the Windows device. Wait a few seconds after the gadget has turned off before pressing the button again to turn it on. This basic method may typically resolve any temporary issues or malfunctions.
Fix 3) Unplug Drives
Any external drives should be removed. This has been known to repair the 0xc00000f problem code on rare occasions. Turn the Windows device off, then connect any external hard drives before turning it back on. You may also wish to disconnect any USB storage devices that are attached.
Fix 4) Force Shutdown
Force the computer to shut off. For the Microsoft Surface family of devices, a force shutdown is similar to a stronger restart that may frequently cure a problematic Surface device when a conventional restart or shutdown fails.
A force shutdown is conducted by holding the power button down for 20 seconds until the Windows logo flashes on the newest Surface Pro, Surface Laptop, Surface Book 2, and Surface Go devices. Other Surface models may use a different technique.
Fix 5) Remove Console
Remove any electronics and accessories from the room. Restarting your computer after disconnecting any linked mice, cameras, and other electrical devices may help resolve the issue.
Remove any Xbox One or other video game controllers connected to the PC by disconnecting the wires and removing any dongles used to connect the controllers.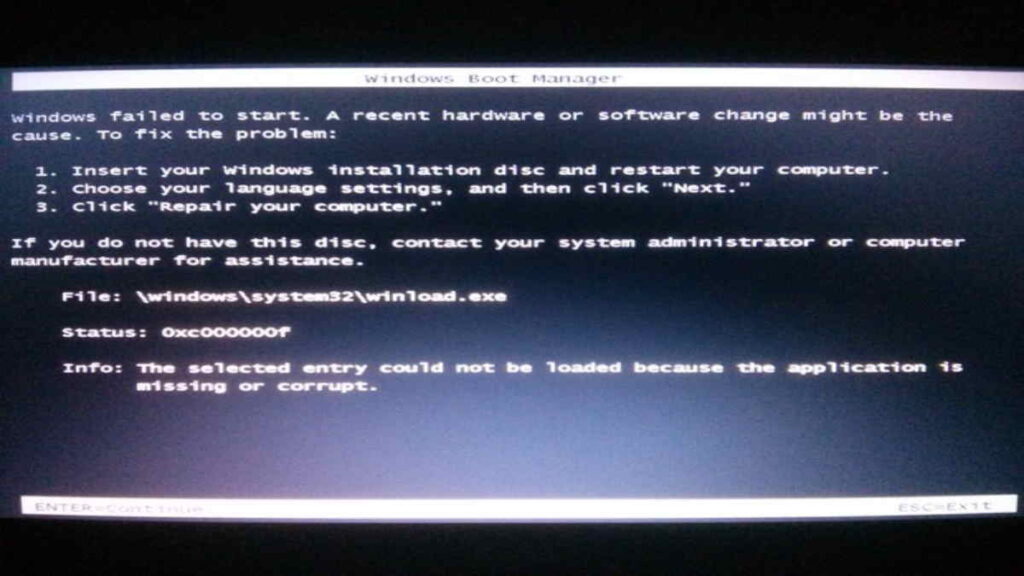 Fix 6) Remove Damaged Wire
Look for any damaged wires. If you have a Windows PC that you can open, shut it down entirely and unplug it from all power sources. Then have a look at the wiring by opening it up.
Ensure the cables are securely secured and replace any exhibiting signs of wear and strain.
Do not use a cleaning chemical or similar liquid to clean the wiring or other interior parts of your computer. Use a dry cloth instead (fix error code 0xc00000f windows).
Note – Some Windows devices, such as those from the Surface range, are not able to be opened. If you try to open a Surface, your warranty will be voided. Desktop computers are usually OK for examination, but before making any drastic physical alterations, verify the user manual and warranty paperwork.
Fix 7) Restart after some time.
Restart your computer. If you've done everything else and still can't get rid of the 0xc000000f issue, restarting your computer could help. This procedure reinstalls Windows but leaves your installed applications and stored files alone. On the blue screen of death, this option is found in the Advanced Startup Options menu. Select Troubleshoot > Reset this PC > Refresh your PC from the Troubleshoot menu.
Fix 8) Format or Reset PC using Recovery Option
Restart your computer. Resetting a Windows PC should only be used as a last option because it erases everything on the device and restores it to its original state. The Reset your PC option may also be found under Troubleshoot > Reset this PC > Reset your PC, which is part of the Advanced Startup Options recovery options.
Note – When you utilize a cloud storage service like OneDrive or Google Drive, you may re-download the data you saved after that the reset is complete. Apps and media purchased through the Microsoft Store, or other online retailers can also be redownloaded.
Fix 9) Install Windows again
Install Windows 10 again using the original installation disc. A Windows 10 installation media is a Microsoft software that can be downloaded to a USB drive or DVD and used to reinstall Windows 10 on a damaged PC or a new device. The files may be found on the official Microsoft website's Windows 10 installation media page.
Insert the disc carrying the Windows setup media into the afflicted machine after it has been generated. The machine should then restart and boot to the data on the disc. Select Install Windows and follow the procedures to install the Windows system after loading it.
Note – If you get a blue screen of death, use a friend's or family member's computer to download and generate the Windows 10 installation disc. If you use Windows 8, you may also create a recovery disc for that operating system.
Fix 10) Contact Customer Care
Please get in touch with customer service. If none of these suggestions works, or you cannot try these repairs owing to an unresponsive Advanced Startup Options menu or system, contact your Windows device's manufacturer's official customer service. While this might be aggravating, keep in mind that if your warranty is still active, you may be able to acquire a replacement for free or at least at a reduced price.
Using Recovery Software to fix error code 0xc00000f windows
Recoverit Data Recovery for PC is a solution for data loss caused by the error code 0xc00000f in Windows. This utility achieves the impossible in less than two minutes if the saved data cannot be retrieved using traditional methods. When we mention data, we're not talking about a certain sort of information.
Word and PDF documents, audio clips, photographs, videos, PowerPoint presentations, and data from external devices are all retrieved and stored without difficulty. If this is a mediocre performance, brace yourself for the icing on the cake. The tool's creators have gone above and beyond.
You can also do sophisticated video recovery, restore files from an empty recycle bin, recover data from wrecked systems, and fix faulty videos as a user. It certainly eliminates the risk of data loss.
Using the CHDSK utility tool to fix error code 0xc00000f windows
Let's look at the final stage in our quest to eliminate the error number 0xc000000f. When the file composition of a hard disc is disrupted, we employ the CHKDSK programme. Let's have a look at the basic steps:
To start the computer, insert the Windows installation DVD.
Select Repair your computer after selecting the appropriate language, time, and keyboard input.
Select C: as the Windows installation drive, and then click "Next."
Choose Command Prompt and type "chkdsk C: /f" when the System Recovery Options window comes on the screen.
If Windows isn't installed, just replace the letter "C" with the driver's first letter.
The following is an example of the page: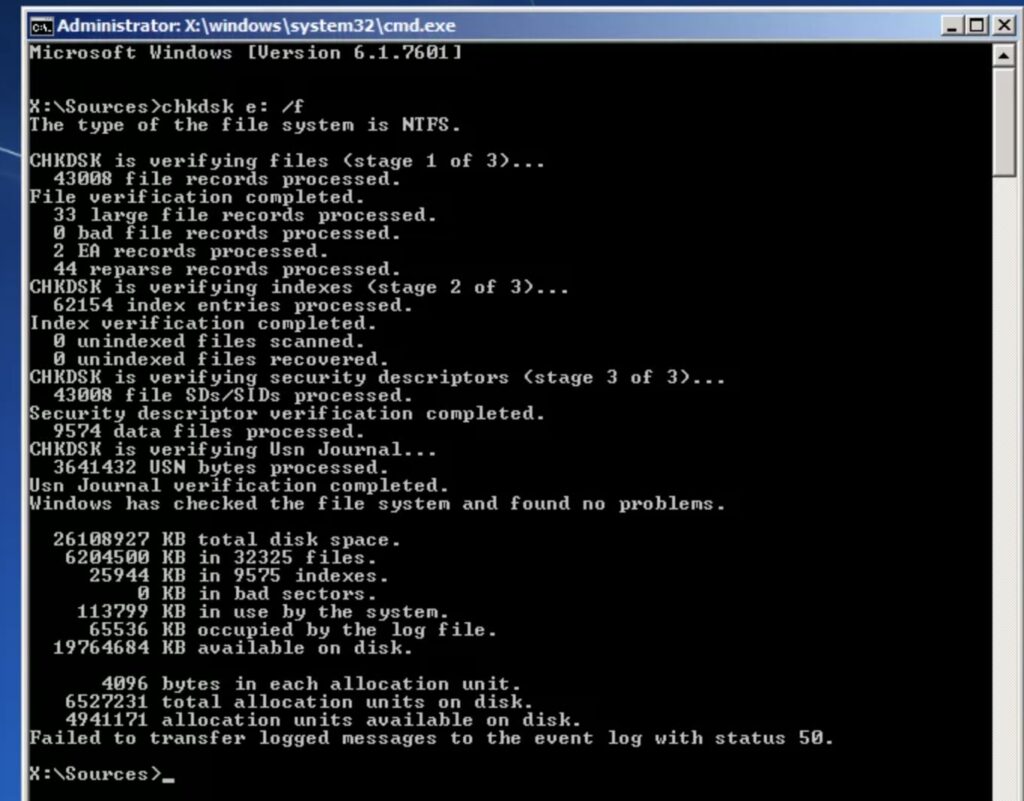 Summary – fix error code 0xc00000f windows
There is a solution to every situation, even data loss and recovery; there is no need to fear. If you encounter the error number 0xc00000f, your computer has to be fixed. When we have Recoverit Data Recovery on our side, the mistake is no longer a deal-breaker.
It can assist you at any moment in recovering all of your lost data, photos, text files, videos, and PowerPoint presentations in three simple steps. Follow the instructions above and toss all of your worries into the garbage can.